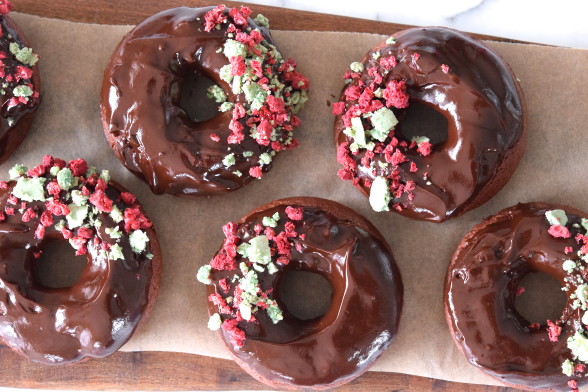 I think everyone cooks something special during the holidays. Perhaps there are traditional dishes you grew up with or you make homemade treats to give as gifts. On school days I limit sweets and other lower quality foods for my family. I really want the kids to be as well-nourished as possible so they can be at their best. But during their vacation, which just started a few days ago, I am a little more generous with treats.

Baked cake donuts are incredibly simple to make and much less unhealthy than fried. But my kids think they are magic. I'm not going to tell them I can whip up the batter in 10 minutes and bake them in 8, lest they start asking me to make donuts every day! I have a baked cinnamon cake donut on the site that is just delicious, but who doesn't love a good chocolate donut?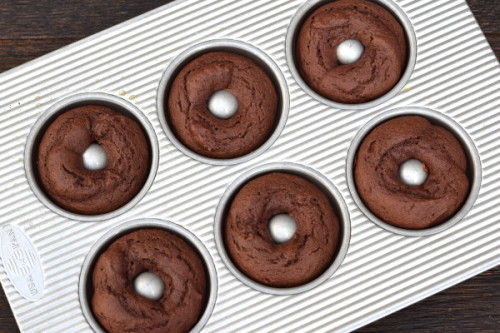 These are similar to the cinnamon ones on my site. They are slightly denser and drier, less spongy and better for dunking than a muffin. But let's all just agree that an iced chocolate donut is always a dessert and never a breakfast unless there's no school for days and there are some scrambled eggs on the plate, too. In which case, I think these would be a fun treat for a Christmas brunch or dessert after Christmas dinner.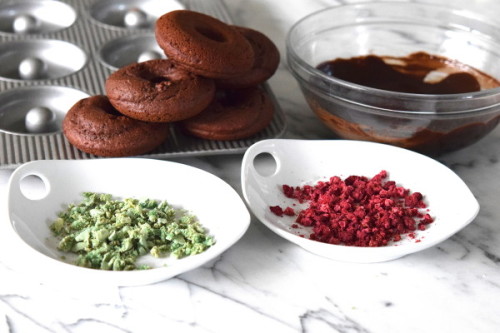 I saw some fun Christmasy decorations on Instagram which inspired these. I crushed up some freeze-dried raspberries, although strawberries would be just as good, and some pale green pistachio macarons. Both these items I found at my local Whole Foods. Other fun options could be fine shredded unsweetened coconut, dots of royal icing or dye-free sprinkles which you can buy on amazon and some natural foods stores.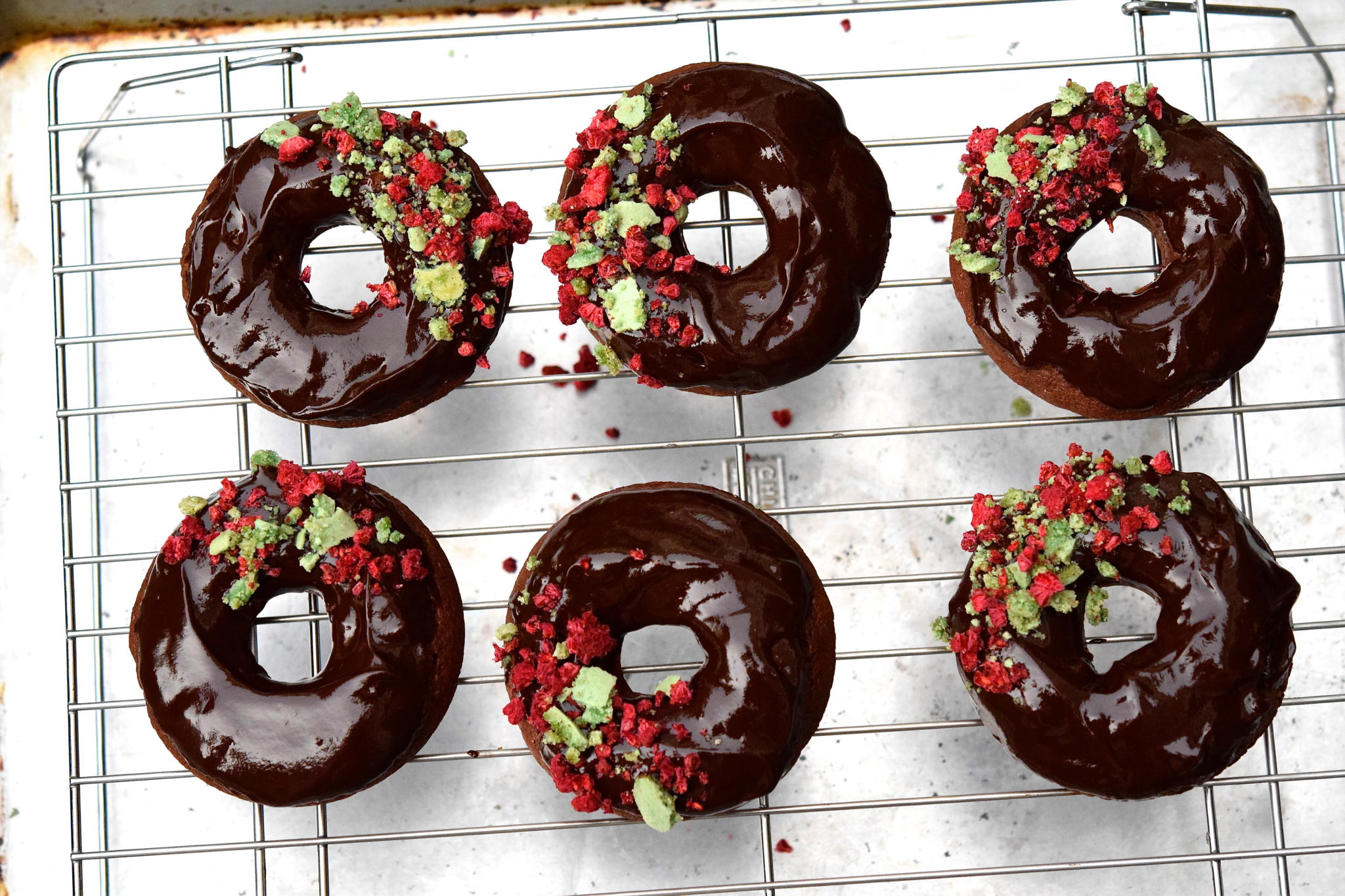 You will need to have a donut pan though.  I suggest a silicone-coated mold such as this one or this one, both of which do not contain any toxic substances which can leach.  I have the latter one and I love it.  You might even have time to order it for a last-minute Christmas present.  Hope you and yours have a beautiful and joyful holiday.  I'll be back after Christmas!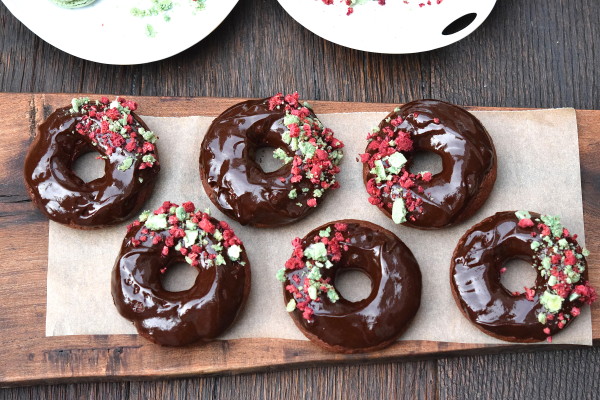 Baked Chocolate Cake Doughnuts
Ingredients
⅓ cup + 1 Tablespoon whole milk or milk substitute, at room temperature
1 teaspoon apple cider vinegar or white vinegar
6 Tablespoons whole wheat pastry flour
6 Tablespoons all-purpose flour or white spelt flour
¼ cup unsweetened cocoa powder
1 teaspoon aluminum-free baking powder
¼ teaspoon sea salt
¼ teaspoon ground nutmeg
3 Tablespoons unsalted butter, melted + extra butter for greasing the pan
¼ cup cane sugar
2 Tablespoons honey
1 large egg, at room temperature
1 teaspoon pure vanilla extract
Chocolate glaze:
½ cup semi-sweet chocolate chips
2 tablespoons unsalted butter
1 tablespoon + 1 teaspoon brown rice syrup
¼ teaspoon pure vanilla extract
pinch sea salt
Topping suggestions: freeze-dried raspberries or strawberries, crushed pistachio or green macarons, sprinkles or shredded coconut
Instructions
Preheat oven to 400 degrees. Grease the wells of the doughnut pan with some butter.
In a glass measuring cup, mix together milk and vinegar and allow to sit at room temperature for at least 5 minutes to curdle.
In a large bowl whisk together flours, cocoa powder, baking powder, nutmeg and salt.
In a small bowl, whisk together melted butter, sugar, honey, egg, vanilla and curdled milk.
Whisk wet ingredients into dry ingredients, taking care not to overmix.
Spoon batter evenly into wells of the doughnut pan, filling only ⅔ full.* If filled too high, there won't be any doughnut holes. Another way to fill the wells is by transferring the batter to a quart-size Ziploc bag and snipping one corner ½inch and piping the batter into the wells. Bake for 8-10 minutes or until doughnuts spring back when pressed lightly. Allow to cool 5 minutes before turning doughnuts onto a cooling rack. Donuts can be glazed when they are slightly warm or cool.
Make the glaze: In a heat proof bowl, combine glaze ingredients and set over a small pot of simmering water. Stir regularly until ingredients are melted and smooth.
Dip tops of donuts in glaze and place glaze side up on a wire rack to allow glaze to drip. Sprinkle immediately with toppings, if desired.