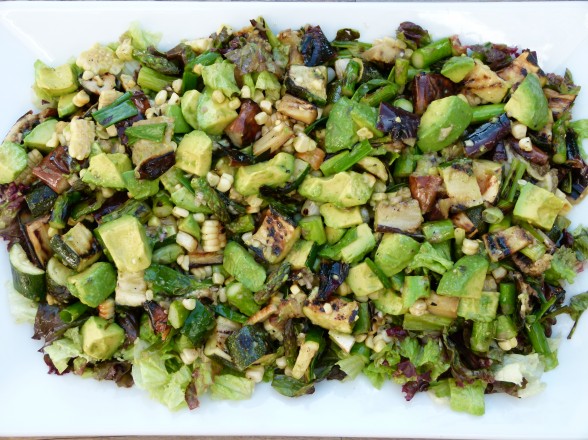 When I moved from Beverly Hills to Manhattan Beach almost five years ago, one of the things that I had to adjust to was how much more casual the beach was.  Everyone here was more laid back in how they dressed, how they drove and especially how they entertained.  I remember inviting some neighbors over for dinner and Kim asked what she could bring.  I wasn't sure what she meant, but I assured her I didn't need her to bring anything.  Kim insisted, a salad, dessert, a side dish?  I am inviting your family to dinner at my house.  Why would I ask you to bring the food?  "It's casual livin' down here, girl.  Get used to it!"  That I did and I haven't taken off my flip flops since then.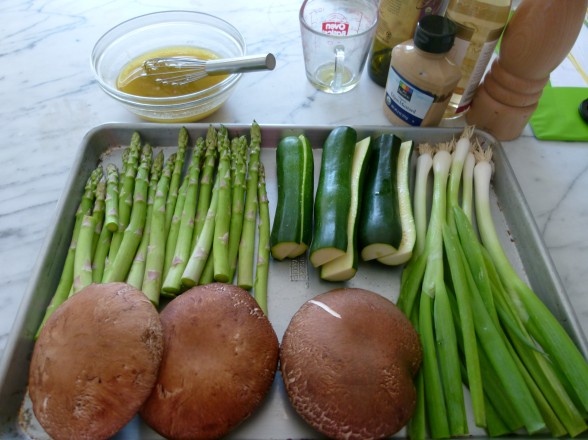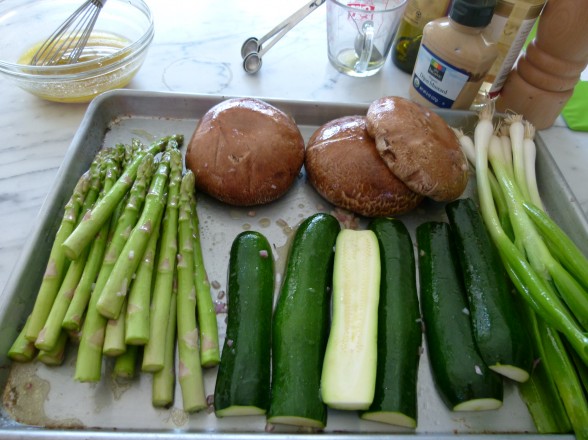 Do you people do this potluck thing?  It's genius, really.  I had a few families over last night for dinner.  Someone brought homemade Vietnamese spring rolls, someone brought my avocado, jicama and mango salad and someone brought fruit to grill and the fixings for s'mores.  I made everything else including this chopped grilled vegetable salad which is my version of a salad I used to love at a West Hollywood restaurant called The Ivy, where they charge $24 for it (that feeds one person!)  Getting used to lower prices at the beach was not difficult.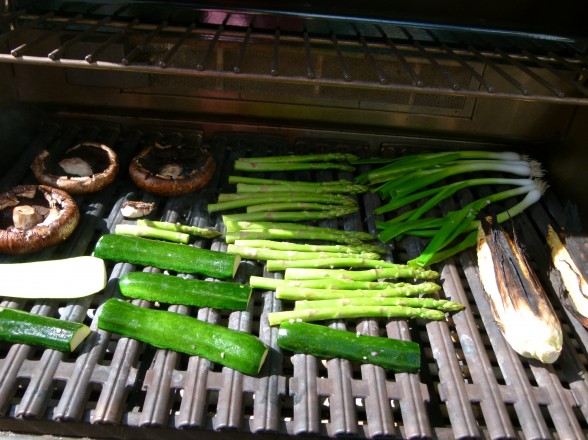 This salad is one of my summertime staples.  When I make it for my family, I usually add a little grilled chicken or salmon on top or some feta and that's dinner.  But for entertaining or to bring to a potluck, it's great because it's versatile enough to go with everything being served and all the components can be prepped ahead.  The recipe is written with my favorite vegetables, but you can certainly substitute what you like better or what looks good at the farm stand that day.  Corn and avocado always make it in there, as does some kind of summer squash, green or yellow.  I generally like to add some type of meaty vegetable like portobello mushrooms or eggplant, and an onion, my favorite being scallions.  I think grilled sweet bell peppers would be yummy, too.  The key is knowing how long to grill the vegetables since they all take a different amount of time.  This is one reason I prefer to prepare this salad before my guests arrive so I'm not too distracted (happens easily with me.)  The scallions grill up especially quickly, say a 60-90 seconds on each side.  You just want to make sure you don't overcook the vegetables so they don't turn to mush in the salad.  As you can see from my photographs, I wasn't too caught up in making this salad look too perfect since I knew it would taste delicious and really my family and friends were the stars of the show.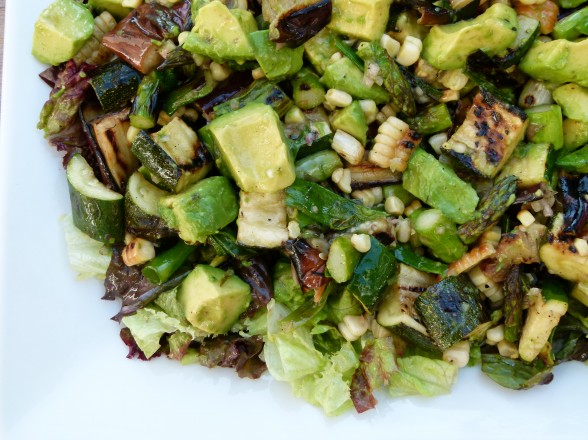 Chopped Grilled Vegetable Salad
Serves:
4-6 as an entree, 6-8 as a side dish, or many more if part of a larger buffet
Ingredients
Dressing:
2 Tablespoons fresh lime juice
2 Tablespoons unseasoned rice vinegar
1 small shallot, finely chopped
2 teaspoons Dijon mustard
2 teaspoons raw honey
1 teaspoon sea salt
freshly ground pepper to taste
½ cup unrefined, cold-pressed extra-virgin olive oil
Salad:
2 ears corn
1 bunch asparagus, about ¾ pound, ends trimmed
3 Japanese eggplant, about ¾ pound, halved lengthwise or 3 Portobello mushrooms (less commonly know as Portabellas, but really just oversized cremini mushrooms)
3 medium zucchini, about 1 pound, halved lengthwise
1 bunch scallions, left whole or 1 red onion, sliced thickly
sea salt and black pepper for seasoning
8 cups romaine or red leaf lettuce, chopped (optional)
2 ripe avocados, peeled and cubed
Instructions
Prepare corn: Pull husks down and remove silks. Replace one layer of husks and discard the rest. Soak in water until grill is ready.
Preheat a grill over medium high heat or heat a grill pan.
Place all dressing ingredients except oil in a small bowl. Add olive oil slowly, whisking continuously to emulsify. Lightly brush the asparagus, eggplant or mushrooms, zucchini and scallions with dressing (I used 7-8 tablespoons.) Sprinkle with sea salt and black pepper to taste.
Grill each vegetable according to doneness. Each one takes a different amount of time. Corn takes about 5 minutes on each side. Do not overcook! Allow to cool slightly, then chop into bite-sized chunks. Cut corn off the cob.
Place lettuce on a large platter and drizzle lightly with some of the dressing. Toss to coat. Drizzle the chopped vegetables with most of the remaining dressing and arrange on top of the lettuce. Dress the avocado cubes with any remaining dressing and arrange on top.
Notes
Delicious with crumbled feta or goat cheese, or grilled shrimp or chicken.



An Alternative Dressing – Lemon-Basil:

¼ cup fresh lemon juice

1 Tablespoon Dijon mustard

¾ teaspoon fine sea salt

2 small garlic cloves

¾ cup basil leaves

½ cup unrefined, cold-pressed extra-virgin olive oil

Puree everything in a blender.