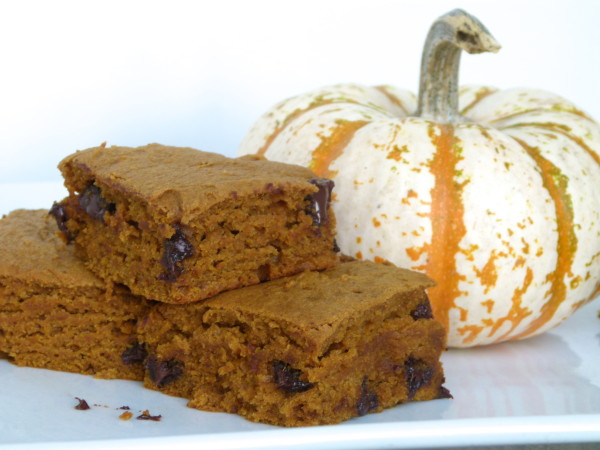 Halloween is next week and it is a big day for treats!  I'll admit, the last few years I haven't posted any sweets before Halloween because I figured there's plenty of candy to go around.  Who needs another food from the sugar category?  Upon rethinking, I've decided there is room for higher quality treats, especially when the options might otherwise be supermarket cupcakes with artificially-colored frosting, marshmallow ghosts or candy corn brownies.  Yikes!  I can't handle it and neither can my blood sugar, mood and skin.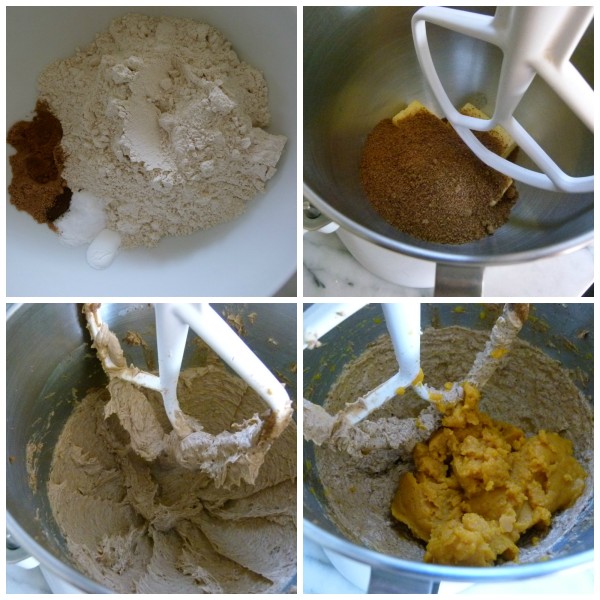 It's really hard to avoid sugar on Halloween, but keep in mind this is when a lot of people fall into the downward spiral of eating dessert too often.  First comes Halloween, then Thanksgiving, then pre-Christmas parties, etc.  Just putting it out there to be a little mindful when your kids' trick or treat baskets tempt you.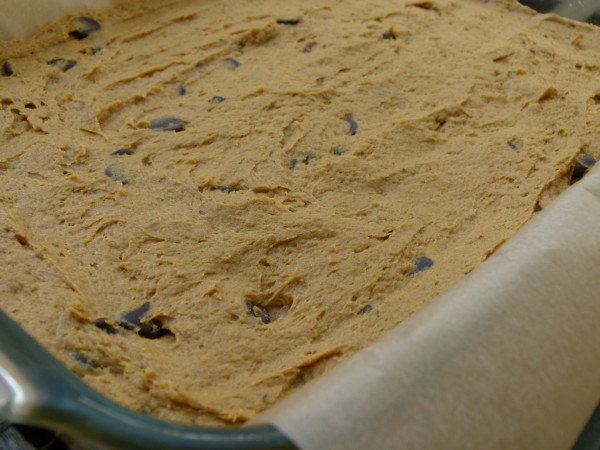 My kids and my husband are bonkers for these pumpkin chocolate chips bars.  Or maybe they're like pumpkin chocolate chip blondies, because they're kind of dense.  They're definitely not the same texture of a muffin, which is spongy and light.  These are super moist, flavorful, just sweet enough with the perfect amount of chocolate chips.  But if you don't like chocolate (and we're friends?), use currants or chopped pecans instead.   In my opinion (and that's all you get around here,) the key to pumpkin desserts is the combination of spices.  And for me, the spices in this recipe are perfect with both the pumpkin and the chocolate chips, too– predominantly cinnamon with nutmeg and a touch of cloves for spiciness.  I taught these in my cooking classes 2 years ago and they were a huge hit!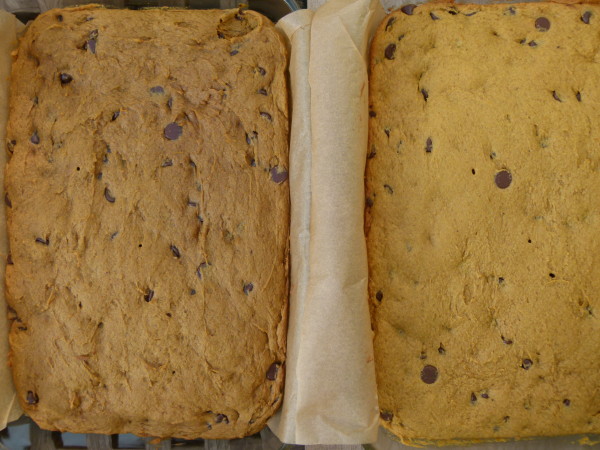 I make these with either whole wheat pastry flour or whole spelt flour.  Both are delicious.  And I always make the cake with coconut sugar, which is minimally processed and unrefined.  But if you can't find it, the recipe works with white sugar, too. The photo above shows one cake made with coconut sugar (left) and one made with cane sugar (right.)  I can't tell the difference in taste, honestly.
You can make your own pumpkin puree very easily.  Click here for the how-to.  And whereas making your own from scratch is always best, sometimes we just don't have the time.  There are a few good brands of organic pumpkin in BPA-free packages.  I do prefer tetrapaks over cans, though.  I buy Farmers Market brand organic pumpkin in tetrapaks from Whole Foods or amazon.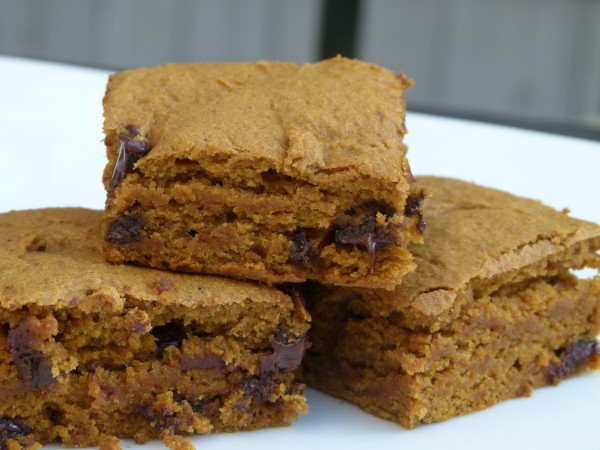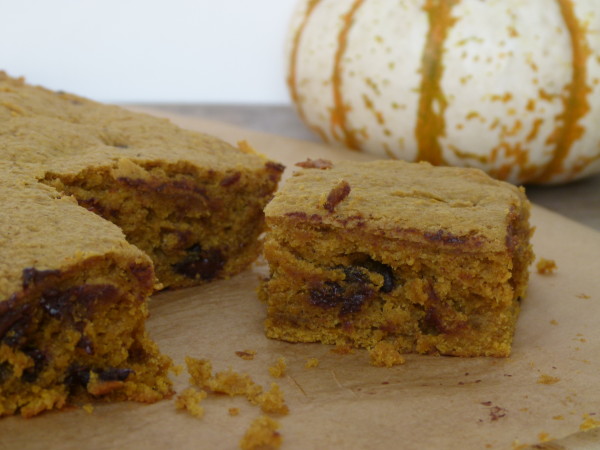 Whole Wheat Pumpkin Chocolate Chip Bars
Serves:
makes a 13 x 9 cake, or 24 3 x 1⅔-inch bars
Ingredients
2 cups whole wheat pastry flour or whole spelt flour (or GF flour mix + ½ tsp. xanthan gum)
1 ½ teaspoons ground cinnamon
1 teaspoon ground nutmeg
½ teaspoon ground cloves
½ teaspoon fine sea salt
1 teaspoon baking soda
½ teaspoon aluminum-free baking powder (or omit to make these denser)
¾ cup (1 ½ sticks) unsalted butter, at room temperature
1 cup coconut palm sugar, pure maple syrup or cane sugar
1 large egg, room temperature
2 teaspoons pure vanilla extract
1 ¾ cup or 1 15-ounce box/can pumpkin puree (not pumpkin pie filling) click here to make your own
6 ounces dark or semisweet chocolate chips (just shy of 1 cup)
Instructions
Preheat the oven to 350 degrees. Lightly grease and line a 9" x 13" pan with parchment paper, allowing paper to hang over the sides (the length of the pan).
In a medium bowl whisk together the flour, spices, salt, baking soda and baking powder and set aside.
In a large mixing bowl, beat together the butter and sugar on high speed until light and fluffy. Add the egg and vanilla and combine well. Stir in pumpkin.
Add the dry ingredients a little at a time, mixing on low until just combined. Stir in the chocolate chips.
Pour the batter into the prepared baking pan and smooth top with a rubber spatula. Bake for 40-45 minutes or until a toothpick inserted into the center of the bars comes out clean.
Cool on a wire rack and when removing the bars, lift the parchment paper and transfer to a platter to cut and serve.
Serve warm or at room temperature. Leftovers keep in the refrigerator for up to a week.
Notes
If you want to make a smaller cake in an 8 x 8 or 9 x 9-inch pan, cut all the ingredients in half.