I make a lot of simple fruit desserts like crisps, roasted or grilled fruit with sauces or ice cream, and fruit salads with shaved dark chocolate, just to name a few examples.  I always use fruit that's in season because it tastes a million times better than the same fruit when it's not in season.  And there are other reasons too like the fact that produce in season is less expensive, is usually locally grown, and therefore better for the environment and contains more nutrients.  So many benefits to simply choosing fruit that's in season.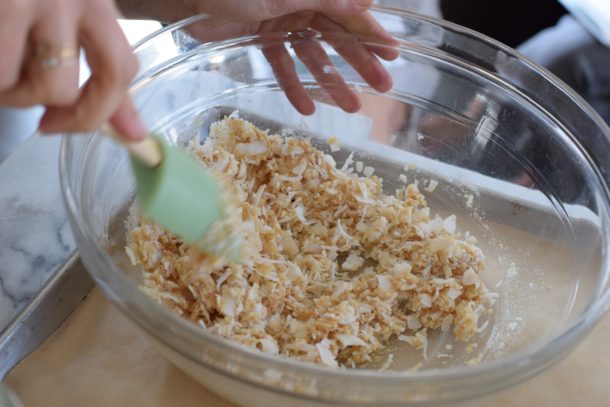 Except bananas.  Bananas don't grow locally, nor do they seem to have a season, but I make an exception because we all love them and they are so versatile.  And they're pretty cheap.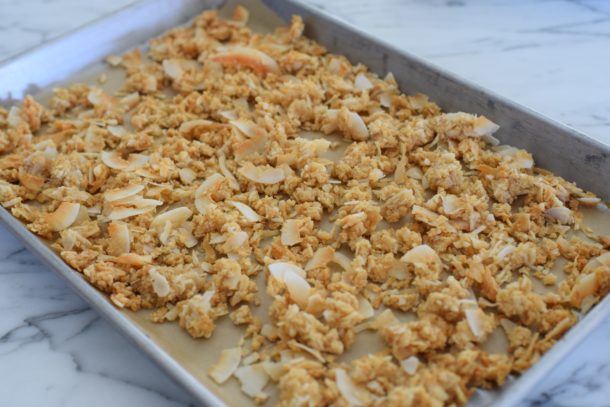 One of my favorite desserts growing up was a banana split.  I loved ice cream and chocolate sauce and any toppings I could get my hands on.  Now I prefer to eat a cleaned up (sort of) version of a banana split which I think tastes better and is more texturely interesting than a classic banana split.  And in a reasonable portion, doesn't put me in a sugar coma afterwards.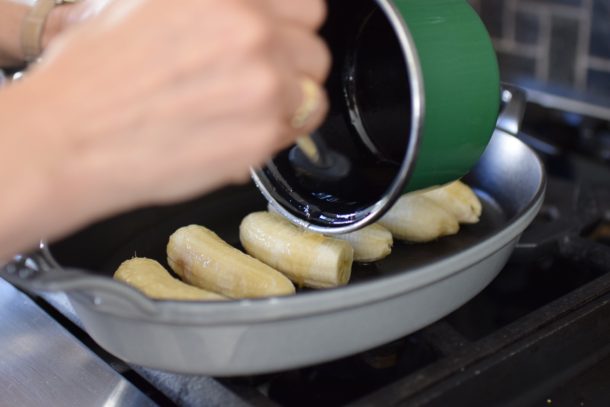 This concept came about after I cooked some bananas for a dish of oatmeal.  I was so smitten with the intense flavor and sweetness of the caramelized bananas that I knew I could turn this into a satisfying dessert.  Long story short, I added yogurt and granola to start and then made my way up to frozen desserts with a homemade coconut crumble topping.  Total heaven!!!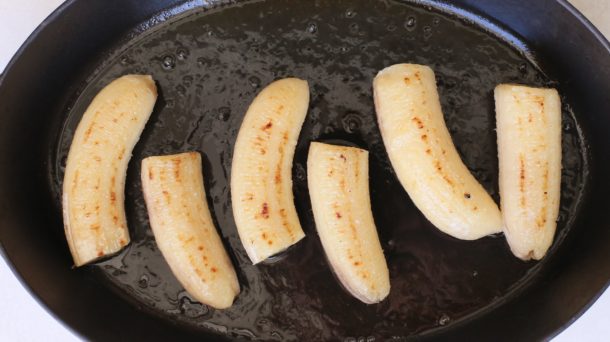 Dessert can get out of control and that's where people get into trouble.  Taking half a roasted banana with a small scoop of coconut ice cream and a sprinkle of coconut crumble is a simple, wholesome treat that you should be able to enjoy without a smidge of guilt.  Should you eat 2 bananas and a pint of ice cream and half the pan of coconut crumble?  Nooooooooo.  I am not here to offer advice about the psychology of eating, but most of the time, people know what they should be eating and how much or how little of it.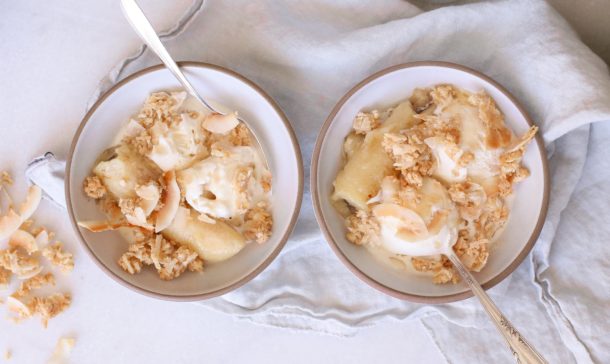 I served this in my classes with a small scoop of coconut ice cream and 1/2 a banana and everyone was satisfied.  Except those who dislike bananas!  In that case, use peaches, plums, apples, figs, berries and so on.  It's the combo of the creamy ice cream, the crunchy topping and soft fruit that gets me every time.  The coconut crumble is the most addictive thing ever, so beware!  You can make it a week ahead of time and store it in a glass jar for up to a week.  The coconut crumble would also make for a great hostess gift plus my cookbook.  😉  Enjoy the rest of the summer.  It's fleeting!

warm banana sundaes with coconut crumble recipe
Author:
Pamela, coconut crumble recipe inspired by Amy Chaplin
Ingredients
Coconut Crumble:
2 Tablespoons maple sugar (I haven't tested it with other sweeteners, but I am sure any dry sugar - white or brown - would work)
2 Tablespoons pure maple syrup, Grade A or Grade B
1 Tablespoon brown rice syrup
1 teaspoon pure vanilla extract
pinch sea salt
¾ cup unsweetened coconut flakes
¾ cup unsweetened shredded coconut
½ cup almond flour or almond meal
6 medium firm but ripe bananas, cut in half crosswise (or stone fruit or berries!)
2 Tablespoons unrefined coconut oil, melted
2 Tablespoons freshly squeezed lime juice (optional)
2 Tablespoons pure maple syrup, Grade A or Grade B (optional)
pinch ground cinnamon (optional)
Coconut or vanilla ice cream, for serving
Instructions
To make coconut crumble, preheat oven to 300 degrees. Line a baking sheet with unbleached parchment paper. In a medium bowl, combine maple sugar, maple syrup, brown rice syrup, vanilla and salt. Whisk until well combined. Add both the coconuts and almond flour, stirring gently to coat with the maple mixture.
Spread onto the parchment lined baking sheet and spread into a single layer. Bake for 10-20 minutes, stirring once, until golden. Set aside to cool completely to crisp up.
To roast the bananas**, set your oven to broil. In a small bowl, whisk together the coconut oil with the lime juice, maple syrup and cinnamon (if using). Place bananas in broiler-proof baking dish and pour mixture over bananas. Broil for 2-3 minutes, until bananas are slightly softened and starting to caramelize.
Serve the bananas warm or hot with a scoop of coconut ice cream and a sprinkle of the coconut crumble.
Notes
Crumble can be made up to a week in advance and stored in an airtight container.

**Alternatively, you could sauté the bananas. Start by whisking together the lime juice, maple syrup and cinnamon together in a small bowl. Set aside. Warm the coconut oil in a skillet over medium and add the bananas. Allow to cook for a couple of minutes until the bananas are golden brown on one side. Flip them over, and allow them to do the same on the other side. Drizzle with the lime/maple mixture and remove from heat. Proceed with step 4.