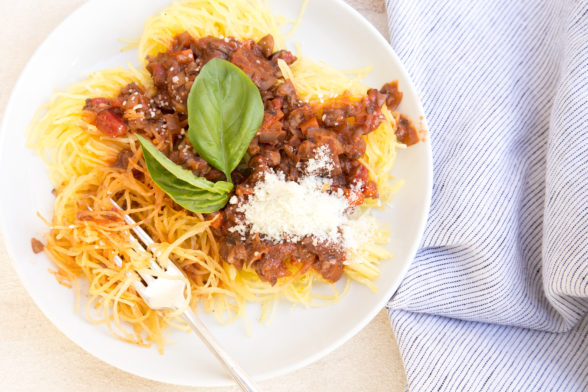 If you are not vegan, do not panic and think that I have abandoned all animal products.  I have always limited animal consumption and still do.  But since hubs became vegan, I have played around with new vegan recipes and taught some in cooking classes.  And you know what?  People love them!  Their families love them!  Like this vegan mushroom "Bolognese" sauce — huge hit this fall in my classes and with the hubs.  After posting it on Instagram, too many people asked for the recipe and I definitely wanted to oblige because this is a good one!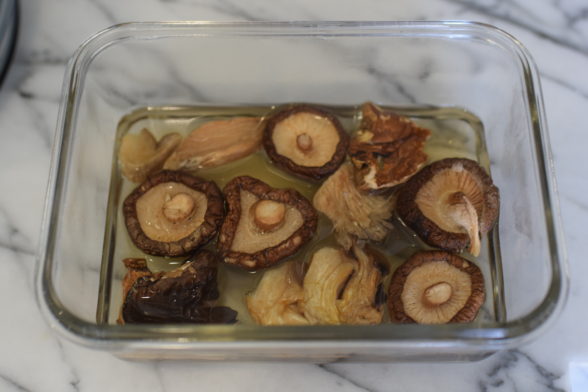 I have never been one to hide food or trick anyone.  When I first made this recipe, my husband hadn't turned vegan yet.  But I wasn't trying to pull this sauce off as meat sauce, no matter how much it looks like meat.  Some of my students never said anything to their families and they all assumed it was meat sauce.  Mushrooms have a way of tasting very meaty and the texture is very hearty, too.  This has become key with my husband and vegan recipes.  He's really not into big salads for dinner, unless it's summertime.  And he likes food that is hearty.  And Italian.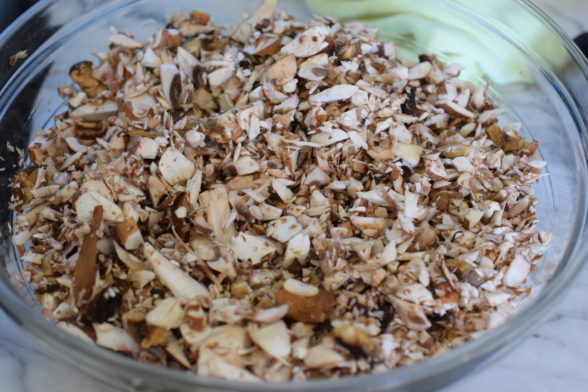 I originally tried the vegan Bolognese recipe from the America's Test Kitchen "Vegan for Everybody" Cookbook and began to make a few tweaks here and there and landed on this recipe which I taught 16 times last fall.  16 times and I loved it every time.  I've also made it several times for my family and friends.  My husband loves pasta so he'll eat this over pasta and that's his meal.  I'll usually make myself a little spaghetti squash  because pasta and I don't get along well at night.  Basically, I'm most active in the morning and do better with a a small amount of complex carbohydrates at night, unless I'm taking a long walk after dinner.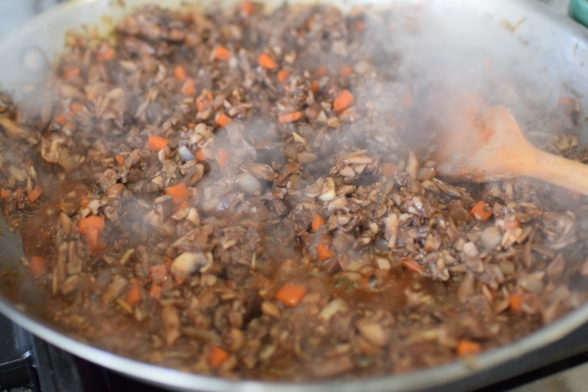 There are some ingredients here that you might not necessarily have on hand, like dried porcini mushrooms or raw cashew butter.  The porcini really does add an amazing depth of flavor.  I found them in the produce section of the supermarket in a small plastic bag.  If you can only find mixed dried mushrooms, you can use those too.  But porcini are better.  The raw cashew butter mixed with water is used in place of heavy cream which is usually added to Bolognese.  The ATK recipe calls for 3 Tablespoons of soy creamer which is definitely not something I would ever use (very processed.)  Raw cashew butter is my go-to for a creamy finish in dressings and sauces.  It's definitely worth buying.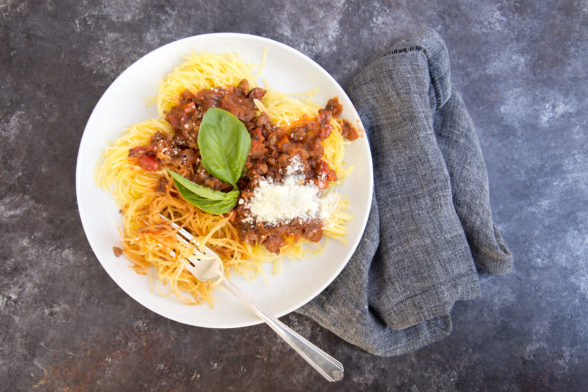 Do not look past this recipe if you eat meat.  It is not meant for vegans and vegetarians only.  I'm not going to give my speech right now about why we could all benefit from eating a little less animal protein, especially the factory-farmed kind, but no one can argue the healthfulness of a vegetable sauce.  I take that back.  I am sure someone will try.  But there is no diet or eating plan out there that doesn't encourage eating more vegetables.  Vegetables are the universal, across the board, best food group. And I can't think of a better way to enjoy vegetables on a cold winter day than in a delicious sauce like this one.
I love seeing your creations on social media!  Please tag me if you make this recipe @pamelasalzman #pamelasalzman.  I can't wait to see this one!

Vegan Mushroom Bolognese
Ingredients
½ ounce dried porcini mushrooms*, about ½ cup
1 ½ tablespoons raw cashew butter (omit if you are allergic or add a some non-dairy milk like unsweetened hemp milk; ATK calls for soy milk)
1 ½ tablespoons warm water
2 pounds cremini mushrooms, trimmed and wiped clean with a damp paper towel (or buy them already cleaned and sliced)
1 medium carrot, peeled and diced
1 small onion, diced
4 cloves of garlic, thinly sliced
pinch of crushed red pepper flakes
2 Tablespoons tomato paste
Sea salt and freshly ground black pepper
1 cup dry red wine
28 ounces diced tomatoes
1 Tablespoon shoyu or tamari (GF) or coconut aminos (gluten-free and grain-free)
1 pound of cooked pasta of choice or 1 large spaghetti squash cooked and strands removed
Grated Parmesan or Pecorino-Romano cheese (not vegan, optional)
Instructions
Place the dried porcinis in a bowl and cover them with 1 cup boiling water. Set aside for 15 minutes. Scoop the mushrooms from the water with a slotted spoon, reserving the liquid. Pour the mushroom liquid through a coffee filter or paper towel, discarding the gritty solids. Measure ½ cup of mushroom liquid and set aside, you can discard the rest.
Place the porcini and cremini mushrooms in a food processor fitted with a steel blade and pulse until everything is diced. Do this in batches if necessary.
Whisk together raw cashew butter and water in small bowl and set aside.
Heat ¼ cup olive oil in an extra-large sauté pan with a lid over medium heat. Add the carrots and onions and mushrooms and cook, covered, for 5 minutes. Uncover, and increase the heat to medium high and sauté until the vegetables caramelize, 10-15 minutes.
Add the sliced garlic and red pepper flakes and sauté until fragrant, about 30 to 60 seconds. Add the tomato paste and ¾ teaspoon salt plus pepper to taste. Cook for 1 minute. Pour in the wine and simmer until almost all of it is evaporated, about 2 minutes.
Stir in tomatoes, reserved mushroom soaking liquid, shoyu and bring to a boil. Add cashew butter-water mixture and simmer sauce until thickened, about 7 minutes. Taste for salt and add more if necessary.
Toss pasta or spaghetti squash with Bolognese sauce and serve with grated cheese, if desired.
Notes
*Or sub any dried mushrooms if the porcini are unavailable or too expensive.
This sauce freezes well.