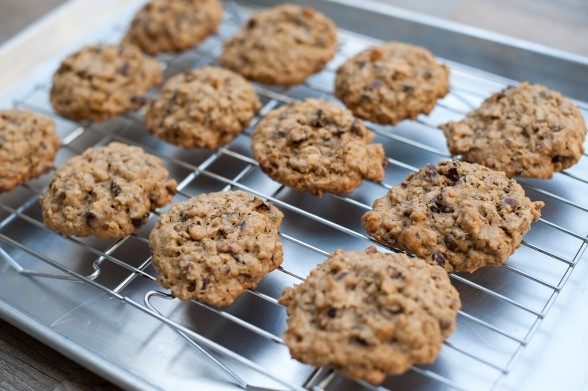 Having teenagers is a double-edged sword.  On the one hand, it's kind of cool that my girls are old enough to have adult conversations and share clothes with me.  On the other hand, it bums me out that they prefer to be with their friends over their parents.  I don't take it personally, of course.  But if all goes according to plan, Daughter #1 will be going to college in two years and her younger sister two years after that which means I don't have a lot of time left with them in the house.  This is one reason I encourage them to invite their friends to hang out at our house or spend the night as much as possible.  Not only does it make the house more lively, but I know what they're up to and sometimes I'll even overhear some good gossip.  Just recently did I figure out how to make my home the place to be.  It's called FOOD.
Teenagers are always hungry.  No, I take that back.  They're always "STAR-ving."  They don't even know what the word means.  My daughters complain that they're starving if they haven't eaten in two hours.  My point is that if you want to have the house that the kids want to hang out in, other than breaking the law and supplying alcohol (not recommended), you need to have some good eats.  I don't think my house is considered to have the "best" food by any means.  There are no Cheetos, no soda and no microwave popcorn.  But I do always have tons of fresh fruit, leftovers from dinner, the makings of a quesadilla and lots of homemade cookie dough in the freezer, especially in the fall when the kids are back in school.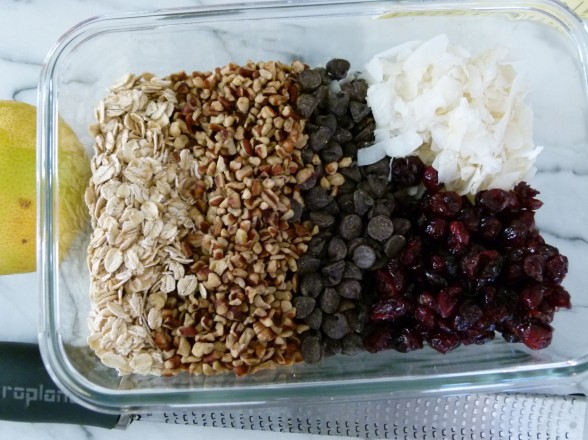 These Trail Mix cookies are a new favorite around here.  They're like oatmeal chocolate chip cookies PLUS.  There are so many goodies in the cookies, it feels like you're eating a handful of trail mix held together with some oatmeal cookie batter.  In fact, you could use trail mix in this recipe, hence the name.  I'm not sure I've made this recipe the same way twice since I'll often use it as an excuse to clean out the bottom of my nut and dried fruit jars.  Before you get excited about a cookie that sounds like it might be healthful, it's still a cookie, just maybe a higher quality one.  If you want a cookie that you can eat for breakfast, make these.  This recipe uses whole wheat pastry flour, rolled oats, flakes of unsweetened coconut, and chocolate chips.  My kids love pecans, so I generally use them here, but if I have a handful of walnuts or macadamia nuts, those can go in too.  Same idea with dried fruit — use whatever you've got.  The key with these cookies though, is to make sure you don't decide to just eliminate an entire ingredient without coming up with a substitution.  All the "stuff" helps give your cookies structure and without it, your cookies will go a tad flat.  If you can't eat nuts, I have used sunflower seeds with success, or you can just add 1/2 cup extra of chocolate chips, dried fruit and coconut to make up for the 1 1/2 cups of nuts.  What I did struggle with was the sugar in the cookies. The quantity is quite a bit less than you would find in a comparable cookie, but I didn't have as much success substituting coconut sugar or maple syrup for the white and brown sugars.  At the end of the day, it's still a cookie which we should enjoy in moderation.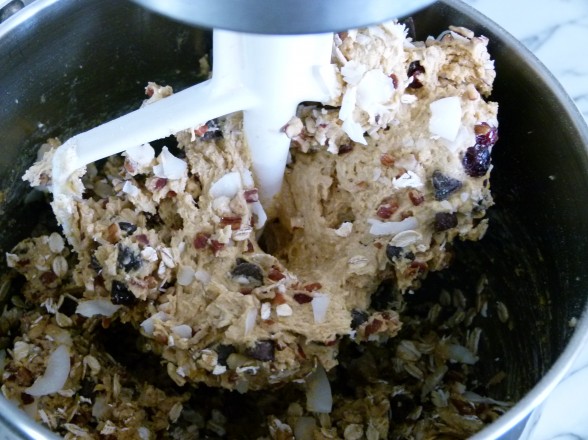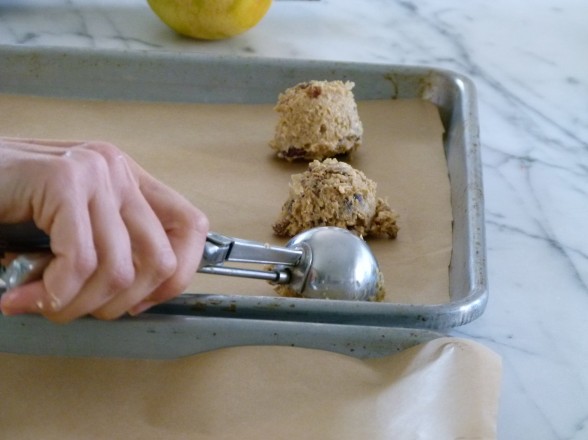 If you like to be prepared for weekday school lunches or unexpected playdates, it's always nice to have some cookie dough on hand.  You can make this batter and keep it refrigerated for a week, baking off as many cookies as you like at any given time.  I also like to scoop the dough onto baking sheets with my ice cream scooper, freeze them raw (the same way you would freeze fruit), and when they are frozen solid, gather them up and put them in a container to freeze for a rainy day or the next sleepover.  And from the empty containers I generally see in the morning, I have also observed that teenagers are at their most STARVING in the middle of the night.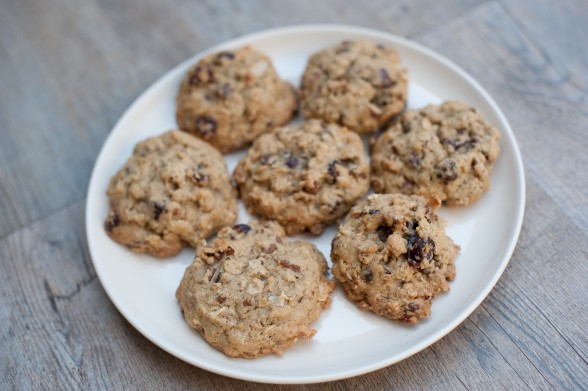 Trail Mix Cookies
Author:
Serves:
makes 3 dozen cookies
Ingredients
8 Tablespoons (1 stick) unsalted butter, at room temperature
½ cup natural cane sugar (or coconut sugar)
2/3 cup brown sugar (or coconut sugar)
1 teaspoon pure vanilla extract
2 large eggs
1 ½ cups whole wheat pastry flour
1 teaspoon baking soda
1 teaspoon sea salt
½ teaspoon ground cinnamon
¼ teaspoon ground nutmeg
1/8 teaspoon ground cloves
1 cup rolled oats (either old-fashioned or quick-cooking)
1 ½ cups chopped pecans (or walnuts or macadamia nuts)
1 cup chocolate chips
½ cup unsweetened, dried coconut flakes (or use extra pecans)
½ cup dried fruit, such as cranberries (or use extra chocolate chips)
(Or use 3 ½ cups trail mix instead of above add-ins; chop nuts)
½ teaspoon freshly grated orange zest (optional)
Instructions
Preheat oven to 350 degrees. Line a large cookie sheet with parchment paper or a Silpat.
In the bowl of an electric mixer, cream the butter and sugars together until light and fluffy, about 4 minutes. Add the vanilla and 1 egg at a time until well incorporated.
In a separate bowl, mix together flour, baking soda, salt and spices. Add half the dry mix to the butter with the mixer on low speed. After the flour has been incorporated, add the remaining flour mixture and stir together.
Stir in the remaining ingredients.
Drop the dough by heaping tablespoons onto the cookie sheet and bake until golden, 12-15 minutes. (If you bake the dough directly from the fridge, add 3-5 minutes.)
Remove from the oven and cool cookies for 2 minutes before transferring to a cooling rack.