I am really proud of my friend Amie Valpone, who is known in the blog world as The Healthy Apple.  She has a new book being released today called Eating Clean:  The 21-Day Plan to Detox, Fight Inflammation and Reset Your Body.  The book outlines her journey of how she healed from a decade (yes, a decade) of chronic illness and it is filled with over 200 detox-approved plant-based recipes free of gluten, dairy, soy, refined sugar, eggs, corn and processed ingredients.   As I tell my students in every single class I teach, I don't care what you call the diet you follow, the ideal diet is an anti-inflammatory, low-glycemic one.  You can take a peek at her book here, but today I am sharing a recipe for these Sunrise Nori Wraps which looked like something I would want to eat all the time.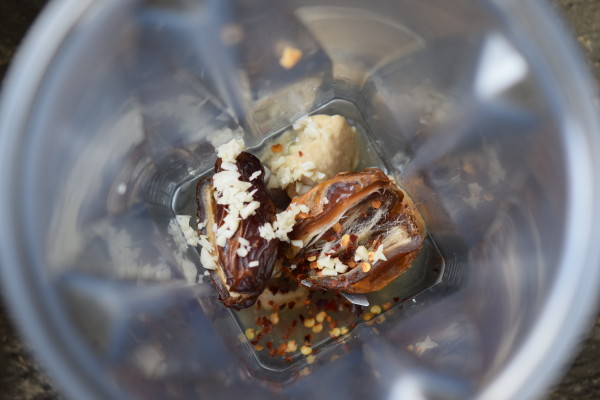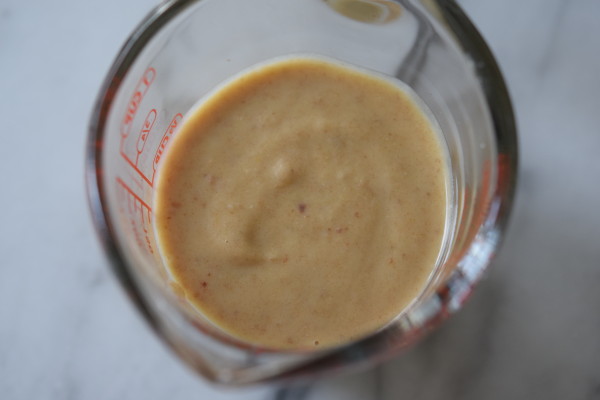 There is a place in Santa Monica actually called Kye's where they serve the most delicious "Kye-ritos," which are essentially super tasty nori wraps in many different flavor profiles.  Nori is the seaweed used to make sushi rolls and it is incredibly nutrient-dense.  Nori, like most sea vegetables are very high in minerals, especially iodine, calcium, iron, magnesium.  Nori also contains tons of vitamin C as well as anti-viral, anti-bacterial, anti-inflammatory properties.  It is obviously a superior vessel for a wrap over a processed flour tortilla!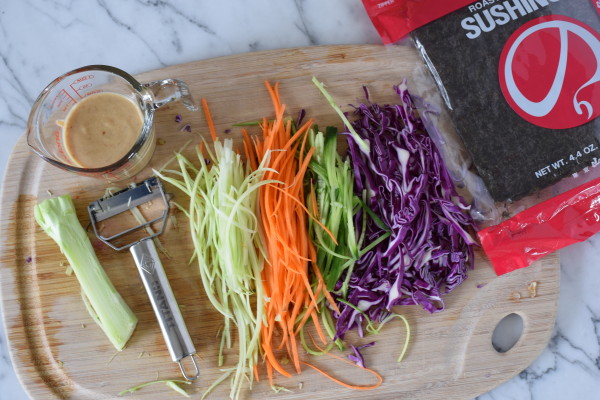 Amie's recipe calls for avocado, red cabbage, carrot, yellow summer squash, and cucumber.  I had some broccoli stems I needed to use up, so I julienned them and subbed that for the yellow squash, which isn't in season yet.  (I am still obsessed with this julienne peeler.  I absolutely love it and it beautifully julienned the 3 veggies on the left. ) I was even considering roasting some sweet potato and adding that in there, but I didn't have time.  I bet that would be go though.  Really any veggies would go with the delicious sweet-spicy sauce that is also part of the recipe.  I was thinking sweet bell pepper in the summer time would be great as would chopped raw tuna, if you have access to sushi grade tuna.  Eating this as is made for a great afternoon snack to tide the kids and me over until dinnertime.  Adding some protein would easily turn these wraps into lunchtime fare.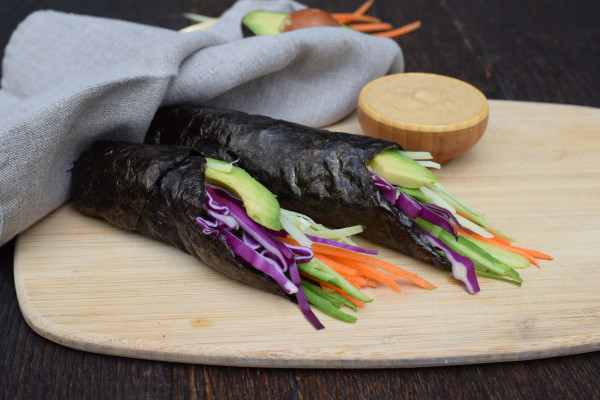 My kids liked these better than collard green wraps, where collard greens are the flour tortilla.  I personally love collard wraps, but the leaves are tough and raw and I can see why kids wouldn't love them.  My son especially likes sushi, so I just told him these were veggie sushi rolls without the rice because I didn't have time to make rice.  "Ok, whatever."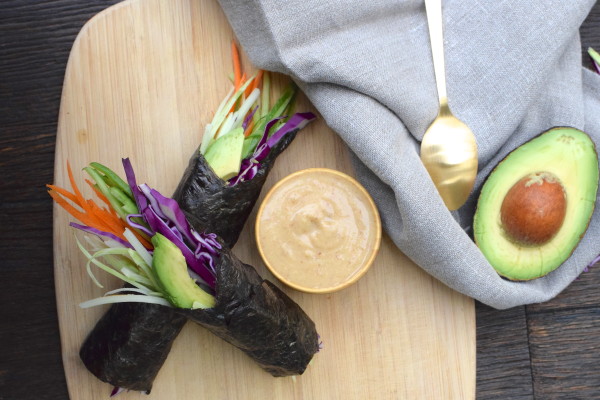 Sunrise Nori Wraps with Spicy Tahini Drizzle
Ingredients
Spicy Tahini Drizzle
2 tablespoons freshly squeezed lemon juice
1 ¼ tablespoons chickpea miso paste (I used white miso, but I think chickpea miso would have been better as my miso was kind of sweet)
1 tablespoon raw tahini
2 medjool dates, pitted
1 garlic clove, minced
¼ teaspoon crushed red pepper flakes
Water, as needed to thin the drizzle
4 nori seaweed sheets
¼ small head red cabbage, very thinly sliced
1 large carrot, peeled and julienned
1 small yellow summer squash, julienned (I used a broccoli stalk, julienned)
1 small cucumber, julienned
1 large ripe avocado, pitted, peeled, and sliced
1 recipe Spicy Tahini Drizzle
Instructions
Make the tahini: Combine all of the ingredients except the water in a blender. Blend, adding water a little at a time as you go, until the mixture becomes a sauce with a creamy consistency. Plan on using ¼ cup water, more or less depending on the consistency of your tahini and how thin you want the sauce.
Place the nori sheets on a flat surface.
Divide the cabbage, carrot, squash, cucumber, and avocado among the sheets.
Top each pile of vegetables with a heaping tablespoon of the Spicy Tahini Drizzle, and then roll up the nori sheets into a tube shape.
Notes
I trimmed my sheets of nori a little and wrapped them on a diagonal. Amie's sheets seemed much smaller than mine. Alternatively, you can double the veggies and use 4 standard sheets of nori. You'll have plenty of sauce.