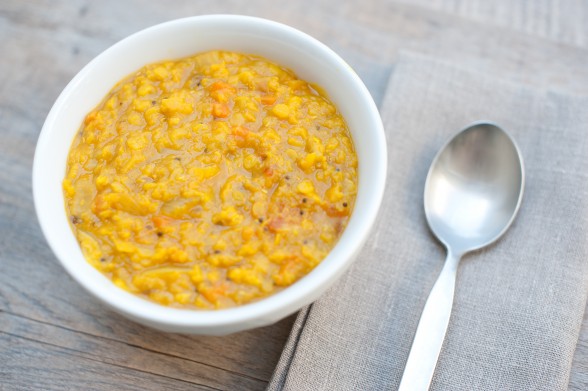 I think Indian food is very misunderstood in this country.  Many people have the impression it's overly spicy, heavy and greasy.  Perhaps it's because there aren't a plethora of great Indian restaurants here and very often the not-so-great ones do serve oily, creamy dishes.  Who knows, but that's not what Indian food is all about.  I started experimenting with Indian-inspired recipes about a year ago and fell in love.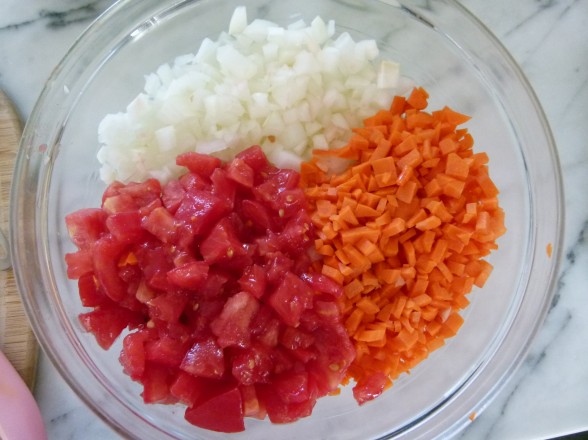 I am especially crazy about the many versions of Dal, which simply means "lentils."  (By now you've figured out the name of this recipe is somewhat redundant, "Red Lentil Lentil.")  The lentils used in Dal are not the brown or French lentils commonly eaten here, but a split lentil which almost looks like a lentil flake.  What is so fantastic about these lentils is that they cook up quickety-quick so they are perfect for a last minute meal.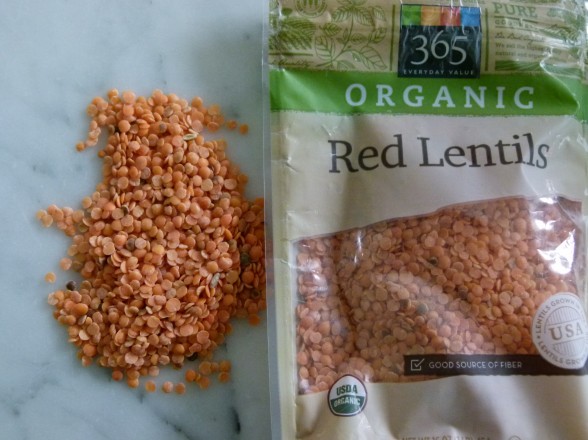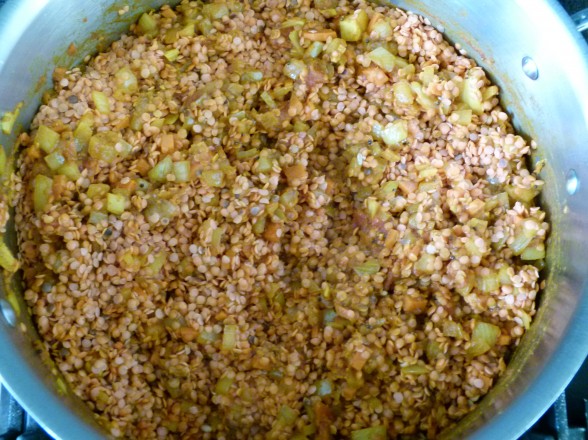 What's lucky for me is that Mr. Picky loves lentils.  Yeah, yeah, how can I call him picky if he eats lentils?  Because he won't eat a hundred other things that most kids do eat!  Regardless, his palate has been developing slowly and I was thrilled when he tried brown lentils for the first time.  From that moment on, all lentils were fair game.  Sure enough, after I told him this dal was "lentils," he shrugged his shoulders and said "OK, I'll have some."  Happy dance!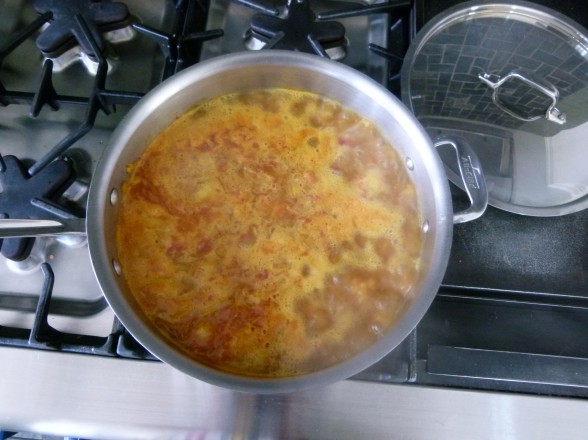 Dal is very nutritious (loaded with fiber, protein and iron) and easy to digest.  Since the lentils are split, they don't hold their shape the way common lentils do.  In fact, they become kind of mushy which I find to be so comforting.  Mmmmmmm!  But like I mentioned, split lentils can be made so many different ways — from thin and watery to stick-a-fork-in-it-thick.  The lentils themselves have a very subtle flavor and benefit from some flavorful (and very anti-inflammatory) spices.  That doesn't mean dal has to be hot spicy.  This version here is soupy, but not brothy, flavorful, but not overpowering — for me, it's just right.  But the beauty of dal is that you can make this to suit your taste. Since the kids started school, I have been working quite a bit more and lately I have been feeling a little out of balance.  You know when you just need a comfy blanket and a little R&R?  Dal to the rescue!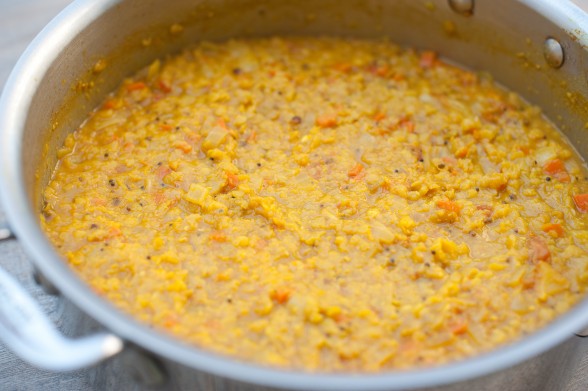 Red Lentil Dal
Author:
Ingredients
1 ½ Tablespoons ghee
1 ½ teaspoons mustard seeds
2 large garlic cloves, minced
1 ½ Tablespoons fresh grated ginger
2 teaspoons ground turmeric
1 ½ teaspoons ground coriander
¾ teaspoon ground cumin
¼ teaspoon onion powder
1 small onion, diced
1 carrot, diced
1 large tomato, peeled, seeded and diced
2-3 teaspoons sea salt (based on saltiness of stock)
1 ½ cups red lentils (or any other split lentils)
4 cups water or vegetable stock
Accompaniments: whole, plain yogurt, cucumber raita and/or naan
Instructions
Melt ghee in a soup pot over medium heat.
Add the mustard seeds and cook until they start to pop, about 1 minute.
Add the garlic, ginger and remaining spices. Sauté for 1 minute, or until fragrant.
Stir in the onion, carrot and tomato. Sprinkle with salt and cook until just tender.
Add lentils and stir to coat with the vegetables and spices. Pour in the water or stock and bring to a boil. Lower heat to a simmer and cook until lentils are broken up, about 20 minutes. Taste for seasonings. Serve on its own or with a dollop of yogurt or raita.