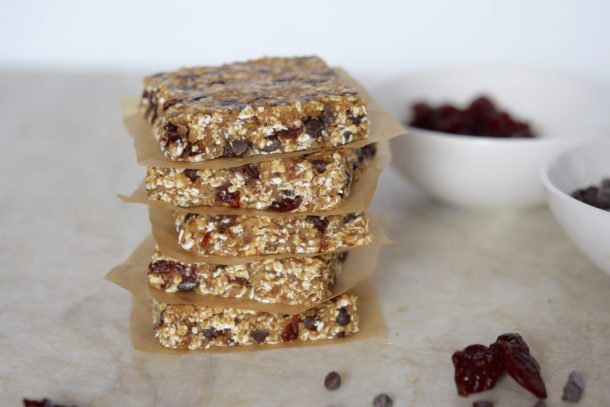 You might think I wake up every morning and pull together a magazine-worthy breakfast spread for my family, but that would not be the case.  Weekends I can make a little effort and I will gladly pull together a casserole or a frittata with a fruit salad.  But on weekday mornings, we eat a lot of oatmeal, scrambled eggs and toast, yogurt and granola, smoothies, loaded toast, and pancakes (because I make the batter the night before.)  But these no-bake breakfast bars have changed my life.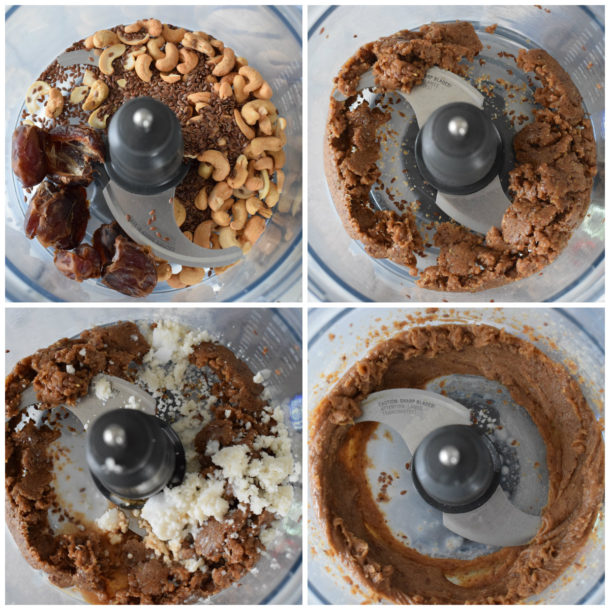 May I confess something?  Thank you.  I often eat breakfast in my car.  I know.  It's awful!  But I rationalize it this way — it is better to eat breakfast slowly and leisurely in my car than to swallow it without even tasting it while I am packing up my car to go teach and making Mr. Picky's lunch and doing all the other stuff we do at 7:00 am.  I usually toss oatmeal and toppings or a smoothie bowl and toppings in a glass jar with a spoon and take that to go, but these bars are much easier to eat with one hand while the other hand is on the steering wheel. 😉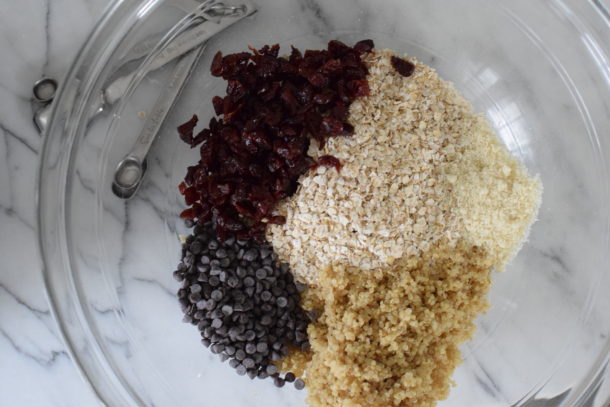 My body needs protein, good fats and complex carbs to start my day.  If I am missing one of these nutrients, I will be hungry soon after.  These bars cover all the bases.  And the best part is that they are super adaptable.  I have used different grains, different dried fruit, different nuts and they always turn out delicious!  I am considering making a few batches to keep in the freezer so that I always have them on the ready. I have also considered dipping these bars in dark chocolate which would then be appropriate for PMS breakfasts when only chocolate will do.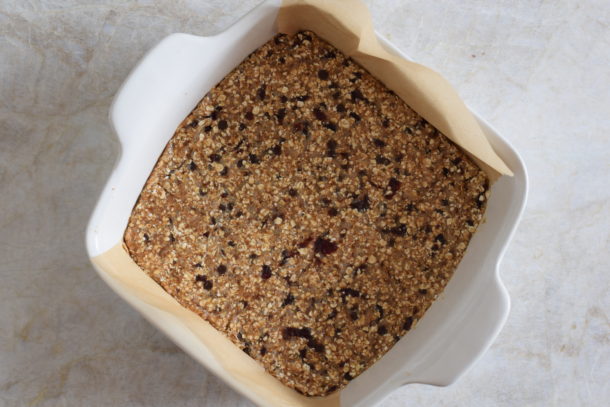 My girls really enjoy these bars and Mr. Picky does too, but only on the first day.  On Day 2, he is already "over" them.  And he has his name for a reason.  Keep in mind, they last for a week in the fridge.  Besides being great for breakfast, they make a great lunchbox treat or afternoon snack.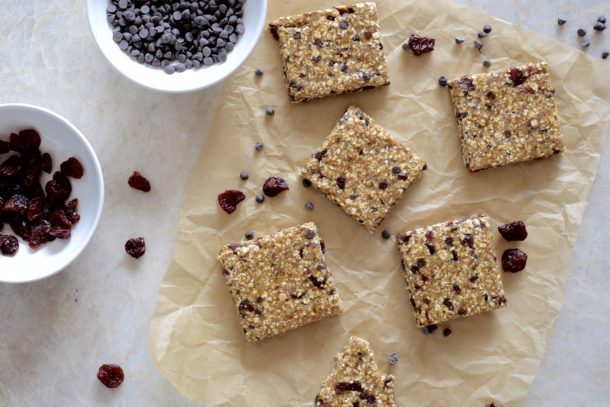 I know many of you pledged to eat better this year and some of you specified eating breakfast regularly as one of your resolutions.  Go spend 8 minutes with your food processor and you will be all set with a nutritious meal to-go.  Another confession.  Why not?  Sometimes I eat more than one. I'll leave it at that.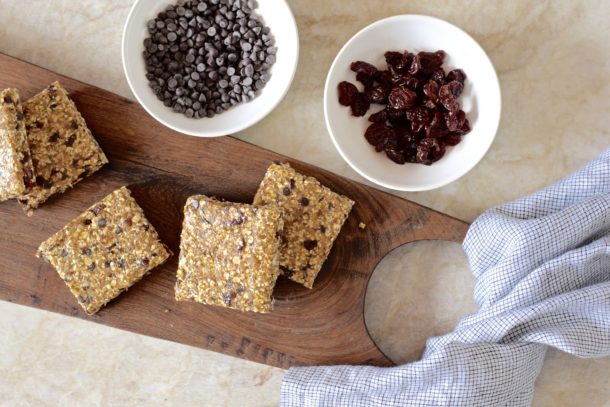 No-Bake Oatmeal Chip Breakfast Bars Recipe
Serves:
Makes an 8 x 8-inch pan*
Ingredients
Unrefined coconut oil for greasing the baking dish
¾ cup roasted, salted peanuts or cashews (if lightly salted, add an extra pinch of salt to mixture)
2 Tablespoons flax seeds (optional)
½ cup pitted dates or dried figs
2 Tablespoons coconut butter or unrefined virgin coconut oil
1-2 Tablespoons unsweetened almond milk or milk of choice
¾ teaspoon pure vanilla extract
1 ½ cups quick-cooking oats (look for certified gluten-free if necessary)
½ cup cooked and cooled quinoa or brown rice
1 Tablespoon flour, almond meal or other nut meal
¼ teaspoon sea salt
½ cup diced dried unsulphured cherries, preferably unsweetened, or raisins
¼ cup mini chocolate chips, preferably dark or semi-sweet, or sweet cacao nibs or raw cacao nibs (less sweet)
Instructions
Grease an 8x8-inch baking dish and line it with unbleached parchment paper.
Add the cashews, flax seeds and dates to a food processor and blend until a homogenous mixture forms, about 1-2 minutes. Add the coconut butter, almond milk, and vanilla and blend again until the mixture is smooth.
Transfer date-nut mixture to a large mixing bowl and add in the oats, quinoa, almond meal, salt, dried cherries and chocolate chips. It will be super sticky! Use your hands to combine the mixture well.
Press the mixture firmly into the baking dish. You can use a piece of plastic wrap to help even it out. Refrigerate, covered, for at least an hour or up to overnight. Speed up the firming process by placing pan in the freezer.
Cut into bars and serve. Store in the refrigerator for up to a week or well-wrapped in the freezer for up to a month. These stay perfectly firm in a lunchbox for 5 hours.
Notes
*for a thicker bar, double the ingredients and press into an 11 x 8-inch pan.