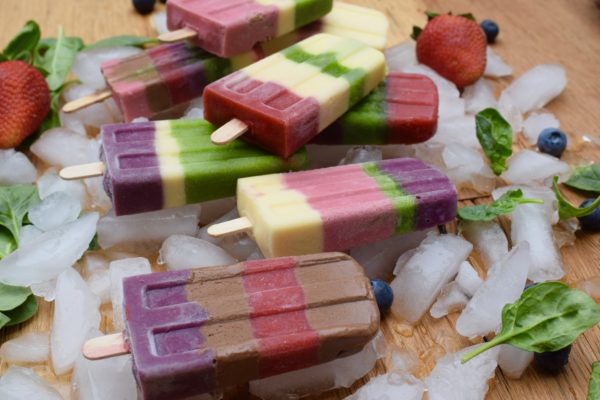 This is not so much a recipe as an idea which I LOVE!  My kids make a lot of smoothies for both breakfast and after school snacks.  And even though they can all blend up a tasty and nutritious smoothie on their own, Mr. Picky is the master.  My older daughter has offered him cash on multiple occasions to make her an acai bowl or his famous Pina Colada smoothie.  Sometimes his eyes are bigger than his stomach, he makes a bit too much and we end up with some leftovers.  Usually the leftovers aren't enough to make a whole portion for the next day, so one day I started pouring the leftover smoothies into popsicle molds and freezing them.  I think you know where this story is headed.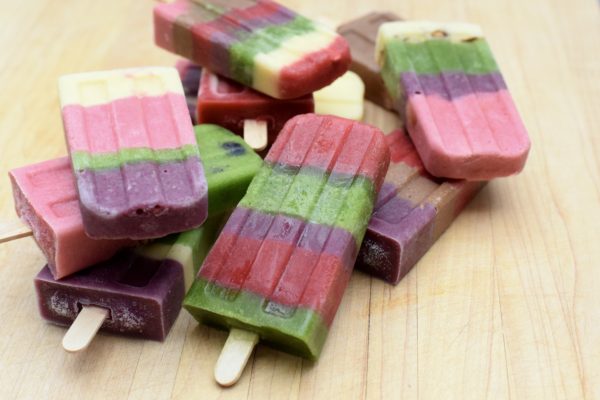 What began as a few ounces of a smoothie turning into a popsicle soon evolved into multi-layered popsicles and then layers interspersed with granola.  Any and every smoothie froze perfectly, from cacao-almond milk-date to pineapple-yogurt-mango to spinach-banana to blueberry-oatmeal-almond butter.  This post isn't about a recipe for smoothies, because you really don't need one.  The way I taught my kids is to just taste as you go, and make sure there's some protein in there if it's for breakfast.  Yogurt, nut butters and hemp seed are the most common, but if you're into tofu, it blends into a super creamy smoothie.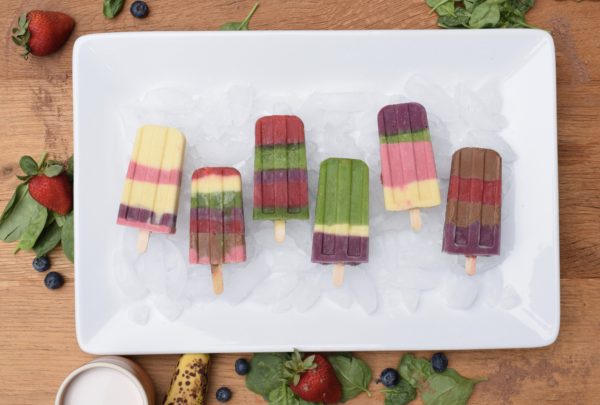 The only key to multi-layered popsicles is to wait until the first layer is somewhat frozen before pouring in the next and so forth.  And it doesn't matter how much of a smoothie you have left — if you notice the popsicle with multiple thin stripes, I used about 2 teaspoons of smoothie mixture per layer.  We have not wasted a DROP of a smoothie in months!!  Whatever is left, no matter how small an amount, can get poured into a popsicle mold.  Two popsicles have granola (minus the dried fruit which is not fun to eat frozen) in between layers.  My husband and son are crazy for those!  I have also stirred in shredded, unsweetened coconut, small pieces of fresh fruit and even chia seeds.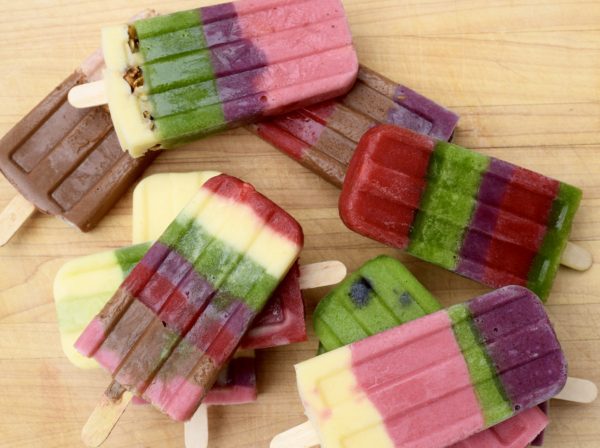 I have several popsicle molds that I like.  My favorite are the stainless molds from Onyx.  There are two shapes, this cylindrical one and this more classic rectangular shape.  I am the first to admit that they are expensive, especially the rectangular ones.  Otherwise, there are many more economically priced BPA-free popsicle molds such as this one from Norpro.  I'm not a fan of plastic at all, but these popsicles don't hang out in plastic for very long because they get eaten lickety split.  So you can see why this makes me a happy mama — no waste, and a nutritious snack (or breakfast) which is always available even when I'm not.

Leftover Smoothie Popsicles
Ingredients
Leftover smoothie
Optional add-ins: granola with dried fruit removed, shredded unsweetened coconut, fresh berries or kiwi
popsicle sticks
popsicle molds or freezable cups
Instructions
Pour any amount of leftover smoothie into popsicle molds and insert stick before freezing. Allow about 45 minutes for each layer to set before adding another layer of smoothie. Once popsicle molds are full, freeze for at least 3-4 hours until frozen solid. Run warm water over molds to release popsicles.