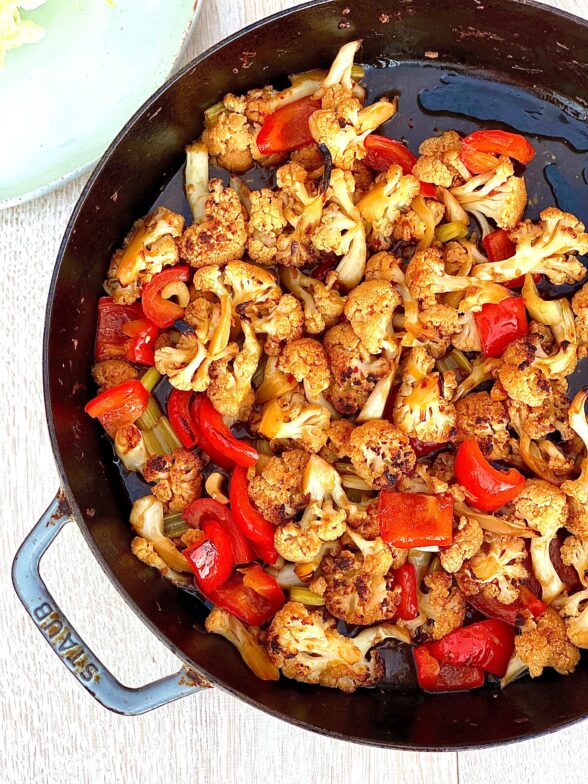 If you're trying to eat more plants and have been struggling with new ideas and making plants taste flavorful and interesting, I am here to help! Before I continue, I am giving you one last chance to join my very popular Meal Planning | Meal Prep | Batch Cooking Bootcamp which starts THURSDAY, JANUARY 13th!  I am offering two times, either 9:00 am PT or 1:00 pm PT and payment plans are available.  You don't have to attend live of course. Click here for more information and use the code MEAL100 for $100 off!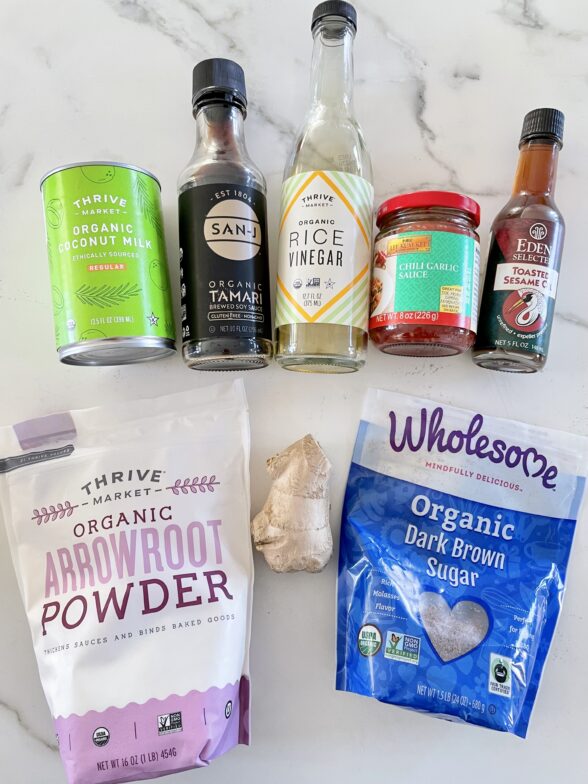 My family loves Chinese food, but Hubs and my son are not eating animal protein other than seafood right now.  I hardly eat poultry and I never eat beef or lamb.  We really enjoy being mostly plant based and I am constantly trying to find more interesting ways to serve vegetables, even as a main dish.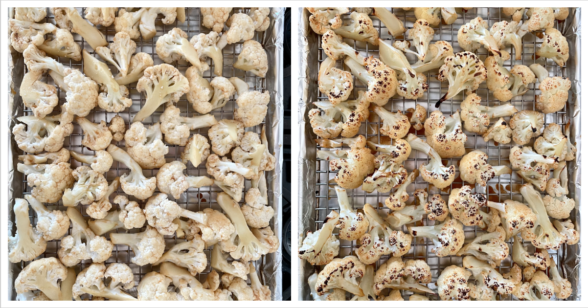 This recipe is a take on Kung Pao Chicken.  It is saucy and hearty and we love the classic garnish of salted peanuts. Cauliflower is a great swap for chicken because it is bland and versatile and easy to cook in different shapes.  BUT, it doesn't have any protein, so I try to include another protein in our meal, like quinoa instead of rice, tofu or edamame, and/or garnish this dish with protein (e.g. peanuts or cashews or sesame seeds.)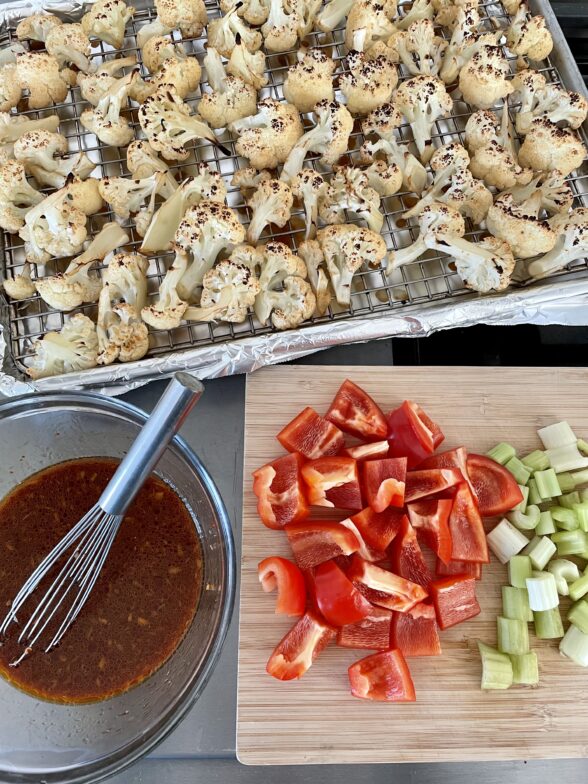 We either eat this with rice or in lettuce leaves or both! What I love about this meal is that it feels light but satisfying.  That, and everyone loves it!  My son is the biggest fan!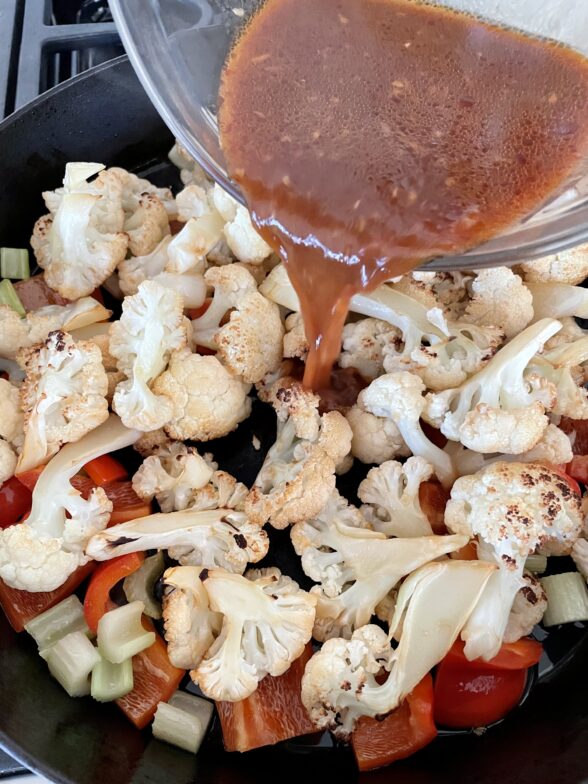 The step of roasting the cauliflower gives it a little bit of a coating and a char for a delicious flavor boost.  If you don't have time, then just roast cauliflower as you would regularly and proceed with the recipe.  The sauce is where it's at! That said, you can roast or saute tofu until crispy and use that in place of the cauliflower.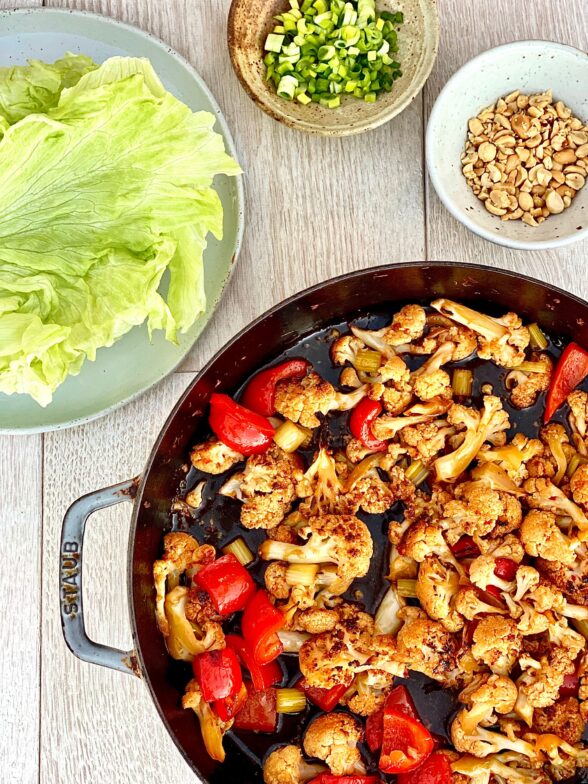 Kung Pao Cauliflower can be tweaked according to what you have on hand or your preferences.  Skip the bell pepper if you want and swap in snow peas. Do half cauliflower and half broccoli.  Use half tofu and half cauliflower. Swap cashews for peanuts or omit the nuts altogether.  Something I do appreciate about plant-based recipes is that they stay good in the fridge for longer than meat-based recipes.  This is a perfect recipe to make in advance and reheat!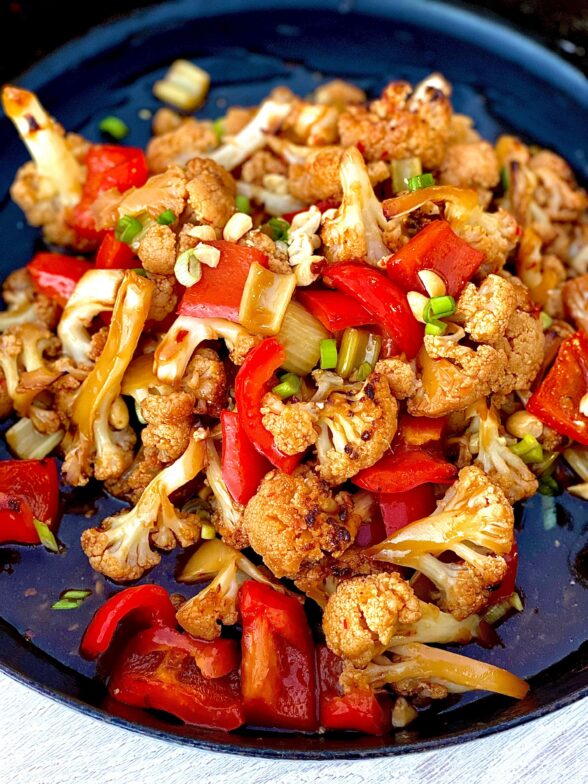 As always, if you make any of my recipes, please tag me @pamelasalzman #pamelasalzman so I can see them.  It makes my day to see your beautiful creations!
You can shop the tools I used to make this recipe by clicking on the images below: 

Kung Pao Cauliflower
Author:
Pamela (the cauliflower technique adapted from Half Baked Harvest)
Ingredients
1 large head cauliflower, cut into florets
1 Tablespoon arrowroot + 2 teaspoons for the sauce
2 Tablespoons coconut milk (if you don't have it, use whole milk, cashew milk or oat milk)
5 Tablespoons shoyu, tamari or coconut aminos, divided
1 Tablespoon unseasoned rice vinegar (no added sugar or salt)
2 teaspoons chili garlic sauce
1 teaspoon toasted sesame oil
1 Tablespoon grated fresh ginger
1 Tablespoon dark brown sugar or sugar of choice
5 Tablespoons water
1 Tablespoon avocado oil
2 stalks celery, cut into ½-inch thick slices
1 sweet bell pepper, any color, stemmed and seeded, cut into large cubes
Serving suggestions: chopped roasted and unsalted peanuts, sliced green onions
Instructions
Position oven rack 6 inches from the heat source, usually the second level. Preheat the broiler to high. Line a half sheet pan with aluminum foil (for easy cleanup) and set a cooling rack over the sheet pan.
In a large bowl, toss the cauliflower with 1 tablespoon arrowroot to coat. Add the coconut milk and 2 Tablespoons shoyu, tossing to evenly coat all the florets. Spread the cauliflower in an even layer on the prepared baking sheet/rack. Place in the oven and broil for 4-5 minutes, until the cauliflower is just beginning to char on the edges. Reduce the oven temp to 425 F and bake for another 5 minutes, until just tender.
Meanwhile, make the sauce. In a medium bowl whisk the remaining 3 Tablespoons of shoyu, vinegar, chili-garlic sauce, sesame oil, ginger, brown sugar, water, and 2 teaspoons arrowroot until smooth.
In a large skillet, warm the avocado oil over medium heat and add the celery and bell pepper. Sauté for 1-2 minutes, just to barely soften the edges.
Once the cauliflower has finished roasting, add the cauliflower to the skillet. Pour the sauce mixture over the vegetables and toss to coat and cook until thickened, 1-2 minutes.
Notes
Leftover coconut milk can be stored in a tightly covered container in the fridge for up to 5 days. It can also be frozen.