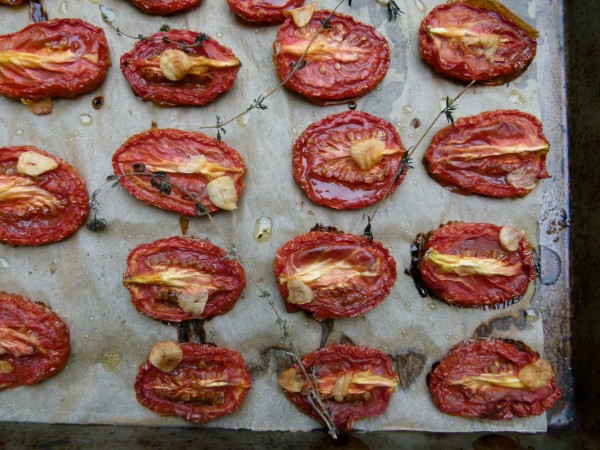 Someone leaked to Mr. Picky that in one of my recent posts I was guessing that he wouldn't be showering regularly at camp.  It wasn't a judgment on my part, just an observation from past history.  However, it seems as though Mr. Picky interpreted that as a challenge.  What you might not know about Mr. Picky is that he is competitive to a fault.  He also loves statistics and keeps track of everything, especially when he's first in something.  But believe me, his "firsts" are not what you might expect.  "Hey, Mom.  Did you know I was the first one down for breakfast 8 days in a row?"  Or not firsts.  "Mom, guess what?  Guess what, Mom?  I was the second youngest at camp.  By 20 days."  So I wasn't entirely shocked when Mr. Picky said to me the other day that he's on a showering streak.  Huh?  "Mom, guess what?  I have showered 37 days in a row!  For real.  I'm not even joking."  I need to blog more about him not eating cooked vegetables.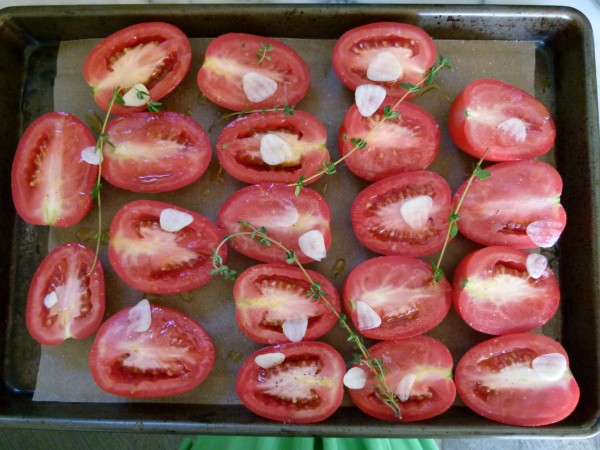 Well, Mr. Picky had to come from somewhere.  Guess what, friends?  I've eaten a tomato in some way, shape or form every day for the last 24 days and I'm not even joking.  Whereas I fear Mr. Picky is on a quest to find his way into some imaginary record book for showering, my daily tomato indulgence is for pure pleasure.  Furthermore, I know my streak will come to a sad end in a few months when tomato season is over.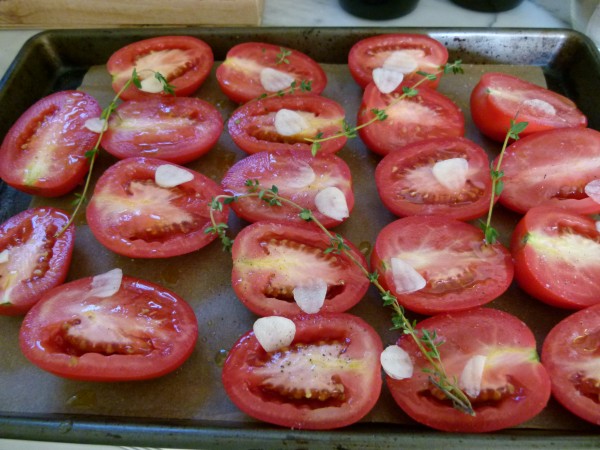 I have a total obsession with summer tomatoes.  I always have.  When I was little, I would take a salt shaker into my father's garden and have a tomato party.  First, I would pluck a nice ripe tomato off the vine.  For the first bite, I always had to shake a tiny bit of salt in my mouth and then take a bite of tomato.  Salt doesn't stick to a whole tomato.  After that bite, I would shake the salt on the cut part of the tomato and eat away.  My mother told me a few times I even ate several green (underripe) tomatoes and made myself a bit sick to my stomach.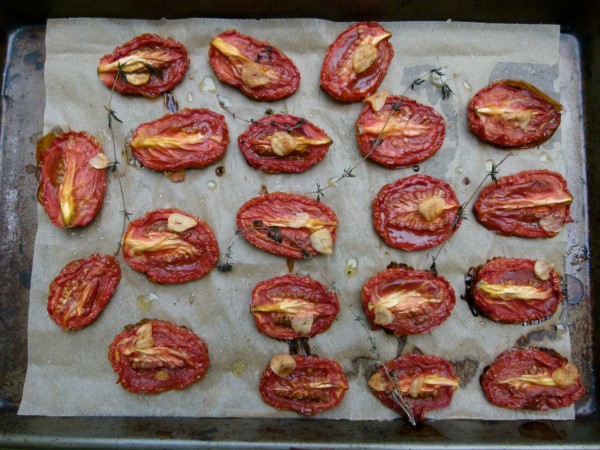 But I am only interested in local, summer tomatoes.  Nothing else compares and I wouldn't even waste your time on tomatoes before June or after October, and even that is pushing it.  So right now, I'm in my glory and I am snatching up different varieties every week.   So happy!  And tomatoes are amazing for you – I just posted something on my facebook page yesterday about all their health benefits.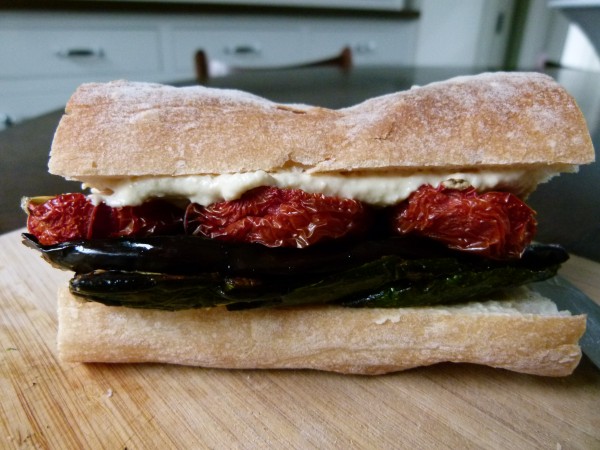 Something I just started making the last few years are slow roasted tomatoes in the oven.  Damn!  Have you ever tried these?  I'm not talking about sundried tomatoes, which for some reason I don't like.  Slow roasted tomatoes are super-sweet and moist.  You can cook them as long or as little as you like, but I prefer to bake them until their texture is like moist, dried apricots.   So darn good and soooooooo easy!  It's barely cooking, people.  And you can use them in a million ways.  Delicious on an antipasto platter, with crusty bread, eggs/frittatas, sandwiches, salads, in pasta, etc.  How could I forget straight-off-the-pan?  Such deliciousness if you have patience to slow cook them.  I figure since I waited all winter and spring for tomatoes, what's a few hours?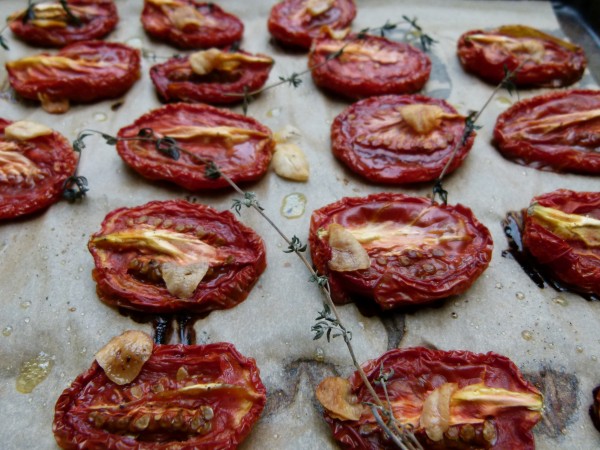 Slow Roasted Tomatoes
Ingredients
12 plum tomatoes*, halved lengthwise
2 cloves garlic, thinly slices
a few sprigs of fresh thyme
unrefined olive oil for drizzling
sea salt
Instructions
Preheat oven to 200 degrees. Line a small baking sheet with parchment paper. If you want to make more tomatoes, use a large baking sheet.
Arrange the tomato halves, cut side up, in one layer on the prepared baking sheet.
Place a sliver of garlic on top of each tomato and scatter the thyme sprigs over. Drizzle a little oil over the tomatoes and sprinkle with a pinch of salt. Bake until desired texture is reached. I like to go 8 hours. More time will result in drier tomatoes. Less time will result in juicier tomatoes. Ovens also vary, so check tomatoes periodically.
Store in the refrigerator in a covered container for up to a week. Covered in oil, the tomatoes will last a few weeks. You can also freeze them right on the sheet pan and when the tomatoes are frozen, transfer them to a covered container to freeze (ideally a freezer bag that is as small as will fit the tomatoes.)
Notes
*You can also use halved cherry or grape tomatoes and cook for less time.