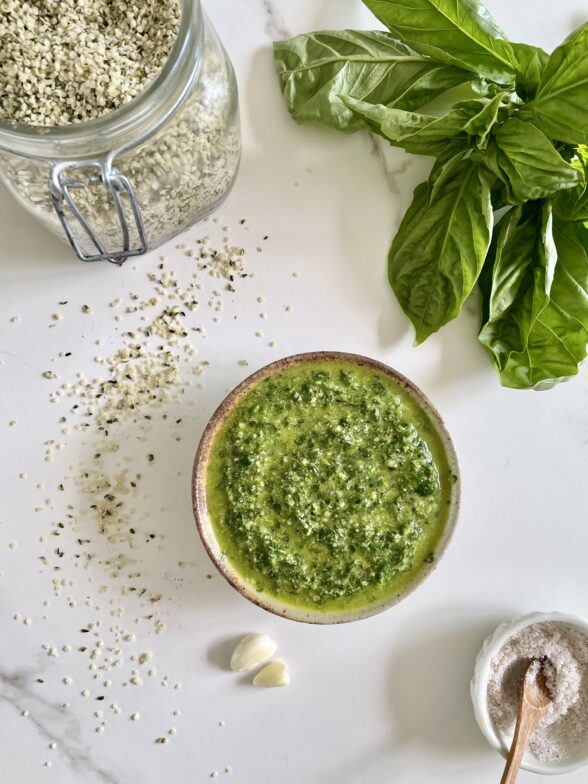 In the last few years, one of my nutrition goals has been to mix it up.  What does that mean?  It means that I am not eating the same ingredients/foods over and over again. I am diversifying in order to expose myself (and my family) to different nutrients and different types of fiber which can help keep my gut microbiome flourishing.  Plus, variety is the spice of life!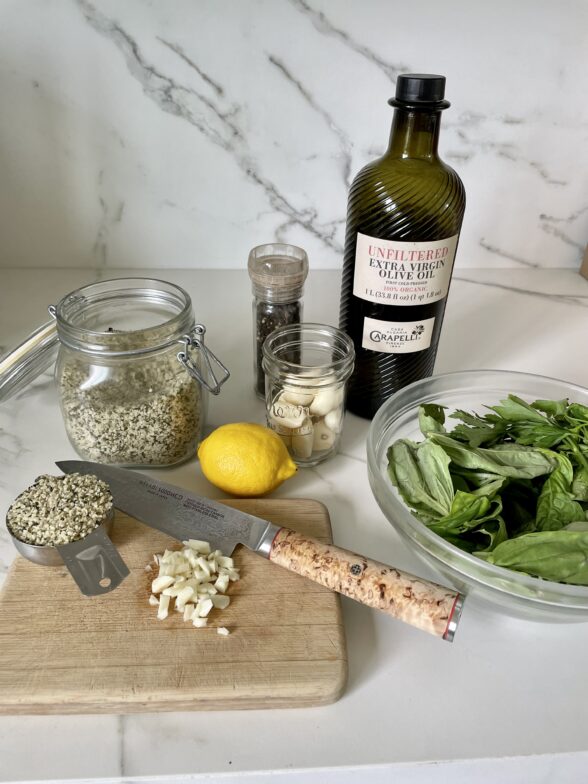 Pesto is an absolute staple in my kitchen.  I grew up eating it multiple times a week (usually on pasta) in the summer and looked forward to it every time.  How many things can you say that about?? In my house now, we all love pesto and I have countless ways to use it.  I have made many types of pesto on here and in my cookbooks, and "off the grid" (what you don't see) I swap in all sorts of things for the herbs, cheese and nuts.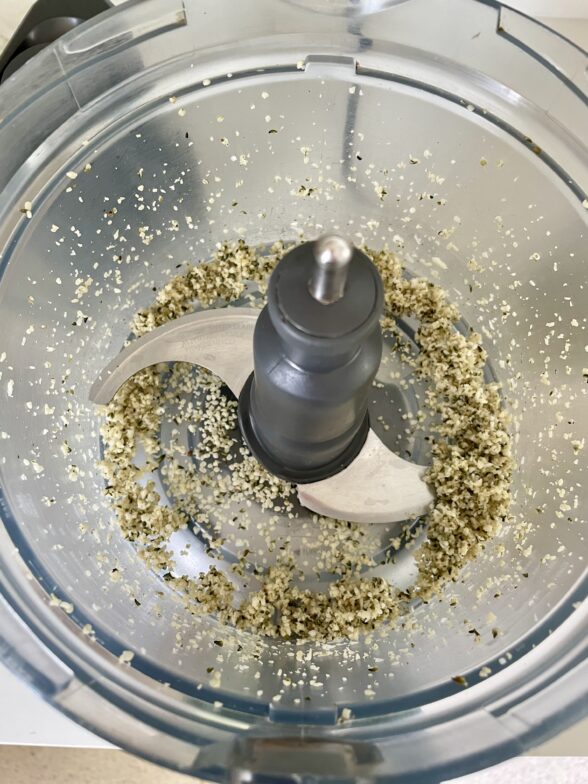 Going back to the original thought in this post about variety, I do like mixing in different nuts and seeds in my eating plan as much as possible.  Classic Genovese pesto calls for pine nuts, but they're so expensive and any nut can work in its place.  But what if you're nut free and/or want to get more seeds into your diet?  Enter my favorite seed of all, hemp seeds.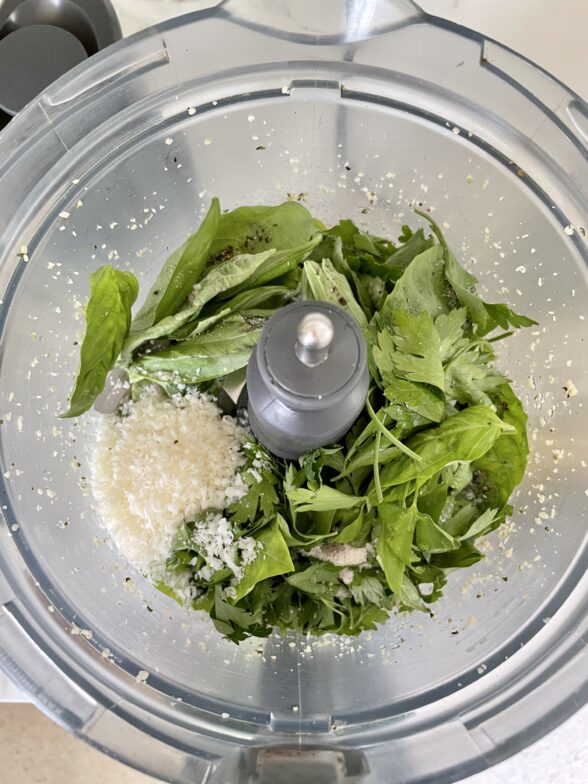 Technically we are buying hemp hearts which are hulled hemp seeds.  They are very small and soft unlike pumpkin seeds and sunflower seeds, so they blend up really easily.  Hemp seeds are rich in high quality fat, especially anti-inflammatory Omega-3 fats, fiber and protein.  They are really easy to add to many recipes, but they're a no-brainer to swap in for nuts in pesto.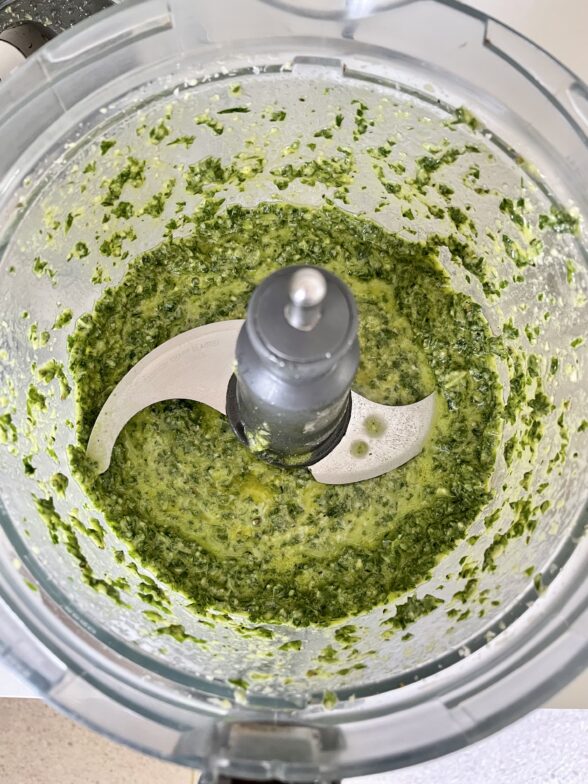 I recently made this and my husband had no idea it wasn't my "normal" pesto. You can also swap in vegan cheese if you like or half basil and half another herb or baby spinach leaves.  I tossed some simply boiled baby potatoes in this pesto with some blanched green beans and it was absolutely delicious.  You can just use it like any other pesto!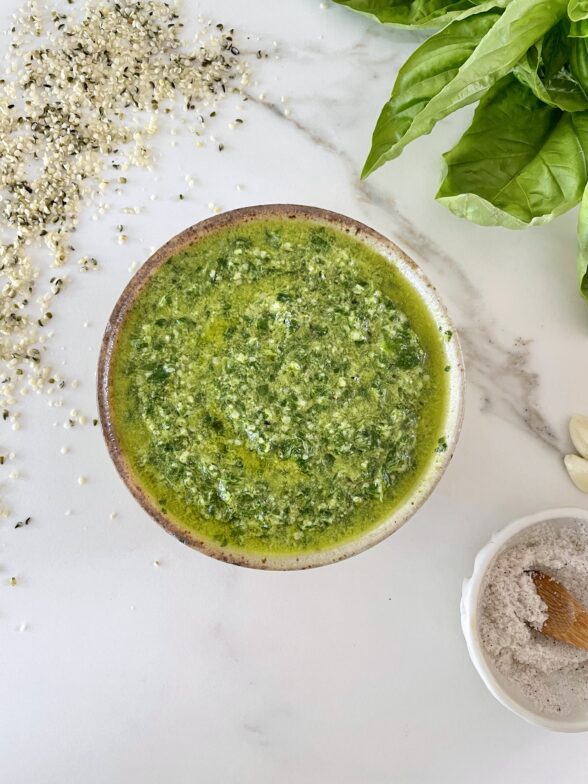 If your garden is bursting with basil right now or you see some at the farmers market and can't resist, do try this.  It stays good in the fridge for at least a week and freezes beautifully.  If you make this recipe or any of my recipes, please tag me on Instagram so I can see your beautiful creations @pamelasalzman #pamelasalzman! And don't forget to check out my upcoming bootcamps!  Meal Planning starts Wednesday 7/28 (use code MEAL100 for $100 off) and Plant-Based 1.0 starts Thursday 7/29 (use code PB100 for $100 off.)  We have so much fun!
You can shop the tools I used for this recipe by clicking on the images below:

Hemp Seed Pesto
Ingredients
1⁄4 cup hemp seeds
1 Tablespoon chopped garlic
2 1⁄2 cups mixed fresh basil and parsley leaves
1⁄4 cup grated Pecorino or Parmesan cheese or vegan Parmesan, such as Violife, or 2 Tablespoons nutritional yeast (cheese and nutritional yeast are optional)
1 Tablespoon freshly squeezed lemon juice - for a little different flavor
1⁄4 teaspoon sea salt, to taste
Freshly ground black pepper
1⁄2 cup unrefined, cold-pressed extra-virgin olive oil
Instructions
Place hemp seeds and garlic in a food processor and process until roughly chopped.
Add the basil, nutritional yeast or cheese, lemon juice, salt and pepper. Start the food processor and pour the olive oil through the feed tube until desired consistency. Taste for seasoning and serve.
Notes
This is half my normal pesto recipe. Feel free to double all the ingredients to make more.