I have some old and new favorites to share this week.  And in between Friday Favorites, I am posting some amazing Mexican recipes to get you ready for Cinco de Mayo.  After which comes Mother's Day, Memorial Day, school graduations, and Father's Day — all in the next two months!  Lots to celebrate and lots to plan!
Jem Raw Organics Sprouted Nut Butters

I know you already have a dozen nut butters that you love.  I personally have 2 dozen that I love!  But Jem Raw Organics has just stolen my heart for the time being with their out-of-this-world, creamy, delicious, perfectly sweet nut butter.  Jem Raw Organics has a line of sprouted (yes, sprouted, which means more digestible) organic, raw nut butters.  There are 4 delicious flavors to choose from, each inspired by a different superfood.  Does it get any better than that??  I actually bought all 4 and I heard they are introducing a cashew butter soon!  The unanimous favorite in our house is the Cinnamon Maca Almond Butter, but the Superberry Maqui Camu Almond Butter, Hazelnut Cacao, and Coconut Cardamom Almond Butter are also incredible.   I actually love putting the Coconut Cardmom flavor on my smoothie bowl because the coconut in the nut butter firms up when it comes into contact with cold and it becomes like Magic Shell!  Yesterday, I topped my oatmeal with the Superberry flavor and my son was eating a piece of toast with the Cinnamon Maca.  We are all hooked!
Unfortunately, they are expensive.  But, I'm never going to spend 72+ hours soaking, sprouting, and grinding almonds.  Are you?  I buy the 16 ounce size (which is the largest) from ThriveMarket.com which has the best price I have found at $23.95.  (It's $29.99 on Jem's website.)  I have seen the 6-ounce size at Whole Foods and other markets, and you can always order on amazon.  And then you'll want to hide them in your pantry in the way back so no one will no they're there and you won't have to share. 😉
Beyond Yoga Salt and Pepper Stretch Capri Leggings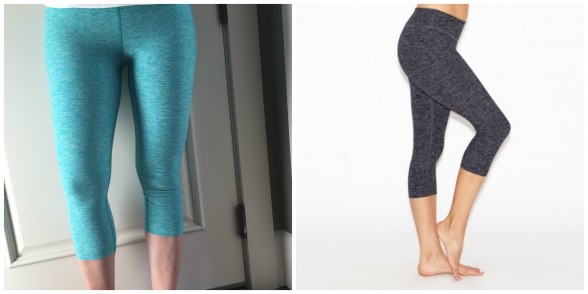 Due to aforementioned obsession with Jem nut butters, I need to exercise.  Often.  My workout clothing of choice is usually a stretch yoga pant and cami.  Tops are easy, but not all pants are created equal.  So when I find a pair of pants that fits me perfectly, is beyond comfortable and looks cute too, I'll take them in every color, please!  These Salt and Pepper Stretch Leggings made by Beyond Yoga are my new faves.  I have them in Seaglass-White (that's me on the left) t'd I just ordered another pair in Black-White (that's a model on the right.)  As soon as the other out-of-stock colors come back in, I will probably order them, too.  They are ridiculously soft, fit like a glove, have the perfect amount of compression and stretch, and are super flattering since the waistband comes above my muffin top and holds my midsection all in.  I cannot deal with yoga pants that hit below the muffin top!!  Cannot.  These are the perfect yoga pants for me!  I bought mine on the Beyond Yoga website.
Microplane Graters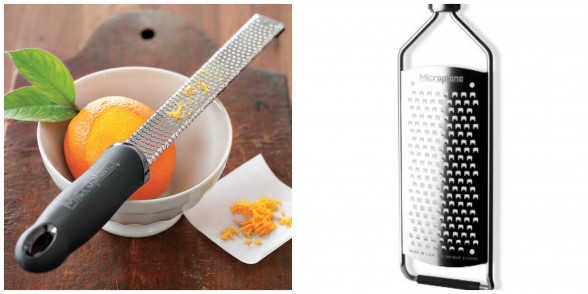 I am not a useless-kitchen-gadget person.  I only possess tools which will actually make cooking easier and more fun.  And I especially like tools that do more than one thing.  So if I highlight an appliance or item on my site, it's because I love it and can't live without it.  Microplane graters are one of my absolute favorite kitchen tools.  There are many different styles/levels of coarseness.  I have the rasp grater which is perfect for zesting citrus and nutmeg (not that I ever grate fresh nutmeg if I'm being honest) and the coarse grater which I use for grating Parmesan cheese, chocolate, ginger and garlic.  I have had my Microplanes (Microplane is an actual brand name/company) for at least 10 years and they are still in great condition and the teeth are still razor-sharp.  I also love that they take up very little space in the drawer.  Word of advice — do clean your Microplanes immediately after using, otherwise the stuff you grated will dry up and get stuck in all the teeth and will not be fun to clean.  They are dishwasher safe, but I always wash them by hand.
Microplanes are not expensive and will run around $11 for the rasp and more for the large box grater.  I have seen Microplanes in Whole Foods, Bed Bath and Beyond, Sur La Table, Williams-Sonoma and on amazon.com, which has the best price.
Seasonal Produce: Sweet Peas

When I think of spring produce,e one of the first things that comes to mind is peas.  There are many varieties of peas, but I'd like to highlight green English peas this week since fresh ones have recently hit the farmers markets for a brief appearance.  English peas, also known as shell peas and garden peas, grow in a pod and need to be shelled before consuming (as opposed to Sugar Snaps and Snow peas where you eat the whole thing.)  So if you buy them fresh, there is some work involved.  I actually think shelling peas is a very zen activity, if you have time naturally.  I love the idea of sitting in a rocking chair on a wraparound porch shelling peas and listening to birds chirp.  I don't have a wraparound porch or a rocking chair and I don't really have the time to sit around shelling peas, but I love the idea of it!
When English peas are very fresh, they are so tender and sweet.  If they have been off the vine for a while, they can get a little starchy.  Luckily, frozen peas are easy to find and a great option if fresh is not available.
Peas are very rich in vitamin C, vitamin K, manganese and also contain fair amounts of  iron, folate, vitamin B1, phosphorous, magnesium, potassium, and copper. Peas are also high in fiber.  But what surprises many people is how much protein a cup of peas contains — 9 grams!!  Not surprisingly , I'seen pea protein powders gain in popularity lately.
A weird fact about green peas is that they contain an anti-fertility compound called m-xylohydroquinone, so it is recommended that pregnant women avoid them.
Here are some great recipes for English peas:
Three Pea Saute with or without Turkey Bacon
White Bean Salad with Peas and Mint from Not Without Salt
Peas with Leeks and Tarragon by Ashley Neese
Risotto with Peas, Marjoram and Asiago by Martha Stewart
Cold Pea and Basil Soup by Gwyneth Paltrow via Saveur
Superfood Spotlight:  Raw Apple Cider Vinegar
Are you thinking "how is raw apple cider vinegar a superfood?"  I realize vinegar might not be bursting with the same antioxidant levels as acai, but raw (emphasis on raw) apple cider vinegar is teeming with health benefits.  I use Bragg's Raw Apple Cider Vinegar which contains what is called "the mother."  The mother is a cloudy mass of naturally occurring pectin and proteins that form during fermentation. Filtered and pasteurized vinegars will not contain the mother and therefore lack the enzymes and other nutritional properties in raw ACV that have such a positive effect on the digestive process.  Raw apple cider vinegar contains minerals and trace elements, LDL cholesterol lowering pectin, acetic acid (which can help burn fat), anti-viral malic acid, live enzymes, amino acids and many other beneficial nutrients.  And it's really cheap!
Vinegar is not just for salad dressings, although you can find my favorite everyday vinaigrette here.  I also drink it with water.  To improve digestion, take a tablespoon of ACV in a big glass of room temperature or warm water around 15 minutes before a meal to stimulate digestive juices for better breakdown of your food. In addition, raw apple cider vinegar can help:
heartburn, intestinal problems and constipation
increase the good bacteria in the gut and prevent candida
strengthen the immune system
detoxify and cleanse the liver
lower blood pressure
minimize bad breath
balance the skin's pH levels, resulting in glowing skin!
It is important to dilute the vinegar though, and not just drink it straight.  Yikes!  If you think it's too sour, just use more water.  Don't add sugar or honey to the water, because that defeats the purpose!