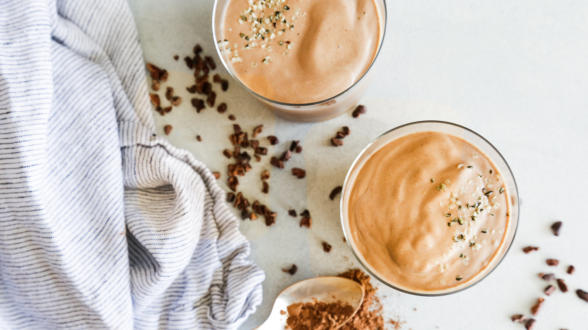 It's smoothie weather! I've mentioned on the blog before that I don't do smoothies when the weather is cool or cold.  And in general, I actually try not to eat too many smoothies on an empty stomach.  An acupuncturist told me decades ago not to consume ice cold beverages with meals as they squelch the digestive fires. The same goes for cold smoothies which also may cause digestive problems and cause you to feel cold – not a good thing when it's cold outside.  When the weather warms up, I am more inclined to drink a smoothie, although I still start my day with warm water with lemon.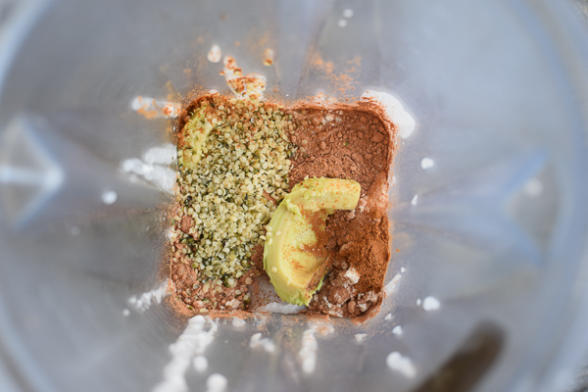 Something else I am conscientious about with smoothies is the amount of sugar they contain, whether the sugar is natural from fruit or dates or added concentrated sweeteners from cane sugar or maple syrup.  So many smoothies are total sugar bombs and not a great way to begin the day (with a spike in blood sugar.)  I try to think about what a reasonable serving of fruit is and add nothing more than that to my smoothie.  What I  wanted to share with you today is actually a FRUIT-FREE smoothie.  Stay with me.  This recipe is from Dr. Frank Lipman's book, "How to Be Well:  The 6 Keys to a Happy and Healthy Life."  Dr. Lipman is an advocate (like I am) of a low-glycemic diet.  He also promotes good, healthy fats like unrefined coconut oil, nuts and nut butter, and avocados.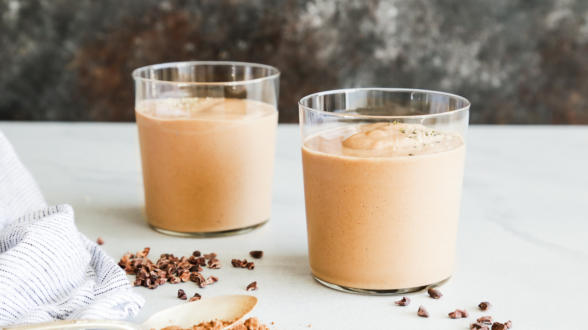 I originally tried this smoothie at the breakfast event I co-hosted for Dr. Lipman's book in the spring and I was instantly smitten.  What I loved about it was that it wasn't too cold and it wasn't overly sweet.  I felt satisfied and full until lunchtime and I had no blood sugar spike and crash.  Plus it tasted delish, like a creamy mocha delight!  The addition of cinnamon has also gotten me addicted to the flavor of that spice with chocolate.  It's my new favorite.  As always, there is room for adaptation here – sub sunflower butter for the almond butter or ghee for the coconut oil.  There are even natural coffee substitutes if you don't do regular coffee.   Lastly, I'm not a huge fan of protein powders since so many of them are full of junk.  I used the vanilla Vital Proteins collagen powder, but I'd love to hear what your favorite clean protein powders are!
I love when you make recipes from my cookbook, my site and my online cooking classes.  Please tag me @pamelasalzman #pamelasalzman on Instagram so I can see your creations!
You can shop the tools I used for this recipe by clicking on the images below!

Chocolate Energy Smoothie from "How To Be Well"
Serves:
1 large or 2 small smoothies
Ingredients
1 serving vanilla protein powder (I used vanilla collagen powder from Vital Proteins)
¾ cup unsweetened coconut milk
¼ cup brewed organic coffee or 1 teaspoon organic instant coffee powder (optional)
1 to 2 tablespoons raw cacao
¼ avocado
1 Tablespoon almond butter
1 Tablespoon coconut oil
1 Tablespoon flax, hemp, or chia seeds
¼ teaspoon ground cinnamon
6 to 8 ice cubes or approximately ½ cup room temperature water
Instructions
Place everything in a blender and process until smooth