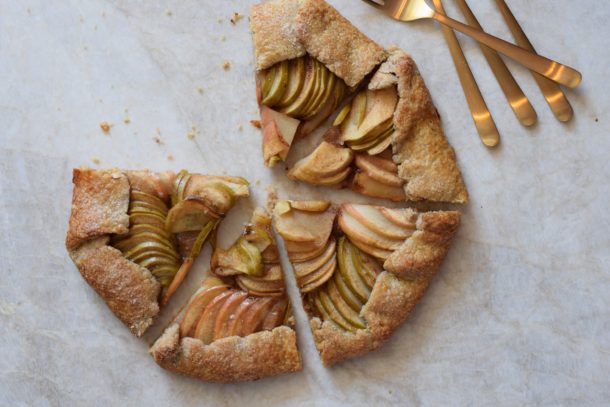 How's the Thanksgiving planning going??  I have another great recipe you can add to your menu.
I am not going to argue that this is a "healthful dessert."  But I can feel good about the fact that there is very little added sweetener in this galette and there's only one crust, so can we agree that it's less damaging than a pie?  Regardless, this galette is downright delicious and so much easier than it looks.  It's the perfect dessert for Thanksgiving or any time you need something sophisticated, but homey.  Watch my new YouTube video below for the step-by-step.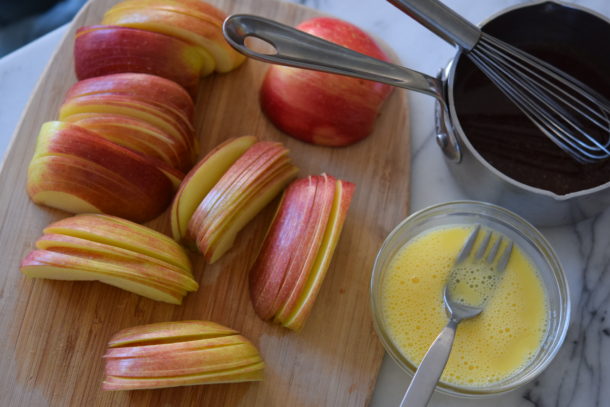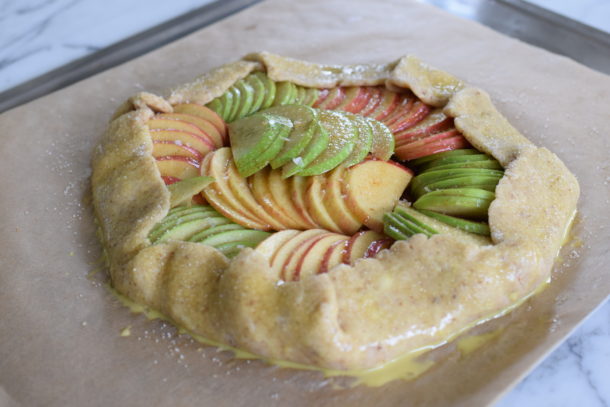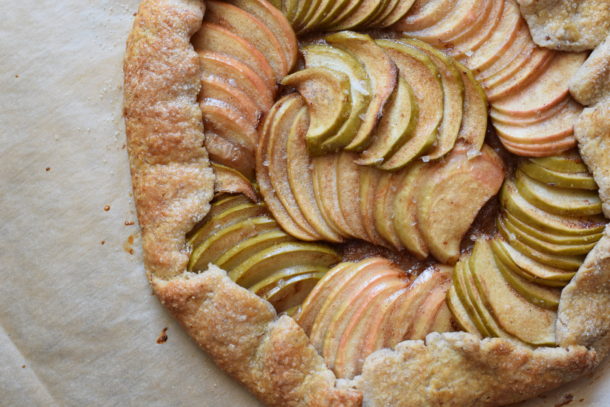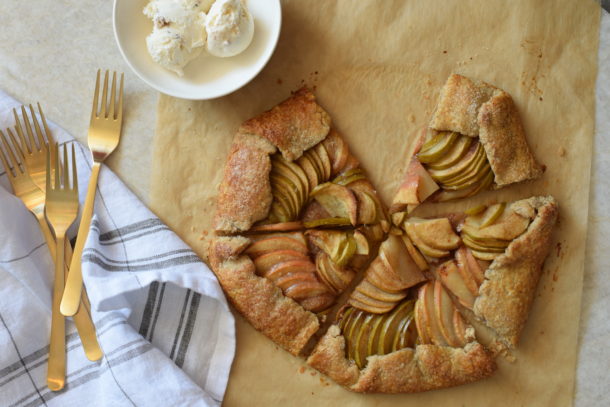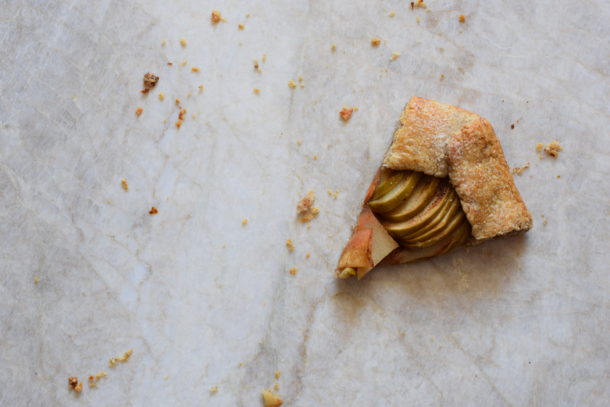 Salted Maple Apple Galette Recipe
Ingredients
Dough:
½ cup pecans
1 cup plus 2 Tablespoons all-purpose flour
2 teaspoons granulated cane sugar
½ teaspoon sea salt
¼ teaspoon ground cinnamon
½ cup (1 stick) unsalted butter, cold and cut into pieces
3-4 Tablespoons ice water
Filling:
2 apples, quartered, cored and thinly sliced. Try to keep the slices together.
2 Tablespoons unsalted butter, melted
2 Tablespoons pure maple syrup
2 teaspoons pure vanilla extract
¼ teaspoon ground cinnamon
Maldon salt
1 large egg
1 Tablespoon whole milk, half-and-half or heavy cream
½ Tablespoon granulated sugar
Instructions
Preheat oven to 350 degrees. Line a baking sheet with unbleached parchment paper and toast pecans, tossing once, until fragrant and slightly darkened, 8-10 minutes; let cool.
Pulse pecans in a food processor until the consistency of coarse meal. Add flour, sugar, salt, and cinnamon and pulse until just combined. Add butter and pulse until mixture resembles coarse meal with a few pea-size pieces remaining.
Drizzle with 3 tablespoons ice water and pulse until dough comes together, adding another tablespoon of water if needed.
Gently pat dough into a 6" diameter disk. Wrap in plastic and chill 30-60 minutes. *
Beat egg with milk and set aside.
Combine melted butter, maple syrup, vanilla and cinnamon. Set aside.
Roll out dough on a lightly floured surface to a 12" round. Carefully transfer to a parchment-lined baking sheet. Raise oven temperature to 375 degrees.
Fan apple slices in center, overlapping each other, leaving a 2" border. Brush apples with butter-syrup mixture. Sprinkle with Maldon salt.
Fold dough edges over, overlapping slightly. Brush folded border with egg wash and sprinkle with sugar.
Bake galette until crust is golden brown and apples are tender, 45-50 minutes. Let cool slightly before serving.
Notes
*Dough can be made 2 days ahead. Keep chilled, or freeze up to 1 month.