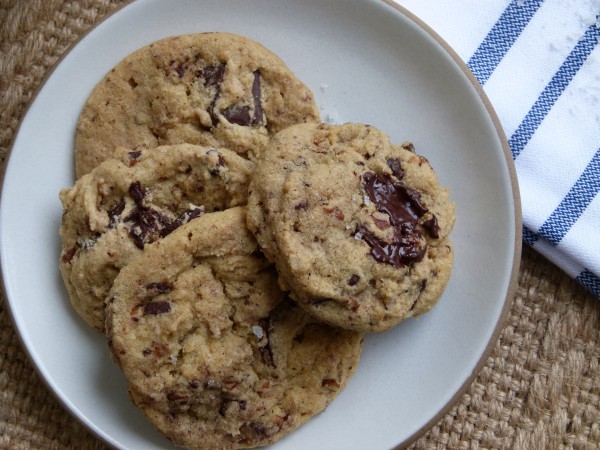 One of my students asked me the other day if I had a good chocolate chip cookie recipe and I instinctively said, "Sure, just check my website."  To which she replied, "I did.  But all you have on there is your Oatmeal Chocolate Chip Cookie recipe."  And then it hit me.  I have neither taught in a class nor posted my favorite chocolate chip cookie recipe.  Gasp!  Coincidentally, Mr. Picky had been asking if we could make homemade ice cream sandwiches, so I got to work lickety split!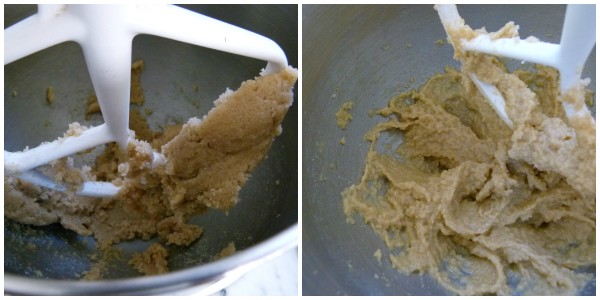 In my defense, there are good reasons I haven't posted my chocolate chip cookie recipe.  First of all, I do use refined white sugar because it just makes the best cookie.  But it isn't exactly clean and healthful and I want this site to be your destination for high quality recipes.  However, even with the white and brown sugars, I use whole grain flours and everything is organic so these will be waaaaaaay better for you than bakery cookies or packaged (really now?) ones.  It's all about balance and moderation!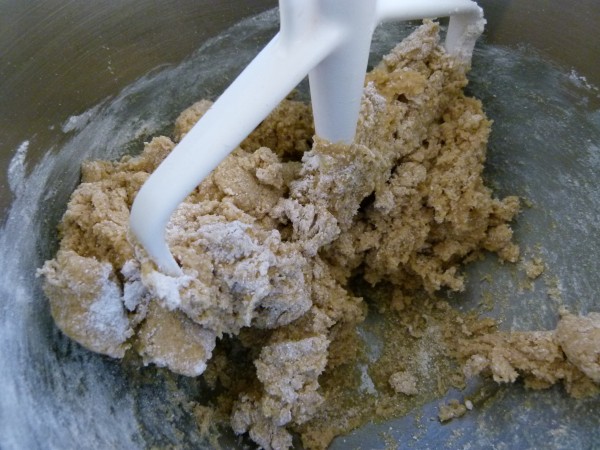 The other issue is that I keep changing my recipe when I learn something new to make them even better than the last time.  And this has happened often.  Many of you are so in the know about food trends that you might think my ah-ha chocolate chip moments are sooooo 2005, but I never said I was an early adopter.  Let me first make it clear what kind of chocolate chip cookie I love, because that's what you're getting here — my favorite.  If you love the thin and crispy kind, hmmmm, today's not your day.  Cakey?  Yeah, not me.  Milk chocolate?  Don't waste my time!  Friends, I like a cookie with some heft and substance, something that you can sink your teeth into.  But I also don't want a greasy cookie which makes me feel like I'm sucking on butter.  Slightly crispy on the outside and chewy on the inside with chunks of semisweet or dark chocolate is the way I roll.  Sometimes I'm feeling fancy and I'll add a pinch of flaky sea salt on on the tops and that is just heaven.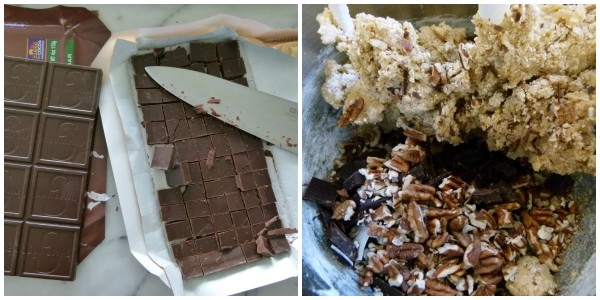 Something I learned to achieve my perfect cookie is to use cold butter instead of room temperature, which is a trick I learned from Mrs. Fields (not that I met her, but that's how she makes her cookies.)  The combination of cold butter and  a low oven temperature help to keep the cookie from spreading out too thin and too fast.  I also started adding a little oat flour after I saw this Neiman Marcus cookie recipe which I found out later was not the official recipe but the oat flour stayed in mine.  The oat flour makes the cookie a little nuttier and dense.  Ina Garten taught me (via television, of course) that a chocolate bar cut into pieces is much more satisfying than chocolate chips, although I do use those often.  And every fancy restaurant in the last several years has added a pinch of flaky sea salt to the tops of their cookies — a smart and delicious move.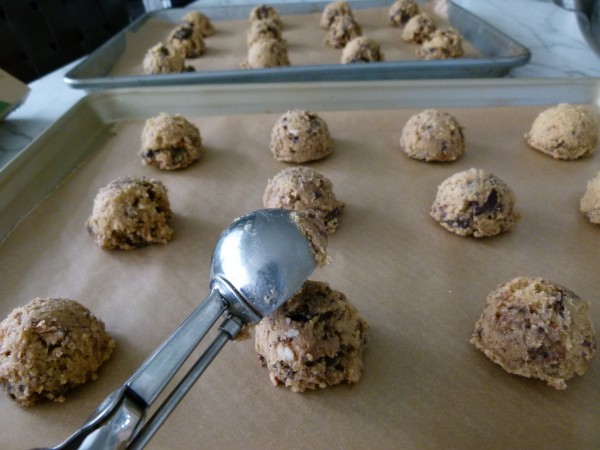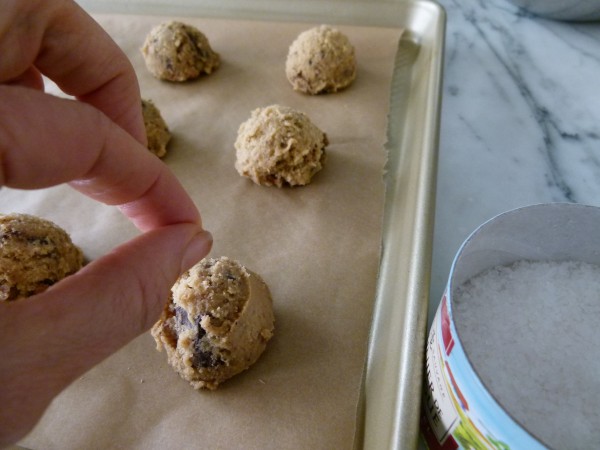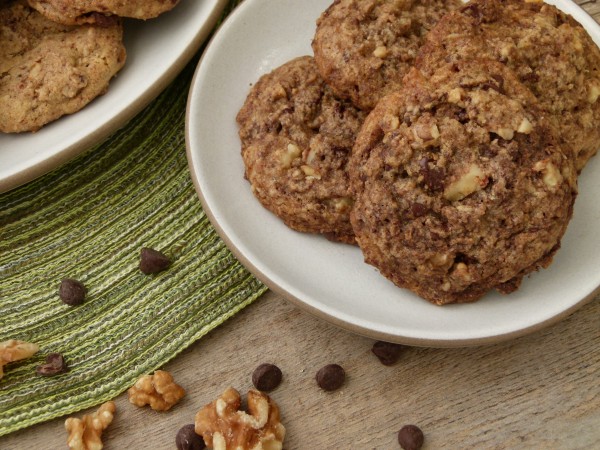 It may have taken me a while to bring it to you, but I'm sure with certain special occasions coming up, like Father's Day or end-of-the-year parties, it's never too late to try a great chocolate chip cookie recipe.  Of course, if you have the latest and greatest twist on chocolate chip cookies, I'm always open to improvement!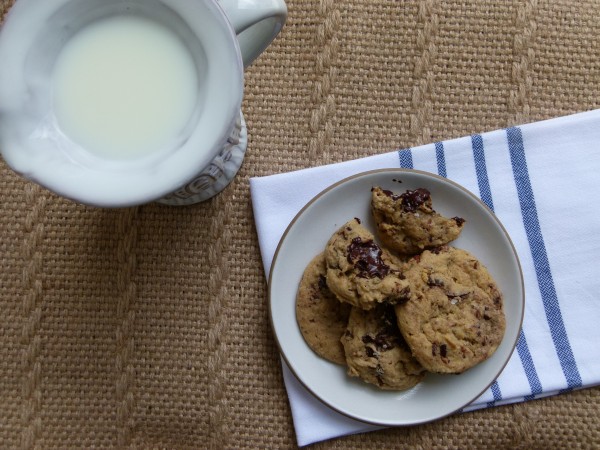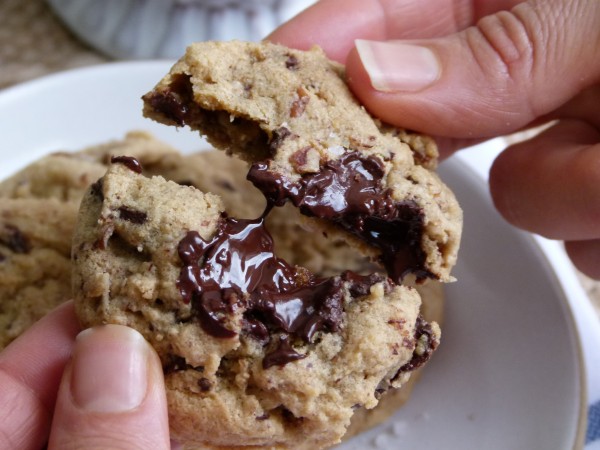 View this post on Instagram

 

 
Chocolate Chip Cookies
Serves:
makes 48 2¾-inch cookies (cut the recipe in half to make 24 or refrigerate the dough for up to a week)
Ingredients
1 cup (2 sticks) cold unsalted butter or organic Earth Balance, cut into ½-inch pieces
¾ cup cane sugar
1 cup brown sugar or Muscovado sugar
1 teaspoon baking soda
2 large eggs
1 ½ teaspoon pure vanilla extract
2 cups whole wheat pastry flour or white whole wheat flour
1 cup oat flour (you can take a cup of rolled oats and process them in the food processor to make your own oat flour)
1 teaspoon aluminum-free baking powder
1 teaspoon fine sea salt
18 ounces semi-sweet or dark chocolate bars, chopped coarsely or use chocolate chips
1 ½ cups chopped walnuts or pecans (optional)
flaky sea salt (optional)
Instructions
Preheat oven to 300 degrees. Line 2 baking sheets with unbleached parchment paper or silicone mats.
Place the butter and sugars in the bowl of stand mixer and blend on medium speed until the mixture is smooth.
Add the baking soda, eggs and vanilla to the mixing bowl and mix until combined.
In a medium bowl whisk together the flours, baking powder and sea salt. Add to the butter mixture and blend on low speed until just combined.
Stir in the chocolate and nuts.
Scoop the dough with a 1 ¾ -inch ice cream scooper onto the prepared baking sheets or use a tablespoon. Space them evenly apart. I was able to get 12 on each sheet.
Bake 18-20 minutes or until just set. The cookies will be slightly soft in the center. If you like them crispier, bake them for up to 23 minutes. Allow to cool on the baking sheets 2 minutes before transferring them to a cooling rack. Repeat with the remaining dough.
Notes
Raw cookie dough can be frozen, but it's a great idea to scoop the dough into balls first and freeze those so you can just pull out as many as you want to bake instead of having to defrost the whole batch of dough.  I have even baked cookies in the toaster oven!