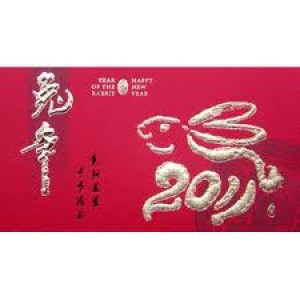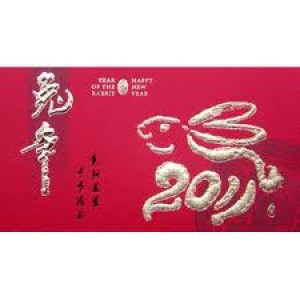 Today is the first day of the Chinese New Year.  Many of our children are learning about different celebrations from around the world in school and I love reinforcing these traditions at home.  My son is always excited to share details about the Chinese New Year parade at his school and any special foods he ate.  I usually make a simple Chinese-themed meal at home to get everyone in the spirit.  Two recipes I posted recently are Vegetable Fried Rice and Asian Noodle Salad.  But to fully understand the significance of Chinese New Year, I turned to my sister-in-law, Andrea Hutter, a student of Traditional Chinese Medicine and a licensed acupuncturist in Los Angeles.
Andrea:
February 3, 2011 marks this year's Chinese Lunar New Year, or Spring Festival. Chinese New Year has been celebrated for nearly 5,000 years and is the most significant holiday in China.  It can be likened to our Christmas and New Year's celebrations combined into one. This is the year of the Metal Rabbit.
Metal represents this year's five elements energetic phase (the five elements include metal, water, wood, fire and earth), which predicts the global trends that affect us on a personal level. Metal types are brave, disciplined, trained, organized, authoritative, honorable, determinative, routine, firm, resolute and have an urge to win. They are sensitive in grief and sadness.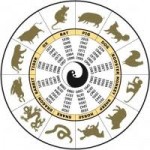 The Rabbit represents the zodiac animal year, or ben ming nian. The Rabbit person is diplomatic, and has grace, culture and beautiful manners. Although rabbit people get on well with everyone, at heart they are basically reserved creatures, and are only really happy when they are engrossed in some sort of scholarly or intellectual activity. The Rabbit year brings an inward focus, which includes taking better care of our health and well being.
In keeping with the Rabbit's inward focus, there are many ways that we can take better care of ourselves using another 5 thousand year old tradition, Chinese Medicine, which encompasses acupuncture, tui na, qi gong and Chinese herbal medicine. Chinese medicine is based on the precept that you can prevent illness from occurring in the first place, through acupuncture treatment, meditation, or qi gong, and by eating healing foods and taking herbs that possess healing properties. Many people are surprised to find out that foods commonly found in the Western kitchen are actually also deeply effective Chinese "herbs."  Some examples of these herbs are spices like cinnamon, nutmeg and cloves, which warm the digestion and help dispel dampness in the body that is brought on by eating fatty, fried and processed foods.  Rice is commonly added to Chinese herb formulas to lessen the harsh properties of some stronger herb combinations, and honey is used to help the body rid itself of phlegm and calm coughs.
In keeping with Chinese Medicine, elements and zodiac years, the feast of Chinese New Year is paramount to the whole holiday celebration.  The dishes served during Lunar New Year are symbolic of things positive and hopeful.  Since we all love an excuse to celebrate, why not break out your favorite red clothing, commonly donned by Chinese people for good fortune, and cook up some delicious Citrus Chicken, a symbolic Chinese New Year dish.  In China, the orange or tangerine symbolizes gold, which in turn represents good fortune and wealth in the coming year.  I would serve this with rice and some stir-fried green vegetables.
This recipe uses several common foods that are also Chinese herbs.  Examples are orange zest, or chen pi, which removes stagnation in the body, including the GI tract; ginger root, also known as sheng jiang is anti-bacterial, anti-oxidant, and anti-inflammatory, and effectively aids in curing the common cold, or wind cold invasions, while its warming actions calm stomach upset; green onions or scallions, known as cong bai, release exterior pathogens and induce sweating in the early stages of the common cold, aid in abdominal pain and nasal congestion and/or can be applied topically for dispersing masses – abscesses, sores, etc.  The healing properties of this recipe will make your celebratory meal both delicious and healthful.
Happy New Year, or Xīnnián kuàilè!
Andrea Hutter, aCHIeve acupuncture
424.234.9974
a@achieveacupuncture.com
andrea's citrus chicken
sauce:
1 1/2 cups water
2 tablespoons orange juice
1/4 cup lemon juice
1/3 cup rice vinegar
2 1/2 tablespoons shoyu (naturally fermented soy sauce)
1 tablespoon grated orange zest
1/2 cup packed brown sugar
1/2 teaspoon minced fresh ginger root
1/2 teaspoon minced garlic
2 tablespoons chopped green onion
1/4 teaspoon red pepper flakes
Chicken:
2 boneless, skinless chicken breasts, cut into 1/2 inch pieces
1 cup all-purpose flour
1/4 teaspoon salt
1/4 teaspoon pepper
3 tablespoons olive oil
3 tablespoons arrowroot powder or non-GMO cornstarch
2 tablespoons water
Pour 1 1/2 cups water, orange juice, lemon juice, rice vinegar, and shoyu into a saucepan and set over medium-high heat. Stir in the orange zest, brown sugar, ginger, garlic, chopped onion, and red pepper flakes. Bring to a boil. Remove from heat, and cool 10 to 15 minutes.
Place the chicken pieces into a resealable plastic bag. When contents of saucepan have cooled, pour 1 cup of sauce into bag. Reserve the remaining sauce. Seal the bag, and refrigerate at least 2 hours.
In another resealable plastic bag, mix the flour, salt, and pepper. Add the marinated chicken pieces, seal the bag, and shake to coat.
Heat the olive oil in a large skillet over medium heat. Place chicken into the skillet, and brown on both sides. Drain on a plate lined with paper towels, and cover with aluminum foil.
Wipe out the skillet, and add the sauce. Bring to a boil over medium-high heat. Mix together the arrowroot and 2 tablespoons water; stir into the sauce. Reduce heat to medium low, add the chicken pieces, and simmer, about 5 minutes, stirring occasionally.