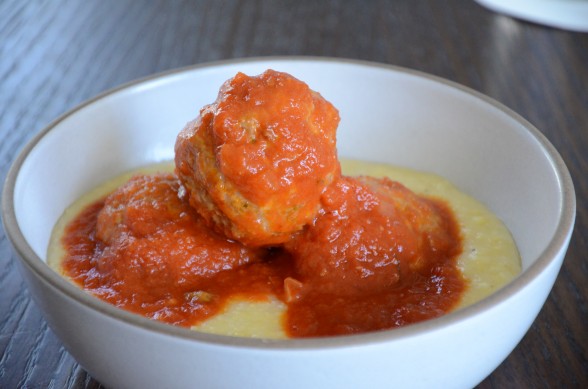 Have I shared with you that I don't really like meat and poultry all that much?  It's not even for ethical or health reasons.  I just don't enjoy the texture and flavor of animal protein.  I was a pescatarian for about 8 years until I discovered I was slightly anemic, so I slooooowly started incorporating a little organic meat and poultry into my diet.  Maybe I eat 3-4 ounces a few times per week, just enough to help me feel a little stronger.  Before you think this is a post to convince you to eat animal protein, it's not.  I'm not here to tell you what you should and shouldn't eat.  Your body does an excellent job of that — you just have to listen.  The fact is that the rest of my family enjoys all types of meat and poultry and so does the majority of my students and their brood.  So I make sure I come up with at least one family-friendly meat or poultry recipe each month that I'll enjoy, too.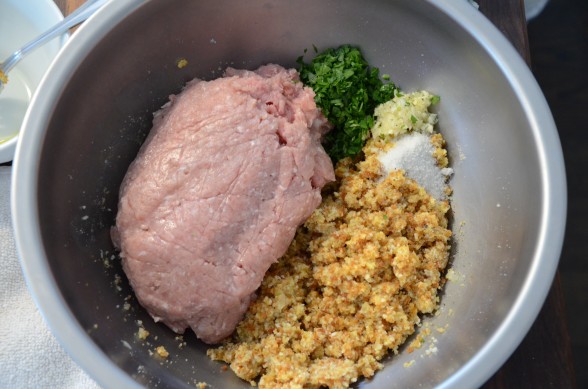 One of the few meat dishes I will actually eat a normal serving size of is meatballs.  Is it that meatballs don't completely resemble meat to me?  Or perhaps I enjoy them because they are generally swimming in marinara sauce, which I do love.   Regardless, meatballs are a favorite with many families and I had several requests for a turkey meatball recipe, so I gave it a go.  Substituting turkey for beef is not always straightforward.  Turkey doesn't have the fat content or flavor that beef does, so I tend to use dark meat turkey and doctor it up a bit more by adding finely grated onion and fresh garlic.  Many meatball recipes add turkey sausage to the mix to add flavor and moisture.  You can do that, too, but I think it's easier to just add 1/4 teaspoon of chopped dried fennel seeds to the mixture to get that unmistakable sausage flavor.  My daughters and I really liked it, but Mr. Picky gave it the thumbs down and his father, who grew up Jewish, said it made him "uncomfortable" to eat something that tasted like pork.  This is what I'm working with, people.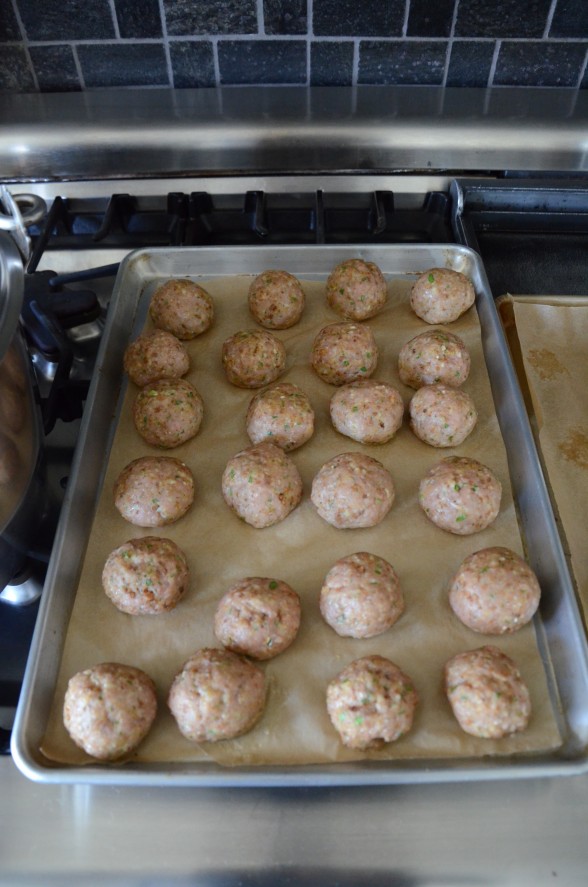 Here are some other suggestions for making a better meatball:
Bread crumbs really do help keep the meatballs tender.  I've used all sorts of bread here — spelt, gluten-free, a whole wheat onion hamburger bun.  You can make fresh bread crumbs by putting fresh bread in the food processor and processing it until you get crumbs.  Take those fresh bread crumbs and bake them in the toaster oven or regular oven for dried.  Of course you can buy dried at the store, too.
Bread-free?  I have substituted COOKED quinoa one for one with the bread crumbs and they tasted great, but "leaked" a little while baking. I also tried rolled oats once and my family thought I was taking it too far.  Rejected!
Flavor boosters:  Besides grated onion and garlic, I have used finely diced shiitake mushroom in place of the onion, chopped dried fennel seed, fresh basil and red chili flakes.
Forming with your hands:  Turkey meat can be sticky.  Putting a little water or oil on your hands can help make shaping the meatballs easier.
Baking vs. Frying:  Baking will not give you the brown crust on the meat that frying does, but it is much more healhtful.  Plus baking is 10 times easier to clean up!
Round Balls:  I have a thing against flat-bottomed balls.  So I allow the meatballs to sit in the fridge for an hour and then my OCD kicks in and I reroll them before they go into the sauce, so I get perfectly round balls, just the way I like 'em.  Shall we stop there?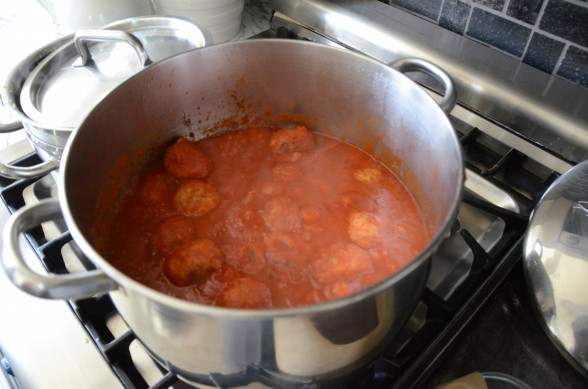 Turkey Meatballs
Ingredients
FOR THE MEATBALLS:
2 eggs
½ onion, finely grated (use a coarse microplane, a food processor or a box grater)
½ cup dry whole grain bread crumbs
1 cup fresh whole grain bread crumbs (2 slices of bread, crusts removed)
⅔ cup grated Pecorino or Parmigiano cheese
2 pounds ground dark meat turkey
1 ½ Tablespoons finely chopped parsley
2 cloves garlic, finely chopped
1 ½ teaspoons sea salt
Freshly ground black pepper to taste
FOR THE SAUCE:
¼ cup unrefined, cold-pressed extra-virgin olive oil
1 large onion, finely diced
2 garlic cloves, finely chopped
4 pounds fresh, ripe tomatoes, peeled, seeded and diced or 2 28-ounce containers of crushed tomatoes
1 7-ounce jar of tomato paste (optional, for a richer, thicker sauce)
Sea salt
A few leaves (a small handful) of fresh basil, thinly sliced
Instructions
Preheat oven to 350 degrees if you're going to bake the meatballs right away. Line a baking sheet with parchment paper.
In a large bowl, beat eggs with onion, both bread crumbs and cheese. Add remaining ingredients and mix well until everything is well incorporated.
Gently (don't pack the meat) form mixture into meatballs with your hands. You can use a medium ice cream scooper to help portion out the same amount for each meatball. Place meatballs on prepared baking sheet. If you have time, place the sheet pan in the refrigerator for an hour or longer. Cover them if they will be in there longer. The meatballs hold their shape better if you can refrigerate them.
In a medium saucepan, heat the olive oil over medium-low heat. Add the onions and sauté gently until softened, about 10 minutes. Add the garlic and cook another minute.
Add the tomatoes and tomato paste with 2 generous pinches of sea salt and bring to a simmer. Cover the sauce and simmer for about 20 minutes. Taste for seasoning.
Bake the meatballs in preheated oven for 20 minutes or until barely cooked through.
Puree about half the sauce with an immersion blender or pass through a food mill. Put the sauce back into the saucepan.
Add the basil and simmer for another 2 minutes. Add the meatballs, cover and simmer over low heat for 25 to 30 minutes until cooked through.
Notes
Meatballs freeze incredibly well and come in handy for a dinner for one or school lunches since you can pull a few out of the freezer and reheat them in sauce really easily. For this reason alone, it's worth convincing your kids to take a thermos to school.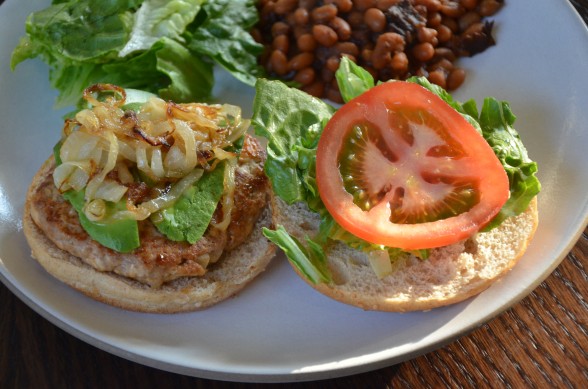 Let's play a little word association game!  When I say "turkey burger," you say …?  I think I heard "bland," "dry," "flavorless," "pointless."  You know what I say?  "No thank you!"  Until now.
I have never been a big meat-eater, even though I think there's a place for high-quality grass-fed beef in one's diet if you like it.  At barbeques, I'm usually the one looking for the non-beef burger option, but I had never met a turkey burger that I liked.  Father's Day is around the corner, and there are lots of dads who are trying to cut back on beef, so I think now's a good time to post a great turkey burger recipe.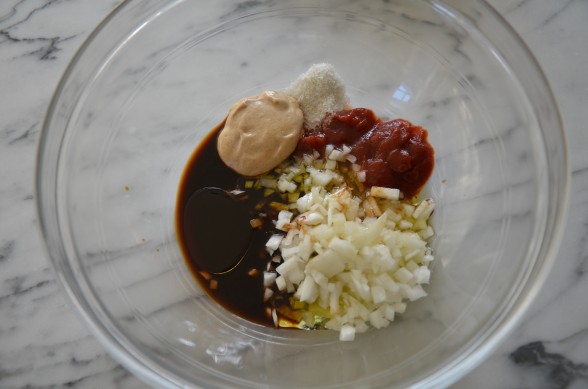 My goal is not to make a turkey burger that tastes like beef, because it won't.  But I want to make the turkey taste savory and moist and like something you would actually want to eat, as opposed to something you are settling for and all the time wishing you were actually eating a hamburger.  I also want a basic burger that everyone in my family will like, especially my hamburger-loving husband who once claimed that real men don't eat turkey burgers.  I accept the challenge!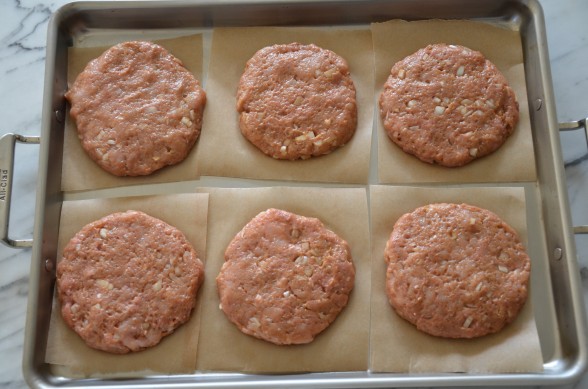 It's amazing what a few simple ingredients do to boring ground turkey.  I add a little olive oil for fat, minced onion for flavor and moisture and worcestershire for a meaty undertone.  A bit of dijon and ketchup get mixed in for an additional boost and my husband declared he would eat this turkey burger any day.  Of course, you can tailor this burger to your liking and make it a little fancy, if you want.  Add in some finely chopped sundried tomato and basil or go Tex-Mex with some red bell pepper, corn, cilantro and cayenne.  How ever you make it, I have a feeling you'll hear "Mmmmm……that's tasty!"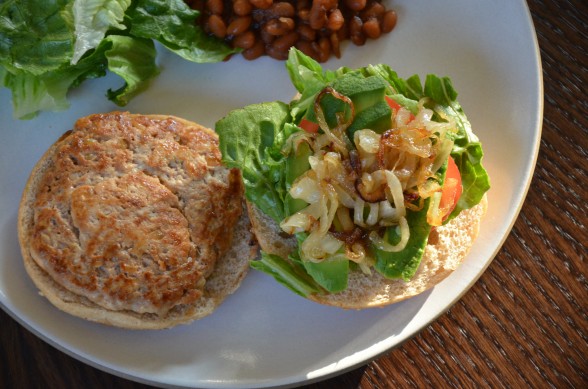 Tasty Turkey Burgers
Ingredients
1 ½ pounds ground turkey (white or dark meat)
6 Tablespoons minced raw onion (cook the rest of the onion for a delicious burger topping)
1 ½ Tablespoons Dijon mustard
1 ½ Tablespoons ketchup
1 ½ Tablespoons worcestershire sauce
1 ½ Tablespoons unrefined, cold-pressed olive oil + more for the griddle
¾ teaspoon fine grain sea salt
6 sprouted grain or whole wheat buns or lettuce leaves
Toppings: grilled onions, avocado, sprouts, tomato, lettuce, cheese, barbecue sauce
Instructions
Heat a griddle to 400 degrees or an outdoor grill to medium heat.
In medium bowl, mix the turkey with all the other ingredients. This is a very moist mixture.
Form into 6 patties, about 5-inches in diameter.*
Brush the griddle or grill with a small amount of olive oil.
Carefully transfer the patty to the griddle and cook for 4-5 minutes. Turn over and cook for another 4 minutes, or until cooked through.
Notes
*If making these in advance, place on a parchment or wax paper-lined platter to remove easily.