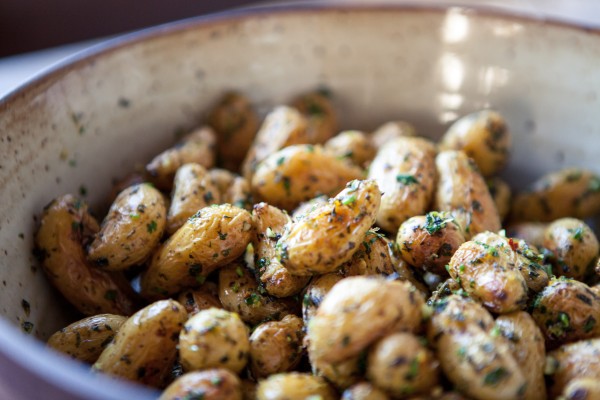 I hope you all had a merry Christmas!  We've had such an amazing few days with my family in New York.  Christmas Eve is always such a special night and this year was no exception, with 94 of us at my aunt's house for dinner.  NINETY-FOUR.  And four ladies announcing they are expecting so we'll be 98 next year?  My aunt is an absolute genius to be able to orchestrate a sit-down pot-luck for so many.  I swear she could run a small country.  Heck, she could probably run THIS country! We were in four different rooms eating 7 or 8 different types of fish (and a few veggies for good measure.)  Although it's really not about the food for me, instead my favorite moment of the evening is listening to all the little ones sing around the Christmas tree watching the staircase in hopes that Santa makes an appearance, which he always does.  Then everyone screams and the flash bulbs go off as if there were paparazzi in the house.  It never gets old for me.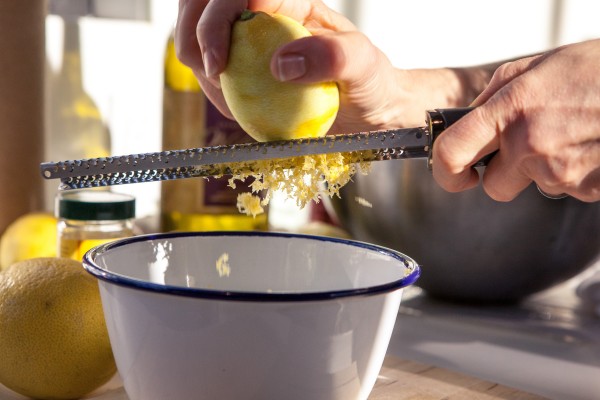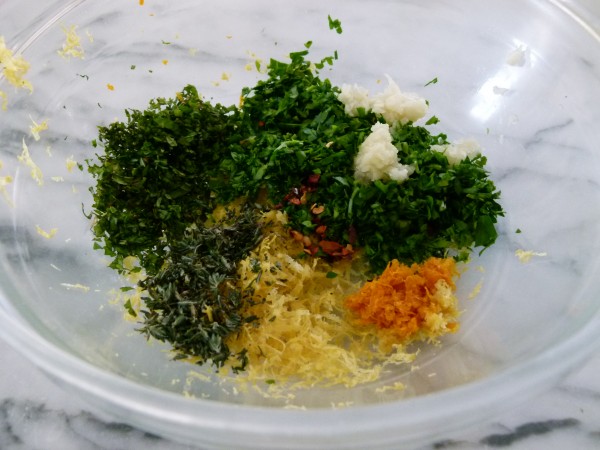 Christmas Day is always the perfect balance to the evening before.  It's quieter, just 17 of us at my parents' house and my mom is in charge.  We always start the meal with tortellini in chicken broth, which my kids love.  Then she makes a beef tenderloin with a red wine sauce, stuffed mushrooms, green beans with shallots and a green salad.  This year I was hoping to add these amazing potatoes to the menu.  I made them for Jenni Kayne's holiday cooking class a few weeks ago and I knew they would be perfect with my mom's menu.  They would actually be perfect with almost any menu!  But I'll admit, I bailed at the last minute, thinking we had plenty of food already, I was a little tired from having gone to bed at 2:00 in the morning, and no one would care if we had or didn't have potatoes on Christmas.  Really, everyone looks forward to all the cookies after dinner anyway.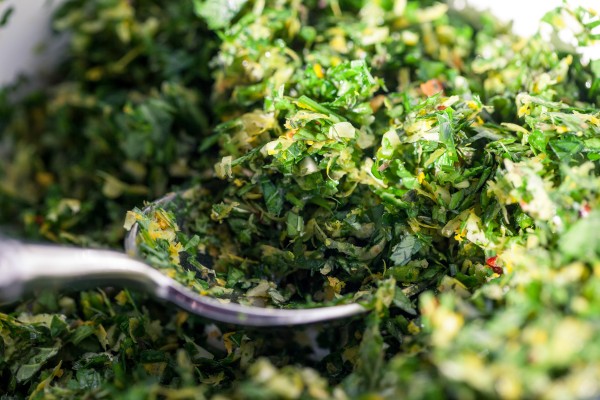 Alas, I still would love to share this recipe with you because I know you will love it and I know you will find a place for it in one of your upcoming weeknight dinners or even for something as special as New Year's Eve.  I love crispy, roasted potatoes plain and simple, but these have an extra umph from the gremolata.  Gremolata is an Italian garnish traditionally made with finely chopped fresh parsley, raw garlic and grated lemon zest.  I've had it before on osso buco, roasted vegetables and even pasta.  It's just bursting with flavor and freshness and makes ordinary potatoes out of this world.  I love it!  For this version of gremolata, I added a little orange zest, crushed red peppers, and fresh mint and thyme, all of which I adore with potatoes.  I also made the gremolata once with a little fresh rosemary instead of the thyme and dropped the chili flakes just because — also delicious!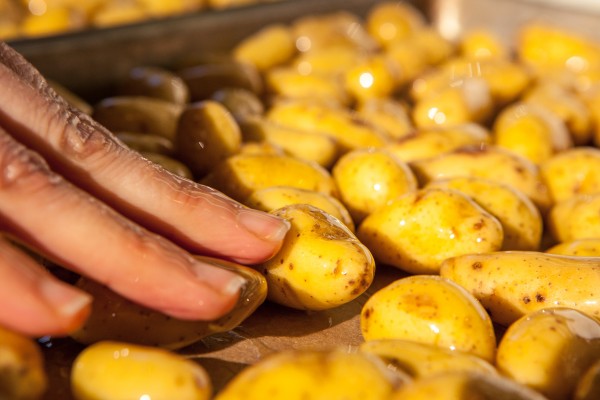 Try and find these teeny fingerling potatoes if you can.  They are so creamy and super easy to use since you just just have to wash and dry them, no peeling, no chopping.  BUT, if your market only offers Yukon Gold or red skinned potatoes, go for it.  They'll still be delicious.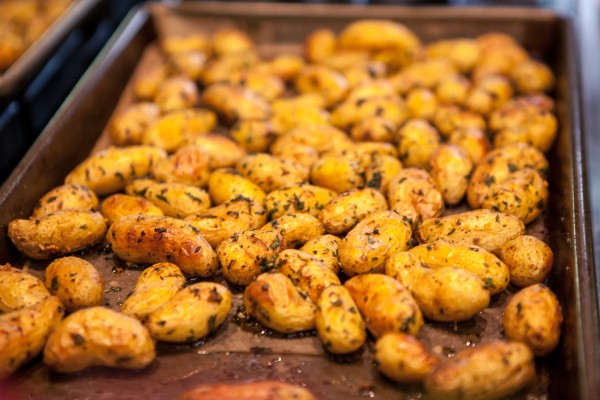 I am hoping you are finding time to rest and restore your energy this week.  Acting like a superhero is totally overrated and people who look like they do it all don't, and if they do, they're exhausted.  Being a good parent or a good host/hostess or a good cook is good enough.  Sounds like a good new year's resolution for me for 2014!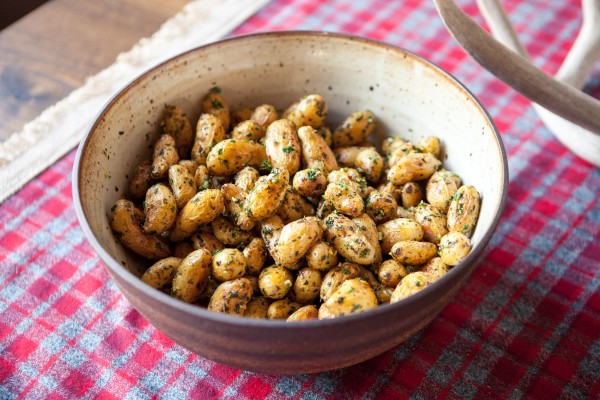 Roasted Fingerling Potatoes with Gremolata
Ingredients
1 Tablespoon grated lemon zest (about 2 lemons)
1 teaspoon grated orange zest (about half an orange)
⅓ cup fresh parsley leaves and tender stems, finely chopped
2 heaping Tablespoons fresh mint leaves, finely chopped
2 teaspoons fresh thyme leaves, finely chopped
1 large clove of garlic, minced or grated
a pinch of red pepper flakes
2 pounds small fingerling potatoes, washed, dried and halved (leave whole if they are only an inch or so long)
3 Tablespoons unrefined olive oil, divided
Sea salt and freshly ground black pepper to taste
Instructions
Preheat the oven to 400 degrees.  Line a large baking sheet with unbleached parchment paper.
Make the gremolata:  in a small bowl mix together the zests, herbs, garlic and red pepper flakes.  Set aside.
Place the potatoes on the prepared baking sheet and toss with 2 tablespoons of olive oil.  Spread the potatoes in an even layer and sprinkle with ¾ teaspoon of sea salt and black pepper to taste.  Place in the oven for 35 minutes.
After 35 minutes, remove the potatoes from the oven and add another tablespoon of olive oil and half the gremolata.  Toss until well combined.  Place back in the oven for another 10 minutes or until potatoes are tender and golden.
Remove from the oven and transfer to a serving bowl.  Toss with the remaining gremolata and taste for seasoning.  Sprinkle with an extra pinch of salt and pepper, if desired.  Serve warm or at room temperature.