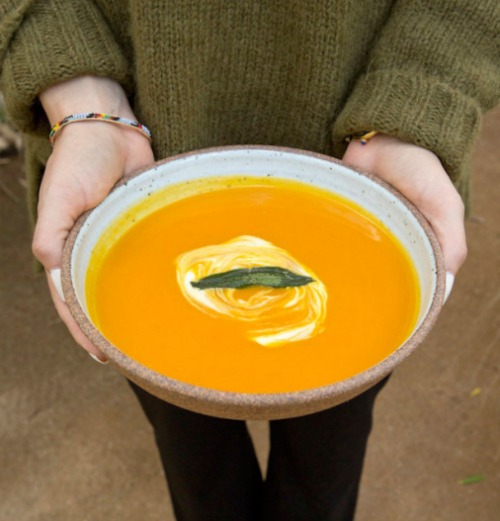 I had such a lovely weekend visiting my older daughter at college. I was sitting with my husband and all three of the kids talking about Thanksgiving. You all know how much I adore planning this holiday and having a full house all day long. My favorite part is when the kids help me in the kitchen, especially all three of them together with me at the same time. I just live for that.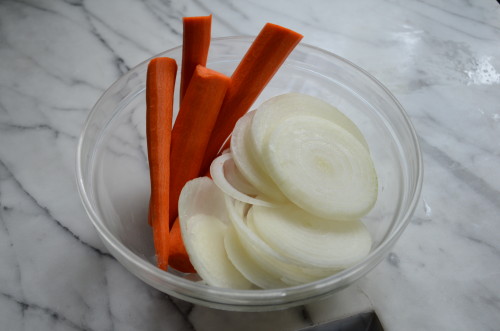 Anyway, I do this every year around this time, when I test the waters about changing the Thanksgiving menu. "I think I might just do a huge cheese board/crudités for hors d'oeuvres this year."
"Whoa," says my older daughter. "You're still going to make the zucchini tart though, right?"
"Actually, I was thinking about not making it this year."
"You can't do that. It's a tradition and everyone loves it. Not possible."
"What if I make it for lunch instead of the butternut squash soup?"
"Mom, what is Thanksgiving without butternut squash soup? That's even more of a tradition!"

And this is why my Thanksgiving menu grows each year. But she's right. Even I look forward to taking a cooking break at noon with a hot mug of bright orange, silky butternut squash soup and a mini cornbread muffin. Nothing says Thanksgiving (and fall) quite like it. When I was first married and the seats at our Thanksgiving table were few, I used to serve the soup as a first course. It was easy to do and I didn't prepare so many side dishes back then either. Once our numbers edged past 16, serving a first course seemed a little difficult. It was around the same time that the kids were old enough that they needed a little something to eat around noon to tide them over until our 4:00 dinner time. That's when the soup was moved to a noon lunch break.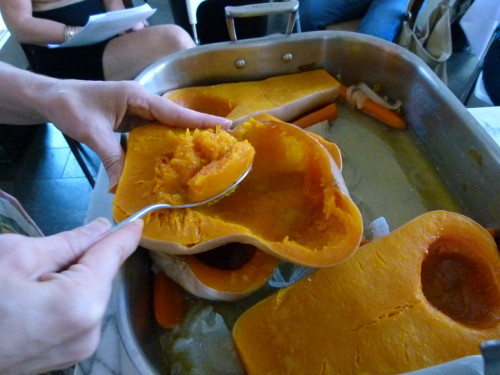 If I do say so myself, I think it's the best butternut squash soup I've ever had. And there's no cream or milk or flour. It's nice and thick from just butternut squash.  There is a very long roasting time involved, but I assure you it is worth it and it's all hands-off time. The squash develops a very rich flavor this way and a bonus is that you can avoid doing any peeling and cubing of the squash beforehand. The flesh becomes so meltingly tender, that all you need to do is scoop it out of the skin. So easy!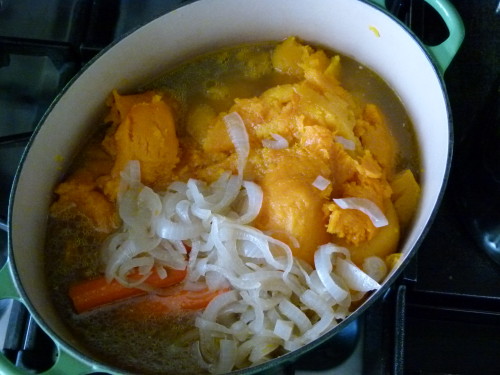 There are certainly tweaks you can make. The way I have written it is the way I like it best, but I have done all of the following at some point:
Finished the soup with a little coconut milk
Added a pinch of nutmeg
Added extra cayenne
Garnished it with toasted, salted pumpkin seeds or chives or fried sage leaves or grilled gruyere sandwich croutons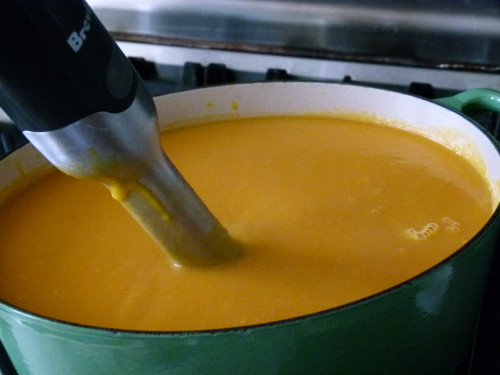 Even though I make this every year for Thanksgiving, I have also made it for fall and winter entertaining and Sunday dinners. The soup is perfect made a day ahead and it freezes very well.  It truly is the best butternut squash soup!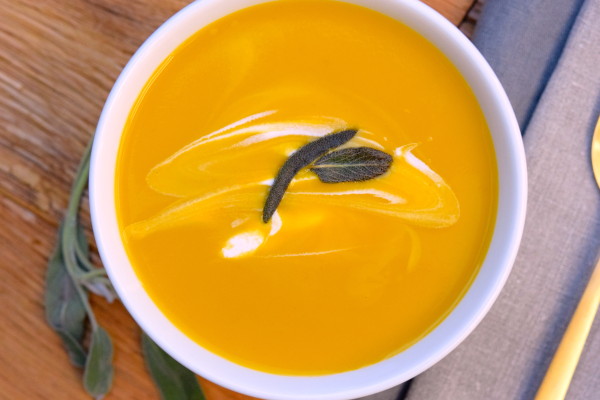 Butternut Squash Soup
Ingredients
8 pounds of whole butternut squash, washed well
6 Tablespoons unsalted butter
2 Tablespoons pure maple syrup
3 carrots, peeled and halved
1 large onion, thinly sliced
10 cups chicken stock or vegetable stock, preferably homemade, divided
Pinch cayenne pepper
2 teaspoons sea salt (double this if your stock is unsalted)
Accompaniments: toasted pumpkin seeds, crème fraiche, chopped chives, croutons, fried sage leaves
Instructions
Preheat oven to 350 degrees.
Cut the squashes in half lengthwise. Scoop out the seeds and discard.
Place the squash halves cut side up in a roasting pan. Divide the butter and maple syrup evenly amongst the squash cavities. Arrange the carrot and onions slices around the squash. Pour 2 cups of stock in the pan and cover tightly with foil. Bake for 2 hours.
Remove the pan from the oven and allow the vegetables to cool slightly or enough that you can handle them. Scoop the squash pulp from the skins and transfer to a large soup pot. Add the carrots, onions and cooking liquid from the pan.
Add the remaining 8 cups of chicken stock to the pot with cayenne and salt to taste (I usually add 1 Tablespoon when I use unsalted stock.) Stir well and bring to a boil. Lower heat and simmer, uncovered for 10 minutes.
Puree the soup until smooth in the pot with an immersion blender or in batches in a blender. Taste for seasonings.
Notes
Soup can be made up to 2 days ahead and reheated.