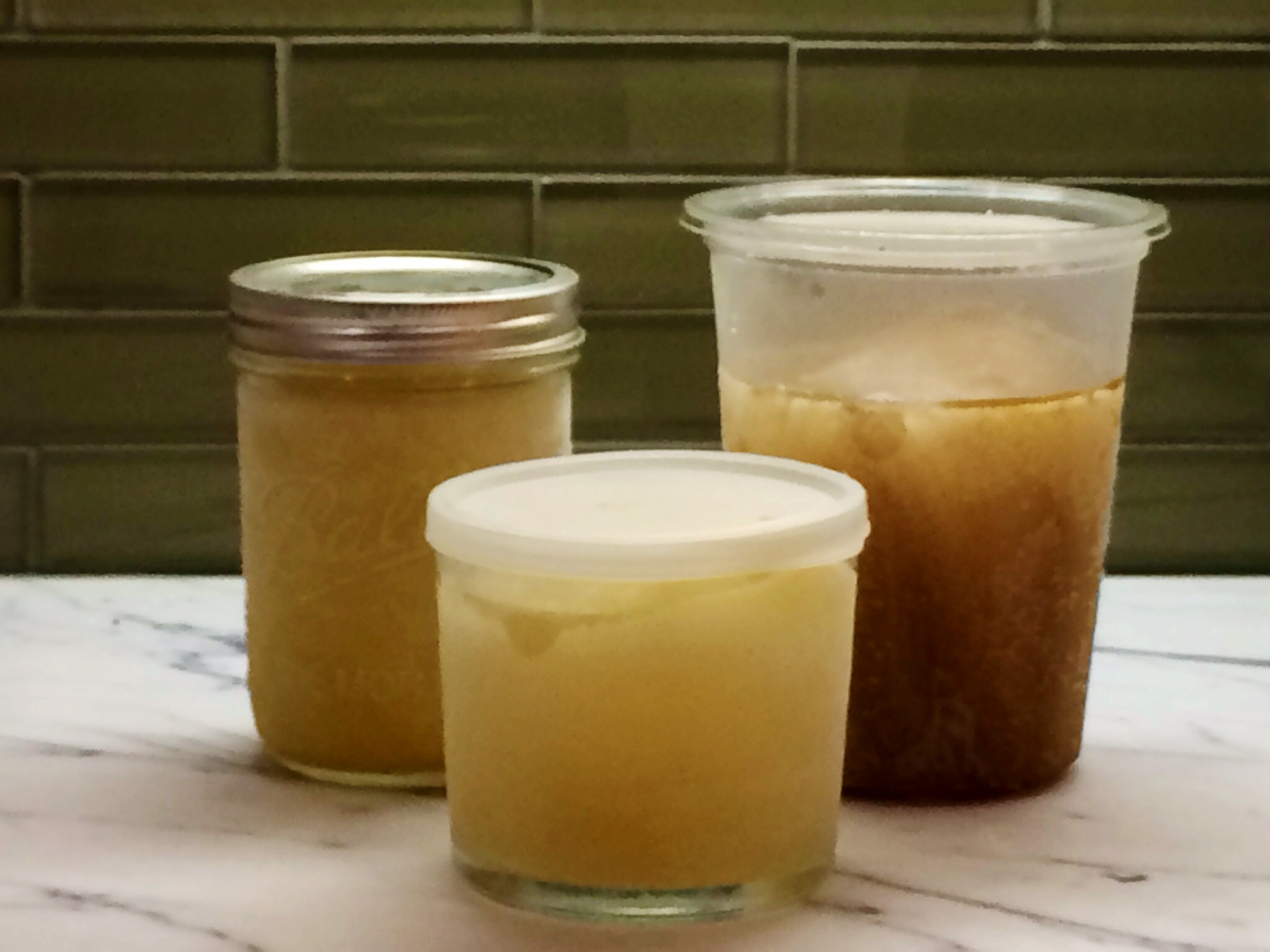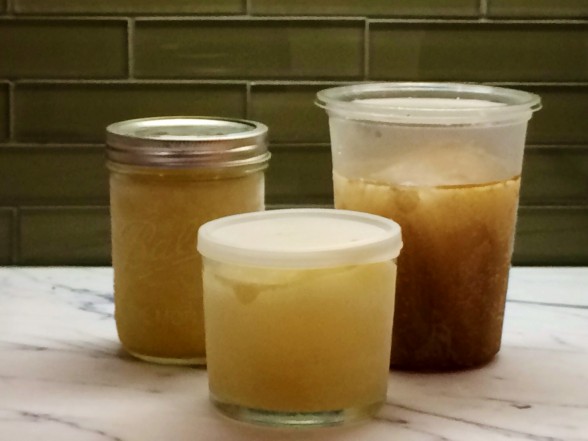 I am totally obsessed with homemade stock.  It's one of those foods that you'll never find the same quality in store-bought, so I always make it for soup-making at home and for my classes, which means I need A LOT of stock.  It's easier for me to make a few gallons at one time than a batch every few days, so I end up having to freeze quite a bit.  In general, you can keep homemade vegetable or chicken stock in the refrigerator for 4-5 days and in the freezer for up to 3 months, provided it is in the proper container.  If I know I am going to use the stock in the next few days, I will store it in quart-sized glass jars, usually repurposed Vegenaise or yogurt or canning jars.
But like I said, I usually need to freeze quite a bit and I don't have the space in my kitchen for 2 dozen quart-sized glass jars, so I will often freeze in BPA-free plastic stackable containers which don't take up too much space when they are not being used to store stock.
I have my own method for freezing stock, as well as other liquids like soups and certain sauces, that I'd like to share with you here.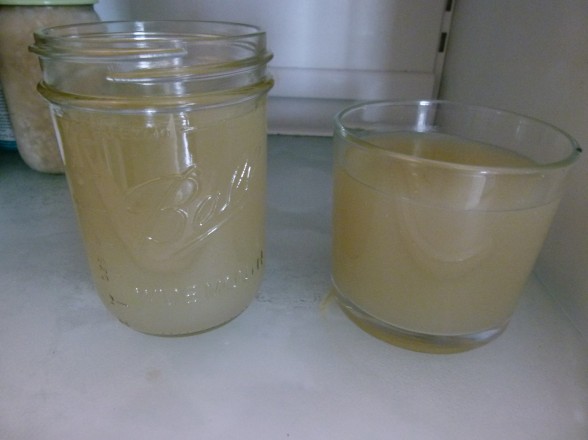 1.  Choose your container:
I prefer either glass or BPA-free plastic.  Whichever you choose, your stock should be room temperature or chilled before transferring into containers going into the freezer.
Glass:  I have had success freezing in these canning jars (the straight-sided wide-mouth jars are stronger than the curved jars) as well as different storage containers such as these from Frigoverre (these are nice because they look good on the table too, so you can use them to serve fruit or salad, as well as keep in the fridge), Pyrex and these Glasslock storage containers which I love.  I have NOT had success freezing in cleaned out yogurt jars or Vegenaise jars which are too thin.  Those are fine for storing in the refrigerator, but more often than not they have cracked in the freezer.  Sad face.
Reusable Plastic:  I avoid BPA as much as possible, so I have transitioned all of my plastics in the kitchen to be BPA-free.  Fortunately, there are many options for BPA-free storage containers.
I use these stackable BPA-free containers from www.letsgogreen.biz.  These work well for me because I need a lot of containers and I don't have a lot of storage space when they're not being used.  But these are technically not reusable because they are thinner and not as durable as others.  They also will melt in the dishwasher, so I have to hand wash them, which might be a deal-breaker for some folks.  And another downside is that I have had a couple of them crack in the freezer.  But these are super cheap so I can look past a few cracked ones. UPDATE 3.30.14:  I just received a new shipment of these and Let's Go Green has definitely changed the materials.  They're so much thinner and NOT great for freezing.  Bummer!  Do  not order these!
If you are not making gallons of stock and you'd like to use plastic, some of the BPA-free containers I like are by Sistema (I like this size container the best,) Gladware (look for the Freezerware products,) and Rubbermaid.  If you are doing your own search for BPA-free plastic containers, do make sure the manufacturer says they are "freezer safe."  For example, not all Gladware is recommended for the freezer.
You can also freeze in ice cube trays if you tend to use a tablespoon of stock at a time.
Disposable Plastic:  Believe it or not, Ziploc brand plastic bags are BPA-free.  Isn't it nice when major companies get with the program?  Yes!  So you can freeze in Ziploc bags, and I suppose you can wash them out and reuse them, but that's not something I have the patience for.  I also don't love the idea of throwing plastic away after one use, but that's just me.  Otherwise, using Ziploc bags is a great idea for freezers with limited space since you can freeze the stock flat and stack the bags on top of each other.  A word of caution, if the bags get banged around a lot in the freezer, you risk puncturing them.  Just a heads-up.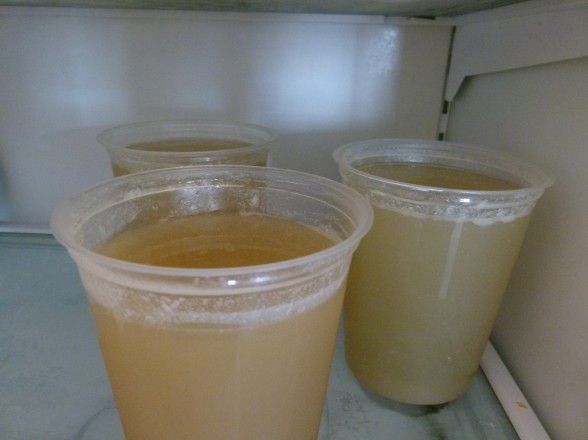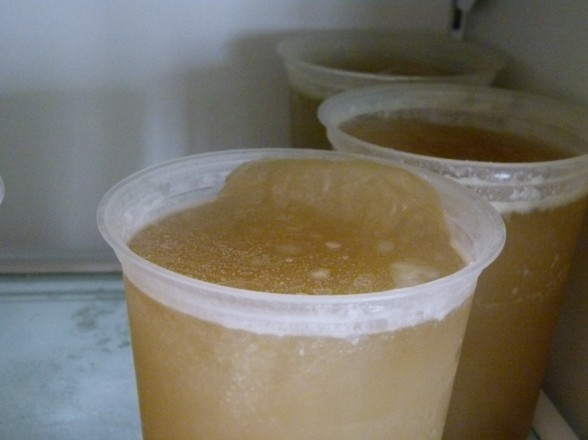 2.  How to freeze:
Here is my method for freezing stocks and liquids so that the containers (especially glass ones) don't crack or explode in the freezer.
Since liquids expand when frozen, the key is to fill your container 3/4 full or within 2 inches from the top of the container so you allow room for the liquid to expand.  For a quart-size container, that means you are only pouring in 3 – 3 1/2 cups of liquid.  To freeze in a Ziploc bag, open up the bag in a medium pot or bowl and then pour in the stock (remember to fill only three-fourths full.)  The pot will allow you to have two hands free.  Zip closed and freeze flat.
Next, place your container of stock in the freezer WITHOUT the lid.  Key step!  Allow the stock to freeze solid and then cover with the lid.  If you secure the lid on the jar before freezing, the stock may expand more than you have allowed for and that's how glass or thin plastics crack.
I don't recommend freezing in containers larger than a quart.  I'm not sure why, but I haven't always had success with half gallon glass containers.
3.  How to defrost:
It's best to defrost your frozen stock for 24 hours in the refrigerator.
If you don't have that kind of time, you can place the frozen container in a bowl or other container of cold water until the stock defrosts enough that you can transfer it from the container into a saucepan to melt.  Do NOT take a glass container from the freezer and run hot water on it and do NOT submerge the frozen container in hot water.  For sure it will crack!
You can also do what I do which is not approved by the FDA and I feel compelled to tell you may encourage the growth of bacteria, but I do this all the time and I'm still alive.  I just leave a quart of frozen stock in my kitchen sink overnight and then refrigerate it in the morning.  One time there was a crack in my plastic container and I didn't know it, so 3/4 of a quart of chicken stock trickled down the drain.  Such a sad morning.  Now if I am defrosting plastic, I place the container in a bowl just in case.
I am no expert on the dozens of different containers out there, so I welcome your feedback on ones with which you have had success (or not.)  Anything to encourage my people to make their own stock!