Happy Holidays, friends!  I had to take a little blogging break in order to prepare for (and recover from) my 36-person Thanksgiving last week!  Hope yours was as special and fun as mine was.
I have a few new Friday Favorites to share!  These are some of my go-to items for entertaining and I thought they might be useful right around now.  Have a great weekend!  xoxo
Silicone ice cube trays

Cocktail hour just got a whole lot more interesting with these silicone ice cube trays!  I love using these cubes to spruce up any iced beverage I may be serving to my guests.  They come in all different shapes and sizes and are so fun and easy to use.  I especially like the large size which chills a drink evenly without diluting it.  Plus, food-grade silicone doesn't leach anything weird into your ice.  If you search silicone ice cube molds, do try to find ones that are BPA-free.  Of course, you can freeze more than just water in them.  Try freezing pesto, baby food or stock.  Props to my husband for adding these to our kitchen!
The three images above are the ones I have, purchased from Amazon and Williams-Sonoma.
MYdrap Reusable/Disposable Napkins

MYdrap reusable/disposable napkins have become my ultimate go-to for easy entertaining.  My mother-in-law gave me my first roll last year and I have been buying them ever since.  They are perfect for occasions when I want an upgrade from paper/disposable napkins, but without the cost, effort, and upkeep of traditional linen napkins.  And 99% of the time, people think they're using my regular linens.  Plus, these are made of biodegradable, recyclable materials, so I feel better about not throwing away a lot of disposable paper goods.  They can be washed and reused up to 6 times, so you are sure to get your money's worth!  I always buy the neutral "linen" ones because they resemble my real napkins, but they come in so many colors, fabrics and sizes.  You can order them directly from buymydrap.com or Amazon.
Gold Flatware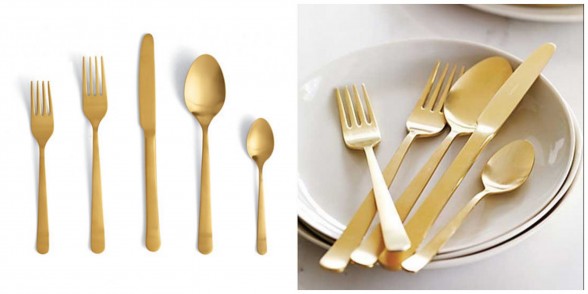 I have admired matte gold flatware for a while.  I think it looks unique, stylish, and warm, especially when paired with simple, neutral dishes and a rustic table.  It can add that pop of elegance you need when you don't want to pull out the fine china.  For Thanksgiving this year, my husband surprised me by bringing home this beautiful set of matte gold flatware from Design Within Reach.  I thought it was the perfect addition to our holiday table and I have already used it again since last week.  There are other pretty styles that I have seen as well, such as these from  Canvas Home, or these from Vera Wang at Bloomingdales.
Cheeseboard

The perfect cheese board is such a staple for entertaining, especially around the holidays when I want to keep things simple, but elegant.  While there are many tricks and tips to creating that perfect cheese plate (and perhaps that should be a post soon,) it all starts with a great board.  I think it's worth investing in a nice board which you can use for not only cheese, but serving hors d'oeuvres as well.  I personally prefer wood, but there are some beautiful boards in marble or slate, as well.  I have the middle sized oval board pictured on the left.  It's from Spencer Peterman, but I purchased it at Lost and Found in LA.  The board in the center and right is from Williams-Sonoma.
Toothpicks and Skewers

What is a party without some kind of skewered hors d'oeurve?  Ditch the frilly cocktail picks.  You can give your starters a complete makeover with these cute little skewers and toothpicks.  I think they add inexpensive chicness (is that a word?) and refinement to my hors d'oeuvres which would otherwise look a little amateur.  Norpro toothpicks available here.  Bamboo knots from here.  Bamboo mini forks from here.  When you are ordering skewers and the like, be sure to pay attention to the size since there are many offered.  4-inches is a good basic size to have for hors d'oeuvres, but you may want a smaller size for garnishes for drinks or for holding mini sandwiches together.
It's party time!  Enjoy!