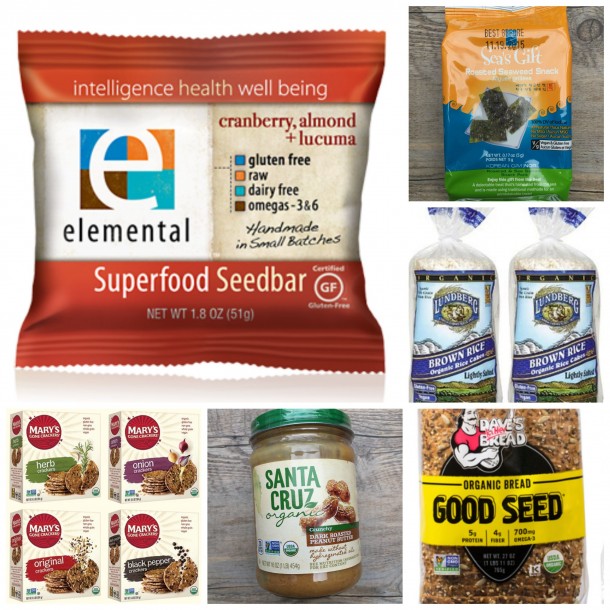 To continue my back-to-school theme from last week, I thought I would highlight some of the purchased foods that seem to make it into my kids' lunch boxes regularly.  Instead of Five Friday Favorites, I had to include a sixth.  I will admit, I do make a lot of snacks and sweets from scratch, but not everything.  In as much as I love to bake and create, I don't have unlimited time!  Next week is my last week before the kids start school, so I will take two half days to bake many batches of cookie dough and quick breads to freeze.  Last year, this was really helpful and the rolls of cookie dough lasted me about 3 months!
The items I chose to highlight this week are the ones my students have been asking me about most often as of late.
Lundberg Brown Rice Cakes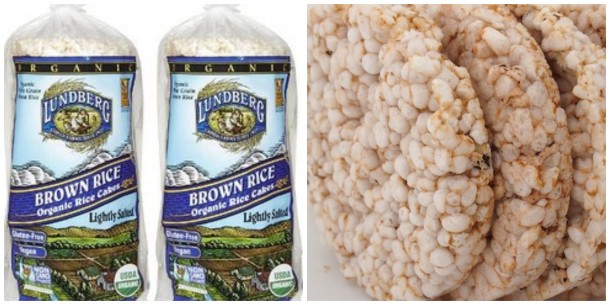 Rice cakes are one of the few packaged foods that I always have on hand at my house and they are perfect for school lunches and quick on-the-go snacks. Our favorites for these are the Lundberg organic lightly salted brown rice cakes. The ingredients are clean (organic brown rice and sea salt) and while I wouldn't necessarily say these are health food, they are a much better alternative to chips. My son is really the one that takes these to school most often and he likes them because they hold up well to healthy toppings like nut butters or hummus or smashed avocado. You can also break them into pieces to use with dips, or as an alternative to croutons in a soup or salad. I get mine at Whole Foods or Thrive Market.
Elemental Superfood Bars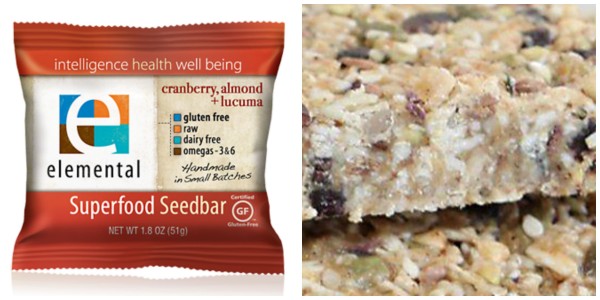 It is no secret to anyone that one of the easiest portable snacks on the market come in the form of a bar. Bars have been a staple in the American diet for decades and while they were originally touted as being a health food or meal replacement, these things have been all over the board with ingredients. We have come a long way since the days of the Slim Fast Bar, but there are still several bars on the market that contain ingredients I want to avoid like processed oils, sugars, and protein isolates. It is so important to read the ingredients closely when choosing a bar because you might be surprised at how unhealthy many of them are.  While I love both this homemade granola bar and this homemade larabar that I have on my website, it is nice to have a good clean store-bought option for emergencies. These Elemental Superfood bars are so delicious and the ingredients are 100% clean and nutritious. They are gluten-free and dairy-free and come in a variety of flavors such as mulberry, cacao + spirulina and cranberry, almond + lucuma. I bought these at my local produce shop, GROW, and they are available on Elemnetal's website here as well as Whole Foods.  They even have a crumble, which is a granola-like snack that would be a perfect topping for oatmeal, and smoothie bowls for a healthy breakfast!
Dave's Killer Bread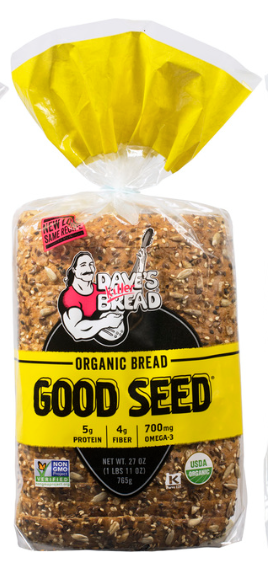 Sandwiches are probably one of the most common and versatile foods for school lunches. There are so many whole, healthy and delicious fillings you could use for sandwiches- nut butters and chia jams, hummus and veggies, poached chicken and avocado, the list goes on and on. A big component of that sandwich is the bread, and I want to make sure that I am giving my kids a good, healthy bread that is full of fiber and protein rather than white flour, sugar, caramel coloring and processed oils.  I adore the sprouted breads from Food For Life, but they aren't quite sandwich material (too dry.)   It has been challenging to find a bread to fit the bill, but I have finally come across a great sandwich bread—Dave's Killer Bread. What I love about this bread (particularly 4 specific flavors- 21 Whole Grains, Good Seed, Seeded Honey Wheat, and Powerseed) is that there are at least 4 grams of fiber and 5 grams of protein per serving, which is important if you want to keep feeling satisfied until your next meal.  Also, all of the ingredients are completely clean and organic, and there are no processed oils in the 4 specific kinds I listed above. While I have found several other healthful breads (organic, sprouted, and the like), I love this bread because it is soft enough to use as sandwich bread.   I should also note that this bread stays fresh a bit longer than a lot of the "healthy" breads which get stale after only a couple of days. Dave's Killer Bread is sold at Whole Foods, and I have even seen it at Trader Joe's in the past. You can check out their website here to see where they sell it near you.
Roasted Seaweed Snacks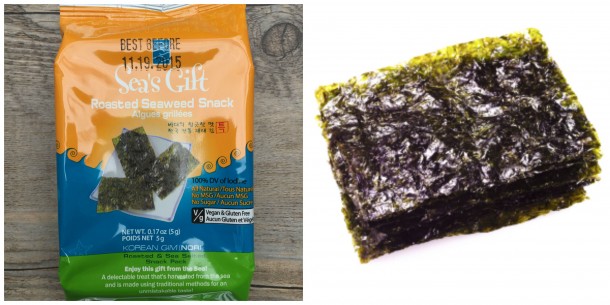 While we all are knowledgeable about the benefits of vegetable grown on land, sea vegetables don't get quite the same amount of attention. Sea vegetables (or seaweed as we more commonly know it) are actually extremely beneficial to our health. Seaweed has a very high protein content, which is especially great for vegetarians. It has anti-viral, anti-bacterial, and anti-inflammatory properties, and it is a fantastic source of minerals and iodine, which is hard to get in the normal diet and extremely important for a healthy thyroid. While some seaweed such as arame and wakame can be a bit off-putting for kids, my son is happy to munch on these roasted nori seaweed snacks all day long. They are crispy, flaky and salty which does the job for him and I am happy because not only is this a great substitute for chips but he is also getting a few health benefits. These are perfect to throw in your kid's backpacks for an afternoon snack or part of a healthy lunch. These sea snacks are available so many places—from Trader Joes to Whole Foods, Thrive Market, Vitacost, and Amazon. Make sure you check the flavor because these also come with different seasonings such as sesame and wasabi.
Mary's Gone Crackers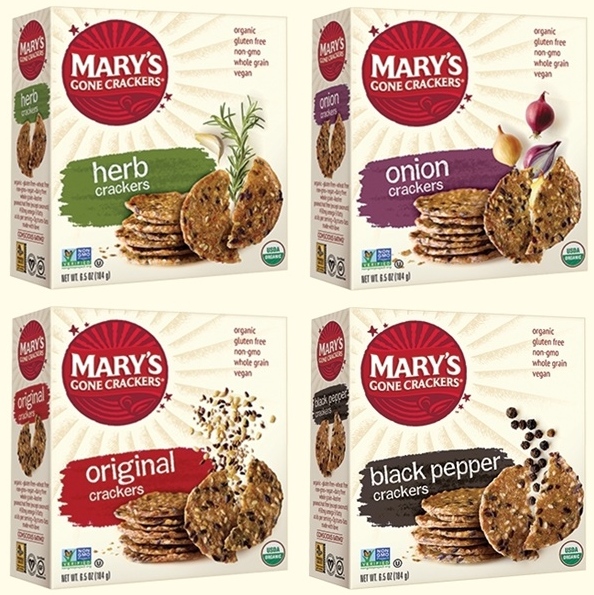 These crackers are a great option when you need a grab-and-go snack or a savory treat for school lunches. Mary's Gone Crackers is committed to creating organic, gluten-free, non-gmo, vegan crackers, which covers all bases.  The crackers are so light, crispy and delicious I don't think your kids will be able to detect that they are healthy. The ingredients are completely clean and consist mostly of organic brown rice, quinoa and a combination of flax and sesame seeds. They also have pretzels available which I have never tried but look like the cleanest and most nutritious pretzels I have seen on the market! They also have 3 grams of protein and 3 grams of fiber per serving which is not too shabby for a side snack.  And back-to-school aside, these are great on a cheese board, especially if you are accommodating gluten-free folks.  I have seen these at my local Whole Foods, and they are also available on Thrive Market and Vitacost.
Santa Cruz Organic Peanut Butter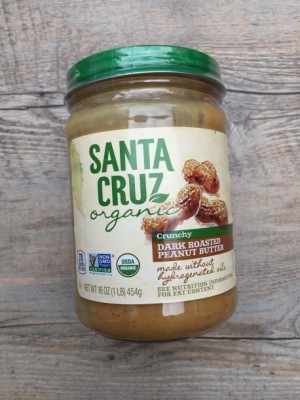 Peanut Butter is such a pantry staple for me all year, but especially during the school year.  It is great for breakfast swirled in some oatmeal, blended into a smoothie, quick and simple for a lunch sandwich, and even great for a healthy snack on a rice cake or piece of celery.   Because my kids love peanut butter, we go through jars of it often and I also like to make sure that I am getting a good, clean peanut butter so that I can give it to my kids with confidence, knowing that it is not full of pesticides and contaminated from a plastic container. Enter Santa Cruz organic dark-roasted peanut butter, which is the go-to peanut butter in my house. It meets the two most important qualities that I look for in peanut butter- organic, because peanuts are very heavily sprayed and conventional peanuts test high for pesticides; and in a glass jar, because foods that are high in fat usually cause the plastics to leach.  Glass is ideal for storing liquids and foods that are high in fat, and peanut butter is no exception.  This brand also is completely clean- there are no other oils, sugar, or salt added, just 100% roasted organic peanuts.  It comes in creamy or crunchy, and a new variety called "Light Roasted."  The dark roasted which I get has a rich peanut flavor, but the light is (obviously) lighter in flavor.   I get this on Thrive Market where they have it for a great price, but it is also available on Vitacost and Amazon (way overpriced.)
For some more back-to-school food inspiration, check out my previous posts on Mastering School Lunch, Building a Better Breakfast, and Snack on This!