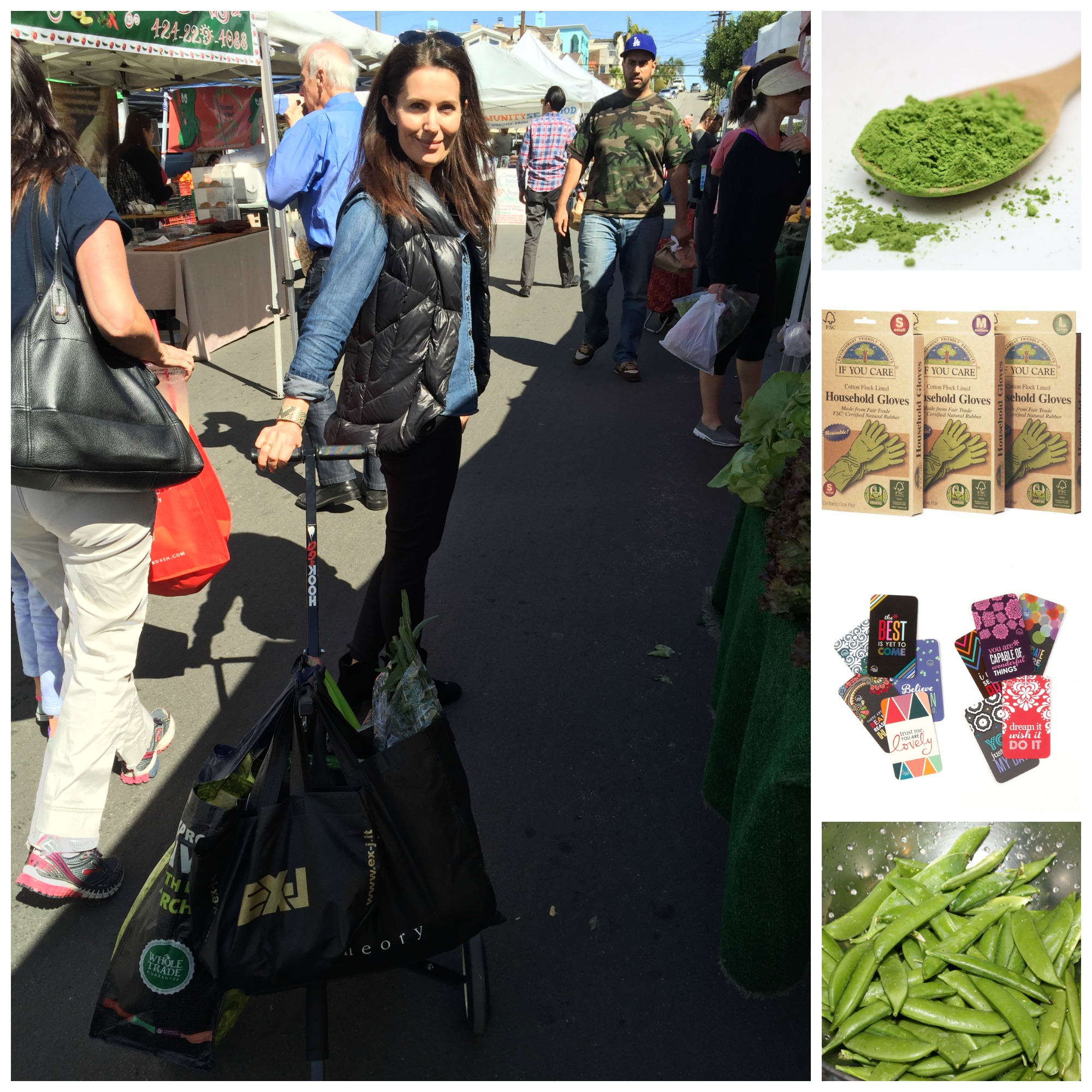 It has been a great, but slightly exhausting week!  The change in daylight savings always throws me for a loop.  My daughter came home from college, made an appearance for a bit and then escaped to the desert with her friends.  I am feeling lucky that she graced us with her presence even if it was just for a couple days.  She came back yesterday and naturally I will start bribing her with food to stay put until she goes back to school tomorrow. 😉
I had a couple of requests for favorites this week.  Ask and you shall receive!  Speaking of which, I'm continuing to test recipes with almond pulp (do try the banana bread recipe with almond pulp) and all I can say is, GAME CHANGER!  Stay tuned for more!
Hook and Go Portable Folding Shopping Cart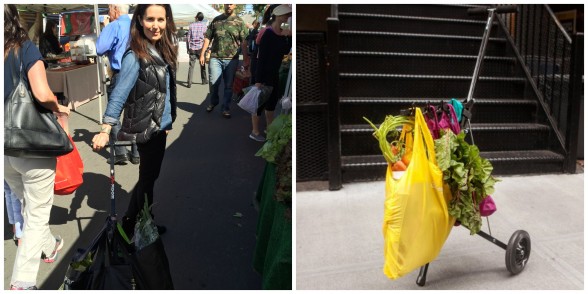 I try to buy local food as much as I can, so I am often making trips to my local farmer's markets to stock up on seasonal produce.  My trips have become so much more enjoyable since I started bringing this foldable farmer's market cart, which I received as a birthday gift from a few friends several years ago.  This cart is so handy and compact (it folds up really easily) – I can keep it in my car so it is available whenever I need it.  And, I am doing my body a favor by not lugging around 10 pounds of produce on my shoulders!  Also, a major plus to this cart is that your bags each hang individually, so you don't have to worry about smashing the produce at the bottom of your cart.  If going to the farmer's market is on your weekly to-do list, this cart is defeinitely worth the investment.  You can get this cart directly from the company website and it is also available on Amazon!
Erin Condren Compliment Cards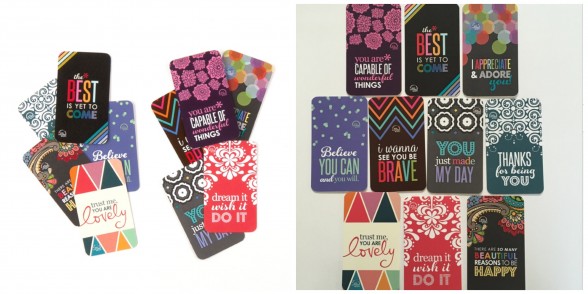 I feel like there is a big movement happening right now in the world encouraging women to be supportive of other women.  I am all for that and it's something that I would encourage my girls to do as well.   Erin Condren recently spoke at our Charity League meeting where she shared her inspiring journey about how she became such a successful business woman.  She was generous enough to leave each one of us (and there were almost 200 people there!) with a packet of her adorable compliment cards.
These cards are such a fun and cute way to send spread positive energy to anyone who needs it.  Some quotes include "You are capable of wonderful things" and "Trust me, you are lovely" on one side with colorful and stylish designs, and a blank space on the back for a personal message.  I think these are a great way for anyone, but especially young girls, to get into the habit of complimenting and being supportive of one another.  You can get a pack of 10 cards for $5 and they are available on her website.
Rubber Gloves for Multiple Kitchen Uses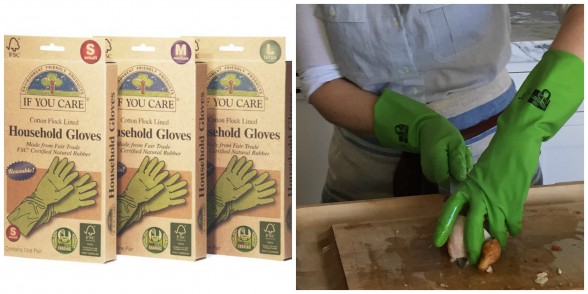 These gloves may seem like they are useful only for household chores like cleaning and doing the dishes.  However, I have been using these gloves for years in the kitchen for things like deboning chicken to flipping turkeys at Thanksgiving!  Most of the time when meat comes out of the oven, it is too hot to touch with our hands, even after resting.  And sure a knife works to pull the chicken off of the bone, but I find that getting in there with my hands does a much better job.  Although I couldn't do it without these gloves which help protect my hands from the heat.   Similarly, at Thanksgiving, I find it almost impossible to flip the turkey using any kind of kitchen tool even if it was designed for doing so.  Again, I like to use my hands and they can easily be protected by this pair of gloves.  While I have been using rubber gloves for years, I have recently become obsessed with these ones from If You Care, which is an eco-friendly, sustainable company that guarantees their rubber is sourced from a responsibly managed plantation.  They are also made from 100% renewable sources and do not test on animals.  Plus these gloves seem to last me a very long time.  Major pluses all around.  I get my gloves at Whole Foods (in the section with cleaning supplies), and they are also available on thrivemarket, amazon and vita-cost.  They do run small, though.  The small size is good when I carve meats so that there's no extra material to get in the way (and get sliced), but they are snug.  For washing dishes and everything else, I prefer the medium size.  If you just want one pair, go with medium, or if your hands are big, buy the large size.
Seasonal Produce: Sugar Snap Peas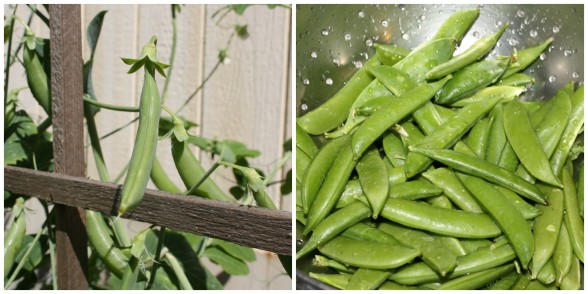 I think the pea family is a totally underrated family of vegetables.  Crisp, refreshing and sweet, peas come in a wide variety- English, Snow, and Snap which are available in early spring.  You may be seeing some at your local markets right now if you're lucky.  My personal favorite, the Sugar Snap pea, is a hybrid between an English pea (the most common kind that usually comes frozen) and the Snow pea.  Whoever invented the Sugar Snap pea was a genius for taking the sweetness of the English pea and pairing it with the edible pod to create the perfect Sugar Snap pea!  And since you are eating the pod, you are getting tons more fiber and Vitamin C than if you were just eating the pea.  Snap peas are also an excellent source of folic acid- which is a super important nutrient for expectant mothers.
When purchasing snap peas, look for ones that are bright green and feel crisp and fresh and pop when you snap them in half.  Avoid any cracked or limp pea pods.  Wash and trim your sugar snap peas before eating by trimming off the top of the pod and pulling the string off that runs along the curved edge.  I usually keep my snap peas in a bag in the fridge for 4-5 days.  While snap peas are perfectly delicious raw (Mr. Picky actually loves them!) with some hummus or in a salad, snap peas are also fun to use in other ways.  Check out two of my recipes below from my site plus a few others from around the web!
Sugar Snap Peas with Lemon-Chili Breadcrumbs from Food52
Sugar Snap Salad from Bon Appetit
Roasted Sugar Snap Peas with Sesame Dipping Sauce from Edible Perspective
Ravioli with Snap Peas, Pea Shoots and Minty Pea Shoot Pesto from Sunset Magazine
Slightly Spicy Sugar Snap Peas with Mint and Lime from Fine Cooking
Superfood Spotlight:  Matcha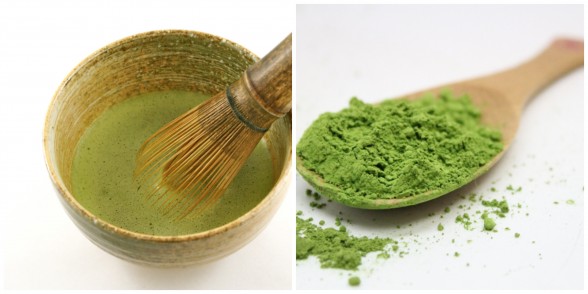 We have all heard about the benefits of green tea for some time now, right?  I don't think it's a newsflash to report that it's more beneficial to swap your standard cup of joe for a more healing cup of green tea.   While green tea is a very powerful and nutritious plant, there is only so much of the nutrition you can absorb from the leaves steeping in your water.  Imagine if we could just eat the tea leaves directly, and receive all of the benefits that way!  Enter matcha which is a powder made of ground up green tea leaves, which if authentic, should be a deep green color with a grassy flavor.  Look out for matcha that is drab-colored since that is low quality and low in antioxidants.  I also avoid matcha that is from China.
Matcha is extremely beneficial to our health due to it's high levels of antioxidants, phytonutrients, and amino acids.  Combined with the caffeine, matcha is supposed to keep you calm and focused for an extended period of time, rather than leaving you feeling wired and jittery like the traditional caffeine in coffee.  However, there is still about 25mg of caffeine per teaspoon of powder (about 1/3 of the amount in coffee), so this is not something that I would let your young kids consume.  Traditionally matcha is whisked into warm water to create a tea or added to steamed milk to make a matcha latte.  There are tons of other ways to use matcha as well, including adding it to your smoothie or oats, adding it to cookies, breads, and pancake batters, or even mixing it with some chia seeds and almond milk to make a matcha chia pudding (recipe coming soon!) to add a pale green tint.
I haven't tried every brand of Matcha out there, but the organic ones I have tried and liked include:  Do Matcha ceremonial grade and Taste of Kyoto reserve.