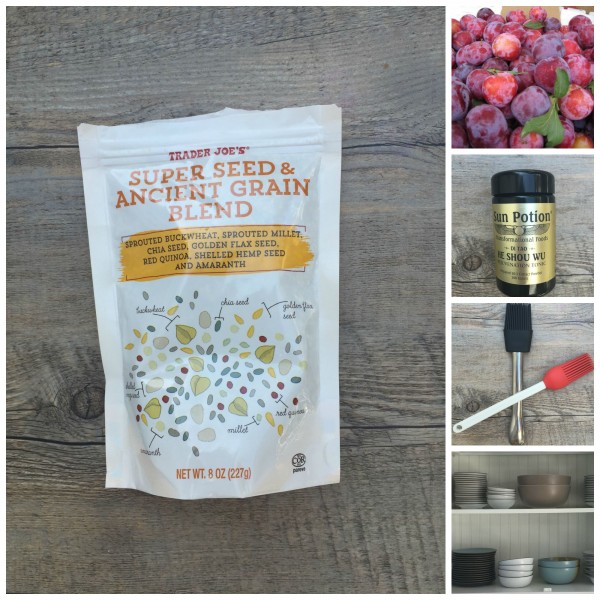 I think there are three "new years."  The first is obviously January 1, the beginning of the calendar year.  The second is the first day of spring, nature's new year when nature has a rebirth of sorts and we ourselves may find ourselves making a clean, fresh start.  And then there's my third new year, BACK TO SCHOOL!  Right before the first day of school, I find myself organizing like crazy, making meal plans, freezing anything that can be frozen and attempting to set everyone up for a smooth school year.  I'm exhausted before anything has even started, but we'll have muffins until Thanskgiving!
Here are some of my favorites that I've been talking about in class lately.  Have a great weekend!
Trader Joe's Super Seed and Ancient Grain Blend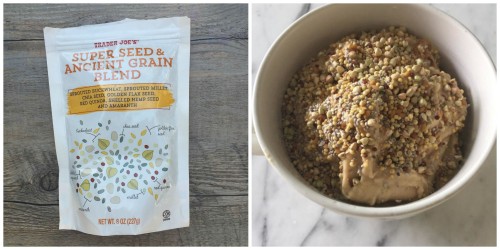 Trader Joe's has really been on the ball lately with food trends and this new Super Seed and Ancient Grain blend is so exception. It is no secret anymore that seeds and grains are extremely beneficial to our health — high in protein, good fats and fiber, not to mention the minerals and anti-oxidants specific to each seed.  There are countless recipes on the web that help us incorporate seeds into our everyday diets – chia puddings, hemp seed dressings, flax crackers, etc.  But here, Trader Joe's has gone and taken a slew of healthy seeds (chia, hemp, flax, buckwheat) and combined them with the healthiest grains/pseudo-cereals (quinoa, millet, amaranth) and put into a little bag for us.
The buckwheat and millet are sprouted which makes them more digestible and nutritious (and something I don't always have time to do) and the quinoa and amaranth are organic. What I really love about this mix is the convenience factor; while I often have these same seeds and grains stocked, this saves me from having to pull 7 jars or bags from my pantry to get the same variety. It is all in one place, and the combination of these seeds and grains is so crunchy and satisfying.  I cannot get enough of these on my morning smoothie bowls and oatmeal. I have even thought how great these would be baked into a cookie, quick bread or granola bar…hmmm.. I see a recipe coming on, stay tuned!
Heath Ceramics
When I put so much time, energy and effort into the food that I cook, it really makes a big difference to me to serve it on dishes that I love, especially if I am entertaining. My best girlfriends gave me a few Heath pieces about 8 years ago and I loved them so much I proceeded to replace all my every day dishes with them.  In fact, most of the food images I take involve my Heath pieces.  So many people who have attended classes in my home kitchen have asked me about them, so I knew I'd have to include them in a Friday Favorites!
Heath Ceramics is known for their simple, matte ceramics that have a mid-century look. The dishes are heavy and durable and come in a variety of lovely muted neutral colors.  Most of my pieces are from the Coupe line in Opaque White.  I am lucky enough that they have a beautiful store here in Los Angeles, where they carry a slew of wonderful home goods as well. What I love about a company like Heath is they use recycled clay in all of their pieces and are committed to minimizing their environmental impact, and they take several steps to do so. These pieces are classic and timeless and whether you are getting a serving bowl, coffee mug, or bud vase you will have it for years to come.
Silicone Pastry Brushes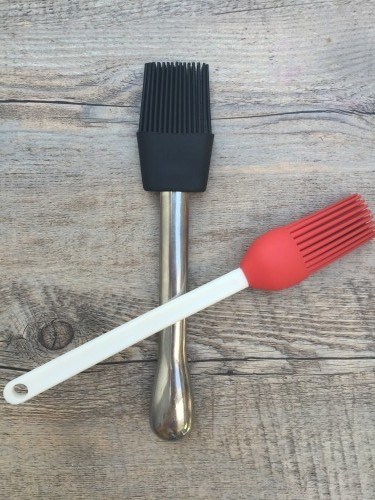 Silicone pastry brushes are such a helpful kitchen tool. They make easy work of things like brushing a BBQ sauce onto grilled chicken, painting egg wash onto pastry or brushing oil onto a hot grill. The reason that I prefer a silicone brush to a natural one is because it is so easy clean, does not retain any odors, is completely heat resistant and does not loose it's bristles onto the food, which can sometimes happed with natural brushes. Silicone is inert and doesn't leach anything harmful into your food.  Also, the bristles won't clump or frizz like natural hair bristles, which means that this will last you years in the kitchen. I have 3 different ones and they are in top condition after tons of use for many, many years.  There is a great one on Amazon by OXO and you can also get these at any kitchen store such as Williams Sonoma or Sur La Table.
Seasonal Produce: Plums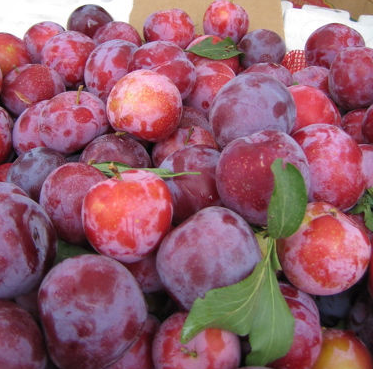 During summer stone fruit season, plums almost always get completely overshadowed by peaches and nectarines. This is unfortunate because plums are divine and the variety in which they come is nothing short of crazy. Purple, red, green, Flavor King, Santa Rosa (my personal favorite,) the list goes on and on. Plums are in season right now and I guarantee you if you can find some good local plums at your farmer's market you will not be disappointed. Plums are extremely nutritious as well and are known for their high Vitamin C and fiber content. When choosing plums look for one that give slightly to gentle pressure and are slightly soft at the tip. I like to buy plums that are slightly on the firmer side and allow them to ripen at home. Store plums at room temperature on the countertop until ripe and the store in the fridge. Plums are often used in desserts like cakes and crumbles, but I also love them in salads with or without cheese. You could sub plums in any of these recipes of mine, below. Or, check out some other recipes from around the web for more "unconventional" ways to use plums!
Sub plums for apricots in this crisp or sub plums for peaches in this crisp.
Sub plums for some of the berries in this Mixed Berry Buckle.
Grilled Kale Salad with Ricotta and Plums from Bon Appetit
Heirloom Tomato and Plum Salad from Williams Sonoma
Purple Plum Torte by Smitten Kitchen
Grilled Chicken Breasts with Plum Salsa from Cooking Light
Superfood Spotlight: He Shou Wu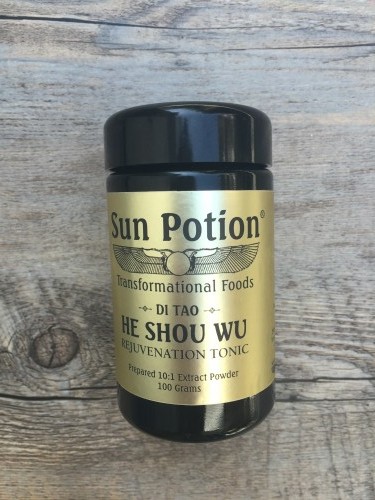 I definitely think there is a place in a healthy balanced diet for supplements like Chinese herbs. These herbs are not very common in the United States, but are sworn by in other countries due to their outstanding health benefits. Considering that the US is not necessarily one of the most healthy nations in terms of obesity and heart disease, I don't mind taking advice from other cultures and countries and incorporating Chinese herbs into my weekly routine. The herb that I wanted to tell you about today is He Shou Wu, which I buy from a company called Sun Potion and it is sold in powder form. This specific herb, which is actually derived from a root plant, is known for its ability to nourish the blood, hair, skin and nervous system. It is often times taken to reverse and prevent gray hairs from appearing, so believe me when I say He Shou Wu had me at hello. This herb is also said to improve fertility in both men and women, and increases red blood cell count. It is available on Thrive Market for a great price (40% off what they sell it on their website for!)   I love that it comes in powder form because I can then add a spoonful to my smoothie or hot tea.