Hey, everyone!  Happy Friday!!  Isn't summer the best?  I hope you're enjoying these beautiful days and nights.  I wanted to share a few things I've been talking about in my classes lately.  I know you'll love them all!
Terro Fruit Fly Trap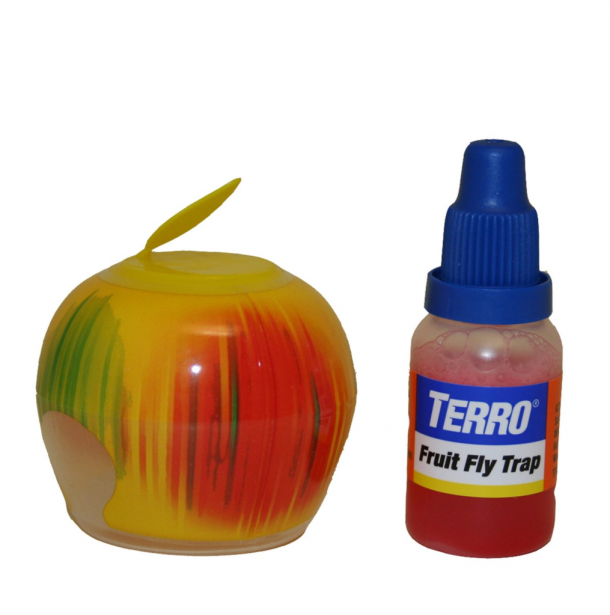 I honestly can only think of one downside to all of the delicious summer stone fruit that we get this time of year.  I'm not sure about you, but whenever I keep these fruits on the countertop I get pesky fruit flies.  It drives me mad and half the time I end up with a dishtowel covering all of those beauties. My go-to natural remedy for this in the past has been a bowl of dish soap, vinegar and water left on the countertop next to my fruit platters. However, summer also means  that my kids are home more and running in and out of the kitchen all of the time = bowl of vinegar and dish soap knocked over on my counter often.  Sad face.
Lucky for me my husband found this handy non-toxic fruit fly trap by a company called Terro. The actual trap is a plastic apple that at least slightly blends in with the rest of the fruit, and then you fill it with a few drops of solution and leave it on your countertop.  It totally works and really contains the fruit fly problem in my house.  It is inexpensive and on amazon prime and a summer necessity for anyone that is stocking up on their stone fruits like I am!
Seasonal Produce: Peaches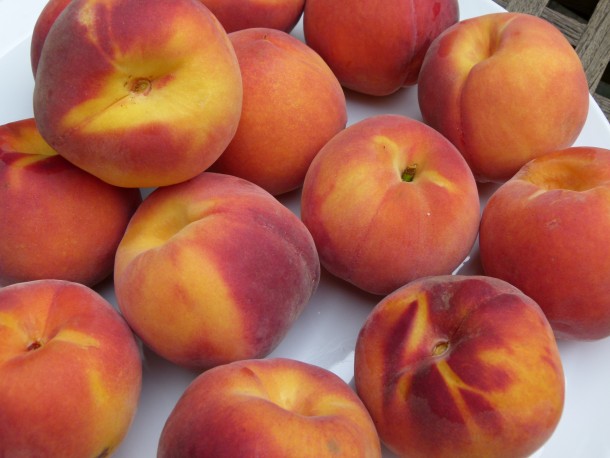 The amount of joy that I get when peaches first begin showing up at the local markets is not necessarily something that I think is normal or that most people would understand.  If you follow me on Instagram or Facebook, you might notice most of my breakfasts lately have included peaches.  And that is because they are my favorite fruit and I am obsessed!  Peaches are so delicious on their own and have so many unique uses for summer salads, salsas, as a topping for oatmeal, or served with ice cream for dessert. They complement so many other flavors such as blueberries, tomatoes, basil, balsamic, almonds and pecans.
They are just about as nutritious as they are delicious, too! They are high in Vitamin A and Vitamin C and contain minerals such as potassium, magnesium and zinc. And believe me when I say they are lower in calories than any other food that is equally as sweet! When choosing peaches at the market look for ones that has a vibrant color without any green tones.  I also smell the peaches and look for a slightly sweet aroma.  I prefer to buy my peaches firmer and let them ripen on my countertop. They will ripen more quickly if tucked in a paper bag with an apple or banana, and once ripe can be stored in the refrigerator. Check out some of my favorite peach recipes that I have posted, as well as some others from around the web!
Arugula Salad with Farro and Peaches
Individual Warm Peach Pie Pots
Mache and Peach Salad with Jalapeno Vinaigrette by Sprouted Kitchen
Peach, Basil, and Ricotto Flatbread by Cookie and Kate
Peach Oat Smoothie by Minimalist Baker
Hilary's Eat Well Veggie Burgers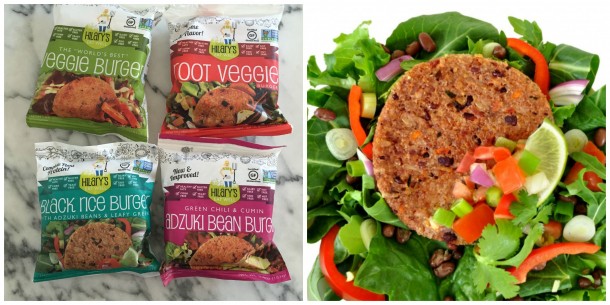 I know that I am always touting that homemade will beat store bought anything, anytime, anywhere. There has yet to be a packaged product that I really think is comprable enough to the real deal, especially when it comes to nutrition. However, after trying these veggie burgers by Hilary's, my mind has been blown. These veggies burgers are gluten free, dairy free, nut free, non-gmo, the list goes on and on; the company is sustainable, and above all these are DELICIOUS!! Win, win, win!! They are made with high quality ingredients like organic millet, quinoa and coconut oil and come in a variety of flavors like root veggie and hemp & greens. I toasted mine in the toaster oven and in 10 minutes had an absolutely delicious and nutritious burger! You can check out the website here for where these are sold, but where I live they can be found at GROW and Whole Foods.
OXO Triple Kitchen Timer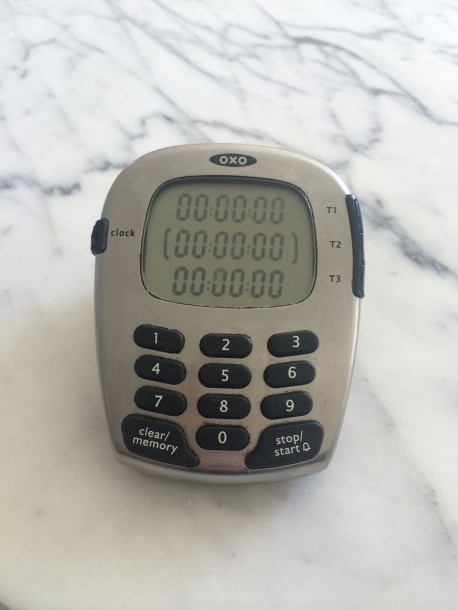 I'll admit, when I am cooking I can get slightly distracted on any given day by helping with homework, checking email, and doing the laundry.  I could not live without a kitchen timer to help me remember what's on the stove.  And because I am usually cooking more than one thing at a time, I need a kitchen timer with super powers.  This one from OXO is a TRIPLE timer!!  (It's a little stressful to try and use a phone, oven and your 11-year-old to keep track of what's happening.)  It has saved me on many holidays and dinner parties, and I love how it displays the time of day when not in use.  Another great feature is that if you do not turn off the beeping within a certain amount of time, it will continue to beep, slowly, until you eventually stop it.  It is sold at several kitchen stores such as Williams Sonoma and Sur La Table, and is also available on Amazon with free prime shipping!
Grey Celtic Sea Salt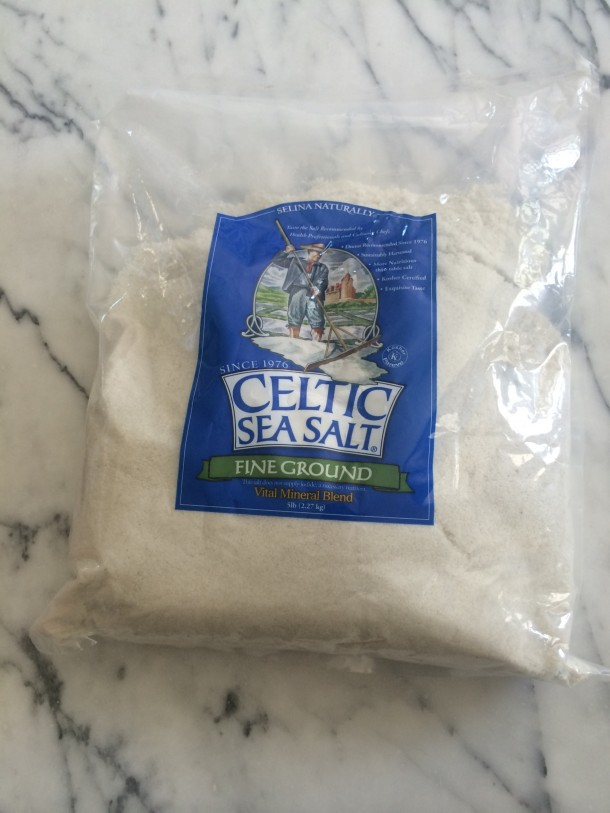 One of the most common questions I get in my cooking class is about the salts I use regularly – what kinds do I use, when do I use them, do I use the pink kind, the gray kind, kosher or not, etc.  I think the topic of salt is a very important one as I think table salt is one of the worst offenders when it comes to common foods found in an everyday kitchen. Swapping out over processed, heated, additive-filled, pro-inflammatory table salt with something else is one of the easiest but most productive steps you can take in creating a more healthful kitchen.  Especially since we use salt in almost everything we eat!
The Celtic grey sea salt is my hands-down go to salt.  It's one I use the most often and more than any other in my kitchen. This salt doesn't contain any additives, flowing agents, preservatives, heavy metals or anything, for that matter. It has not been processed or heated in any way, which would destroy the natural minerals that are very beneficial to our health.  And it tastes like pure salt, as opposed to harsh and metallic like table salt.
I have purchased my salt from two different companies- my favorite is Selena Naturally (shown above) and the other is San Francisco Salt Company. I prefer the fine grain shown here since it is compatible with most dishes and dissolves easily. I also have other coarser/flakier salts that I keep on hand for specific dishes, but I always use a sea salt as opposed to a traditional white table salt. I do advise my students that the only time I don't use this salt in my everyday cooking (since it is a bit pricier than regular table salt) is if I am making a marinade or to salt pasta or blanching water…something that is eventually going to get thrown out. I like to get my sea salt in bulk because it is more economical- the 5 lb bag can be transferred to glass jars and stored easily in the pantry. I think Amazon has the best prices which is where I get mine!  I know it will be tempting to buy the less expensive coarse sea salt, but it is very chunky and only good for soups and stews which provide enough time for the salt to dissolve.
If you don't want to spend the money on this salt, do look for a sea salt without additives.  Check the ingredient label to be sure.