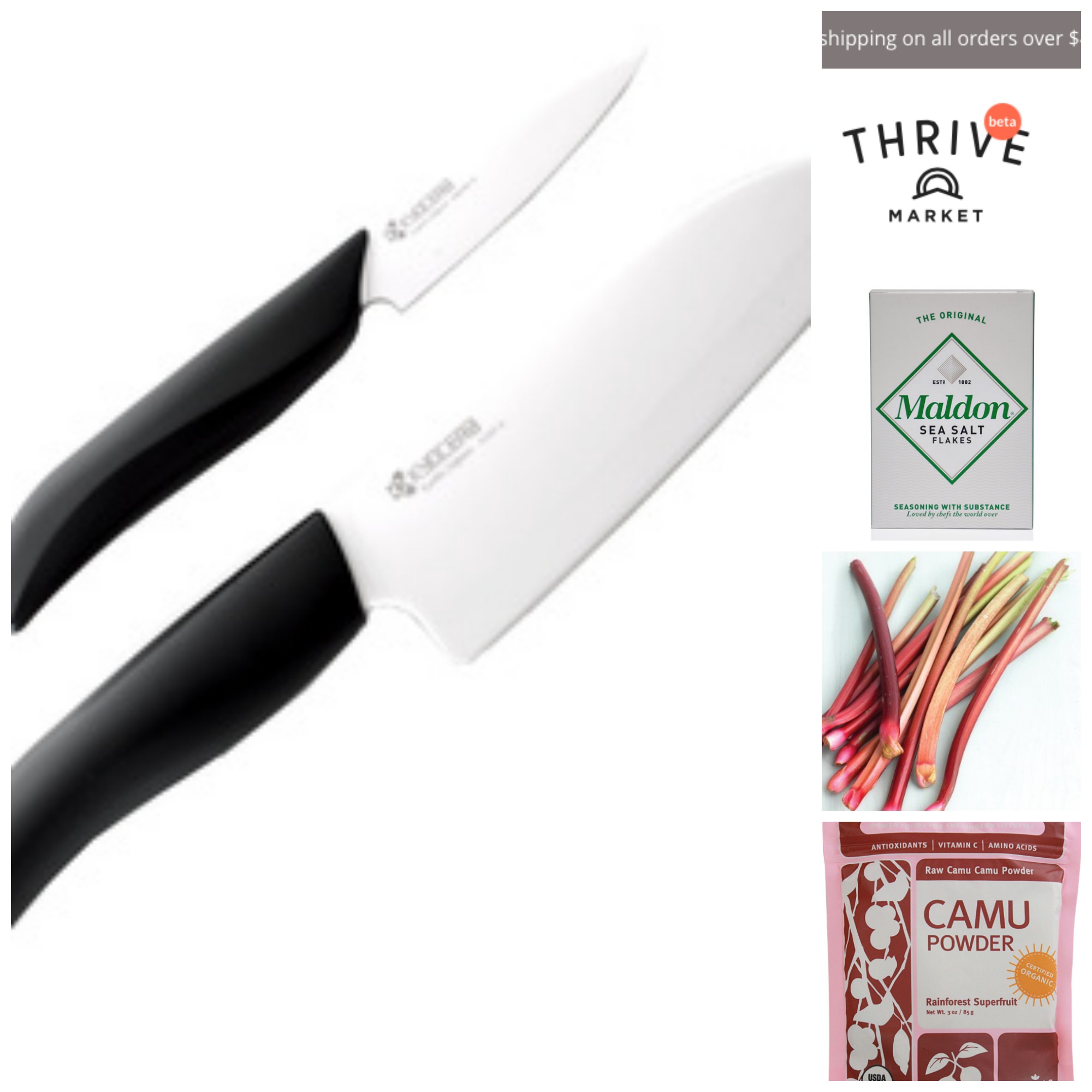 Yay, it's the weekend!  I've been continuing with my Mexican-inspired classes this month and I've also been posting a few recipes on the blog in anticipation of Cinco de Mayo.  In other exciting 😉 news, I finally got around to eating at SQIRL, the more-hip-than-I-am cafe in LA, close to Silver Lake.  It's quite literally the opposite end of LA County from me, but worth the trek since it was crazy good.  I now believe the hype.  Check my instagram for what I ate.
Today I'm posting some of my favorites that keep coming up in class lately.  Enjoy the weekend! xo
Thrive Market website

Thrive Market is a membership-based online shopping club with a focus on products that support a healthy lifestyle.  Thrive Market positions itself as a Whole Foods meets Costco — selling health food, beautycare, and home supplies at warehouse prices.  I am very leary of paying for subscriptions, so when I first heard about ThriveMarket.com, I was slightly skeptical.   Would I make back my membership?  Do I have to buy huge quantities of stuff?  What about shipping?  I'm so spoiled with Amazon Prime shipping!
Well, I wouldn't be including Thrive Market in my Friday Favorites column if I wasn't COMPLETELY OBSESSED with this website!  I think I made back my membership in my first order, and just on the olive oil alone!  I bought a Sun Potion powder on amazon for $55 only to see it later on Thrive Market for $33!  Thrive Market has amazing prices on so many of my favorite products—grains such as quinoa and millet, vinegars, nuts, seeds, nut butters, olive oil, and many other pantry staples.  Plus they carry supplements, baby items, household goods, natural cleaning supplies and so on.  You can shop by diet (vegan, paleo, gluten-free) which is handy and they have all different kinds of product suggestions, interesting articles and recipes.  Shipping is free on all orders over $49 and they have such a variety of products it is easy to meet that minimum.  When I realize I need something, I add something to my virtual cart and leave it there.  Days sometimes and the items stay in my cart until I check out.  As soon as I have added enough items to get free shipping, I place my order.
While it's true I teach a lot of classes and have a reason to order a lot of stuff,  you don't have to order in bulk.   You don't need to order a case of 12 bottles of olive oil that are 2 liters each!  You can order one bottle of normal size olive oil or tomato sauce if you want.
But most of all, I love Thrive's mission.  They've committed to giving a free membership to a low income family for every paid member who joins Thrive.  And if you're wondering if I get anything out this, I do not.  I just really think it's a great site and I have personally saved a lot of money.  This is a no-brainer.
Maldon Salt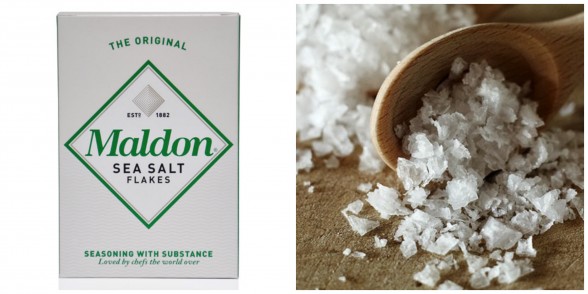 It is no secret to any of my students or anyone who knows me for that matter that I love salt.  I think salt is the key to everything in cooking and can take any dish or food over the edge in terms of flavor.  Having said that, I am very picky about what salt I use from an additive-free kosher salt for salting pasta water and marinades to a grey celtic sea salt for most dishes to all different kinds of finishing salts.  Finishing salts are salts that are used to complete a dish- or finish it- and are only used sprinkled on top- and not typically mixed in or added during cooking.  My favorite finishing salt, the king of them all, is Maldon salt.  Maldon salt is a perfect flaky, crunchy, satisfying sea salt that I like to use for finishing salads or even chocolate, yum!  I recently put a pinch on top of some chocolate chip cookies before baking and it was the thing that everyone freaked out about.
Maldon salt is a bit pricey compared to your everyday table salt, but still completely affordable at about $5/box- and it will last you a long time as just a pinch goes a long way.  And, it is more for special occasions so you will only be bringing it out every once in a while.  Maldon is available at most kitchen stores such as Williams Sonoma and Sur La Table, and of course is available at all of the usual places like Thrive Market, Amazon, and Vitacost.
Kyocera Ceramic Knives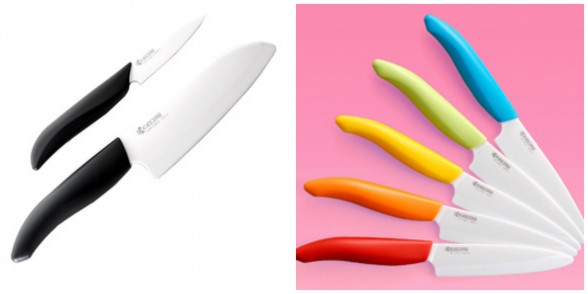 My most important tools in the kitchen are my knives.  I have good carbon stainless knives which we can talk about in a future post, but I am dearly attached to my ceramic knives.  I have been using Kyocera ceramic knives for at least 10 years, before I started teaching cooking classes, so I am a loyal fan.  I was turned onto them by a chef who was using one in a cooking demonstration and I had never seen a knife that wasn't metal.  When I picked up this knife which had a white, ceramic blade, I couldn't believe how light it was.  This is such a huge bonus for me because I'm not a big person and big, heavy knives can start to wear out my forearm.  Also, because the knife is ceramic, it doesn't rust and it doesn't oxidize lettuce the way metal does when you cut it too far in advance.
I also love that these knives stay very sharp longer than my stainless ones.  But, and this is a big but, they are not indestructible.  If you wedge the blade in between two pieces of frozen bread and try to separate them, the blade will break.  If you try to cut a piece of frozen ginger with a ceramic knife, it will crack.  If you toss your ceramic knife into the sink and it hits the metal grate, it will probably snap.  Hmmm, let me think of any other ways my husband has broken my ceramic knife….. Oh yes, the time he tried to cut off the rind from a wedge of Parmesan cheese.  So the knife can break if you're not careful, but the goods news is that Kyocera has a LIFETIME SHARPENING GUARANTEE so if you send it back to them with a check for $10, they will either sharpen the blade, replace the blade or replace the knife.  They have never said no to me or anyone else I know.  Great customer service.
I have 2 5.5 inch Santoku knives and a paring knife.  I bought them all at a cutlery store which carried the whole line.  But you can buy certain styles at Sur la Table, Crate & Barrel, Williams-Sonoma and Bed Bath & Beyond.  Amazon seems to carry them all and the Santoku shape comes in lots of different colors.  Very cute actually.
Seasonal produce: Rhubarb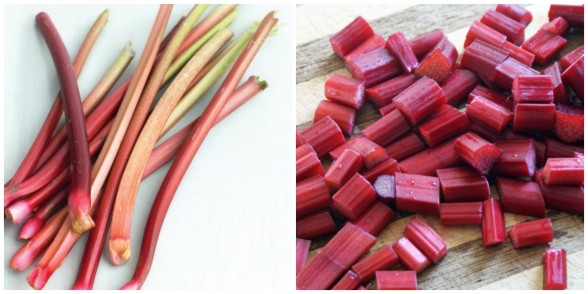 There are certain fruits and vegetables that we see every single time we walk into the market, no matter what time of year; oranges, lettuce, onions- the staples that are always guaranteed to be available.  But then you have certain fruits and vegetables that only pop up for a few weeks here and there.  Rhubarb is one of those vegetables, and when I see it around the spring I like to snatch it up while I can!  Contrary to popular belief rhubarb is actually a vegetable and related to buckwheat.  It is, however, usually paired with other fruits (think berries, cherries and apples) and in baked goods.   It is no surprise to me that rhubarb has been dubbed "the pie plant" since it is often used in fresh pies.  This tart vegetable gets tender when it is baked which mellows out the flavor and makes it more compatible for sweets.  Not only is the vegetable one of the lowest calorically, but since it is actually the stalk of a leafy green plant, it actually has a lot of those same health benefits such as vitamin K, folate and calcium.  And of course we are getting lots of great phytonutrients from that unique red color!  When purchasing rhubarb you want to look for skinny red stalks that are firm rather than floppy.  You will be buying the stalks only since the leaves are actually toxic!
Store rhubarb in a bag in the refrigerator and it should last you a week or so as long as it stays firm.  I have a recipe for a delicious and easy strawberry-rhubarb sauce that my kids love putting on pancakes, waffles, oatmeal, and French toast!  Check out some other rhubarb recipes from around the web as well!
Spice Braised Rhubarb by Savuer
Rustic Rhubarb Tarts by Smitten Kitchen
Rhubarb Fennel Crumble by Beyond the Plate
Rhubarb-Strawberry Chia Pudding by The Year in Food
Spicy Chicken Thighs with Rhubarb-Cucumber Salsa from Bon Appetit
Strawberry-Rhubarb Crumble by 101 Cookbooks
Superfood Spotlight:  Camu Camu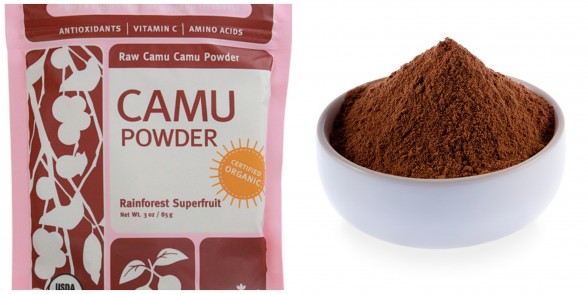 With all of the superfoods that are coming from the Amazon (that's the rainforest, not the website,) maybe we all should just pack up and move there.  JK.  Camu camu, another Brazilian fruit loaded with tons of nutrition and health benefits, is available in the US in powder form.  It is grown in the flooded areas of the Amazon rainforest and are about the size of a lemon with a pale orange/red color.  While similar to its other Brazilian fruit counterparts, Camu Camu is loaded with antioxidants- but it is actually the Vitamin C content that this fruit is really known for.  Just one teaspoon of camu camu powder has 60 times more Vitamin C than an orange.  I think that is amazing.  And, since the Vitamin C is actually consumed in food form, it is more effective and absorbable by our bodies than any synthetic variety.   Camu Camu also contains essential amino acids, beta-carotene, and potassium, to name a few.  The flavor is a tart tropical fruit flavor that lends itself to being added to smoothies, juices, or fruity yogurts.  It is available at Whole Foods, and on Amazon, Vitacost and ThriveMarket (best price.)