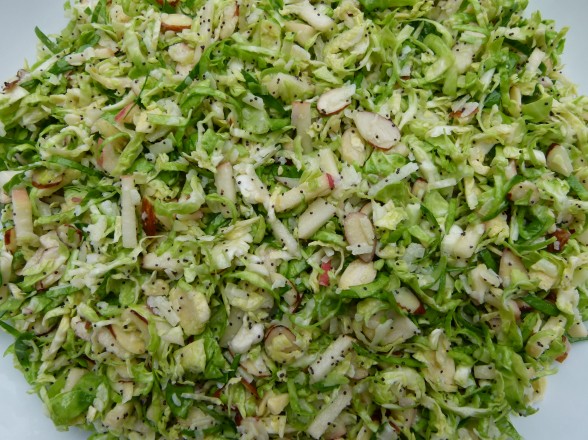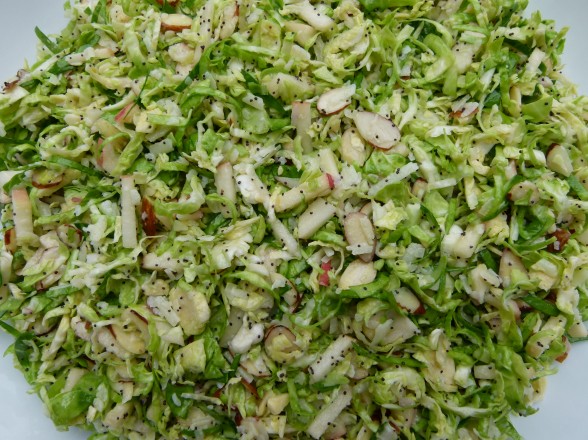 Good gracious, I do believe Christmas is a mere seven days away.  I should probably get started on that box of holiday cards sitting next to my desk, what do you think?  I also have a couple of gifts to buy, but that hasn't been occupying my thoughts as much as food.  Shocking, I know.  There is a lot of food planning that I have going on right now.  First off, United Airlines decided to cancel my 8:30 am flight (reasonable time) to NY and rebook us on a 6:14 am flight (unreasonable, horrible, why-bother-going-to-bed-at-all time.)  So I need to figure out breakfast and lunch for everyone and get that packed the night before.  Let me know if you have any suggestions otherwise I'm making kale salad with quinoa and a bunch of pumpkin muffins and that's that.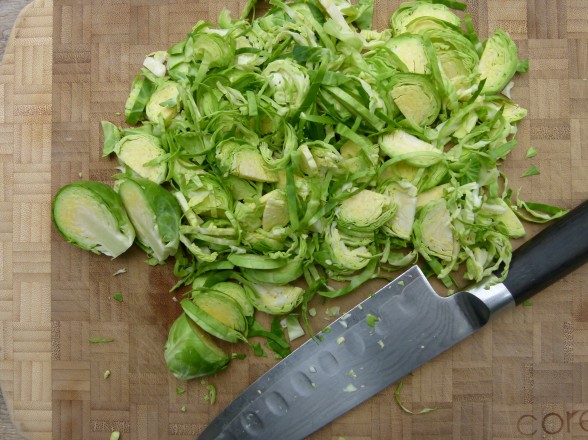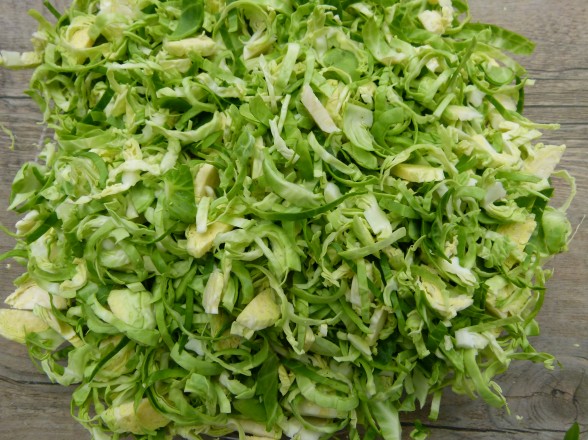 I also need to plan 3 meals a day for the time we're at my parents' house.  My sisters come with their little ones and I turn into the culinary director for the week.  I adore my mother, but I don't think I can handle hearing her ask me every day, "Now what do you want to do for lunch?" (or dinner)  And the last thing I want to do is head out to the market every day in chilly weather without a plan when I could be working on a puzzle and sipping hot tea while a huge pot of veggie chili simmers on the stove.  Ahhhhh……So my plan is to come up with the menu for the week and email my mother the grocery list and we'll all be sitting pretty.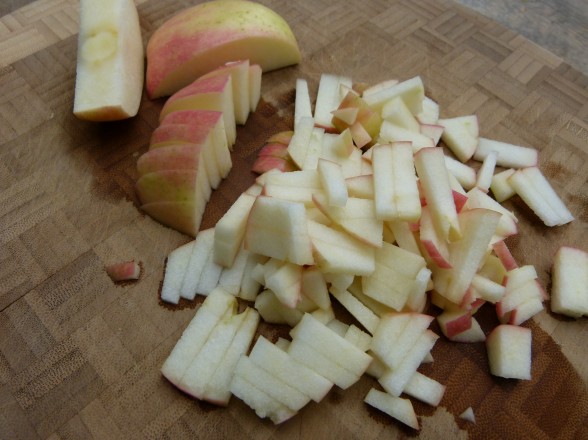 But the big decision before I leave is what should I bring for Christmas Eve dinner, the biggest potluck of the year?  It's tricky since I arrive fairly close to the 24th and I don't have too much prep time.  The other challenge is that I need to make enough to feed oh, about 80 people.  For years and years I brought dessert like cucidati, a Sicilian fig cookie, or gingerbread cake.  Easy enough.  But last year, I felt motivated to get some more veggies on the tables since 80% of the meal seems to revolve around fish of some sort.  So of course I decided to make Brussels Sprout Leaf Salad, one of my favorite salads ever.  Incredibly delicious, super healthful, so seasonal and really pretty.  BUT, probably the most ridiculous salad to make for EIGHTY PEOPLE.  Why?  Because you have to separate all the leaves, blanche them and spin them dry.  I'm not sure why I thought this was a good idea.  Oh, wait.  Now I remember.  I thought my darling sisters and my lovely daughters would help me.  Ha.  Ha.  Are you picturing me sitting at the kitchen table for hours on December 23rd all by myself?  Cranky face.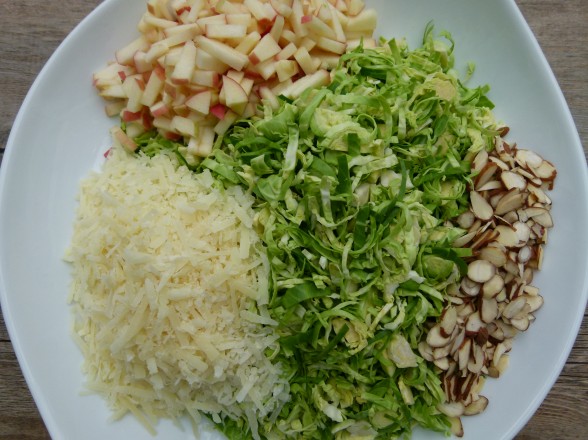 So this year is going to be different.  I'm going to make an equally tasty brussels sprout salad, one that my husband and my daughters are crazy about, but not have to be a slave to the sprouts.  This salad debuted just this year on my Thanksgiving class menu and it has made several appearances at our dinner table.   It's crunchy and kind of tart-sweet and you have no idea you're eating brussels sprouts (not that there's anything wrong with them.)  In fact, they are beyond nutritious and super delicious raw.  This salad even tastes great the next day for lunch boxes.  If you are dairy-free or vegan, feel free to leave out the manchego cheese.  By the same token, do have fun with this salad and substitute feta instead or add pomegranate seeds or your favorite nut in place of the sliced almonds.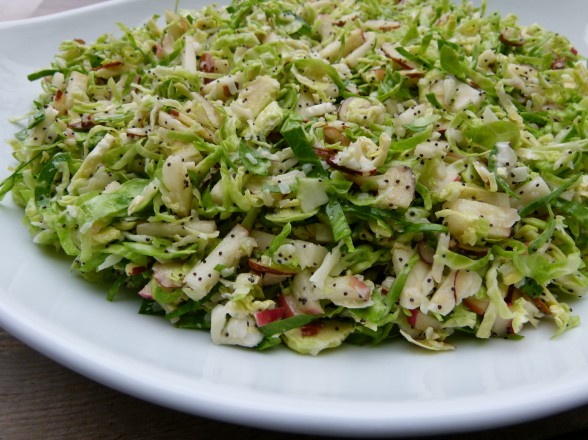 Here's my plan for bringing this to dinner on Monday night:
Sunday:  make dressing and refrigerate
Sunday:  wash, dry, trim and thinly slice Brussels sprouts and refrigerate
Sunday:  shred manchego cheese (I do this on a box grater) and refrigerate
Monday afternoon:  cut apples and store in cold water
Just before serving:  drain apples and add to sprouts, cheese and almonds.  Dress with vinaigrette and serve.
Ooops.  Forgot one more thing.  Sunday:  Make tea and start 1000 piece puzzle.  Stay in pajamas as desired.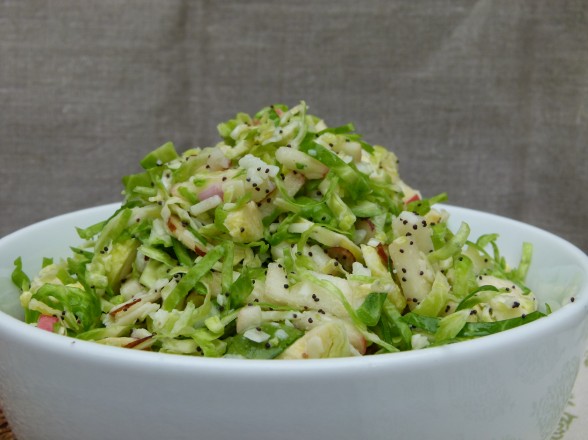 Raw Brussels Sprout Salad with Poppy Seed Dressing
Ingredients
1 pound Brussels sprouts, ends trimmed, halved
1 large crisp apple, cored and cut into julienne
⅓ pound of Manchego cheese, shredded
½ cup sliced almonds
Dressing:
3 Tablespoons apple cider vinegar, preferably unpasteurized
½ small shallot, finely diced
1 ½ teaspoons Dijon mustard
½ teaspoon sea salt
freshly ground black pepper to taste
1 teaspoon raw honey or pure maple syrup
1 Tablespoon poppy seeds
6 Tablespoons unrefined, cold-pressed extra-virgin olive oil
Instructions
Slice the Brussels sprouts as thinly as possible with a sharp knife. If necessary, you can use the slicing disc on a food processor, but it won't be super thin. Place in a serving bowl.
Add the apple, Manchego and almonds to the shredded Brussels sprouts.
In a small bowl or in a jar with a screw-top lid, combine all dressing ingredients until emulsified. Add drizzle enough dressing onto the sprouts mixture to coat lightly. Toss to combine well and taste for seasoning.