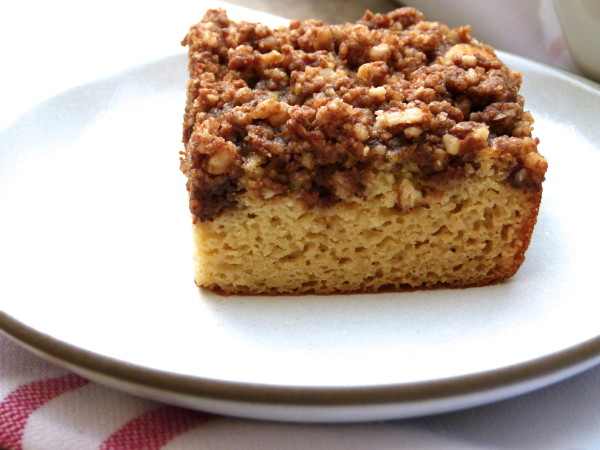 Trust me that this cake is so good!  It does NOT look like it has white beans in it, nor does it taste like white beans (which may I remind you taste like nothing.)  And lest you think I am a genius coming up with blending white beans to make a high-protein, downright delicious cake, I will come clean and tell you this is nothing that hasn't already been done about 16,7000,000 times, according to google.  Even my idol, Martha Stewart, has made cupcakes with white beans!  If it's good enough for Martha, it's definitely good enough for moi.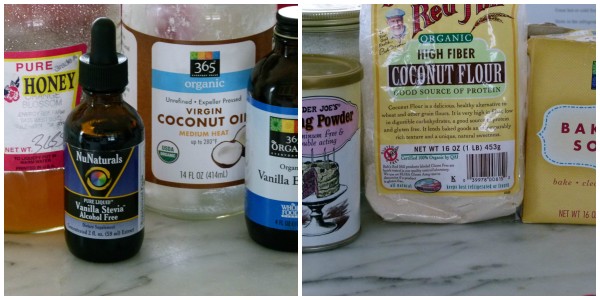 I thought this would be such a different, delicious and healthful cake for your Mother's Day brunch, and what a conversation-starter!  It's always fun to quiz your family and friends — "Can you guess what the secret ingredient is?"  I would never suggest making this for Father's Day because most dads I know would rather have doughnuts than a cake with nutritional benefits.  Moms are different.  We're always looking to have our treats without the guilt!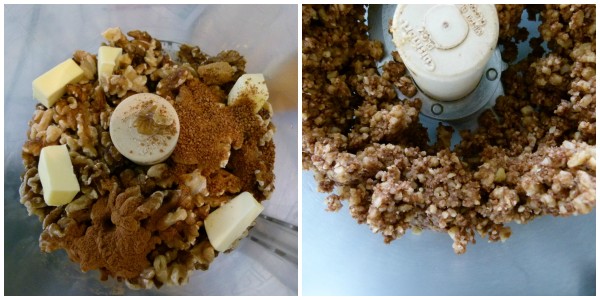 This cake was a huge hit in my classes last year.  I first told everyone to open their minds because this would not resemble a classic coffeecake. Most people that come to my classes are pretty open-minded anyway.  In fact a few ladies said, "Ah, of course.  Black beans in brownies, white beans in coffeecake."   I agree, it makes perfect sense.  But I would never make any dessert or any recipe for that matter just because it's kind of healthful.  Of all things, dessert should be enjoyed, and you will love this cake!  It's very moist, just sweet enough and light.  I ate quite a bit of this cake last  year and I never felt uncomfortable or sick after eating it.  That's an indication of a pretty clean dessert.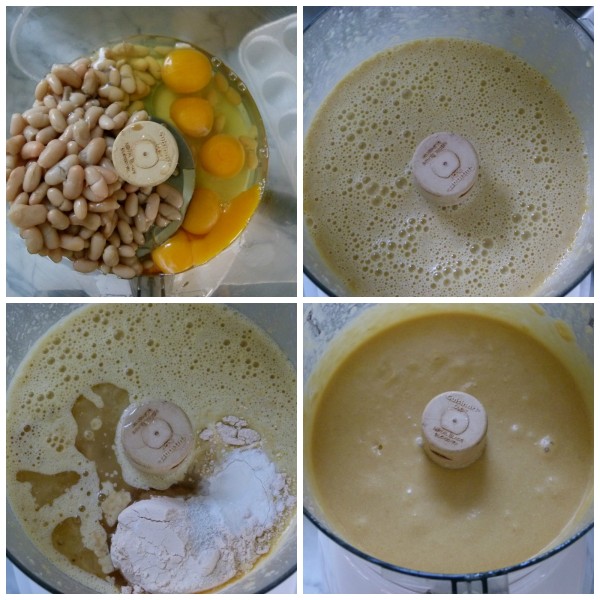 I normally encourage you to make your beans from scratch, but for this recipe it is very important that your beans be nice and creamy soft.  So if you want to be on the safe side, just used canned.  I love Eden which doesn't use BPA in its can liners.  The one ingredient which might throw you for a loop is the coconut flour, although I do have a great muffin recipe on my site that uses almond flour and coconut flour.  At my Whole Foods, you can buy coconut flour from the bulk bins, which is nice if you just need a little bit.  Most recipes which use coconut flour only call for small amounts of it because it is so absorbent.  Don't go thinking you can substitute regular grain flours for coconut flour!  They are completely different!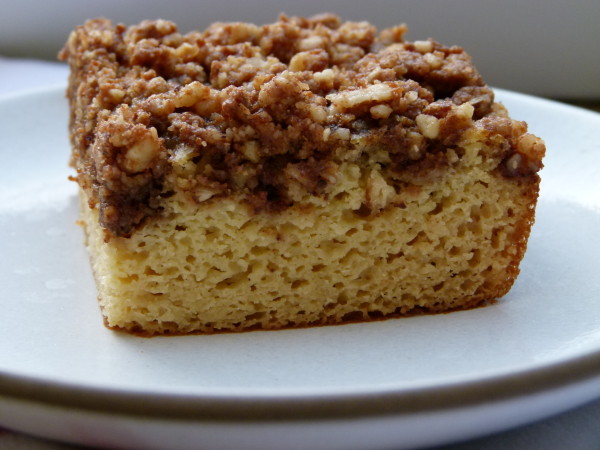 If you decide you don't want to make this coffee cake with the faux streusel topping, just make the cake with your favorite frosting or serve it with fresh fruit and whipped cream or whipped coconut cream.  Either way, moms deserve a treat on Mother's Day, so indulge or do something generous for all the special moms in your life!  Happy Mother's Day!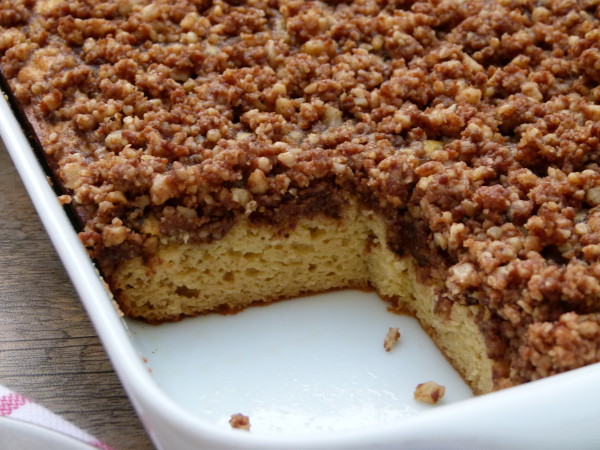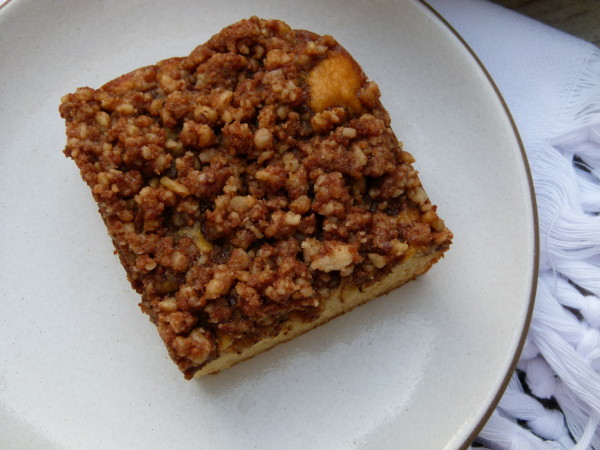 Grain-free White Bean Coffee Cake
Serves:
makes one 12X9 or 13x9-inch cake
Ingredients
Crumble Topping:
3 cups walnuts
2 Tablespoons coconut oil or butter
¼ cup coconut palm sugar or brown sugar
2 teaspoons ground cinnamon (optional)
2 cups cooked white beans (make sure they're soft and not crunchy), such as cannellini or Great Northern, drained and rinsed if canned (cold or at room temperature)
6 eggs
¾ teaspoon vanilla liquid stevia or plain stevia and add an extra ½ teaspoon of vanilla extract
1 teaspoon pure vanilla extract
¼ cup melted coconut oil, plus extra for greasing pan
⅓ cup honey
⅓ cup coconut flour
½ teaspoon sea salt
¾ teaspoon baking soda
1 ½ teaspoons aluminum-free baking powder
Instructions
Preheat oven to 325 degrees. Grease a 12 x 9 or 13 x 9 baking dish with coconut oil or butter.
To make the topping, place the walnuts, coconut oil or butter, sugar and cinnamon in the food processor fitted with a metal blade and pulse until combined and the texture resembles a crumb topping. Remove from food processor and set aside.
In the same food processor (no need to clean it) place the beans, eggs, stevia, vanilla coconut oil and honey and puree until smooth.
Then add the coconut flour, salt, baking soda and baking powder to the white bean mixture and process until smooth. Pour into the greased pan.
Spread the topping over the top of the batter and use a fork to swirl into the batter, then pat down to set.
Bake for 35 minutes or until a toothpick inserted in the center comes out clean. Allow to cool before serving. Store leftovers in the refrigerator where it will stay good for up to a week.