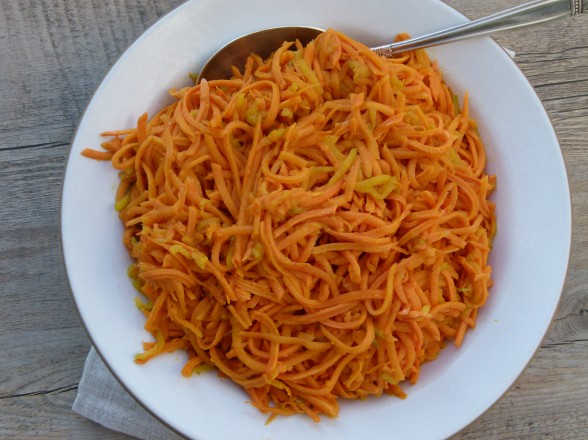 Are you confused about the difference between a sweet potato and a yam?  Yep, so is my local supermarket.  In all fairness, I had to do a little research to get to the bottom of it, because I wasn't sure myself.  The names "sweet potato," which is not at all related to a regular potato, and "yam" are used interchangeably in the US, but they both generally refer to sweet potatoes, no matter the color.  Even the dark ones called yams are technically sweet potatoes.  True yams are native to Africa and are a staple in tropical and subtropical countries.  I have never actually seen one in our country, but here's what you might find in your market if you live in the States:
Brown or red-skinned (often called called yams) —  these have a soft orange flesh and sweet flavor.  The varieties you will likely see are Garnet, Jewel, and Christmas Beauregard.  Garnets are my favorites and what I used in these photos.
Beige-skinned — have a pale yellow flesh.  Varieties include Nancy Hall and Juicy Yellow.
Purple skinned — I see these at my farmer's market.  They have a white flesh and the farmer calls them Japanese sweet potatoes.  I don't find the flesh to be quite as moist as the others mentioned above.
No matter what you call them, sweet potatoes are delicious and completely underrated.  It baffles me that so many people look to sweet potatoes only at Thanksgiving.  We eat them much more often in our house than regular potatoes and they are just as versatile.  They are also way more nutritious — you probably don't need me to tell you that.  When you look at that deep orange flesh, you immediately think Beta-carotene, right?  They are loaded with so many vitamins, minerals and fiber, but it's the antioxidant profile that sweet potatoes are so rich in.
Speaking of turkey, I'm starting the Thanksgiving countdown this Thursday, which is four weeks from the big day.  We have lots to do to start preparing and getting organized, so tune in and I'll get you through this with no stress.  It might even be fun!