I love summer rolls — crunchy, fresh, and flavorful all wrapped in a delicate rice paper wrapper.  Summer rolls are one of those things I never thought I could make at home.  The wrappers, the rolling, the sauce!  Not only are they way easier than I imagined, but they can be quite the nutritious dish to boot.  Filled with loads of raw veggies and herbs, a summer roll is like a salad all wrapped up in a neat little package.  In the video above, I go a pretty traditional route with avocado, cabbage, carrots and herbs, but also I use less traditional roasted sweet potato sticks and shredded Brussels sprouts.  Rice paper is so neutral.  Who says you couldn't put a cobb salad in there or poached chicken, corn, cabbage and barbecue sauce?  I say the sky's the limit and can we talk about perfect these would be for school lunches?!  Per-fect!
If you want to make these in advance, cover them with a damp paper towel and refrigerate for ideally up to one day, but I've even kept them 2 or 3 days.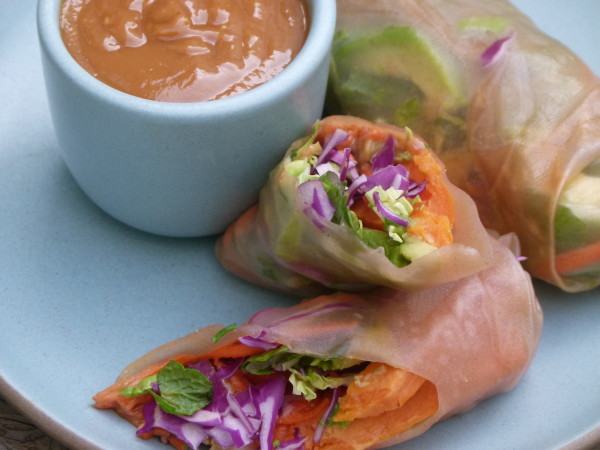 Healthy and Delicious Summer Rolls
Ingredients
For the sauce:
2 Tablespoons creamy peanut butter, preferably organic (or cashew or almond butter)
1 Tablespoon unrefined, cold-pressed extra-virgin olive oil
1 Tablespoon unseasoned rice vinegar
½ Tablespoon raw honey (choose a mild flavor)
½ Tablespoon water
½ Tablespoon shoyu or gluten-free tamari
pinch sea salt
pinch cayenne pepper
For the summer rolls:
8 (8-inch) rice paper rounds, plus additional in case some tear
1 large sweet potato, (peeled if desired) and cut into ¼" matchsticks
unrefined coconut oil or extra virgin olive oil for drizzling
sea salt and black pepper to taste
4 medium brussels sprouts, thinly sliced or shredded
¼ head of small red cabbage, thinly sliced or shredded
2 medium carrots, shredded, grated, or julienned
1 large avocado, cut into thin slices
handful each of fresh mint leaves, basil leaves and cilantro leaves
Other possibilities: cooked shrimp, chicken, tempeh or tofu, cooked rice noodles
Instructions
To make the sauce: whisk together all of the ingredients in a bowl or a glass jar and set aside. *
To make the summer rolls: Drizzle the sweet potatoes with oil and sprinkle with salt and pepper. Roast in a 400 degree oven for 18-20 minutes until tender.
Fill a shallow baking dish or a skillet with warm water. Soak 1 rice paper round (make sure there are no holes) in warm water until pliable, 30 seconds to 1 minute. Remove from the water and transfer to a plate or cutting board.
Spread 2 teaspoons of peanut sauce on the rice paper (or omit and use as a dip once rolls are assembled) and top with 2-3 large mint leaves, 1-2 large basil leaves, a pinch of cilantro leaves, a
pinch each of the Brussels sprouts, cabbage, and carrot, a few sticks of sweet potato, and a couple of avocado slices, taking care not to overstuff. Roll up rice paper tightly around filling, folding in sides and continue rolling.
Transfer summer roll to a plate and cover with dampened paper towels.
Make the remaining rolls in the same manner. Serve rolls halved on the diagonal.
Store in the fridge covered with a damp paper towel 2-3 days.
Notes
* Sauce can be refrigerated for up to 5 days. Bring to room temperature and re-emulsify before using.
You are going to have so much fun making these summer rolls!
By the way, I have a YouTube channel!  I would love it if you subscribed over here.  Thank you!