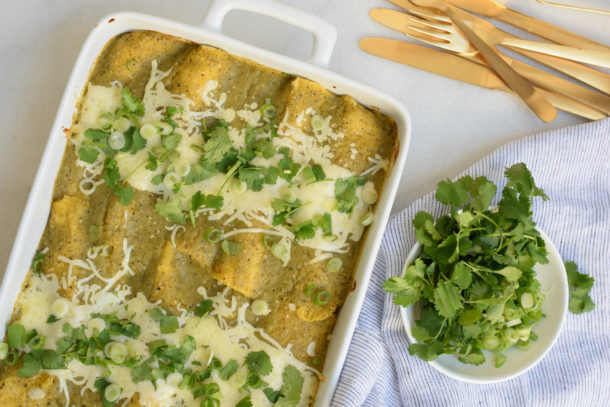 A few weeks ago, six other families and mine planned to get together for a pot luck at my friend Lana's house.  One of the families keeps kosher, so we decided to go with a fish and dairy meal.  I thought these vegetable enchiladas verdes would be a great vegetarian option.  At least it seemed like a good idea at the time, but that's because I wasn't remembering Mr. Picky's haircut after school that day and his basketball practice from 4-5.  I think I was just craving enchiladas on the day I volunteered and not thinking it was a bonehead move to offer to make them for 35 people.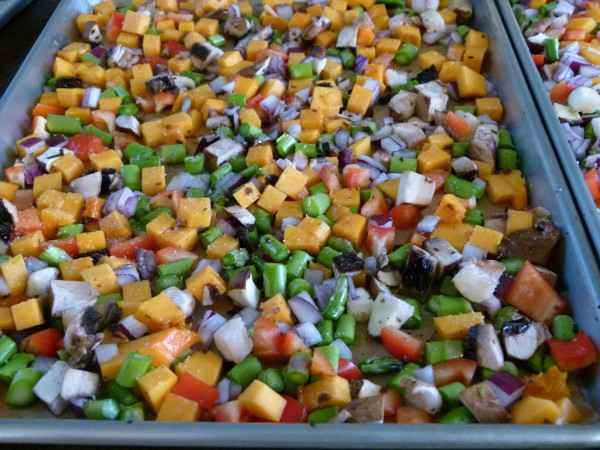 Homemade enchiladas are one of my absolute favorite things to eat.  But I'm not talking about the overly cheesy and soggy kind.  I love a good (GMO-free) corn tortilla wrapped around either some poached chicken or vegetables and beans and then smothered in fresh tomatillo sauce.  You can even hold the cheese.  We ski a few times each year in Deer Valley, Utah, which is known not only for its great ski runs, but for pretty good lunch on the mountain.  Once in a blue moon they serve the most divine roasted vegetable enchiladas, which is how this recipe was inspired.  I actually prefer vegetable enchiladas over ones with chicken and my husband says he doesn't miss the meat at all.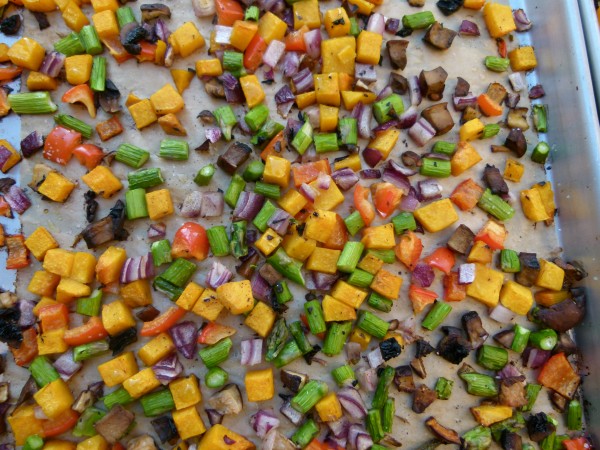 I also prefer the "green" version over the red and I love making tomatillo sauce from scratch.  Have you ever seen one of these cuties?  One of my students thought the supermarket prewraps each tomatillo in these paper husks, but in fact, they grow that way.  Tomatillos are related to tomatoes, but they have a tangy, puckery, sourness that Mr. Picky doesn't care for, so his enchiladas are made with no sauce for now.  You know what I say?  More for me!  If you eat dairy, that tanginess does go particularly well with cheese or sour cream.  Just saying.  I tried several methods for making tomatillo sauce and broiling them on a sheet pan was not only easy, but that little bit of char on the tomatillos added tons of flavor to the sauce.  You can also boil them, but boiling vegetables, especially ones high in Vitamin C, isn't usually my first choice.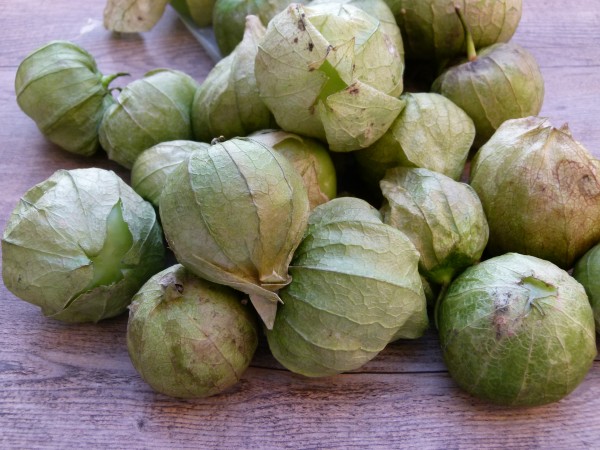 I'm sure you can see from my pictures that dicing up 3 sheet pans of vegetables was a bit of work.  When I do this for my family, it's no big deal.  But besides the vegetable prep, there is also the task of rolling each tortilla around a small amount of filling and nestling them side by side in a baking dish.  So the first pan started that way until I started cursing myself for not having volunteered a lasagne, the perfect potluck dish to feed a crowd.  LIGHTBULB!  Enchilada Lasagne!  At the rate I was going, there was no way we would make it to dinner even fashionably late.  So I took 6 corn tortillas and made one layer on the bottom of the baking dish, dumped half of the remaining filling on top plus a few sprinkles of cheese, put down another 6 tortillas in one layer and covered the whole thing with tomatillo sauce and a bit more cheese.  2 minutes. Done.  Am I a genius or an idiot?  Toss-up.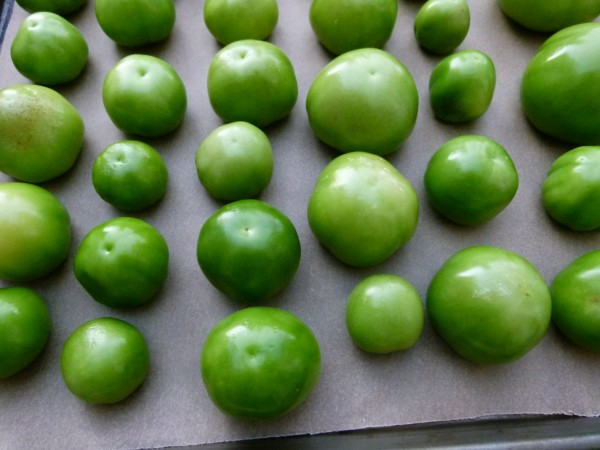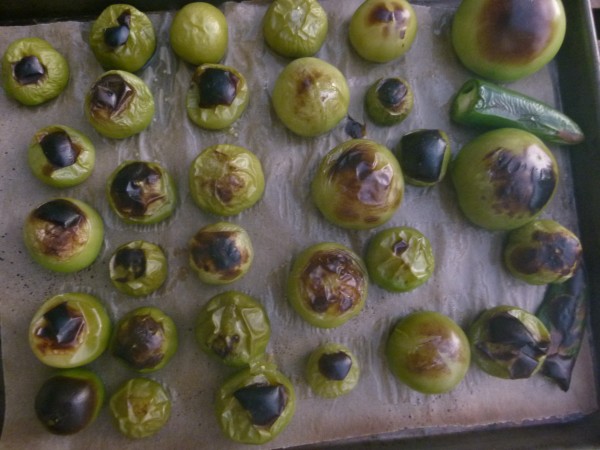 There are so many delicious vegetables you can use, or use up if you have a bunch of random odds and ends in the fridge.  This time around I used butternut squash, sweet bell pepper, shiitake mushrooms, asparagus and red onions, but I have also added sweet potatoes, zucchini, and carrots.  I've never used sauteed or blanched greens, such as spinach or Swiss chard, but I think I will the next time around.  I was going to post this recipe next month, but it occurred to me that you all may be entertaining for the Super Bowl this weekend and my new discovery of the Enchilada Casserole would be the perfect thing to serve a crowd.  Here are a few ways to make this even easier for you:
Use pre-made enchilada sauce — but only if you have access to a good one or if you can't find fresh tomatillos.
Make your own sauce, but do it the day before.
Dice and roast your vegetables the day before or first thing in the morning.  Keep them in a covered container in the fridge until you are ready to assemble your enchiladas.
Make the casserole version.  It will take sooooo much less time, especially if you are making more than one pan of it.
Assemble it in the morning.  That will give you time to clean up the family room and whip up some guacamole before your guests arrive.
Freeze it.  Thaw it out and bake for a delicious dinner another busy night.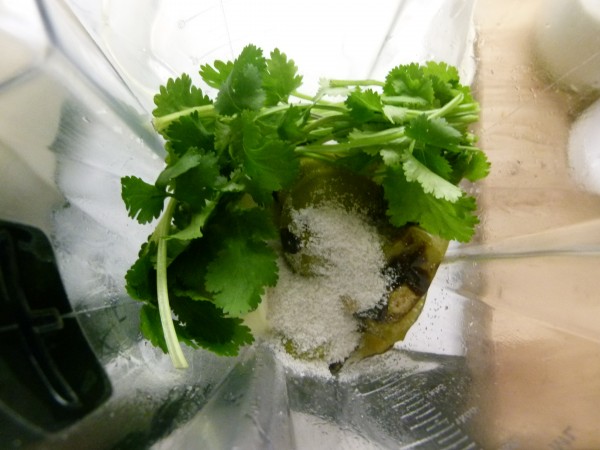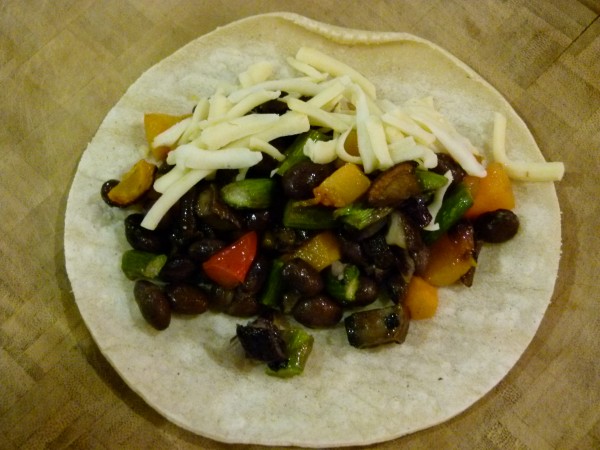 Are you planning on having people over for Super Bowl Sunday?  Other great options can be Vegetable Chili served over brown rice, quinoa or millet; a Taco bar; a Fajita bar; a Baked Potato bar; and of course, Guacamole and Baked Tortilla Chips.  As you can see, I am happy to cook before the opening kick-off, but then everybody needs to fend for themselves so I can concentrate on the game.  Go Giants!  By special request, my famous cornbread recipe coming up on Friday!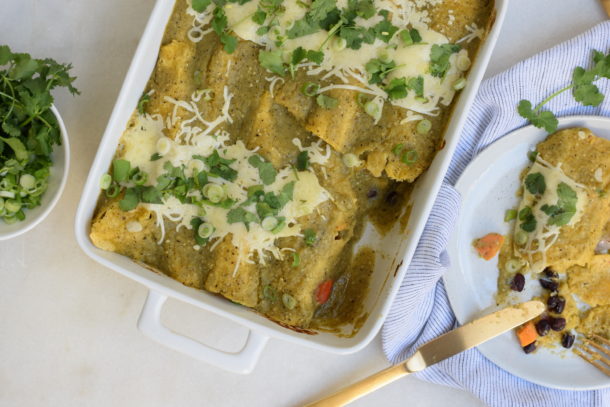 View this post on Instagram

 

 
Roasted Vegetable and Black Bean Enchiladas Verdes (and a casserole version!)
Ingredients
5-6 cups mixed vegetables, such as butternut squash, zucchini, sweet bell pepper, red onion, mushrooms, apsaragus, cut into ½-inch cubes
Olive oil for drizzling
Sea salt and freshly ground black pepper
1 ½ cups cooked black beans or 1 15-ounce can, drained and rinsed
Sauce:
20 medium tomatillos, about 2 ¼ pounds, husked and washed
1 jalapeno, stem removed (will make the sauce a 5 on a heat scale of 1 to 10)
½ small onion, peeled
3 garlic cloves
10 sprigs cilantro
1 Tablespoon sea salt
3 Tablespoons olive oil
12 corn tortillas
grated cheese, (such as Monterey Jack) if desired or crumbled queso fresco
Instructions
To roast vegetables: Preheat the oven to 375 degrees. Place the vegetables on a parchment-lined baking sheet. Drizzle with oil and toss to coat evenly. Sprinkle with salt and pepper. Roast until tender, but not over-cooked, about 25 minutes. Add the black beans to the vegetables and mix together or put everything into a bowl to combine.
Place all the tomatillos and the jalapeno on a baking sheet. No need to line with parchment paper. Change the oven to broil. Place under the broiler for about 10 minutes, turning over after 5 minutes until tomatillos are lighter in color and contain a few brown spots. Change oven to 350 degrees if baking the enchiladas right away.
Transfer the tomatillos to a blender or a food processor with the jalapeno, 3 garlic cloves, ½ onion, cilantro and sea salt. Process until smooth. You should have 4 cups of sauce.
Heat a skillet over medium heat and warm the olive oil. Add the tomatillo sauce and simmer 5 minutes.
In the meantime, warm the tortillas on a griddle or skillet on both sides until softened.
Pour 1 cup of sauce on the bottom of a 13x9-inch baking dish. Place about ⅓ cup of vegetables down the middle of a tortilla and roll tightly. Place seam-side down in the baking dish. Repeat with each tortilla. Cover all the rolled tortillas with remaining sauce. Sprinkle with grated cheese, if desired. Bake until heated through and cheese is melted, about 10-12 minutes. Serve immediately.
Casserole version: Pour 1 cup of sauce on the bottom of a 13 x 9-inch baking dish. Place 6 corn tortillas in one layer on top of the sauce. Spread all of the vegetables and beans on top of the tortillas. Sprinkle with cheese, if desired. Arrange another 6 corn tortillas over the vegetable mixture in one layer. Pour enough sauce to cover well and sprinkle with more cheese, if desired. Bake until heated through and cheese is melted.
Notes
Leftovers? Chop up the enchiladas and add to a pot of chicken broth. Heat and serve. Enchilada Soup!