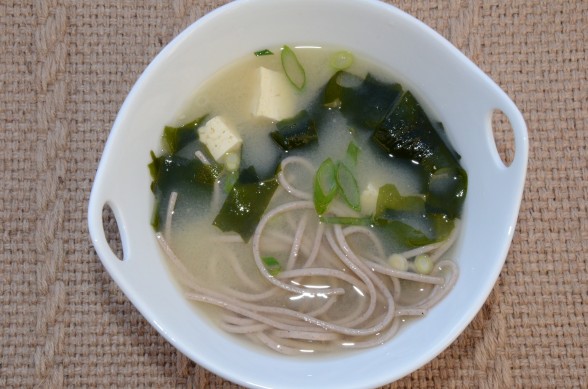 I think the reason I started cooking at such a young age is because I love to eat good food.  My mother was and is a terrific cook, but she didn't have time or the interest to really experiment in the kitchen, especially outside the Italian food comfort zone that she was in.  So when I was in the mood for something that my mom didn't know how to make, I would grab a stack of her cookbooks and a couple years worth of Gourmet Magazine and flip through until I found what I was looking for.  I could get lost for hours reading recipes and then coming up with my plan.  How much easier we have it now with the internet, although I can still get lost for hours on cooking websites!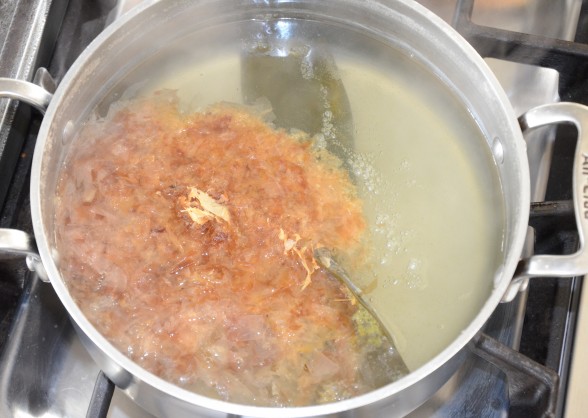 One of the simple pleasures in life for me is finding out that something I love to eat in a restaurant is incredibly simple to make at home.  We don't eat out very much, but the kids love their annual birthday dinner at Benihana and I look forward to sushi out with my girlfriends every now and then.  When I am at a Japanese restaurant, I love starting my meal with a comforting bowl of miso soup.  You may remember from my post on Creamy Miso-Ginger Dressing how beneficial unpasteurized miso is to the digestive system as well as being a wonderful detoxifier.  Of course, I love the salty savoriness of it, too!  Many years ago I decided to figure out how to make miso soup with the preconception that it would be difficult.  For goodness sake, it's about as easy as boiling water.  In fact, when I taught this miso soup recipe in a class a few years ago, more than one person remarked that it was easier than cooking pasta (and better for you, too!)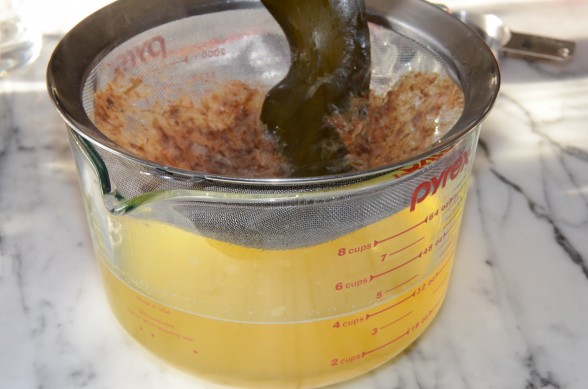 I typically make miso soup the way you would find it in a Japanese restaurant in the US, except for the canned fried onion crisps.  What's up with that?  Do they add those to miso soup in Japan?  Somehow I'm doubting it.  Regardless, I always add wakame, which is an amazingly nutritious sea vegetable that you need to try if you haven't.  It's so high in minerals and incredibly alkalizing — go get some!  I love the wakame flakes by Eden since they rehydrate in minutes and there's no chopping involved.  If I have tofu in the fridge, I'll add that and perhaps some thinly sliced green onion.  The day I photographed this soup, Mr. Picky asked for soba noodles, so I tossed a few into his bowl.  Steamy Kitchen has a version with shiitake mushrooms and sliced boy choy that looks great.  Like me, she enjoys soup for breakfast!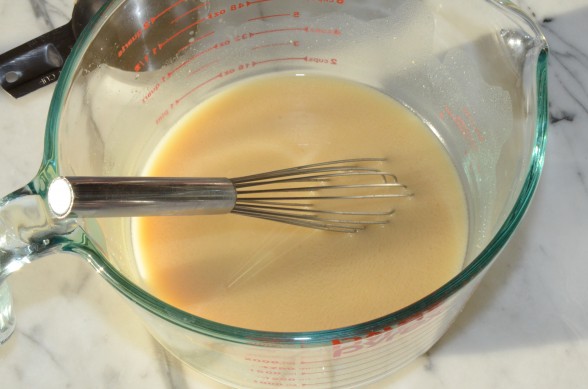 Some of the ingredients may seem exotic or hard to find, but I assure you no good natural food store worth their sea salt doesn't carry unpasteurized miso and a good selection of sea vegetables.  In fact, I found everything at my local Whole Foods.  The only ingredient that may throw some of you, especially my vegetarian and vegan friends is the bonito flakes, which are made from a type of mackerel that has been steamed, dried and shaved into flakes.  It adds a really cool smoky, hearty undertone to the soup.  But if it's not your thing, I would add a drop of shoyu or simmer the stock with some dried shiitakes to make up for omitting the bonito.  No matter how you prepare it, this just might be the easiest and most healthful bowl of soup you never thought you could make.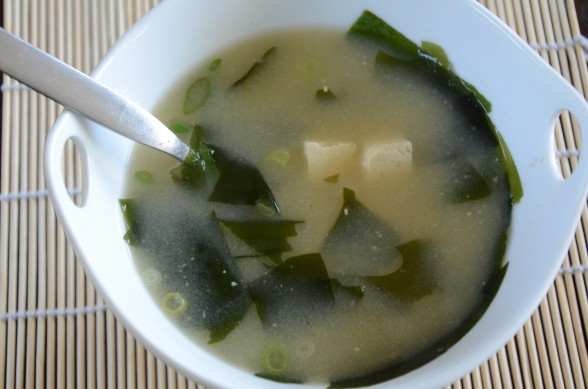 Miso Soup
Ingredients
4 ¼ cups of water
1 (6-inch) piece kombu (dried kelp)
1 cup dried bonito flakes (optional, but delicious)
½ cup rehydrated wakame (soak according to package directions and chop, if necessary)
6 ounces firm non-GMO tofu, drained and cut into ½-inch cubes
4 Tablespoons organic and unpasteurized miso (I use white. But check labels if you need the miso to be gluten-free.)
¼ cup thinly sliced scallion greens
Shoyu or tamari to taste, if desired
Instructions
Make the dashi (broth): In a medium saucepan over medium-high heat, bring the water and kombu to a boil. Remove the pan from heat and add the bonito flakes. Cover the pan and allow to steep for 5 minutes.
Strain stock through a fine mesh sieve or a cheesecloth-lined colander into a large bowl or another saucepan. If you are not using the stock immediately, allow to cool uncovered and then refrigerate it, covered for up to a week.
Transfer all but ½ cup of stock back to the original saucepan and add tofu and wakame, if using, and heat until hot.
Whisk miso into the reserved ½ cup of stock until smooth. If you think you will consume all of the soup now, stir all of the miso mixture to the heated stock and serve immediately. Otherwise, add a spoonful of the miso mixture to each individual bowl and ladle hot stock on top. You can add noodles to each individual bowl, if you like.
Notes
Miso is a live food. In order to preserve its beneficial enzymes, do not boil it.