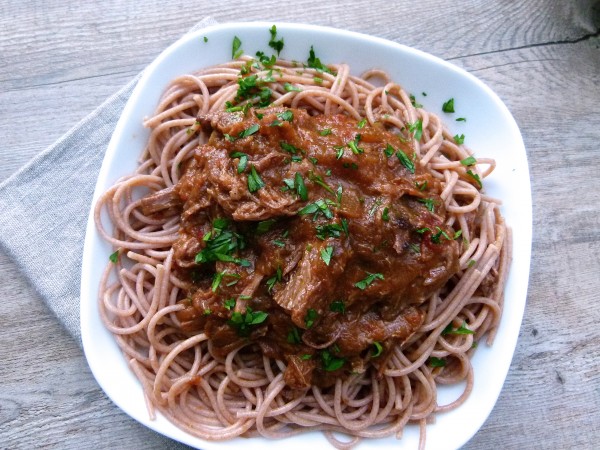 Just because I don't eat meat, doesn't mean my family doesn't love it and ask for it.  So I will make it on occasion, but my rule is that it has to be grass-fed.  Read my other brisket post about why.  I make beef more in the winter than in the summer because it has a very warming thermal nature, and becomes even more warming when cooked with onions, which means it can actually raise the thermostat in your body and heat you up a little.  Perfect these chilly nights, and I know so many of you have been suffering through the worst winter ever!  It's almost over! (I hope!)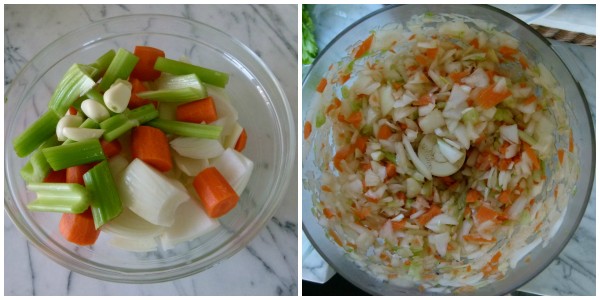 I've been making a version of this recipe for about 15 years, and my grandmother made something similar which everyone loved.  Of course grandmothers never write recipes down because they don't measure anything (a pinch of this, a sprinkle of that.)  Thank goodness for google which helped me come up with a great roadmap for one of my family's favorites.  In fact, my older daughter has requested this dish many times for her birthday in past years!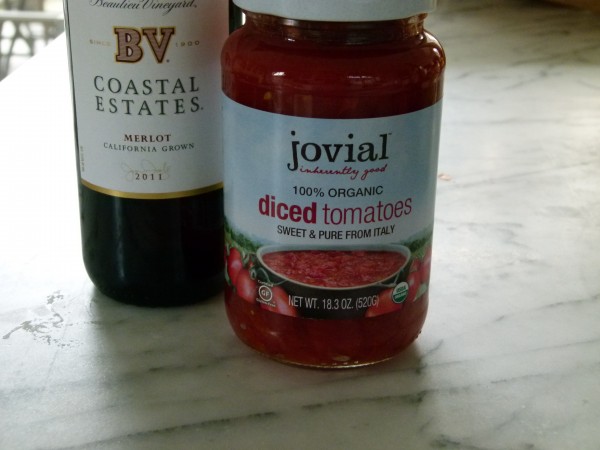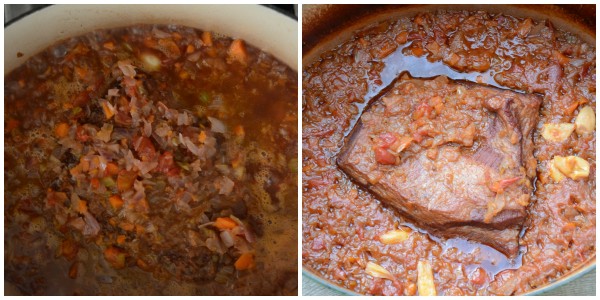 This is different from the brisket I learned how to make for Jewish holidays.  That brisket is braised in an oniony sauce as well, but it's sliced whereas this one is shredded and the sauce is more tomato-veggie, much more Italian.  We used to eat this over wide pasta, like pappardelle or fettuccine or egg noodles.  But spaghetti and even orecchiette are great.  Since I don't make as much pasta as I used to, we have been enjoying this more over cauliflower mashed potatoes or polenta.  For those of you who are hooked on spaghetti squash, I think this would be great on it!

Brisket is one of those very tough cuts of meat that can only be made meltingly tender by cooking it low and slow for a long period of time with lots of moisture.  Don't try and grill, sear or stir-fry brisket.  You'll end up with the toughest, chewiest meat ever.  Yuck!  You can also use chuck roast in this recipe since that cut also needs a long, low and slow preparation.  Since it takes three hours minimum to cook, you'll need to get this going early in the day or do it in a slow cooker, or make it the day before and reheat it.  All methods will result in a super soft, very flavorful brisket and sauce.  Although I personally think the flavor is a little better the next day.  And, this will freeze beautifully!  I think this sounds like a good weekend project for those of us who will be stuck inside from monsoon rains (not complaining, just saying) or the bitter cold.  Hoping this can help you find a way to stay cozy this weekend!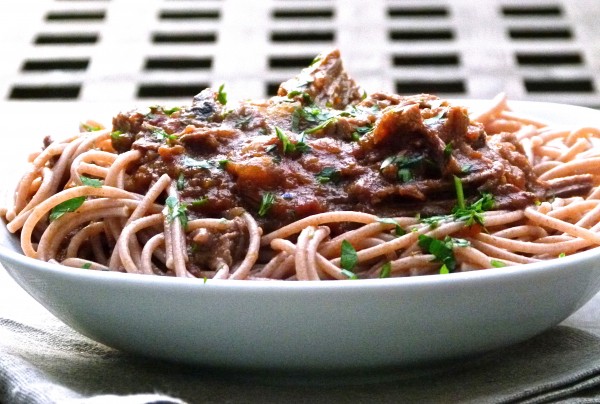 Pasta with Shredded Grass-Fed Brisket
Author:
Pamela, adapted from epicurious.com
Ingredients
2 ½-3 pound piece of brisket, preferably grass-fed
sea salt or kosher salt
freshly ground black pepper to taste
3 Tablespoons unrefined olive oil, divided
2 large onions, chopped
2 medium carrots, chopped
2 medium stalks of celery, chopped
6 cloves of garlic, chopped
1 cup dry red wine
2 cups rich chicken stock or beef broth (use whichever you have that's homemade)
1 14- to 15-ounce can diced tomatoes or 18-ounce glass jar
2 bay leaves
1 pound pasta, cooked and drained
Instructions
Preheat oven to 325 degrees. Pat brisket dry and sprinkle generously with salt and pepper. Heat 1 Tablespoon of oil in a large oven-proof pot or Dutch oven over medium heat. Sear the meat on both sides until nicely browned, about 12 minutes total.
Transfer meat to a platter. Add 2 Tablespoons oil to the pot and then add the chopped vegetables and garlic. Sprinkle with salt and pepper and sauté over medium heat until tender and golden.
Stir in the wine, stock, tomatoes and bay leaves and deglaze the bottom of the pan by scraping the bottom with a wooden spoon. Bring to a boil and place brisket back in the pot. Cover and transfer pot to the oven. Braise the meat for 3-4 hours or until tender enough to shred with a fork.
Remove from the oven and transfer meat to a cutting board. Remove the bay leaves and discard. Remove excess fat from the meat, cut into 2-inch chunks, and shred with two forks.
If you would like a smoother sauce, pureé the vegetable mixture either directly in the pot with an immersion blender or in a food processor or blender. Otherwise you can leave it chunky. This can be done a day before and reheated in the same Dutch oven over medium heat on the stove.
Add the shredded meat back into the sauce and stir together. Serve over cooked pasta or polenta, millet-cauliflower mash, mashed potatoes or cauliflower-mashed potatoes.
Notes
Use less liquid if you want less of a sauce.

SLOW COOKER VERSION
-Sear meat on both sides in a skillet or Dutch oven.  Transfer to slow cooker.
-Saute vegetables until tender.  Season with salt.
-Deglaze pan with ⅔ cup wine, 1 ½ cups stock and same amount of tomatoes as stove-top recipe, making sure to scrape all the brown bits from the bottom of the pot.  Transfer contents plus bay leaves to slow cooker.
-Cover and cook on LOW for 7-9 hours or HIGH 4-5 hours.  Proceed with remaining steps 4-6 above.