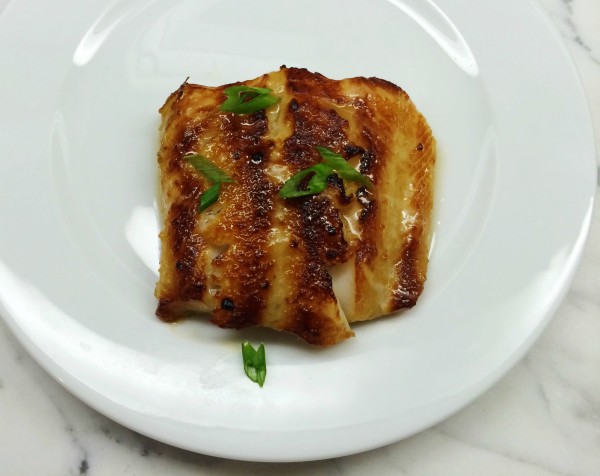 Am I the only one who reads cookbooks like novels?  Sometimes it's embarrassing when I am asked "what are you reading?" because my nightstand is stacked with cookbooks, nutrition books and cooking magazines.  Of course it's inspiring to look at new recipes and techniques, but more than that I find it relaxing.  A cooking nerd I most definitely am.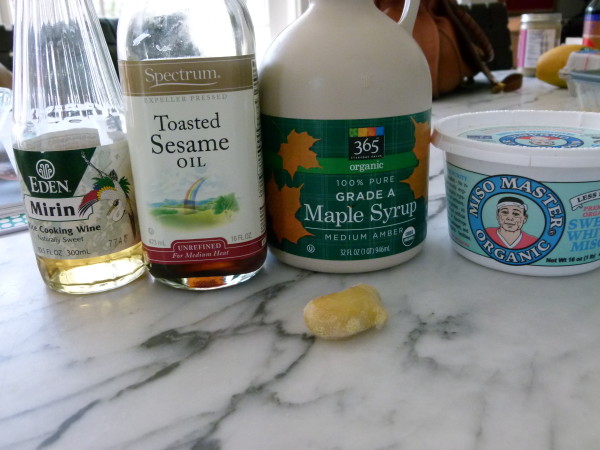 I was super excited to dig into Laurie David's new cookbook, "The Family Cooks."  I recently had the opportunity to meet Laurie at a party for the launch of her new book.  I think she is such a powerhouse and I love her message about making time to cook from scratch and eating together as a family.  I'm so on her wavelength.  All her recipes look good, but since she urged me to make the miso-glazed cod first, I didn't waste any time.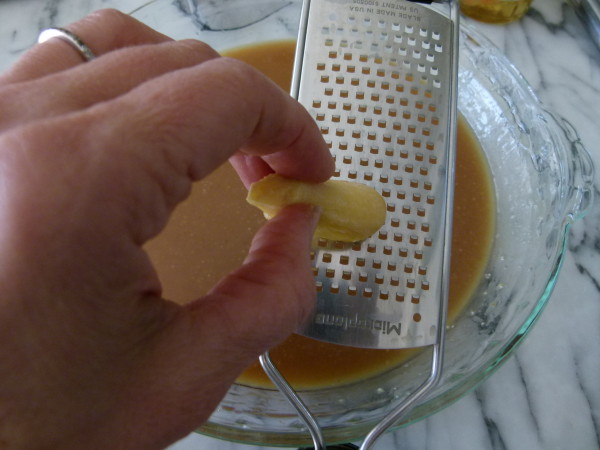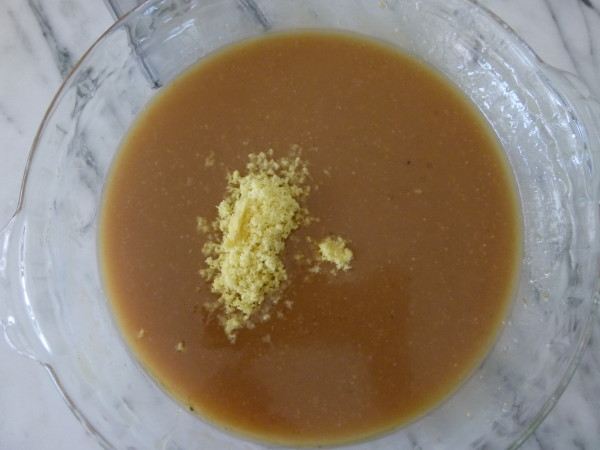 The first time I had miso cod was many years ago at a very fancy restaurant in LA called Nobu.  The cod is so silky, it just melts in your mouth and has a little sweet-salty thing going on which is my favorite flavor combo.  This recipe is very similar although I appreciate Laurie's use of maple syrup over processed cane sugar.  It is a very impressive dish, yet it only takes minutes to prepare and uses very few ingredients.  I also love that you can marinate it for a whole day if you want and then all you have to do is broil it before din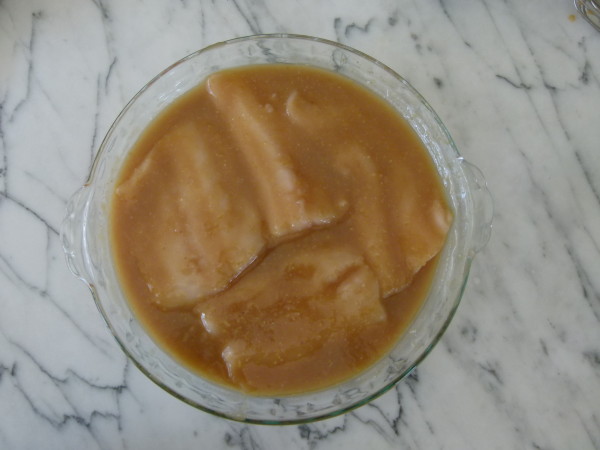 I am always looking to expand our fish repertoire with good sustainable options.  We tend to eat a lot of wild salmon, wild halibut and (when my husband is not home for dinner) wild shrimp.  Whenever I want to know what the current status is for a particular fish, I go to seafoodwatch.org, an organization which helps consumers and businesses make choices for healthy oceans. Their recommendations indicate which seafood items are "Best Choices," "Good Alternatives," and which ones you should "Avoid."  Black cod, which is also known as sablefish, is considered to be a "best choice."  The whole family (except Daughter #2 who still doesn't eat most fish and didn't try this) loved it.  Serve with a simple steamed rice or cauli-rice, and a green vegetable and you have an easy, delicious and healthful dinner.   I made it recently with a kelp noodle salad and some sautéed beet greens!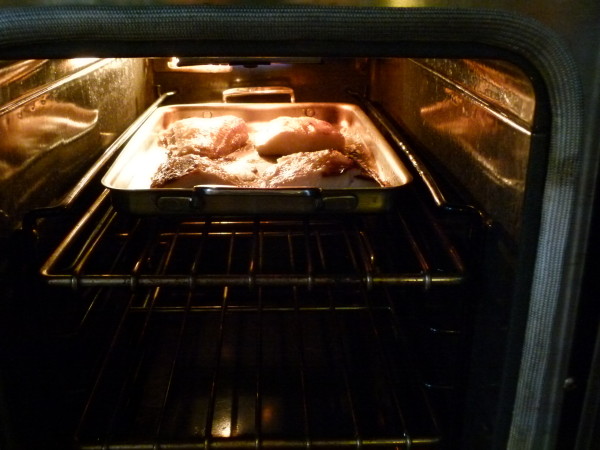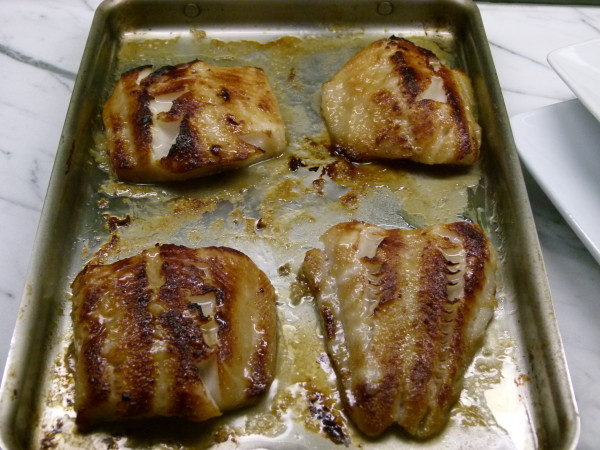 There are a few ingredients that you may not normally have on hand, namely miso, a fermented soybean paste, and mirin, a sweet rice wine.  Both are easy to find in many grocery stores and they have a very long shelf life so you have plenty of time to make this recipe again!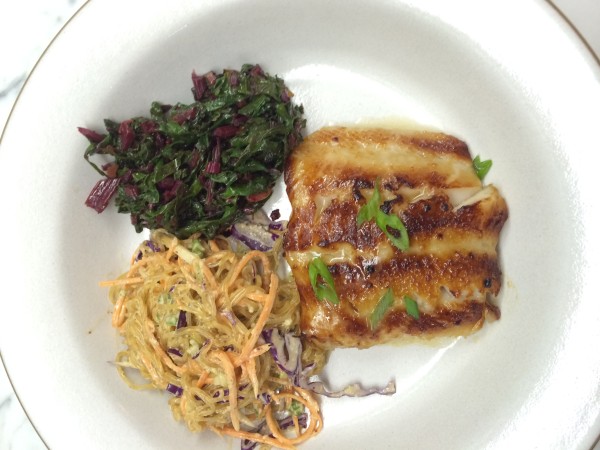 Miso-Glazed Black Cod
Author:
Pamela, adapted from "The Family Cooks" by Laurie David
Ingredients
⅓ cup white miso, preferably organic
⅓ cup pure maple syrup or honey (I like maple syrup)
⅓ cup mirin
1 Tablespoon grated fresh peeled ginger
1 Tablespoon toasted unrefined sesame oil
4 pieces (6 ounces each) skinless black cod fillet, also known as sablefish
Instructions
In a bowl or glass pie plate just large enough to hold the fish, whisk together the miso, maple syrup, mirin, ginger and sesame oil.  Place the fish in the bowl and spoon the marinade on top of the fish to cover it completely.  Cover the bowl with a plate and marinate in the refrigerator for at least 30 minutes or overnight.  The longer you can do this, the better the fish will taste.
Before cooking the fish, preheat the broiler and position your oven rack about 6 inches from the heat.  I place the rack on the level the second from the top.
If you don't have a stainless steel baking sheet, line a baking sheet with unbleached parchment paper.
Pull the fish from the bowl and shake off any excess marinade clinging to the fish.  Place the fish on the baking sheet and broil until the glaze is dark and shiny and the fish flakes when you press on it, about 6-8 minutes.