I live and teach in Los Angeles where people grab onto a food fad and hold on for dear life. Until the next cool thing comes around. Acai bowls were all the rage a few years ago.  Maybe they haven't made it to your neck of the woods yet, but no matter because you can make one yourself.  Not only are acai bowls delicious, but they are a pretty healthy snack.  It's almost like a not-as-sweet soft serve made with frozen acai, frozen bananas and frozen strawberries plus a little juice or almond milk to help blend it.  But it's the toppings (like granola, coconut, nuts, banana) that make an acai bowl even more delicious because of the contrast in textures. And then when acai bowls weren't exciting enough, pitaya bowls came onto the scene.
And then someone figured out that you could pour your smoothie into a bowl and top it with any number of great toppings and eat it with a spoon instead of a straw.  Genius.
Most people seem to make their smoothie bowls pretty liquid-y, but slightly thicker than a normal smoothie, at least so the toppings don't sink.  I personally like them as thick as an acai bowl or soft serve.  I taught these in my breakfast classes last year and everyone preferred the thicker versions.  There is no right or wrong way to do it.  BUT, if you want to eat this as a meal replacement, I recommend getting some protein in the smoothie or in the toppings.
Protein could be:
nuts or nut butter
seeds, like hemp, flax meal, sunflower, pumpkin or chia
protein powder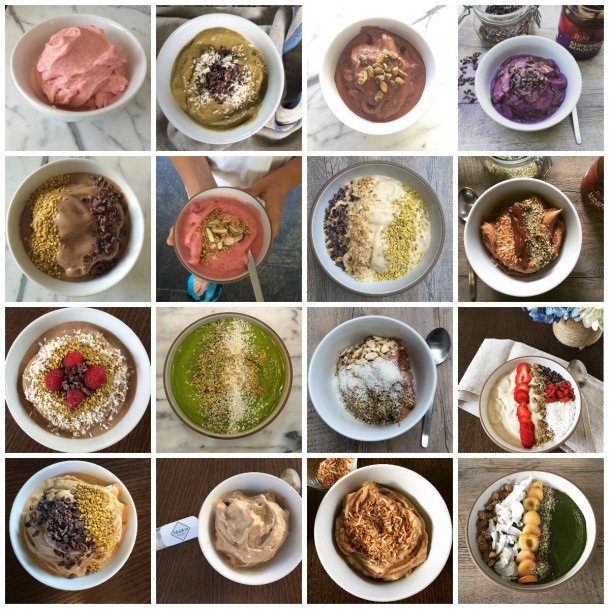 These are some of my recent creations that I have posted on Instagram and Facebook, but like I said — there are infinite possibilities.  Watch my video if you're a visual learner and also because I show you how to make a smoothie bowl in a Vitamix and a food processor.
And if you really need an actual recipe just to get you started, see an example below. Or just make your favorite smoothie with a little less liquid, pour it into a bowl and add lots of toppings!  Have fun and stay cool!

Smoothie Bowl
Ingredients
3 ripe bananas, peeled and cut into 1-inch pieces, about 2 cups (if you're using a Vitamix or another high-powered blender, you can cut bananas into larger pieces), FROZEN or 1 ½ ripe bananas, frozen and 4 frozen figs
1 cup frozen strawberries
¼ - ½ cup unsweetened almond milk or milk of choice (or even more if you want a pourable smoothie)
½ teaspoon pure vanilla extract (optional)
sweeten to taste with a few teaspoons (more or less) of raw honey, Grade A maple syrup or a couple drops of stevia, if necessary (you might not need any)
Toppings: bee pollen, hemp seeds, raw cacao nibs, toasted coconut, chopped walnuts or almonds, granola
Instructions
Place bananas and strawberries in the bowl of a food processor or Vitamix or other high-powered blender. Add almond milk, vanilla and sweetener to taste. Process until smooth and creamy. I find that the food processor needs a little more liquid and a few more seconds to achieve the desired consistency, which is like soft serve ice cream.
Transfer the ice cream to bowls and serve immediately with toppings, if desired. If eating this as a meal for breakfast, try to add protein toppings such as nuts or seeds or add a scoop of protein powder to the blender. If you use a sweetened protein powder, add a handful of ice to the blender so the smoothie is not too sweet.
You can also store the smoothie bowl in the freezer for another time, but you'll need to allow it to sit on the countertop to soften up for a few minutes before eating so that it's scoopable.
Notes: these measurements are flexible. Use more strawberries if you like or sub blueberries.
Notes
Notes: these measurements are flexible. Use more strawberries if you like or sub blueberries.

Another variation: chocolate smoothie bowl – use 4 frozen bananas, 2 Tbs. raw cacao powder, ¼ - ½ cup almond milk, ½ teaspoon pure vanilla extract, sweetener if necessary

Mocha smoothie bowl: make chocolate smoothie bowl with 2 teaspoons instant coffee powder

Chocolate peanut butter smoothie bowl: make chocolate smoothie bowl with 2 Tablespoons (or more) natural peanut butter.