I love teaching people how to cook and I love working with food, but one business I don't see myself in is the restaurant business.  That just seems like waaaaaay too much work!  But if I did open a restaurant, I would have a little casual breakfast and lunch place called "He Said, She Said."  The menu would be split down the middle with dude food on one side and lady food on the other.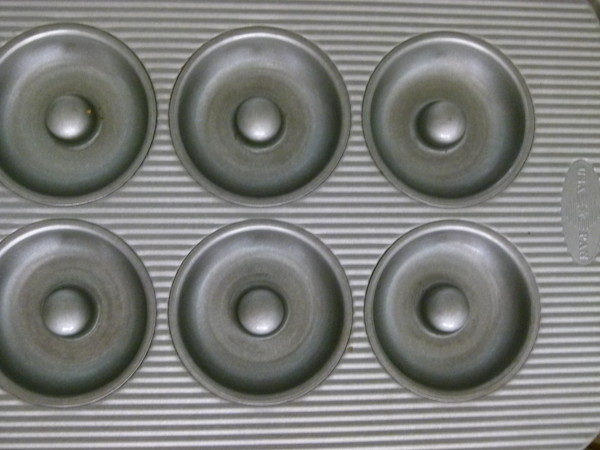 I've seen plenty of women eat just as much as a man and I am one of them.  BUT it's the food choices that men and women make that I find so interesting, and different.  My husband and I are the perfect example.  We have been married for almost 19 years and I don't think we've ever ordered the same thing in a restaurant.  And I can usually predict what he will get!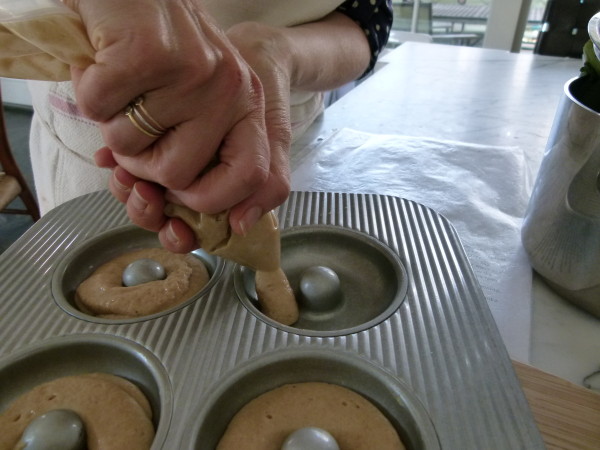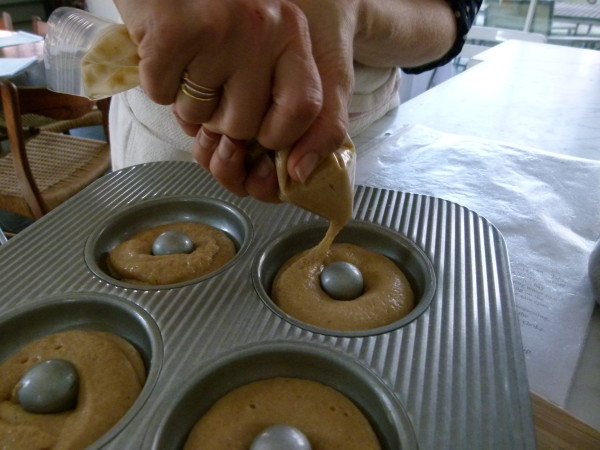 I tend to graviate towards salads, vegetable-based dishes, lentils, beans, and ethnic foods and away from things that are fried, greasy and heavily sauced.  He, on the other hand, will order anything with melted cheese and/or lots of tomato sauce plus a side of fries or onion rings.  My husband is a meat-guy too, and doesn't think about how he's going to get his veggies at every meal.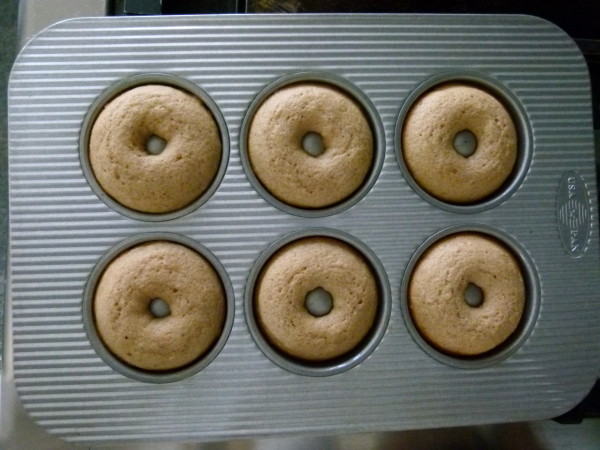 Since I do all the cooking in our house, I tend to make what I like.  However, when it's my husband's birthday or Father's Day, I will think about his favorites and go that direction.  Father's Day is coming up, on Sunday, June 15th to be exact.  And even though I would prefer a veggie frittata or a yogurt and homemade granola parfait, I know my husband would be THRILLED if I bought him doughnuts.  But since doughnuts are probably one of the worst possible foods you can eat, there is no way in the world that I would ever give them to someone with whom I would like to grow old.  I hate to be a party pooper, but doughnuts are completely non-nutritive, full of empty calories, high in simple carbohydrates which spike your blood sugar and are deep fried in the most damaged pro-inflammatory fat EVER.  So not good.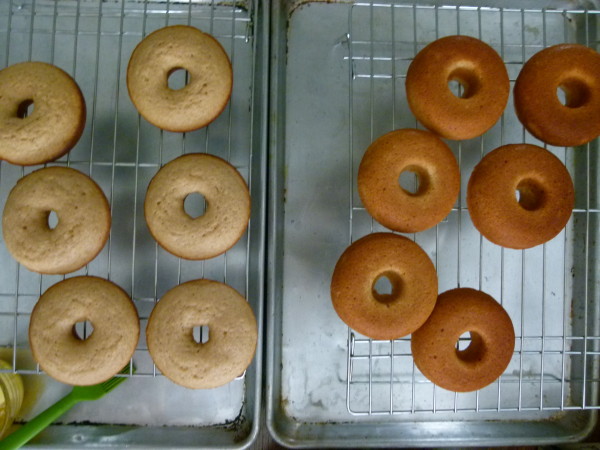 I will, however, make baked doughnuts with some higher quality (but I didn't say healthful) ingredients.  They still taste delicious and won't put anyone in a sugar coma afterwards!  Yippee!  I am giving you plenty of time to order this doughnut pan because unfortunately you can't make doughnuts without a doughnut pan.  I like this one the best because it is coated with silicone for a nonstick finish that doesn't leach like toxic PFTE's and PFOA's.  You can also scoop the batter with an mini ice cream scoop into mini muffin pans for doughnut holes.
I recommend making these the day you want to eat them and I am partial to serving these alongside a hearty, high fiber and high protein breakfast and not alone because even though they are significantly better for you than traditional doughnuts, they're not health food!  I kept these pretty simple with a cinnamon-sugar topping, but if you really wanted to throw in the towel, you could go for a glaze instead.  Fun!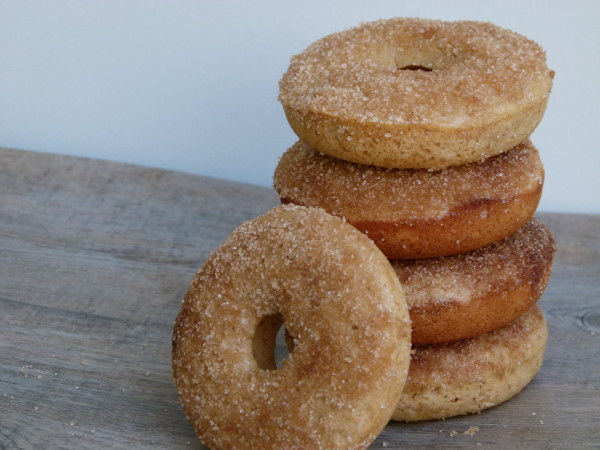 Baked Cinnamon Cake Doughnuts
Author:
Pamela, inspired by thefauxmartha.com
Serves:
makes 6 doughnuts or 20 doughnut "holes"
Ingredients
⅓ cup whole milk or milk substitute, at room temperature
1 teaspoon apple cider vinegar or white vinegar
½ cup whole wheat pastry flour or whole spelt flour*
½ cup all-purpose flour or white spelt flour
1 teaspoon aluminum-free baking powder
½ teaspoon ground cinnamon
¼ teaspoon sea salt
¼ teaspoon ground nutmeg (do not omit – this is the secret ingredient of all cake doughnuts!)
3 Tablespoons unsalted butter, melted + extra butter for greasing the pan
¼ cup cane sugar
2 Tablespoons honey
1 large egg, at room temperature
1 teaspoon pure vanilla extract
Topping:
2 Tablespoons unsalted butter, melted
2 Tablespoons cane sugar
1 teaspoon ground cinnamon (or less cinnamon for a more "authentic" ratio)
Instructions
Preheat oven to 400 degrees. Grease the wells of the doughnut pan with some butter.
In a glass measuring cup, mix together milk and vinegar and allow to sit at room temperature for at least 5 minutes to curdle.
In a large bowl whisk together flours, baking powder, cinnamon, nutmeg and salt.
In a small bowl, whisk together melted butter, sugar, honey, egg, vanilla and curdled milk.
Whisk wet ingredients into dry ingredients, taking care not to overmix.
Spoon batter evenly into wells of the doughnut pan, filling only ⅔ full.* If filled too high, there won't be any doughnut holes. Another way to fill the wells is by transferring the batter to a quart-size Ziploc bag and snipping one corner ½inch and piping the batter into the wells. Bake for 8-10 minutes or until doughnuts spring back when pressed lightly. Allow to cool 5 minutes before turning doughnuts onto a cooling rack.
While the doughnuts are still warm, combine the 2 Tablespoons cane sugar with the teaspoon of cinnamon in a shallow bowl. Brush the tops (or bottoms) of the doughnuts with melted butter and dip into the cinnamon–sugar mixture so that it sticks. Repeat with remaining doughnuts.
Notes
*Or substitute a total of 1 cup King Arthur Multi-purpose Gluten-free Flour and ½ teaspoon xanthan gum for the white and wheat flours

**Or bake in a greased mini-muffin pan for doughnut holes.