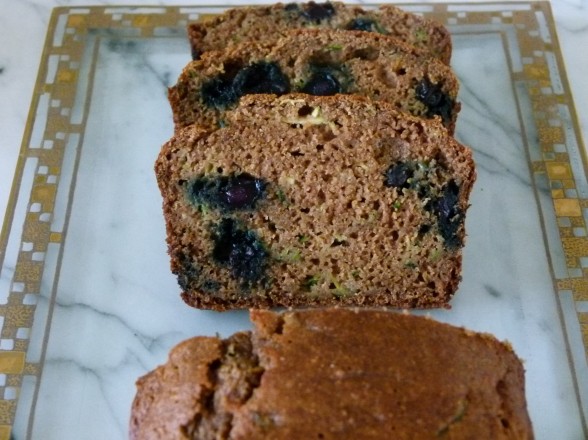 Have I warned you about planting mint in your garden?  No?  Ooops, sorry 'bout that.  I know I have told several people to only plant mint in containers since its root system will go crazy and you'll never be able to get rid of it or kill it no matter how much you think you would never want to do such a thing.  I have said many times that I'd like to write a book titled "I Can't Believe the World Isn't Covered in Mint."  I've changed my mind.  I think my book will be called "I Can't Believe How Many People Plant So Much More Zucchini Than They Can Possibly Eat."  Is this you?  It's meeeeeee.  And I really should know better having grown up with a father who year after year planted too much zucchini.
I am devoting two posts in a row to zucchini because I sympathize with your plight, not because zucchini is some nutrient-dense vegetable, which it's not.  It is an appropriate food for the summer months, though, due to its high water content and cooling thermal nature.  It is alkalizing to the body to boot.  I don't know how alkalizing zucchini bread is, but when my kids devour it, I commend them on how wonderful it is that they enjoy green vegetables.  Then when zucchini is served for dinner, I just remind them it's the same green that's baked into the bread they love.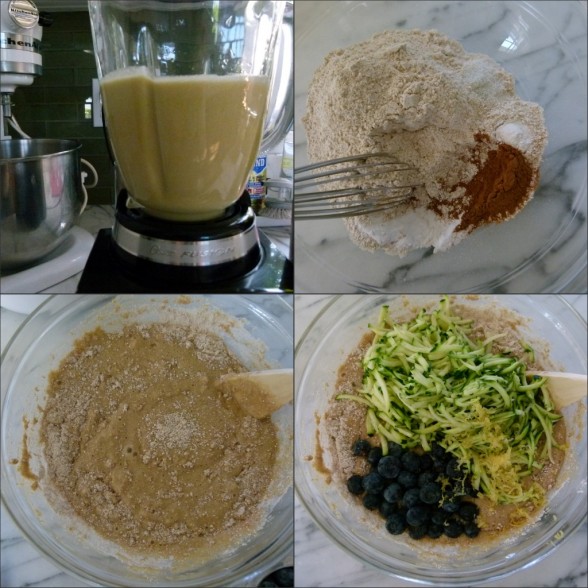 Many zucchini breads tend to be overly oily and loaded with sugar, but claim health benefits from a cup of shredded zucchini.  You're not falling for that one, are you?  This one instead has a base of whole wheat pastry flour with a minimal amount of maple syrup to sweeten it.  I use either olive oil or melted coconut oil, which can be reduced with the addition of unsweetened applesauce (see the lead photo.)  Like a lot of the recipes I post, you can adapt this zucchini bread so many ways.  Our favorite way is with fresh blueberries and a touch of lemon zest.  It's light and fresh and makes for a perfect quick summer breakfast or snack for camp.  I have also made it with raspberries instead of blueberries and that's a winner, too.  I know you're going to ask me if you can add chocolate chips, and who am I to tell you no?  If you use chocolate, I would drop the lemon zest though, and maybe add some walnuts.  Like I did right here.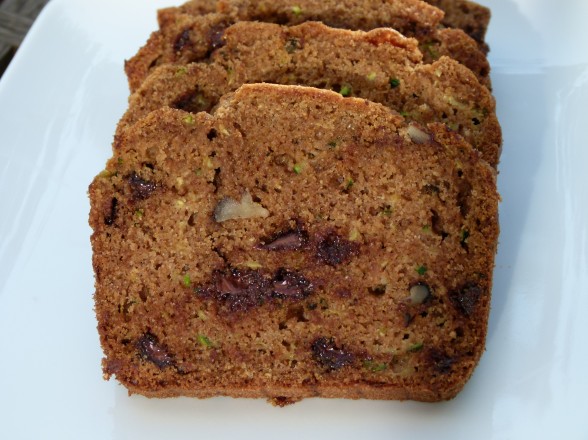 Zucchini-Blueberry Bread
Serves:
makes 1 8½ x 4½-inch loaf
Ingredients
¼ cup melted unrefined coconut oil or olive oil
½ cup unsweetened applesauce (or omit applesauce and increase oil to ½ cup)
½ cup organic 100% pure maple syrup
2 large eggs
1 teaspoon pure vanilla extract
1 ¾ cups whole wheat pastry flour or white whole wheat flour
1 teaspoon aluminum-free baking soda
½ teaspoon aluminum-free baking powder
½ teaspoon fine grain sea salt
1 ½ teaspoons cinnamon
pinch of nutmeg
1 ½ cups shredded, unpeeled zucchini, about 2 small
zest of half a lemon (optional)
½ -1 cup fresh blueberries
½ cup chopped walnuts or pecans (optional)
Instructions
Preheat the oven to 350 degrees. Lightly grease an 8 ½ " x 4 ½ " loaf pan, or if aluminum, grease it and line it with parchment paper.
In a blender, blend together the oil, maple syrup, applesauce, eggs and vanilla. This helps to emulsify the oil and keeps your bread from being greasy.
In a mixing bowl, whisk together the flour, baking soda, baking powder, salt, cinnamon and nutmeg. Stir the wet ingredients into the dry mixture.
Fold in the zucchini, lemon zest, blueberries and nuts. Pour into the prepared pan.
Bake for 50-60 minutes or until a tester inserted in the center comes out clean. When made with applesauce, it usually takes 5 minutes longer than when made without. Cool slightly, about 10 minutes, remove from pan, and cool completely on a rack.
Notes
You can also make these in standard muffin tins and bake for about 20 to 25 minutes. This will yield about 12 muffins.