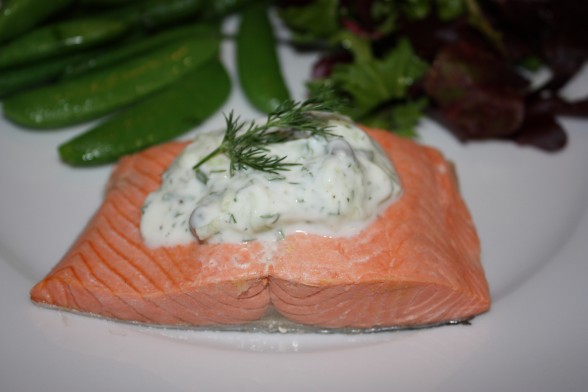 So Miss Vegetarian (aka Daughter #2) has decided that she isn't as opposed to meat as she once declared.  You might remember back in April that my 12-year-old announced her abstinence from all animal flesh and whole eggs.  She would have been vegan if it weren't for her love of cheese and ice cream.  I have no problem with vegetarianism since I was one for many years.  You've gotta do what's good for you.  But I had a hunch that my daughter wouldn't make it to 13 as a vegetarian.  Call it mother's intuition or maybe just the vivid image I still have of her gnawing on a t-bone until it was dry.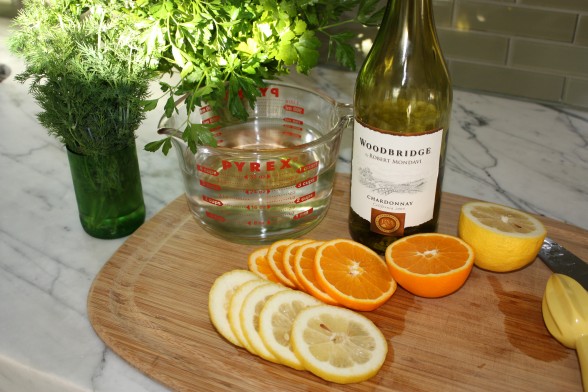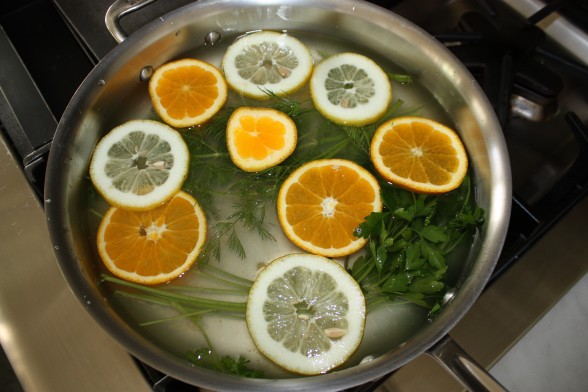 So the recent announcement from Daughter #2 is that she has decided that she is only fish-averse.  Is that the opposite of a pescatarian?  Well, bummer, because that's the one animal protein I was hoping she would come back to.  I love fish, especially salmon, and I have always been so grateful that my family enjoys it, even Mr. Picky.  Well, except for my husband, who is "allergic" to salmon, but will eat most all other varieties.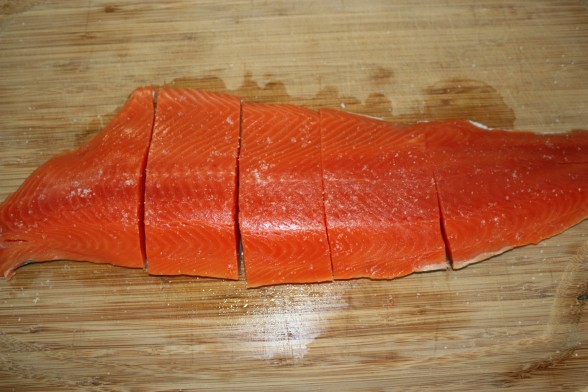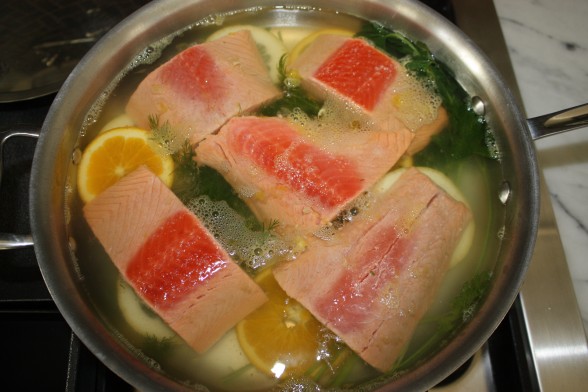 One of my favorite ways of preparing salmon is poaching.  My husband likes when I poach fish because he says it doesn't make the house smell "fishy," but I like it because it is ridiculously quick and easy and a very healthful way of preserving all the wonderful Omega-3 fats in salmon.  In the summer poaching is a no-brainer because it's a perfect alternative to grilling, which you are all doing too much of.   You can poach your salmon in the morning and serve it cold for dinner or use the poached fish on top of an entree salad or turn it into salmon salad for a sandwich.  My kids prefer poached salmon slightly warm and they looove this cucumber-yogurt sauce, which is creamy, cool and slightly tangy.  I have also served poached salmon with a salsa of fresh tomatoes, basil and olive oil.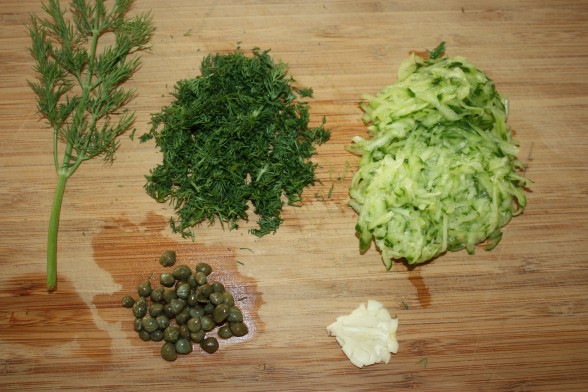 Many of my students have asked me if I continue to eat wild fish after the nuclear event in Japan, and I still do.  My friends at Vital Choice Seafood have addressed the issue to my satisfaction and that's that.  I am honestly more concerned about consuming farm raised seafood.  I'm sure there are sustainable fish farms out there, but I don't have time to go look for them.  In the meantime, I am comfortable eating wild salmon once per week and Daughter #2 can just have her cucumber-yogurt sauce with a spoon.

Citrus Poached Wild Salmon with Cucumber-Yogurt Sauce
Serves:
4-6, depending on how big you cut the salmon
Ingredients
1 ½ cups dry white wine
3 cups water
Juice of ½ lemon
Juice of ½ orange
½ lemon, sliced
½ orange, sliced
Few sprigs of parsley
Few sprigs of dill
1 24-ounce side of wild salmon, cut into individual portions
Sea salt to taste
Cucumber-Yogurt Sauce (recipe follows)
Instructions
Place all the ingredients except salmon, salt and sauce in a deep skillet, preferably one with straight sides and a lid. (I used a 10-inch.) Bring to a simmer.
Season salmon with sea salt to taste. Gently transfer the salmon pieces to the pan, skin side down, beginning with the thickest pieces and ending with the thinnest. Cover the skillet and simmer over low heat until the salmon is just cooked through, about 5-6 minutes, longer for thicker fillets. Do not boil.
Transfer the salmon by removing the thinnest piece first and the thickest piece last. Allow to cool slightly and serve immediately with cucumber-yogurt sauce or cover and refrigerate until cold.
Notes
CUCUMBER-YOGURT SAUCE

¾ cup Greek yogurt (I like full fat.)

½ cup grated unpeeled cucumber, such as Persian, Japanese or English

2 Tablespoons chopped fresh dill or mint

1 small clove garlic, crushed

2 teaspoons drained capers

1 teaspoon unseasoned rice vinegar or white wine vinegar

¾ teaspoon fine grain sea salt

a few grinds of black pepper



Combine all ingredients in a small serving bowl. Cover and chill until cold.