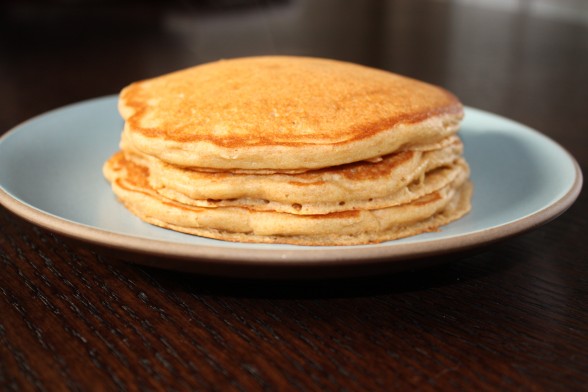 Packaged pancake mixes confuse me.  The idea behind packaged food is to provide the consumer convenience.  That is, it should be more convenient for you to use a boxed pancake mix than to make pancakes from scratch.  But let's think about this one.  When you use a packaged mix, you need to measure the mix, measure the different liquids you will be adding to the mix, crack eggs, mix it all together, grease your griddle and cook the pancakes.  So basically you are paying a premium so that you don't have to measure the baking soda, baking powder and salt.  And you have to take whatever else the manufacturer decides is necessary to add in there, such as preservatives.  Sure, you can buy a mix with dehydrated milk powder and dehydrated eggs, so that you're only adding water, but really, you can do better.  A lot better.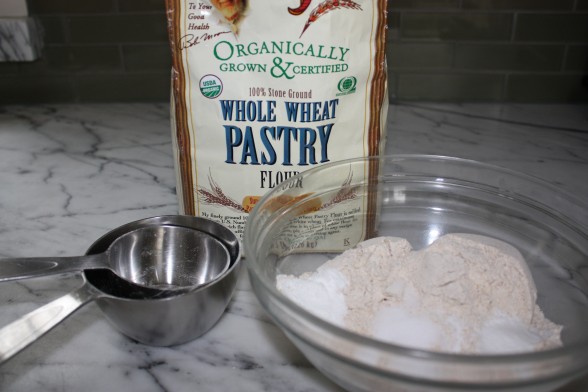 First of all, you can make absolutely delicious pancakes very easily without a mix and with more nutritious ingredients.  I love using whole wheat pastry flour for this which is lighter than whole wheat flour, but still still milled from the whole grain, so nothing important has been removed and you still keep all the fiber, protein and nutrients.  More importantly, the pancakes don't taste whole wheat-y or feel heavy.  Gluten-free people — do not fret.  I make pancakes twice per week and if the kids are getting wheat in their lunchboxes, I always make gluten-free pancakes for breakfast by substituting GF oat flour, brown rice flour and buckwheat flour for the wheat.  They are just as tasty and just as "normal" as wheat flour pancakes, although the buckwheat imparts a slight lavender color to the batter.  Also, don't be put off by the buttermilk.  If you don't have it, substitute half yogurt and half milk and the pancakes will turn out the same.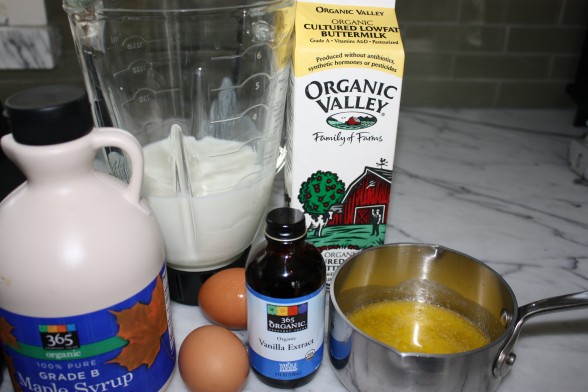 For those of you who think pancakes are strictly for the weekends, I have excellent news.  You can make your batter the night before and keep it refrigerated until the morning.  I was always taught that the leavening agents lose their potency if the batter, dough or whatnot is not cooked immediately.  Not so.  I actually did a side-by-side test with 12-hour old batter and freshly made, and they both rose equally.  If cooking pancakes on a weekday is positively out of the question, then make a huge batch on the weekends and freeze them with pieces of wax or parchment paper in between each one.  Just promise me you won't use a microwave to reheat them!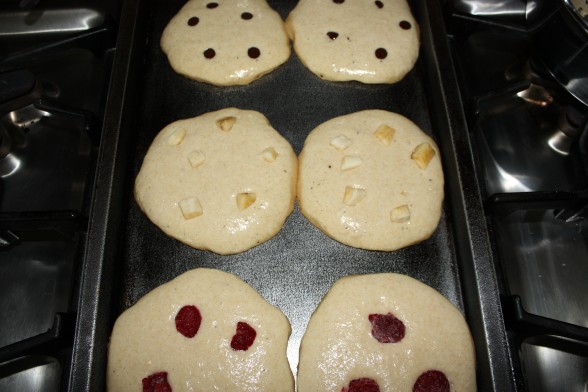 Pancakes are a winner breakfast in our house because everyone can customize his or her own pancakes without creating more work for me.  After I pour batter on the griddle, the kids come over with their favorite add-ins.  Daughter #1 likes raspberries or diced strawberries; Daughter #2 prefers diced bananas; Mr. Picky chooses mini chocolate chips; and the Husband drops in blueberries.  The key here is to wait until the batter has set slightly on the griddle so that when you add your fruit or chips the batter doesn't spread and thin out.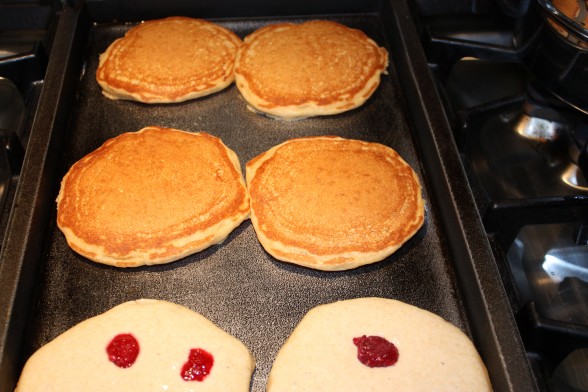 If you decide you love these pancakes and you will make them regularly, by all means quadruple the dry ingredients, combine well and store your "mix" in the pantry in a glass container with directions:  "Use 1 1/2 cups + 1 Tablespoon of mix for pancake recipe."  Now that's convenience!
Update 1/30/12:  I accidentally mismeasured the buttermilk today and used 2 cups, so I decided to use 2 cups of flour as well, but keep all the other measurements the same.  The pancakes were still light and fluffy, but just a bit more substantial.  The kids liked them a lot.  So if you like your pancakes a little heavier, you can adjust those measurements accordingly.
Whole Grain Buttermilk Pancakes
Ingredients
1 ½ cups whole wheat pastry flour, white whole wheat flour or whole spelt flour*
1 teaspoon aluminum-free baking powder
1 teaspoon aluminum-free baking soda
1 teaspoon fine sea salt
1 ¾ cups buttermilk**
2 large eggs
1 teaspoon pure vanilla extract
1 Tablespoon 100% pure maple syrup
4 Tablespoons unsalted butter, melted
Melted, unrefined coconut oil or more butter for brushing the griddle (melt the coconut oil in the same small saucepan you used to melt the butter)
Instructions
Preheat a griddle to 400 degrees or medium heat.
Combine the flour, baking powder, baking soda and salt in a large mixing bowl.
In a medium bowl or 4-6 cup measuring cup, whisk together the buttermilk, eggs, vanilla, maple syrup and melted butter until well blended. (A blender can do this easily, too.)
Pour the wet mixture into the dry ingredients and stir until just combined. Lumps are okay!
Brush the griddle with coconut oil and spoon about ¼ cup of batter onto the griddle. Allow to set for a minute or two before adding blueberries, chocolate chips or diced banana to the surface, if desired. When bubbles start to form on the surface of the pancake and the edges become slightly dry, flip it over and cook until done, another minute or two. Maintain the heat on medium-low or 400 degrees.
Notes
*Gluten-free: substitute ¾ cup buckwheat flour and ¾ cup brown rice flour for the wheat flour. Or you can use GF oat flour, too, such as ½ cup oat flour, ½ cup buckwheat flour and ½ cup brown rice flour.

**No buttermilk? Sub half unsweetened yogurt and half whole milk. Or use 1 ½ cups milk, omit the baking soda and use 2 teaspoons baking powder instead.