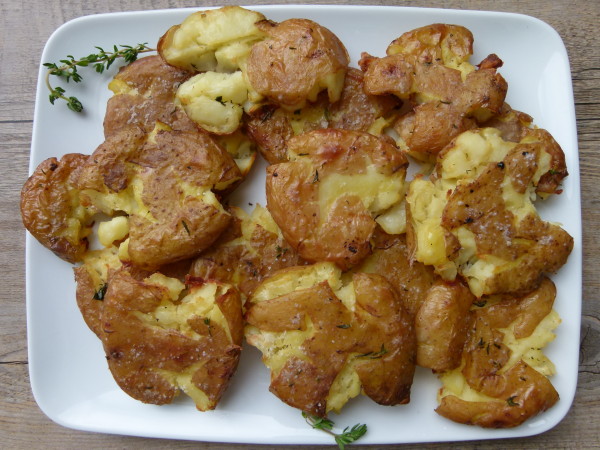 Everyone thinks it's so funny when I whine that I don't get invited much to peoples' houses for dinner.   There is an assumption that I'm an accomplished chef and I must have such high standards for eating therefore it's too intimidating to have me over for dinner.  Ha!  Nothing could be farther from the truth.  I'm a home cook who never went to culinary school and I don't ever make recipes with three sauces.  I could never work in a restaurant or hotel or be on one of those shows where you have to figure out what to do with octopus and cornflakes in 20 minutes.  Just for the record, I love simple food.  I don't need anything fancy or chef-y.  I am very easy to please as long as it's fresh and natural.  And I'll bet that you are as good a cook, if not better than I am.  Anyone can have a food blog, friends!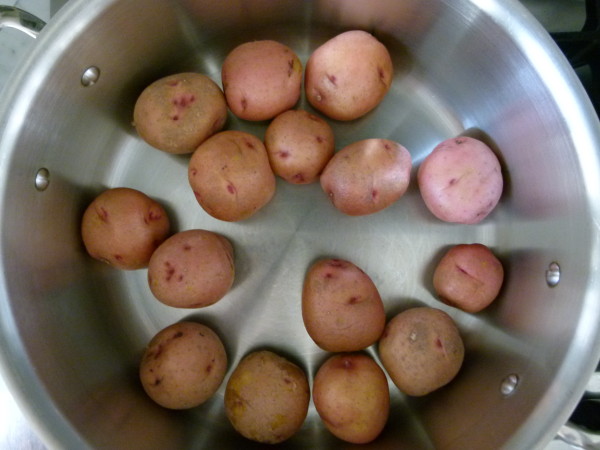 What I do love is sharing recipes that work for me, because I think we're a lot alike.  And it makes me happy if more people are cooking at home, even if I'm not invited.  Wink, wink.  These roasted smashed potatoes are my favorite kind of recipe — uncomplicated, tasty, easy and healthful.  They go with whatever I'm serving and every single person in my family loves them.  If you've never made smashed potatoes, you are totally missing out.   They're both fluffy on the inside and crispy on the outside and if you add enough salt, damn delicious.  I could just eat a half dozen of these and some scrambled eggs and call it a night.  If you invited me over for dinner and made these potatoes with scrambled eggs, I would be in heaven.  Yep, that's all it takes.
The other night at our dinner table, there were several ways to eat these.  My husband makes up for my dairy abstinence by melting cheese on everything, including these potatoes.  Mr. Picky dipped his in mustard and Daughter #2 topped hers with guacamole, salsa and sour cream.  Daughter #1 and I ate these plain and simple.  I'm going to start teaching the little miss how to make easy recipes like this because she'll be off to college before I know it.  Sigh.  Wait, what am I talking about?  Yippee!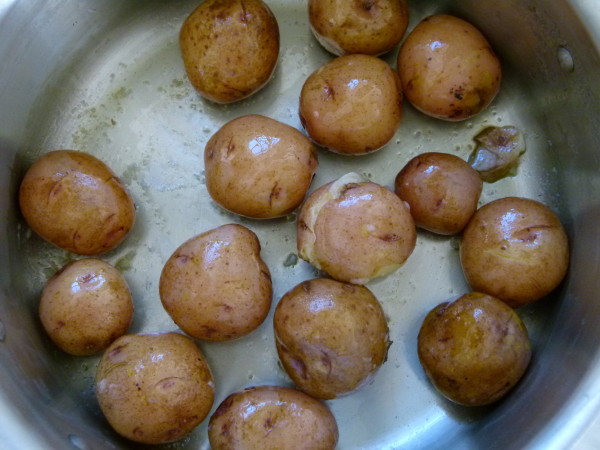 These are divine out of the oven, but I don't love potatoes reheated.  To do some of the work ahead of time, boil the potatoes and refrigerate them.  Then, smash them and roast them to crispy perfection.  What is great is that you'll use the whole potato, since most of the nutrients are in the skin or just underneath the skin.  And if you follow the Body Ecology Diet, red new potatoes are the only potatoes permitted since they have the fewest sugars of any potato.  Just an FYI.  Of course, most of you are not on the Body Ecology Diet, so use whatever baby potatoes you can get your hands on, like Yukon Golds.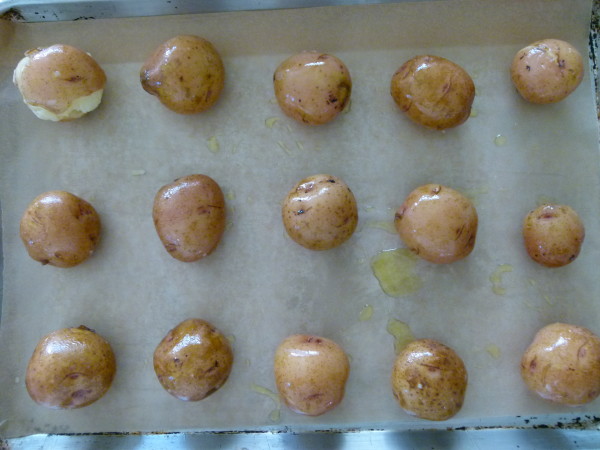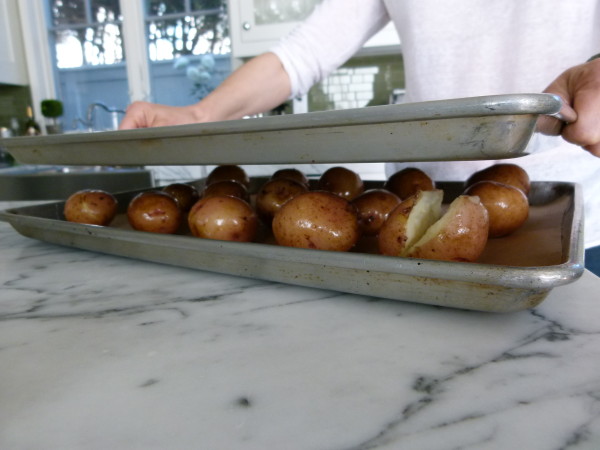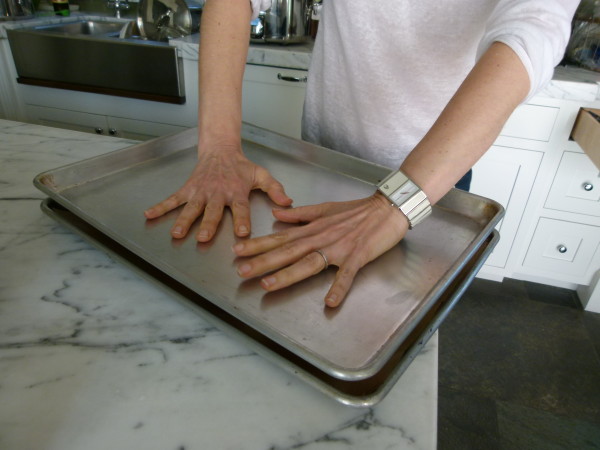 When I taught in France last year, I did some roasted potatoes in duck fat, which I know doesn't sound healthful, but to be honest, I think animal fats can be good to cook with at high temperatures, unless you're a vegetarian.  Unsaturated fats (vegetable oils) can oxidize at high temperatures (above 350 degrees) which create free radicals.  Yuck!  Those are pro-inflammatory compounds that will age you from the inside out.  Saturated fats don't do that.  Listen, I use olive oil at higher temperatures sometimes if it's the only fat that works, but you're better off with coconut oil, ghee or duck fat, in this case.  Do what you're comfortable with because you'll love these no matter what!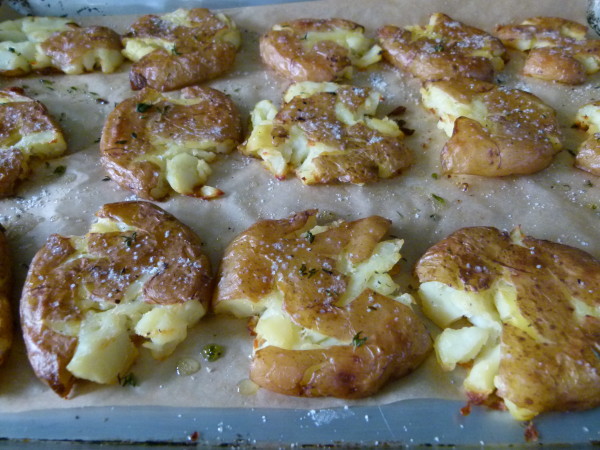 Roasted Smashed Potatoes
Ingredients
2 pounds baby potatoes, such as red-skinned or Yukon Gold (about 15-18)
1 Tablespoon kosher salt for boiling the potatoes
4 Tablespoons fat of choice, divided (e.g. olive oil, duck fat, or ghee)
1 teaspoon chopped fresh thyme or rosemary
½ teaspoon sea salt
freshly ground black pepper to taste
Instructions
Preheat the oven to 425 degrees.  Line a large rimmed baking sheet with parchment paper.
Scrub the potatoes and place them in a large pot with 1 tablespoon of kosher salt.  Fill the pot three-fourths with cold water.   Place the pot on the stove over high heat.  Bring the water to a boil, lower to a simmer and cook until the potatoes are tender, about 20-25 minutes.  You should be able to insert the tip of a paring knife easily into the center of a potato.
Drain the potatoes in a colander and shake to get off as much moisture as possible.  Place the potatoes back into the pot and drizzle with 2 tablespoons of oil.  Roll them around to coat with the oil.
Arrange the potatoes on the prepared baking sheet and evenly space them apart from each other.  Take another large rimmed baking sheet and position it right on top of the potatoes and press down, smashing the potatoes to about a half inch thick.  Remove the top baking sheet.
Drizzle the remaining 2 tablespoons of oil on top of the potatoes and sprinkle with the chopped thyme and salt and pepper.
Bake until potatoes are golden and crisp.  I took them out after 30 minutes, but you can go much longer if you want them really crispy.  Serve hot or warm.