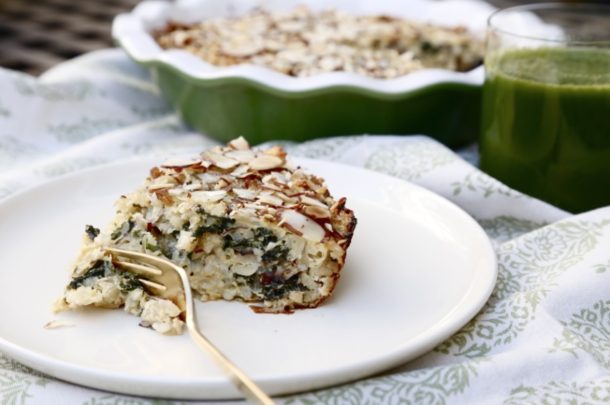 Daughter #1 is my 15-year-old who used to turn her nose at her plate if food groups were touching.  So you can imagine how very satisfying it was for me when she sighed, "I could eat Kale, Mushroom and Brown Rice Bake every day."   Sigh.  Actually, both my daughters are crazy about this rice and veggie quasi-frittata and I am thrilled to cook them something so healthful and substantial for breakfast, lunch or dinner.  At the moment, the girls are on a brown rice bake kick and I've had to make it three times in the last two weeks!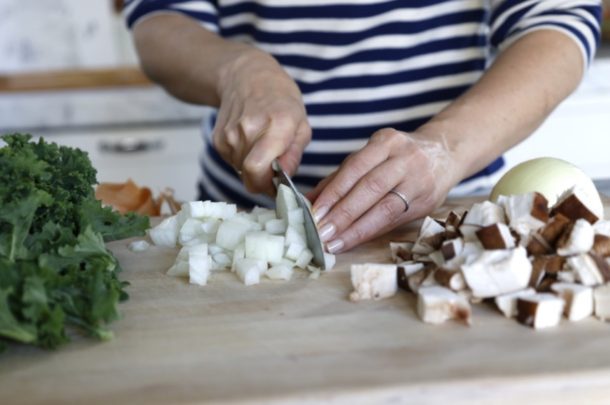 With teenage daughters usually comes a little drama, even first thing in the morning.  It usually involves someone borrowing someone else's clothes without asking or someone posting a picture on Instagram of the other one sleeping with her mouth open.  But who knew that even breakfast food could fuel more than just hungry bodies?  Yesterday morning there was only 1 piece of brown rice bake leftover from the day before and Daughter #2 was the first one in the kitchen.    You know what they say about the early bird….  Daughter #1 was not the early bird yesterday, nor is she any day for that matter, but apparently she dreamt all night of brown rice bake instead of the boys from One Direction.  Do you know where this is going?  I watched it unfold in slow motion as #1 opened the refrigerator looking for the breakfast of her dreams while #2 savored another forkful of the last of the rice bake.  I knew what was next.  "Where's the rice bake?"  No response was really necessary as my glance shot over to her sister who looked hesitant and terrified as she finished the last bite.  Hell hath no fury like a hungry teenage girl robbed of her rice bake.  No further details necessary.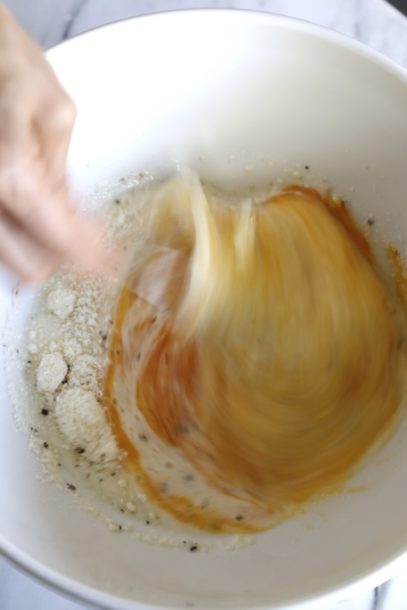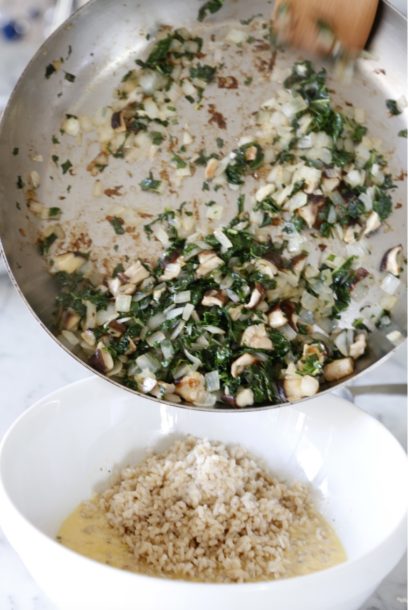 What's the point of airing my family's dirty laundry?  Oh merely just to share how much we love Brown Rice Bake and to encourage you to make it!  Although most of us (except for Mr. Picky) love frittatas, this is less eggy and more rice and vegetables bound with just enough egg to hold it all together.  The rice and (optional) sliced almonds give every bite great texture.  It's super satisfying for any meal and a great way to use up leftover cooked brown rice and whatever vegetables you have lying around.  Think of this recipe as merely a roadmap to deliciousness – there is more than one way to get there.  Spinach, broccoli, leeks, asparagus, zucchini – all perfect here.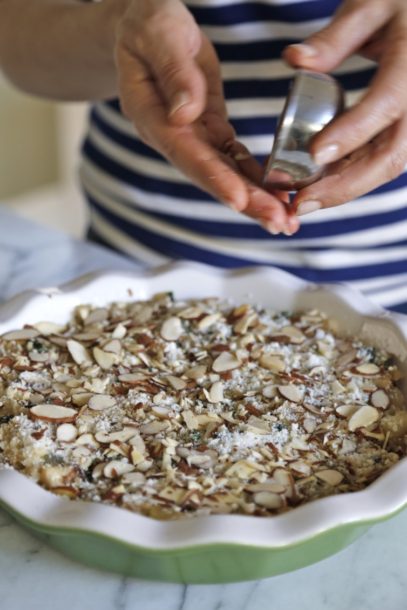 I felt bad that Daughter #1 was disappointed yesterday so last night I sautéed all my vegetables and pre-measured the rice, cheese, salt and almonds, so all I had to do this morning was crack some eggs and measure a bit of milk.   I was so excited to surprise my lovely daughter with a new brown rice bake when she woke up this morning.  It's noon and I'm still waiting for her to wake up.  Just praying there's some rice bake left when she does…..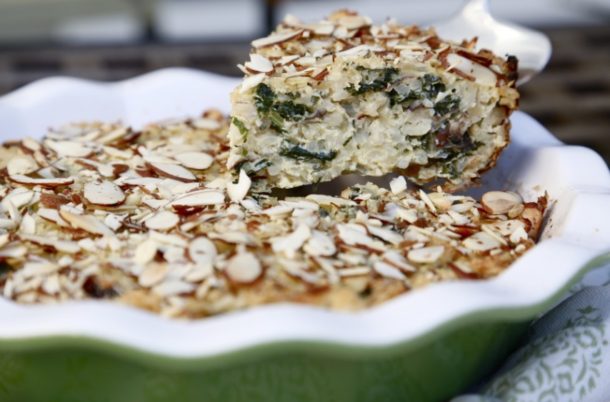 Kale, Mushroom and Brown Rice Bake
Author:
Pamela, inspired by Eating Well and So Good & Tasty
Serves:
4-6 or makes 12 individual "muffins"
Ingredients
2 Tablespoons unrefined extra-virgin olive oil or ghee
4 ounces mushrooms (such as shiitake*), chopped
1 onion, finely chopped
3 large kale leaves, stemmed and chopped (or more if you like)
Sea salt
1 garlic clove, minced
2 cups cooked brown rice (or barley, farro or spelt)
5 Tablespoons sliced almonds, divided
½ cup grated Parmesan or Pecorino cheese, divided
4 large eggs
¼ teaspoon pepper
¼ cup whole milk or unsweetened hemp milk
Instructions
Preheat oven to 375 degrees and grease an 8x8 or 9-inch round baking dish. You can also use a 12-cup muffin tin, greased or lined with silicone liners.
In a large skillet heat the oil/ghee over medium heat. Sauté the mushrooms, onions, kale and a pinch of salt for about 3-5 minutes or until just beginning to soften.
Add in the garlic. Continue cooking until everything is softened and the mushrooms are golden, about another 3 minutes.
Place the rice in a large bowl. Stir in the mushroom mixture, ¼ cup almonds, and half the Parmesan cheese.
In a medium bowl, whisk the eggs, milk, ½ teaspoon salt and pepper. Fold the eggs into the rice mixture, then pour into your prepared baking dish. Sprinkle with the reserved half of cheese and 1 Tablespoon of sliced almonds.
Bake for about 30 minutes or until set.
Notes
*To clean mushrooms, wipe with a damp paper towel. For shiitakes, slice off stems and discard.