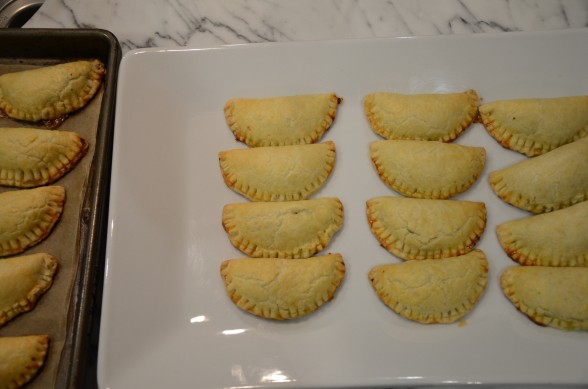 Well, like it or not, it's officially holiday season!  Even though there's so much to love about the holidays, I just wish it didn't all happen at once.  Do you ever have that feeling?  But one thing I truly look forward to is getting together with friends for a good, old-fashioned cocktail party, provided I get invited to one.  I love mingling and chatting with lots of different people and eating fun little noshes at my leisure.  However, if you ask me, I do think there's a little room for improvement in the hors d'oeuvres arena.  (Maybe that's why I don't get invited to too many parties.)  You know what I mean, right?   Lots of baked brie with chutney, sad-looking crudite with not-homemade hummus, or tomato-basil bruschetta…in the winter!  We're going to step it up a notch today, folks.  You need to bring an hors d'oeuvre to a party either this weekend or next, correct?  Although I have several fab party recipes on the site already, these empanadas are tied for my favorite with the Zucchini-Gruyere Tart, which is a winner every time.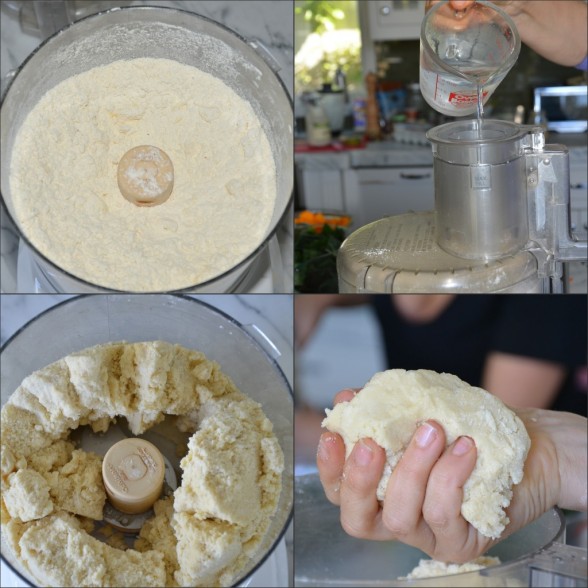 Empanadas are these delicious little savory hand pies.    It's almost like a small tart that has been folded over.  Whereas there are infinite fillings you can use, empanada pastry dough is usually stuffed with seasoned ground beef and fried.  We're not doing any of that.  When I noticed a recipe for empanadas in Deborah Madison's Vegetarian Cooking for Everyone using leafy greens and olives, I knew I had to try them.  I have tweaked the recipe over the years to make it simpler and sometimes I add finely diced precooked turkey sausage to the greens — delicious, I tell you.  My kids are crazy for them and I really don't think they even know what they're eating.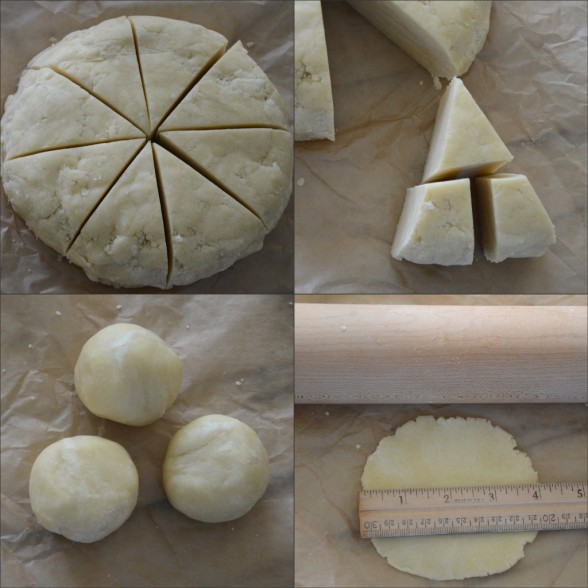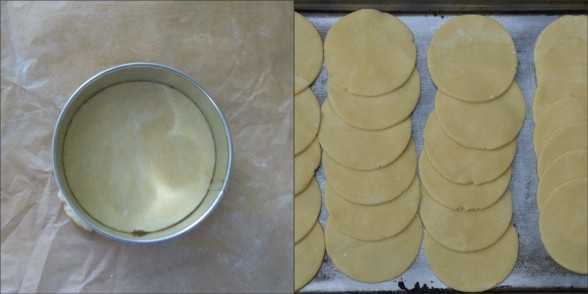 After my last class the Friday before Thanksgiving when I thought I might collapse, I realized that two months ago I had volunteered my house for a pot luck dinner the NEXT night because, you know, it seemed like a bonehead  good idea at the time.  Well, what was a good idea was that I offered to do a turkey since I would have a leftover demo bird from Friday's class as well as an hors d'oeuvre, knowing full well that I could make these scrumptious little empanaditas in October and freeze them.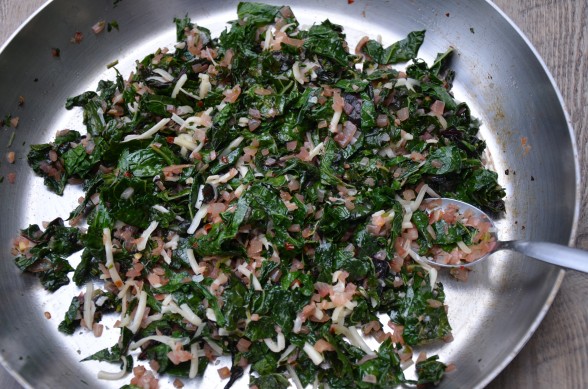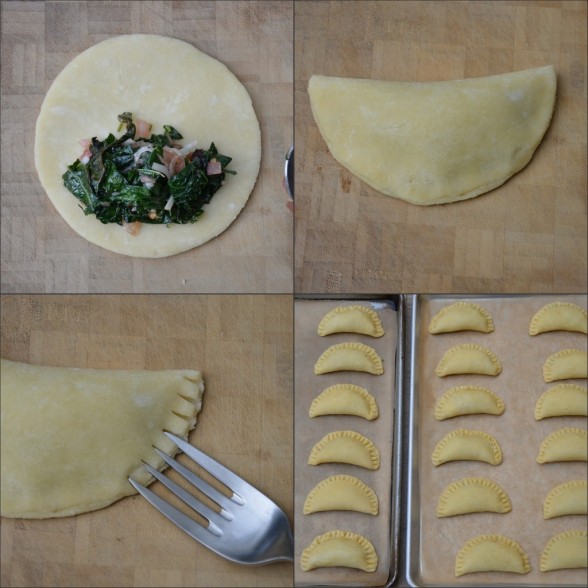 Daughter #1 and I had fun making them one afternoon when she had a day off from school.  You don't have to make the pastry from scratch like I did.  I have seen prepared empanada pastry rounds in specialty markets, or you can cut out rounds from pie crusts.  But if you have ever made cut-out cookies, you can do this.  I normally just roll out the little rounds and leave them with imperfect edges, but I was surprised that my daughter wanted to take the time to use round cookie cutters to make them "prettier."  If you don't want or need to freeze the empanadas, you can roll out the rounds the day before and keep them well-covered.  You can also make your filling in advance and then assemble the empanadas before you bake them.  Let me just tell you right now, you should make these whether you're party-bound or not and freeze them for a rainy day.  My kids will pull them out of the freezer and pop them into the toaster oven for an after school snack or to eat with a bowl of soup on the weekend.  You can even stick them in a lunchbox!  Do my good ideas ever end?  Can you tell I've had too much green tea today?!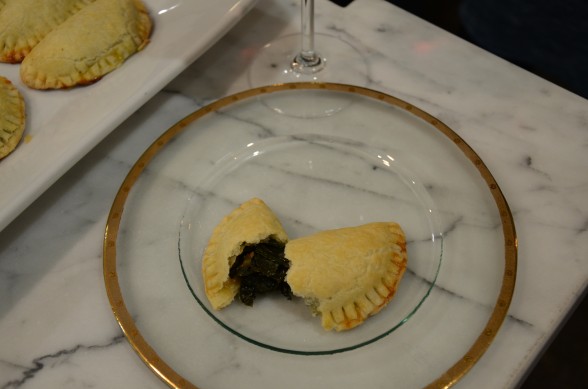 Mini-Empanadas with Mixed Greens
Author:
Pamela, inspired by Deborah Madison's Vegetarian Cooking for Everyone
Serves:
makes 24 mini-empanadas
Ingredients
Empanada Dough:
3 ¾ cups all-purpose flour (you can sub out ½ cup with whole wheat pastry)
¾ teaspoon fine grain sea salt
1 Tablespoon granulated sugar
2 sticks + 2 Tablespoons cold unsalted butter, cut into pieces
½ cup + 2 Tablespoons ice water
Filling:
2 Tablespoons unrefined, cold-pressed extra virgin olive oil or ghee
1 small onion, finely diced
2 garlic cloves, finely chopped
¼ cup chopped fresh parsley
¼ teaspoon red pepper flakes
12 cups mixed chopped greens such as Swiss chard, beet greens, kale, spinach, and/or escarole
⅔ cup shredded fontina cheese (optional)
Sea salt and freshly ground black pepper to taste
1 beaten egg + 1 Tablespoon milk
Instructions
Make the dough: In the bowl of a food processor fitted with the metal blade, combine the flour, salt and sugar. Add the butter and pulse until the butter is in pea-sized pieces. With the machine running, slowly add the water through the feed tube and pulse until a ball of dough comes together.
Transfer the dough to a piece of parchment paper or plastic wrap. Use your hands to pat the dough into a disk. Wrap the dough with the parchment (or plastic wrap) and refrigerate for at least 1 hour.
Divide the dough into 24 pieces: first cut 8 equal wedges, like a pizza. Then cut each wedge into three pieces. Roll each piece into a 4-inch circle. Transfer to a sheet pan and refrigerate.
Preheat the oven to 375 degrees. Make the filling: Heat oil or ghee in a large skillet over medium heat and add the onion, garlic, parsley and red pepper flakes. Saute until the onion is tender, about 4 minutes. Add the greens and sea salt and pepper to taste and cook until softened, about 8 minutes, stirring occasionally. If there's a lot of moisture, drain some of the liquid.
Add the cheese to the greens and taste for seasoning. Allow to cool slightly before filling the pastry.
Place a spoonful of filling on the lower half of each dough circle, then fold the pastry over and seal the edges with the tines of a fork. Brush with the beaten egg and milk mixture. Bake for 20-25 minutes or until browned. (If you are baking these directly from the freezer, bake an additional 10-15 minutes.) Serve warm or at room temperature.
Notes
If you would like to add some precooked turkey sausage to the filling, take 4 (about 12 ounces) and diced them up. Add them to the pan with the onion, etc. Reduce the greens to 10 cups.

If you have a few tablespoons of leftover filling, save it the next day for an omelet. Yum!