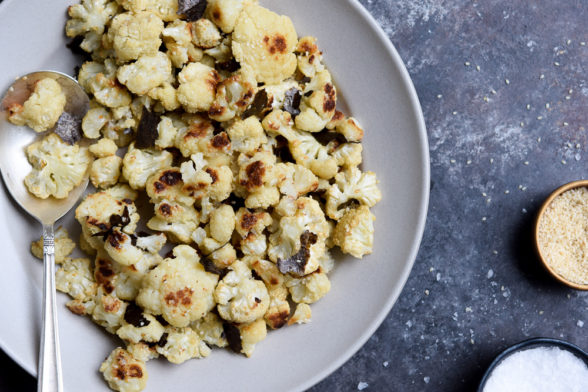 This recipe is embarrassingly simple. It's so simple, I wasn't sure if I should even teach it in a class, let alone dedicate a whole post to it. But when I mentioned this to my students this month, they gasped. "We want easy! We want easier than easy! Life is already hard enough. Please give us simple cauliflower!" Ok, they didn't exactly use those words, but they might as well have. If there's one thing I know for sure, it's that busy people like me can never have enough easy, healthful and delicious recipes to fall back on. So here ya go.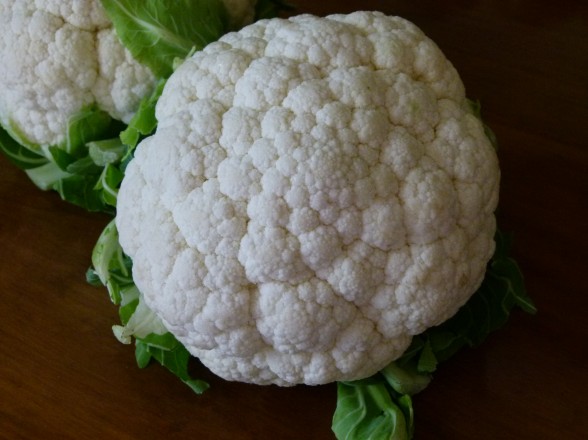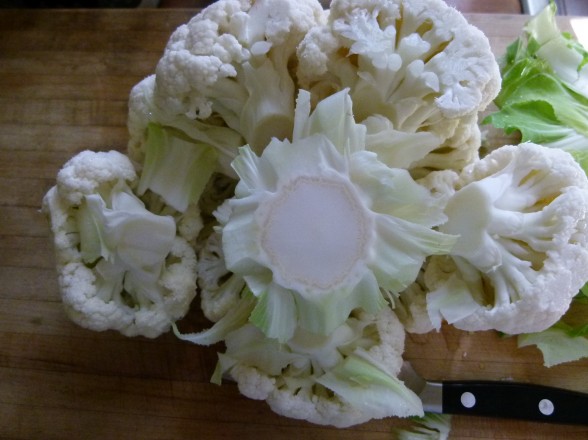 I've mentioned before that roasting is my favorite way to prepare cauliflower. There's this crazy sweetness locked up inside those little florets that you might never know about unless you roasted them until they're tender and caramelized. But tossing cauliflower (or any vegetable, for that matter) with olive oil or melted coconut oil and salt and pepper over and over again can get a little boring. So I'm mixing it up a little here by using both olive oil and toasted sesame oil for a totally new flavor. Keep in mind that toasted sesame oil is the dark kind, the one that is aromatic and fragrant and gives you a lot of flavor for a very little amount. Beside the oils, salt and pepper, I also sprinkle some raw sesame seeds on the cauliflower before roasting for fun and a little extra calcium. Normally I just use the tan ones, but I found some black sesame seeds in the bulk section at Whole Foods and decided to go for it. Who says I can't be edgy?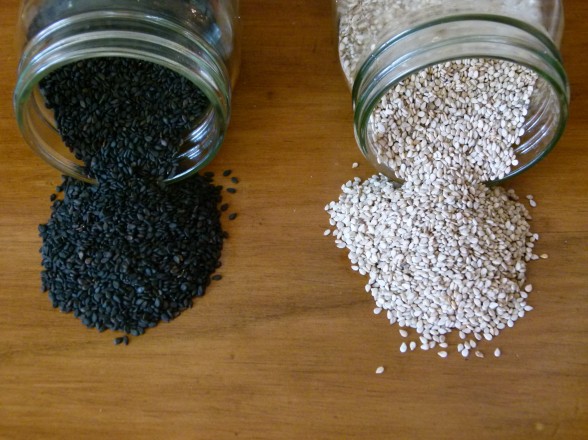 But my favorite part of this dish is the final garnish, which is optional, but delish. Nori is a type of seaweed that is familiar to many people from sushi rolls or those very popular seaweed snacks. Seaweed, or sea vegetables as they are sometimes called, is something I'd really like to be eating more of as it is incredibly nutrient-dense and tasty. In fact, sea vegetables contain twenty times the mineral content of land vegetables. They are loaded with calcium, iron, dietary fiber and contain some protein to boot. Sea vegetables also contain some vitamin B12, which is very unusual to find in plant foods, so it's a great source for vegans. If your family eats sushi or seaweed snacks, this recipe is a good opportunity for you to add this nutritious ingredient in another way. If you don't think they'll go for the plain, roasted nori crumbled on top of the cauliflower, then just open a package of their favorite seaweed snacks and use that instead. The next time you will likely be able to use plain nori.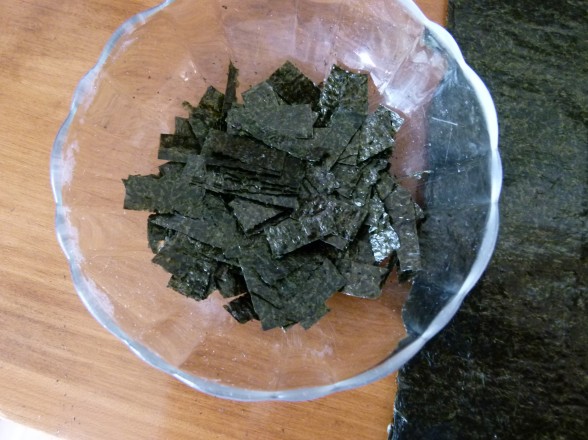 One thing I've learned from all my years as a nutrition and garden educator for Growing Great is that parents often assume their kids won't eat something and don't even try. I have seen dozens of children eat salads and fresh vegetables only to find out from their parents "Oh, Johnny drives me crazy. He won't eat anything green." Well, have I got a surprise for you! I think the biggest mistake we can make is not consistently offering a variety of healthful foods at the dinner table. If the kids (or significant others) don't eat them today, relax. One day they'll come around. I have a former Miss Picky to prove it who once considered cauliflower her "enemy." Yesterday she fought me for the last floret in the bowl.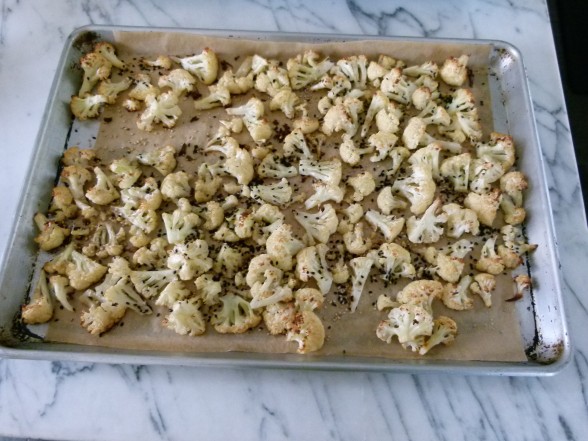 Sesame Roasted Cauliflower with Nori
Author:
Pamela, adapted from "Peak Cuisine: Adventures in Mountain Inspired Cooking"
Ingredients
1 large head of cauliflower, cut into florets
2 Tablespoons unrefined olive oil
1 Tablespoon toasted sesame oil
2 Tablespoons sesame seeds
sea salt and freshly ground black pepper to taste
1 piece of roasted nori, crumbled or cut into small pieces with a scissor
Instructions
Preheat oven to 400 degrees. Line a baking sheet with parchment paper.
Place the cauliflower florets in a serving bowl. Add both oils and to the cauliflower and toss to coat. Transfer cauliflower to the prepared baking sheet and sprinkle with sesame seeds, sea salt and pepper to taste.
Roast in oven for 30 minutes or until tender and lightly golden. Transfer to serving bowl and garnish with crumbled nori.