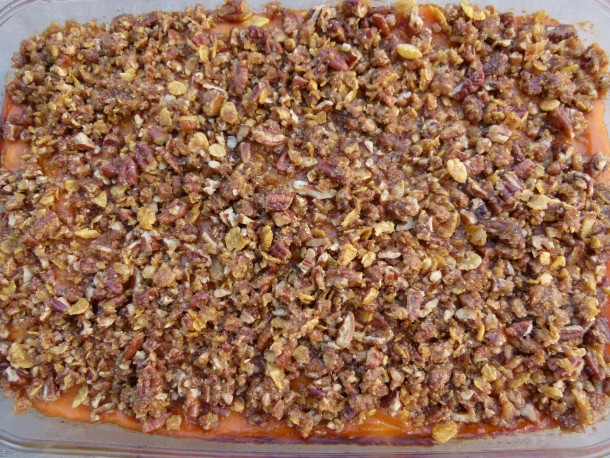 There are a few recipes I make on Thanksgiving that I call "one-hit wonders."  That is to say I don't make them on any of the other 364 days in the year.   I'm no fan of stuffing, for example, so I keep the masses happy by making it on the holiday and then we forget about it until next year.  My Maple-Glazed Sweet Potato Gratin was in the same category for no other reason than it just seemed a little decadent to serve on a day that isn't considered the biggest meal of the year.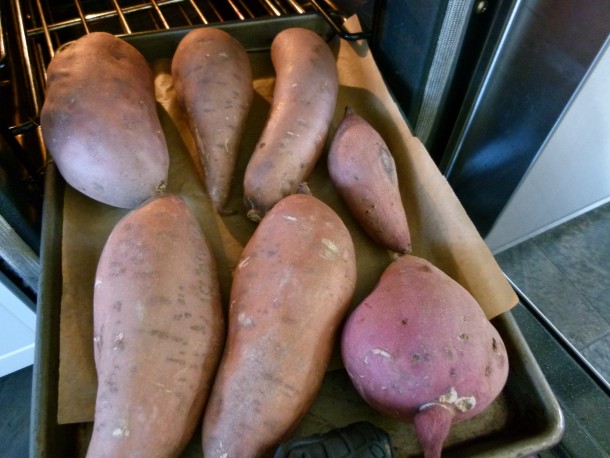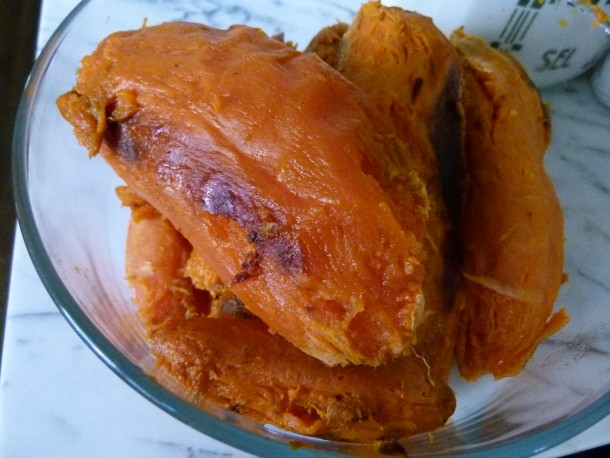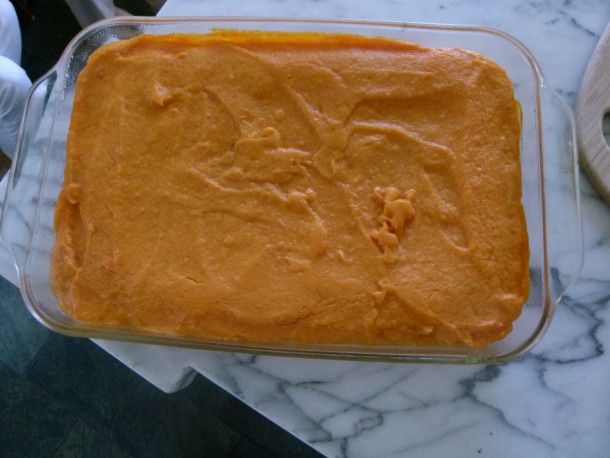 Just for fun, I recently tried a new sweet potato recipe which my kids absolutely flipped for.  Not only has this Sweet Potato Casserole bumped the former gratin out of the coveted spot, but my kids have begged me to make it multiple times since then.  My girls have even eaten it for breakfast and as an after-school snack.  I am crazy for sweet potatoes any which way and I am perfectly content with a nice big juicy one plain and simple.  So when recipes start adding cups of brown sugar with marshmallows or oatmeal cookie dough on top, I can't take them seriously.  We're going to try and keep things classy over here, ok?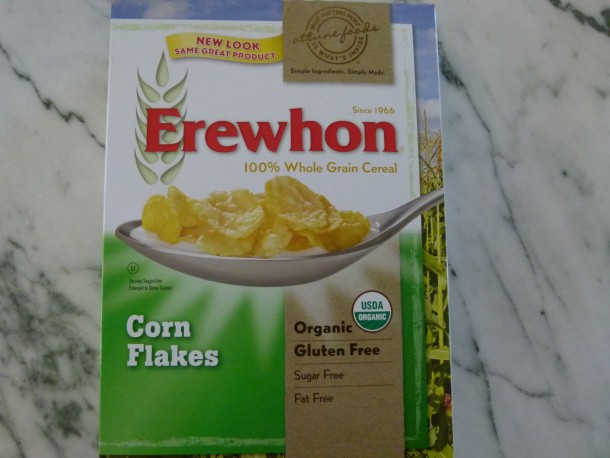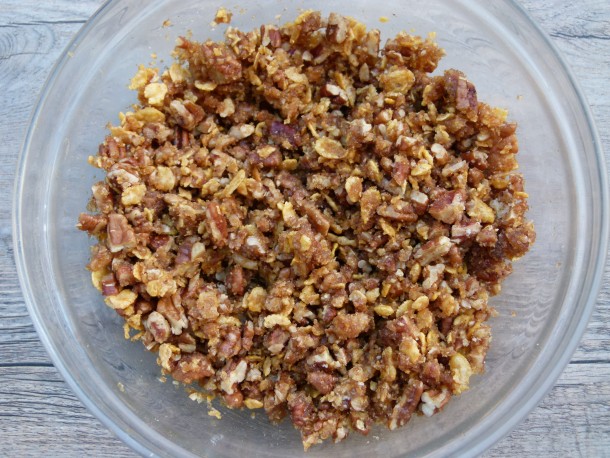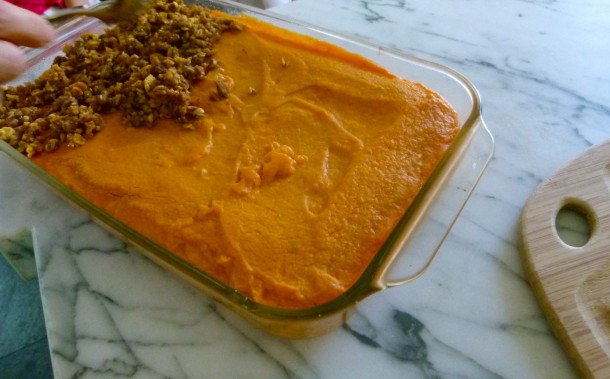 But there was something intriguing about this recipe from Food & Wine that I had to try.   Despite the pureed sweet potato base mixed with eggs, milk, butter and an obscene amount of sugar, I saw potential.  The topping is what really had me since I just love a contrast in textures.  I could already taste the silky puree with the light and crispy cinnamon-nutmeg flakes and nuts.  Even after I cleaned up this recipe by cutting the sugar by almost two-thirds, the casserole was still absolutely divine and a perfect complement to your Thanksgiving buffet.  It's also super easy to  make if you have a food processor and can be done in advance (Thanksgiving magic words!)  By the way, I have also made this recipe dairy-free with success by using coconut oil instead of butter and unsweetened hemp milk instead of regular.  Since it's already gluten-free, everyone's happy!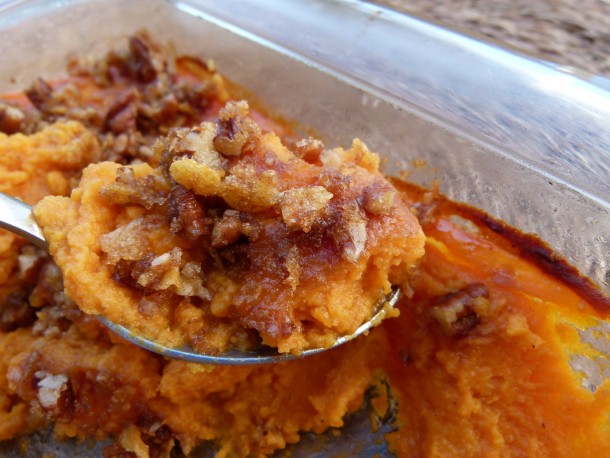 What?  Did you just call me "trashy" behind my back for using cereal in a Thanksgiving recipe?  Guilty.  Maybe I deserve it.  You know what I say?  Worth it!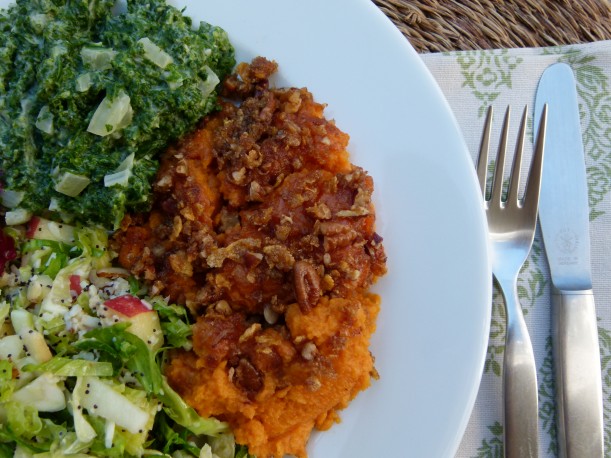 Sweet Potato Casserole
Author:
Pamela, adapted from Food & Wine
Serves:
8-10 (on a normal day, but probably serves more like 14 on Thanksgiving if you have a lot of other side dishes)
Ingredients
5 ½ pounds sweet potatoes, such as garnet or jewel, scrubbed (these are often labeled "yams" at the market)
1 ½ sticks unsalted butter or ¾ cup unrefined coconut oil, melted, divided
1 ½ teaspoons sea salt + a pinch
1 ½ teaspoons ground nutmeg, divided
1 Tablespoon pure maple syrup
1 cup whole milk or plain, unsweetened hemp milk
3 large eggs, beaten
1 cup pecan halves or pieces, about 4 ounces
1 cup cornflakes, crushed
½ teaspoon ground cinnamon
½ cup maple sugar or brown sugar
Instructions
Preheat oven to 400 degrees. Place the sweet potatoes on a parchment-lined baking sheet and bake in the oven until tender, about an hour, but could be more depending on size. Or you can also boil peeled, cubed sweet potatoes in water for 15 minutes or until tender and drain, but I think roasting the sweet potatoes makes then sweeter.
Lower the oven temperature to 350 degrees. Butter a 13 x 9 inch baking dish.
When the sweet potatoes are cool enough to handle, peel and discard the skin and place potatoes in a food processor. Puree until smooth. Do this in batches if necessary.
Transfer the puree to a large bowl. Add half the butter (6 Tbs.), salt, 1 teaspoon nutmeg, maple syrup, and milk. Stir to combine and then stir in the eggs. Pour the mixture into the prepared baking dish and smooth the top with a spatula. Recipe can be made up to this point one day in advance and kept covered in the refrigerator. Cover with foil and bake 40 minutes.
Spread the pecans on a baking sheet and bake for 5 minutes, until lightly toasted. Transfer the pecans to a cutting board and coarsely chop. In a bowl, toss the pecans with the cornflakes, cinnamon and remaining 6 tablespoons of melted butter, ½ teaspoon nutmeg, maple or brown sugar and a pinch of salt.
Remove foil from casserole. Distribute small clumps of topping all over sweet potatoes. Bake, uncovered, for 40 minutes longer, until topping is golden and sizzling. Let casserole stand for 20 minutes before serving. ( I have also baked it covered for 30 minutes, uncovered for 30 and it still turned out great!)
Notes
You can bake this up to 4 hours in advance and serve it warm or at room temperature.