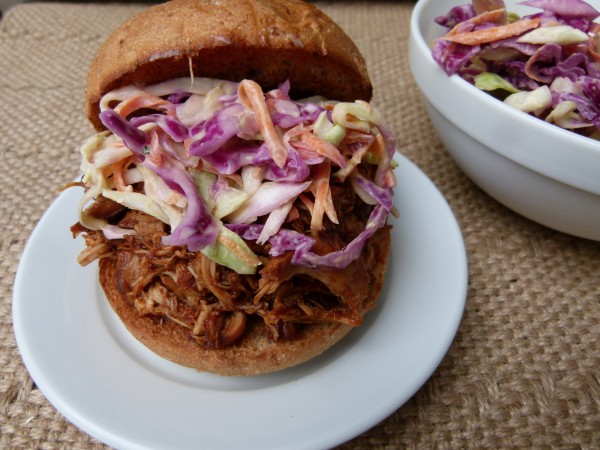 You've heard of Meatless Mondays and Taco Tuesdays, but in this house we've had "Slow Cooker Thursdays" for the last two months.  It doesn't have the  same ring as the other two, but it has made my life way easier.  Mr. Picky had baseball games every Thursday (and Sunday) since March and they were conveniently scheduled at dinnertime.   Scrunchy face.  Picture hubby and me sitting at a little league game until 7:00 or 7:30 (gotta love extra innings!) while my daughters were texting me from home "We r starving!  When r u coming home?  Can we eat without u?"  Then of course I actually had to assemble dinner in record time once I finally returned home.  That happened once, until I figured out that Thursdays would have to be "Slow Cooker Night" unless I wanted to let the girls eat acai bowls for dinner (because that's about all they would take the time to make even when "starving") or allow Mr. Picky to eat hot dogs or microwaved canned chili on top of Fritos from the snack stand at the field. Um, no.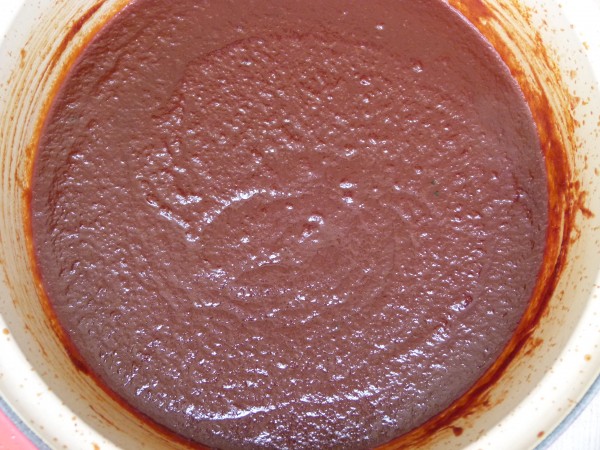 I work really hard to make sure we eat together every night.  It's actually more important to me than what we eat.  I've always said that breakfast might be the most important meal of the day from a nutritional perspective, but dinner is the most important from an emotional perspective.  However, getting the five of us at the table at a reasonable time for dinner can be a challenge, especially during Little League season.  And no matter how hard I tried to get Mr. Picky to find baseball boring, he just wouldn't see it my way.  So if you can't beat 'em, join 'em and that's where I found myself every single blessed Thursday night.  Deciding to make something in the slow cooker on Thursdays was my ticket to freedom so I wasn't stressed out every time a player was walked or someone got a hit, both of which keep the game going on and on and on.
When I first started using this slow cooker in December, so many people asked me for good slow cooker recipes.  I was honestly surprised since one quick search on Foodily turned up thousands.  But as I've experimented, I have realized what everyone else already knows — that not every slow cooker recipe is a good one, and certainly not a healthful one.  Never said I was a quick learner!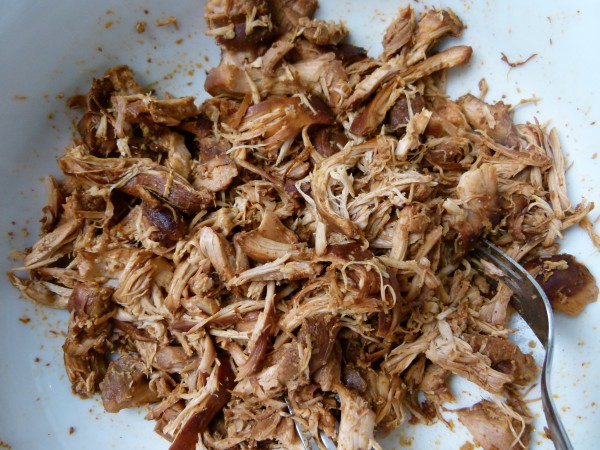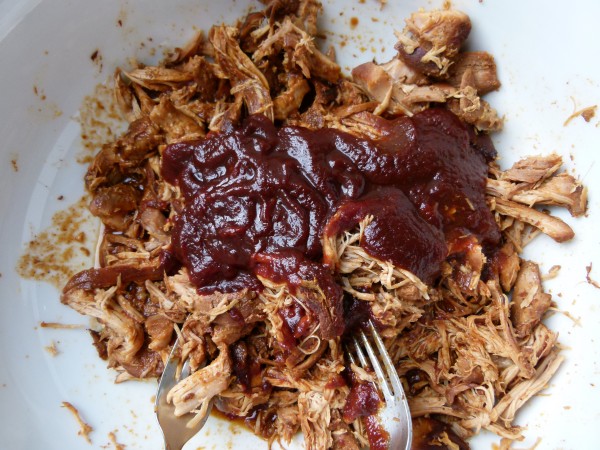 I recently invested in the book, "Slow Cooker Revolution" by America's Test Kitchen and it looks promising.  I tried their recipe for barbecued chicken and we all loved it!  I have been experimenting with making my own barbecue sauce and I'm super close to posting it, but not quite.  I did use one of my homemade BBQ sauce experiments and the chicken turned out super tender and flavorful.  We had it the first night on cracked wheat buns with homemade cole slaw — super delicious.  And the next day I put it into quesadillas for the girls' lunch.  They asked for it again the day after that, but sadly it was all gone.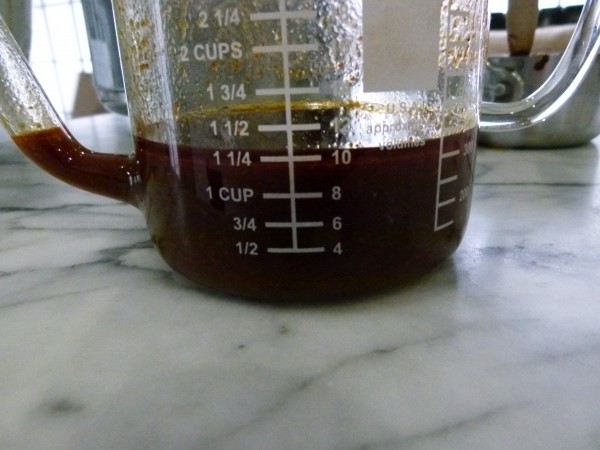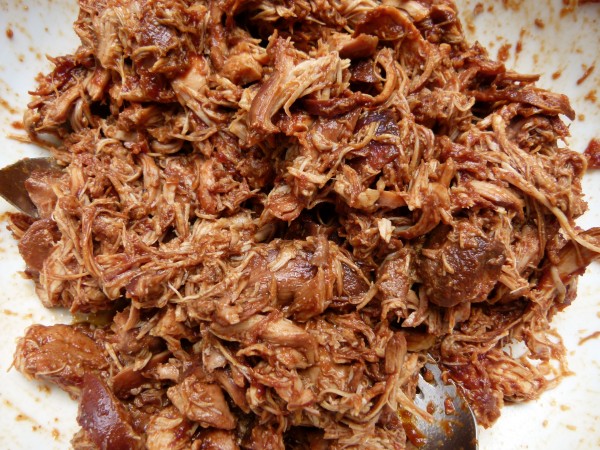 I thought to share this recipe with you this week for a possible Father's Day menu item or for a July 4th party.  It's also a good time to remind you why grilled animal protein isn't that good for you.  Check out an earlier post on that here.  Slow cooking with low heat cuts way down on carcinogens from forming.  It's a win-win!  Even though Little League is over, my slow cooker is staying and so is this chicken!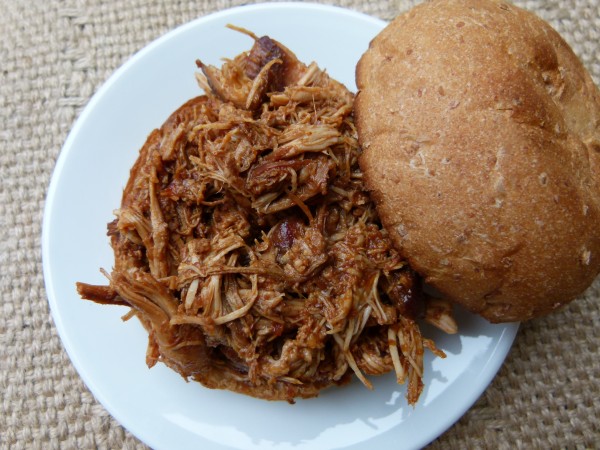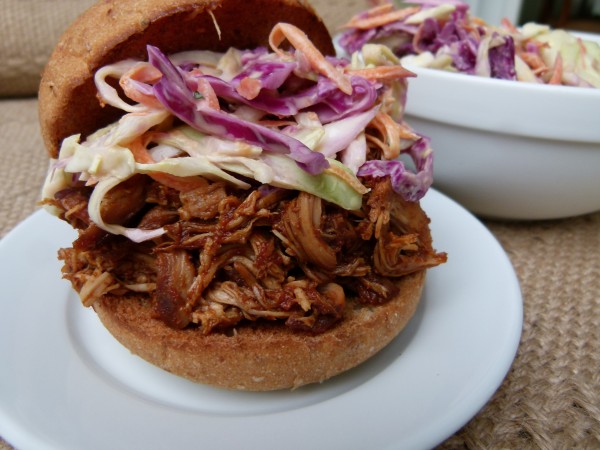 Slow Cooker Pulled Barbecued Chicken
Author:
Pamela, adapted from "Slow Cooker Revolution"
Ingredients
1 ½ pounds boneless, skinless chicken thighs, trimmed of fat
1 ½ pounds boneless, skinless chicken breasts, trimmed of fat (or use all thighs)
2 teaspoons chili powder
1 teaspoon sweet paprika
¼ teaspoon ground chipotle powder or cayenne
½ teaspoon sea salt
¼ teaspoon freshly ground black pepper
1 ½ cups barbecue sauce
Instructions
Place chicken pieces in the slow cooker.
Mix together chili powder, paprika, chipotle powder, salt and pepper and rub all over chicken.
Pour ½ cup barbecue sauce over chicken and toss to coat.  Cover and cook until chicken is tender 4-6 hours on LOW.  (5 hours worked great for me.)  The slow cooker can also go to the WARM setting if you are not ready to eat the chicken after cooking 4-6 hours.
Transfer chicken to a large bowl and allow to cool slightly.  With two forks, shred meat into bite size pieces, but not too fine.
Pour the liquid that remains in the slow cooker into a fat separator (or leave the liquid in the slow cooker and try to skim the fat off the top with a large spoon.)
Heat the remaining 1 cup of barbecue sauce in a small saucepan until hot.  Toss shredded chicken with hot barbecue sauce and 1 cup of braising liquid.  You'll have extra liquid if you need it.  Serve warm either by itself or on toasted whole grain buns or in a quesadilla.