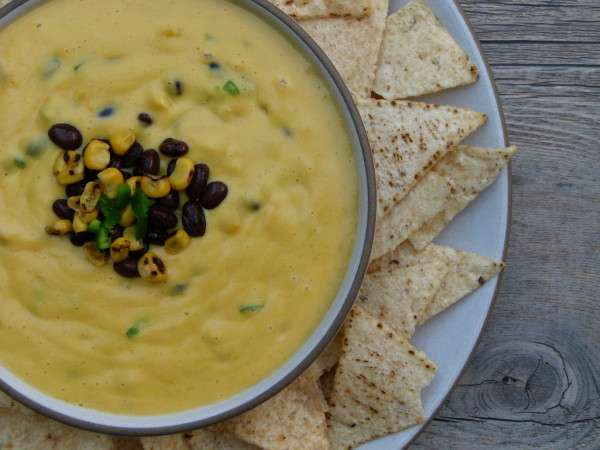 My oldest daughter is a freshman in college, if you can believe it.  I totally cannot believe because I feel like I was just in college!  She's going to school in Texas where she is enjoying a lot of (shocking, I'm sure) Tex-Mex food.  When we went to visit over Parents' Weekend, our first meal was at Torchy's Tacos and the first thing my daughter ordered was two quesos.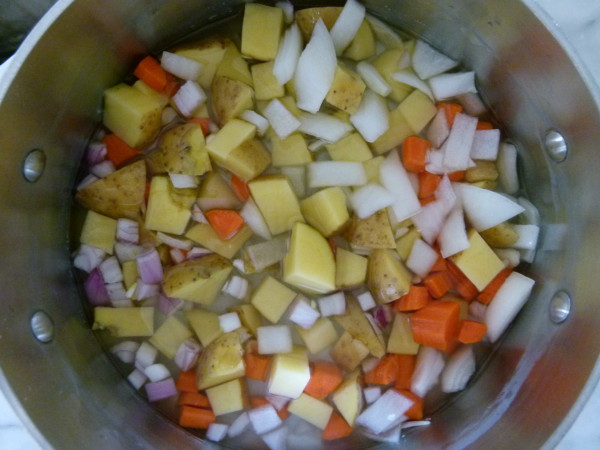 Normally my daughter is a pretty healthful eater, but I know she has a weakness for Sprinkles cupcakes and melted cheese, although let's assume not in the same bite.  Not that "queso" is actually cheese, even though that's exactly what it means in Spanish.  "Queso" in a Tex-Mex restaurant is basically doctored up melted Velveeta or a Land O'Lakes product called Extra Melt. Uh, that to me isn't real cheese.  And even if it were real cheese, pasteurized cow dairy is not awesome for you.  Small amounts, ok.  Fermented or cultured, a little better.  Sheep or goat dairy, I'm in.
So I said to my daughter, "I can make a vegan version of this that I think is even better and won't give you zits in the morning."
"Whaaaat???  Since when?  You've been holding out on me!"
Maybe so.  In the meantime, I passed on the so called "queso."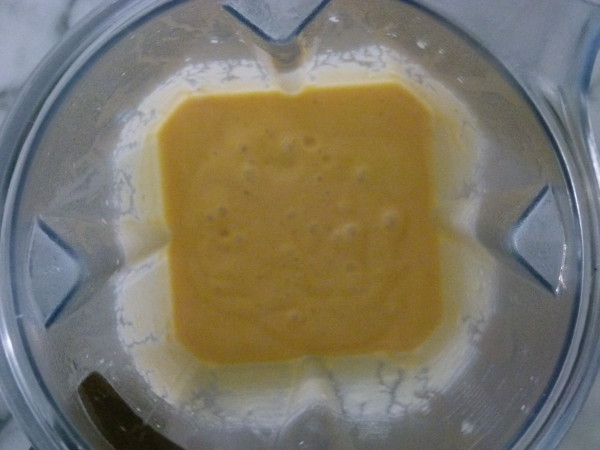 I did teach this vegan queso-type dip in my classes last year, and I figured it would be perfect to share before the Super Bowl.  This recipe is actually a twist on my vegan mac and cheese recipe, jazzed up with jalapeño, black or pinto beans, and my new favorite product, Whole Foods organic frozen fire-roasted corn.  If you haven't made the mac and cheese, I am in love with it.  Delicious and mostly veggies – no fake cheese, no nutritional yeast but still crazily resembles cheese sauce.  And this version is a Tex-Mex-healthy-not-cheese-party that I am in love with, too.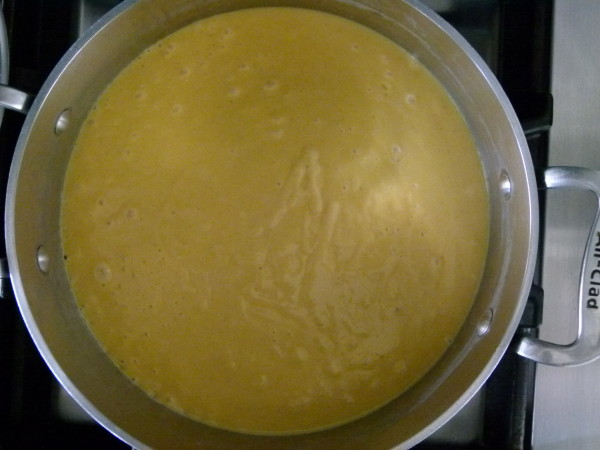 This vegan "queso" I have used on nachos for the kids, on baked potatoes with salsa, on breakfast tacos and on spaghetti squash.  Love it!  I will come clean and tell you I much prefer it with butter over Earth Balance. Updated: Miyoko's vegan butter works perfectly. If you absolutely cannot have butter, use the Earth Balance or Miyoko's.  If you have a choice, use the butter.  I always use butter.  Because it's better.  And then this isn't vegan, but it's cheese sauce made out of vegetables!!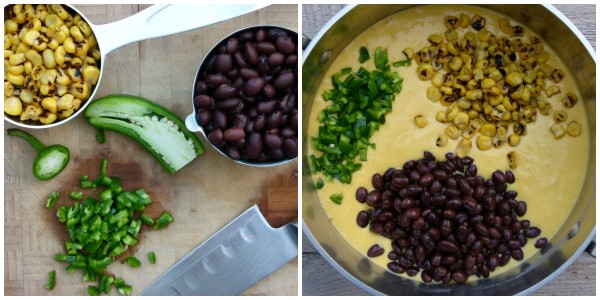 This queso can be made a day or two ahead and reheated.  It does not freeze well.  Updated: it will be fine frozen, but you have to reblend it after defrosting it.  But you won't need to freeze it because you're going to eat it ALL!!  I don't even care who wins the game on Sunday.  Just give me a super bowl of queso!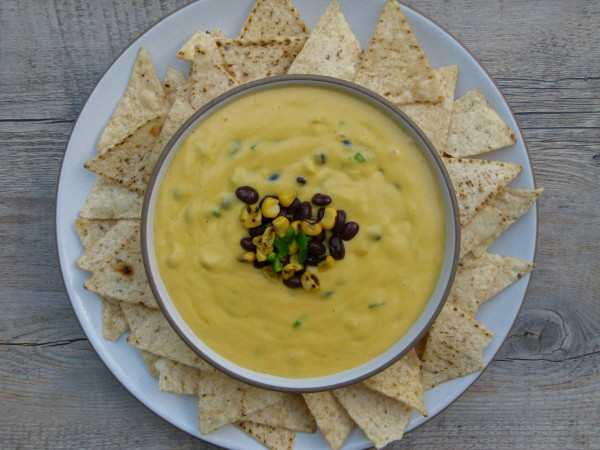 2.06.21 I am updating the recipe to reflect the fact that some salts may be "saltier" than others.  

Vegan Queso
I often serve this with no add-ins. So feel free to leave out the jalapeno, corn and beans if you like.
Ingredients
2 Tablespoons chopped shallots
1 cup (about 7 ounces) chopped Yukon gold potatoes (you can leave the peel on)
¼ cup chopped carrots (about 1 small carrot)
⅓ cup chopped onion
1 cup water
¼ cup raw cashews (soaked for 1-5 hours and drained if your blender is weak)*
5 Tablespoons unsalted butter (not vegan) or Miyoko's or organic Earth Balance (both vegan)**
1½ - 2 teaspoons sea salt (use less if using vegan butter or if you've never made this before)
¼ teaspoon garlic, minced (about 1 medium clove)
¼ teaspoon Dijon mustard
1 Tablespoon freshly squeezed lemon juice (optional, but add it if you have it)
¼ teaspoon black pepper
pinch of cayenne pepper
1 small jalapeno, seeds discarded, diced (about 3 Tablespoons)
½ cup frozen fire-roasted corn, defrosted
¾ cup cooked pinto or black beans, rinsed and drained if using canned
Accompaniments: tortilla chips, sweet potato chips, baked sweet potato wedges, baked fingerling potato halves
Instructions
In a medium saucepan, add the shallots, potatoes, carrots, onion and water and bring to a boil. Lower to a simmer and cook, covered, for 15 minutes, or until vegetables are very soft.
Place the cashews, butter, salt, garlic, mustard, lemon juice, black pepper, and cayenne in a blender or food processor. Add the softened vegetables and cooking water to the blender or food processor and process until perfectly smooth. Taste for salt and adjust seasoning if needed.
Pour sauce back into pot, and add the jalapeno, corn, and beans. Warm over medium-low heat for 4-6 minutes. Can be made ahead and reheated.
Notes
*Options here: to save the step of soaking cashews, cook the cashews with the vegetables. OR use the same amount of RAW cashew butter or JOI almond butter base (it's blanched and raw and has no flavor) or cooked white beans if you are nut-free.
**only use Earth Balance if you can't use Miyoko's vegan butter or can't or won't tolerate butter. The dip turns out better with Miyoko's or dairy butter, in my opinion.