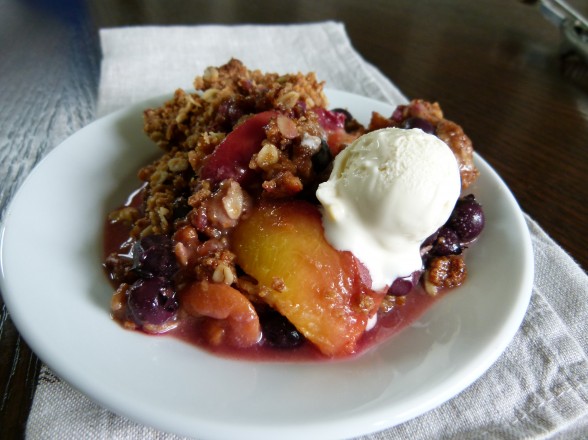 Were fruit crisps popular 30 and 40 years ago?  I can't recall, but I feel like they started turning up everywhere about 20 years ago.  A fruit crisp was one of the first desserts I ever made on my own.  I think the recipe came from one of the Silver Palate cookbooks.  Remember those?  I am very certain it was an apple crisp with the classic oat and sugar crumby topping.  It was such an easy dessert, but so delicious and a total crowd pleaser.  What's not to love?  It's the ultimate comfort dessert.  Soft, sweet fruit with a crunchy, nubby topping that you would fight your best friend over.  Did you ever have a crisp warm out of the oven with a little scoop of vanilla ice cream on top?  If you have, then someone loves you!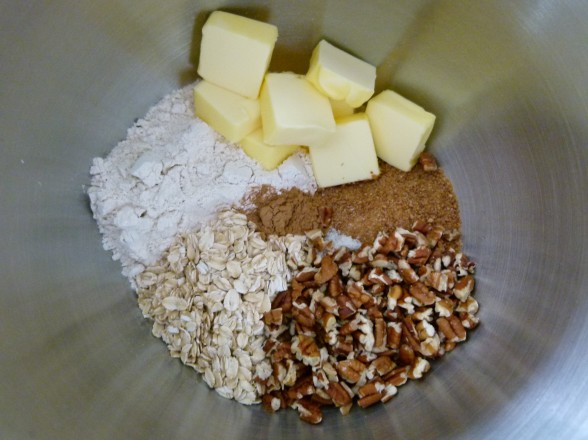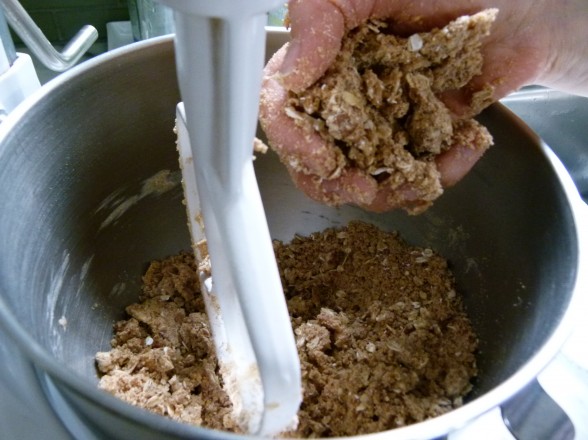 I'll tell you the truth, I use the same basic recipe for all my fruit crisps the whole year long.  I'm sure I could put a little more thought into it and start adding liqueur to the fruit or different spices.  I like Giada's idea of using crumbled amaretti cookies in the crisp topping.  But we already love this the way it is.  Why mess around with deliciousness?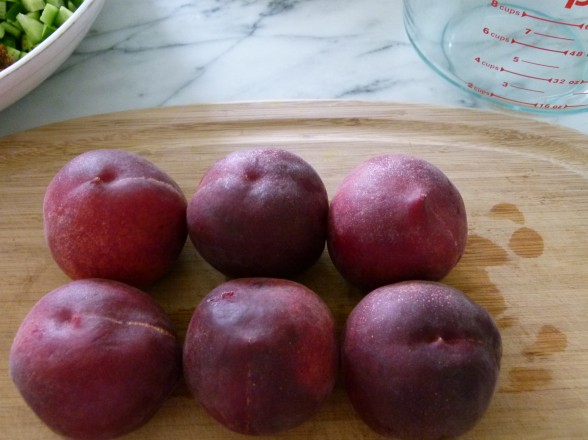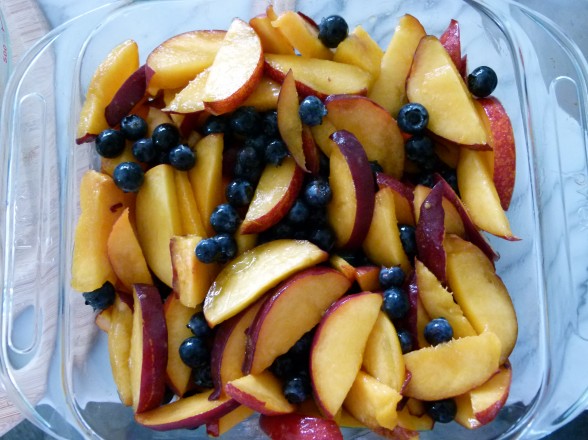 Today I'm bringing you a Peach and Blueberry Crisp because my favorite fruit desserts all start with a peach.  Did you catch my Stone Fruit Crostata last summer?  My husband, kids and I are all obsessed with peaches.  We have a couple of peach trees in the backyard that produce a whole lot of great peaches for two weeks in the summer and that's when we grill them, add them to salads, make pies and crisps and even peach margaritas (for adults, of course)!  Outside of those two weeks, I rely on our farmer's market, but a high point for us is going peach picking on Long Island when we visit my parents.  Have you ever had a just-picked peach, warm from the sun?  Put that on your to-do list.  It will just make you happy.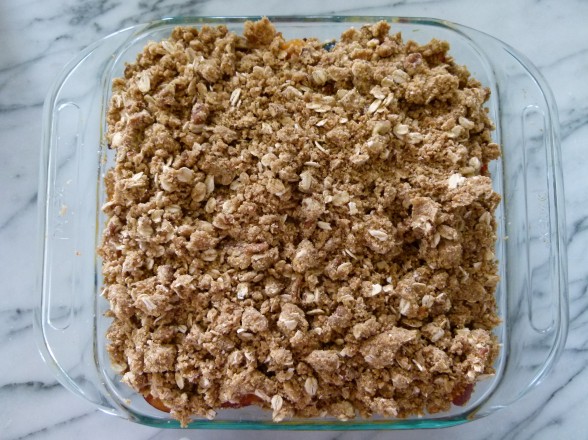 Believe me, I am completely content eating a perfect peach and not messing with it, but I also know there's a time and place for a good, homemade dessert.  This Peach and Blueberry Crisp is one of my go-to's during the summer.  I don't make it too sweet, in fact my fruit dessert mantra is "it should taste like fruit, not just sweet."  Most crisp recipes toss the fruit with extra sugar and flour, which I don't think is necessary at all.  I used to make crisp toppings with brown sugar until I discovered coconut palm sugar which I think is a great unrefined sweetener.  If you can't find it, brown sugar works completely fine.  One of the best things about crisps is that you can make the topping way ahead and keep it in the fridge for a few days or even the freezer for a few months.  Do you even understand the implications of this?  You can freeze a whole gigantic batch of crisp topping right now and have a dreamy dessert at your fingertips whenever you want.  That means an easy dessert for summer entertaining or simply put a handful of fresh fruit in a ramekin and top with a handful of topping and bake away for a yummy crisp for you and only you whenever you need a little love.  Now we're talking.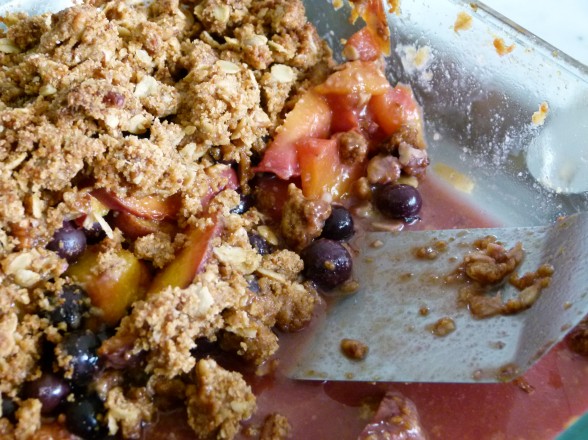 Peach and Blueberry Crisp
Ingredients
6 medium peaches, pitted and sliced, about 4-5 cups (you can peel if you want)
2 cups fresh or frozen blueberries
1 cup whole grain flour, such as whole wheat pastry, white whole wheat or your favorite GF flour blend (I like Bob's Red Mill and King Arthur)
¾ cup coconut palm sugar or brown sugar (coconut sugar is less refined)
½ cup old-fashioned rolled oats (look for gluten-free oats if you gluten intolerant)
1 teaspoon ground cinnamon
½ cup chopped pecans (optional)
½ teaspoon fine sea salt
8 Tablespoons cold unsalted butter, cut into pieces
Instructions
Preheat the oven to 350 degrees.
Place all fruit in an 8- or 9-inch baking dish or pie plate. Toss to mix them up a bit.*
Add all topping ingredients in the bowl of a mixer fitted with the paddle attachment. Blend until mixture resembles small peas. This can also be done by hand or with a pastry blender. Squeeze with your hands to create small clumps.
Arrange topping over fruit to cover.
Place baking dish on a cookie sheet and bake for about 45 minutes, or until bubbly and topping is golden brown.
Notes
*You can toss the fruit with a Tablespoon of sugar and a Tablespoon of flour to thicken the juices that develop, but it is not necessary unless your fruit is really juicy.

**Crisp topping can be made ahead and kept covered in the refrigerator for 3-4 days or frozen for up to 3 months.