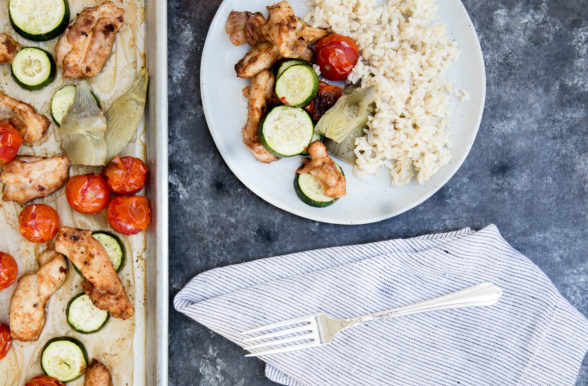 I know I just posted a Thanksgiving prep post yesterday, but I needed to share this recipe with you ASAP!  So many people have asked me for it because I taught it almost every day in October in my classes and it is the PERFECT dinner to make on Tuesday for Halloween because it's dead simple to prep and takes 18 minutes to cook.  And it is sooooo good!  Uh huh.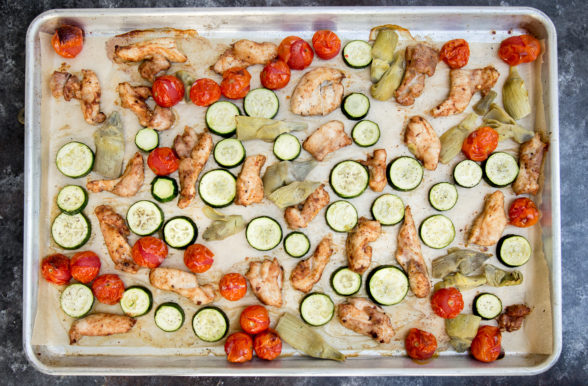 You know how strongly I feel about filling up the bellies with good, satisfying food before trick-or-treating.  Going out on an empty stomach and being given a sack full of candy is a terrible combination and a recipe for disaster with most children.  Make this simple sheet pan chicken dinner as written or with whatever vegetables suit your fancy.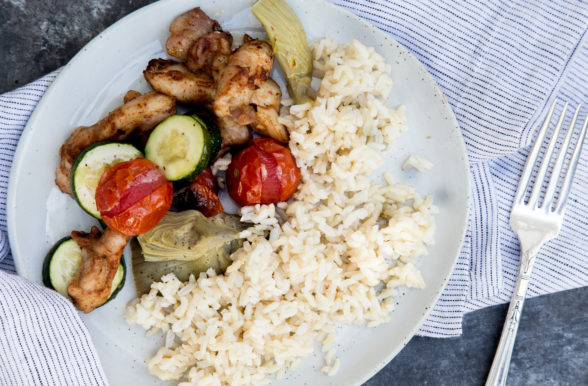 This recipe uses boneless, skinless chicken (breasts or thighs) and quick-cooking vegetables.  If you want to use some other veggies, just make sure they will cook in 18-20 minutes, e.g. snap peas, thinly sliced bell peppers, thinly sliced onions, or defrosted frozen vegetables.  If you want to roast things like potatoes, winter squash or carrots, you'll need to roast them for a half hour and then add your chicken.
Ideally, everything should be arranged in one layer to promote browning, but I have crowded the pans much more than this when I didn't have enough sheet pans in class.  The dish still turns out great, even if the zucchini doesn't caramelize.  I like to serve this with simple brown rice, cauliflower mashed potatoes or millet-cauliflower mash.  You could also do this over cauli-rice.  Ther serving size here allows for 4 ounces of chicken per person, which is what we are used to eating in my house, but do what works for you!  I have a feeling this recipe will become a new weeknight staple for you. 🙂

Sheet Pan Chicken with Artichokes, Zucchini and Cherry Tomatoes Recipe
Ingredients
1 teaspoon sea salt, plus extra for sprinkling vegetables
freshly ground black pepper to taste
1 teaspoon paprika
1 teaspoon garlic powder or granulated garlic
pinch of crushed red pepper
1 ½ pounds boneless, skinless chicken breasts and/or thighs, sliced into 1- inch strips
3 Tablespoons unrefined, extra-virgin olive oil or avocado oil, divided
1 pint cherry tomatoes
5 ounces frozen artichoke hearts, defrosted and patted dry (I buy these at Trader Joe's)
2 medium zucchini, cut into ½-inch rounds
Instructions
In a small bowl, whisk together the salt and spices. Place the chicken in a large container and drizzle with 1 Tablespoon olive oil and spices. Mix together until well coated. Cover and refrigerate for 1 hour or up to 24 hours. The further in advance you can do this, the more flavorful the chicken will be.
Preheat oven to 425 degrees and line a rimmed full-size sheet pan with parchment paper, unless you are using a stainless steel pan (you should grease the stainless pan). Or use two smaller half-sheet pans.
Arrange the vegetables on the prepared sheet pan(s) and toss with olive oil. Sprinkle with salt and pepper.
Arrange the chicken amongst the vegetables in one layer, if possible.
Bake for about 18-20 minutes until chicken is cooked through (do less time if you plan to cover and it and serve it later.) Cut a piece open if you're not sure. There should be no pink color inside.
If you put more than one sheet pan in the oven, consider cooking on convection at 400 degrees for the same amount of time, but do check it a few minutes early to be safe.
Notes
Instead of chicken, you can use a 15-ounce can of cooked chickpeas, drained, rinsed and patted dry. Toss the veggies and chickpeas with oil and the spices.